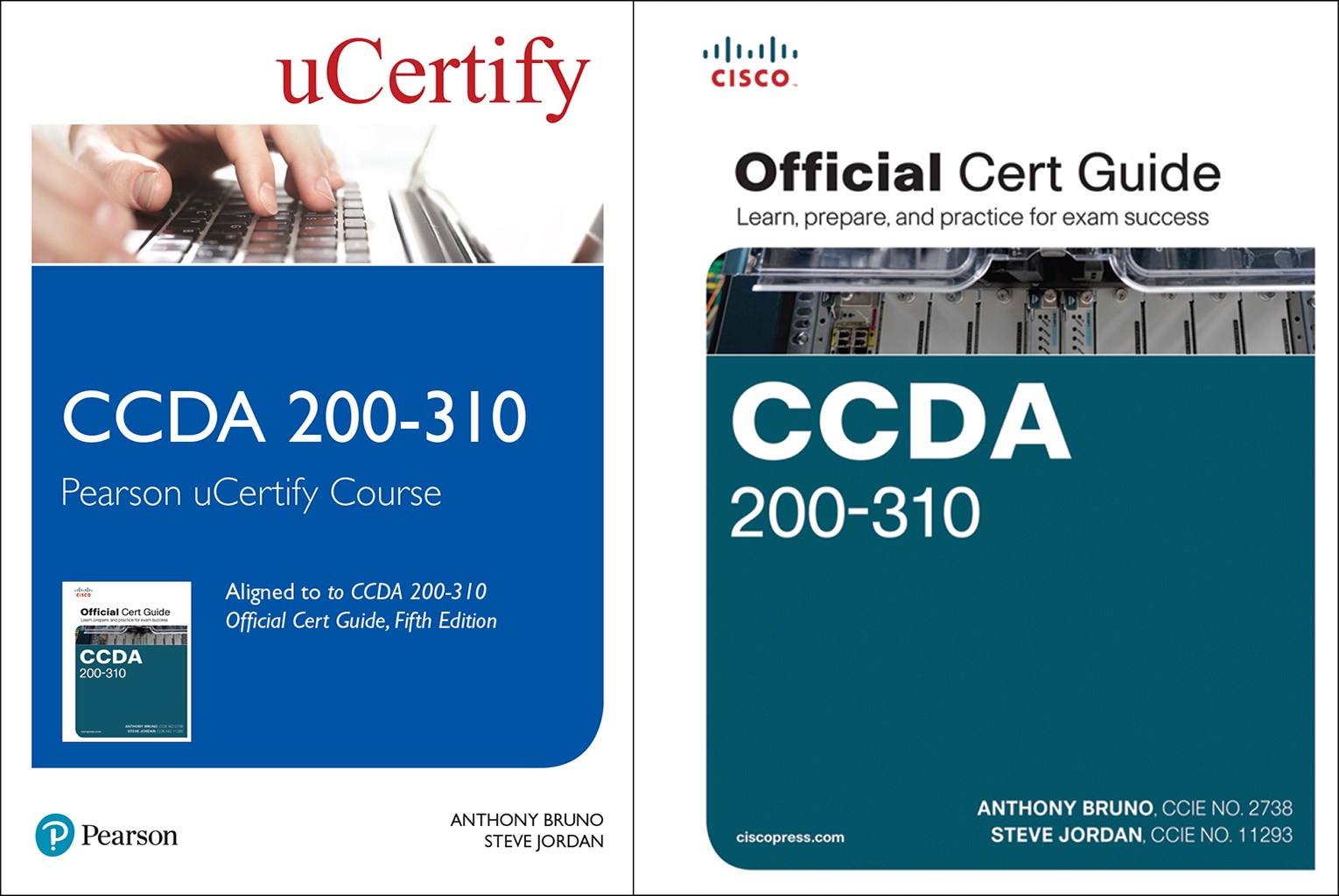 Share
|




Register your product to gain access to bonus material or receive a coupon.
CCDA 200-310 Official Pearson uCertify Course and Textbook Bundle
Features
Student Feature Highlights
Device Ready! Access courses online from any computer (PC or Mac), tablet or mobile device (Android,iOS)
Course dashboard provides ease of use
Interactive eLearning elements throughout the course
Exercises, flash cards and quizzes
Video Tutorials
Track progress via a personal study planner
Instructor Feature Highlights
Super roster for course and student management
Master course and instantaneous cloning for multiple sections
Powerful analytics to track student engagement and progress
Customizable assignment dates and skill mastery levels
Pre and Post assessments for benchmarking
Maps to certification exam domains (when applicable)
Grade book export feature
LTI compliant for integration
Book covers the official exam preparation text for the new DESGN exam
Includes exam-realistic questions on CD
Includes tools to help readers remember the most important details for the exam
Copyright 2017
Edition: 1st
Component
ISBN-10: 0-7897-5928-4
ISBN-13: 978-0-7897-5928-3
Web-based learning and exam preparation

Welcome to the CCDA 200-310 Pearson uCertify Course and Textbook Bundle

The CCDA 200-310 Pearson uCertify Course is an easy-to-use online course that allows you to assess your readiness and teaches you what you need to know to pass the CCDA 200-310 exam.

Master all of the CCDA 200-310 exam objectives in the framework of CCDA 200-310 Official Cert Guide interactive eBook. The interactive eBook includes informative text, tables, step-by-step lists, images, video. interactive exercises, glossary flash cards, and review activities.

Gauge your readiness with a pre-assessment exam with questions specifically designed to identify your deficiencies. Then after you have worked through the course material practice with two complete exam simulations to see if you are ready or where you need to study more. Finally there is a post assessment to get you ready for exam day. In total there are over 290 practice exam questions.

All of the content—the complete textbook, the practice questions, the exercises, and the activities—is focused around the official CCDA 200-310 exam objectives.
Trust the best-selling Official Cert Guide series from Cisco Press to help you learn, prepare, and practice for exam success. They are built with the objective of providing assessment, review, and practice to help ensure you are fully prepared for your certification exam.
CCDA 200-310 Official Cert Guide presents you with an organized test preparation routine through the use of proven series elements and techniques. "Do I Know This Already?" quizzes open each chapter and allow you to decide how much time you need to spend on each section. Exam topic lists make referencing easy. Chapter-ending Exam Preparation Tasks help you drill on key concepts you must know thoroughly.
Master Cisco CCDA 200-310 exam topics

Assess your knowledge with chapter-opening quizzes

Review key concepts with exam preparation tasks

Practice with realistic exam questions
CCDA 200-310 Official Cert Guide focuses specifically on the objectives for the newest Cisco CCDA DESGN exam. Expert networking consultants Anthony Bruno and Steve Jordan share preparation hints and test-taking tips, helping you identify areas of weakness and improve both your conceptual knowledge and hands-on skills. Material is presented in a concise manner, focusing on increasing your understanding and retention of exam topics.
Your downloadable Pearson IT Certification Practice Test engine allows you to focus on individual topic areas or take a complete, timed exam. The assessment engine also tracks your performance and provides feedback on a module-by-module basis, laying out a complete assessment of your knowledge to help you focus your study where it is needed most.
Well-regarded for its level of detail, assessment features, comprehensive design scenarios, and challenging review questions and exercises, this official study guide helps you master the concepts and techniques that will allow you to succeed on the exam the first time.
The official study guide helps you master all the topics on the newest CCDA DESGN exam, including:

Design methodologies, including PBM, network characterization, and top-down/bottom-up approaches
Design objectives: modularity, hierarchy, scalability, resilience, fault domains
Addressing and routing protocols in existing networks
Enterprise network design: campus, enterprise, and branch
Expanding existing networks: wireless, security, collaboration, virtualization, programmability, data centers, and more
CCDA 200-310 Official Cert Guide is part of a recommended learning path from Cisco that includes simulation and hands-on training from authorized Cisco Learning Partners and self-study products from Cisco Press. To find out more about instructor-led training, e-learning, and hands-on instruction offered by authorized Cisco Learning Partners worldwide, please visit http://www.cisco.com/web/learning/index.html.
The print edition of the CCDA 200-310 Official Cert Guide contains two free, complete practice exams.
Also available from Cisco Press for Cisco CCDA study is the CCDA 200-310 Official Cert Guide Premium Edition eBook and Practice Test. This digital-only certification preparation product combines an eBook with enhanced Pearson IT Certification Practice Test.
This integrated learning package:

Allows you to focus on individual topic areas or take complete, timed exams

Includes direct links from each question to detailed tutorials to help you understand the concepts behind the questions

Provides unique sets of exam-realistic practice questions

Tracks your performance and provides feedback on a module-by-module basis, laying out a complete assessment of your knowledge to help you focus your study where it is needed most

Table of Contents
Introduction xxxvi
Part I General Network Design
Chapter 1 Network Design Methodology 3
"Do I Know This Already?" Quiz 3
Foundation Topics 6
Cisco Architectures for the Enterprise 6
Borderless Networks Architecture 7
Collaboration and Video Architecture 8
Data Center and Virtualization Architecture 8
Cisco Design Lifecycle: Plan, Build, Manage 9
Plan Phase 10
Build Phase 11
Manage Phase 11
Prepare, Plan, Design, Implement, Operate, and Optimize Phases 12
Prepare Phase 14
Plan Phase 14
Design Phase 14
Implement Phase 15
Operate Phase 15
Optimize Phase 15
Summary of PPDIOO Phases 15
Project Deliverables 16
Design Methodology 16
Identifying Customer Design Requirements 17
Characterizing the Existing Network 18
Steps in Gathering Information 19
Network Audit Tools 19
Network Checklist 23
Designing the Network Topology and Solutions 24
Top-Down Approach 24
Pilot and Prototype Tests 25
Design Document 25
References and Recommended Reading 26
Exam Preparation Tasks 28
Review All Key Topics 28
Complete Tables and Lists from Memory 28
Define Key Terms 28
Q&A 28
Chapter 2 Network Design Models 39
"Do I Know This Already?" Quiz 39
Foundation Topics 41
Hierarchical Network Models 41
Benefits of the Hierarchical Model 41
Hierarchical Network Design 42
Hierarchical Model Examples 46
Hub-and-Spoke Design 48
Collapsed Core Design 49
Cisco Enterprise Architecture Model 49
Enterprise Campus Module 50
Enterprise Edge Area 52
Service Provider Edge Module 56
Remote Modules 57
High Availability Network Services 59
Workstation-to-Router Redundancy and LAN High Availability Protocols 60
Server Redundancy 62
Route Redundancy 63
Link Media Redundancy 65
References and Recommended Reading 66
Exam Preparation Tasks 68
Review All Key Topics 68
Complete Tables and Lists from Memory 68
Define Key Terms 68
Q&A 68
Part II LAN and WAN Design
Chapter 3 Enterprise LAN Design 81
"Do I Know This Already?" Quiz 81
Foundation Topics 83
LAN Media 83
Ethernet Design Rules 83
Gigabit Ethernet Design Rules 85
10 Gigabit Ethernet Design Rules 87
EtherChannel 88
Comparison of Campus Media 88
LAN Hardware 89
Repeaters 89
Hubs 89
Bridges 89
Switches 90
Routers 91
Layer 3 Switches 92
Campus LAN Design and Best Practices 93
Best Practices for Hierarchical Layers 94
STP Design Considerations 101
Cisco STP Toolkit 103
VLAN and Trunk Considerations 105
Unidirectional Link Detection (UDLD) Protocol 105
Large-Building LANs 106
Enterprise Campus LANs 107
Medium-Size LANs 109
Small and Remote Site LANs 110
Server Farm Module 110
Enterprise Data Center Infrastructure 111
Campus LAN QoS Considerations 111
Multicast Traffic Considerations 113
References and Recommended Readings 114
Exam Preparation Tasks 115
Review All Key Topics 115
Complete Tables and Lists from Memory 115
Define Key Terms 115
Q&A 115
Chapter 4 Data Center Design 127
"Do I Know This Already?" Quiz 127
Foundation Topics 130
Enterprise DC Architecture 130
Data Center Foundation Components 131
Data Center Topology Components 132
Data Center Network Programmability 133
Challenges in the DC 136
Data Center Facility Aspects 136
Data Center Space 138
Data Center Power 139
Data Center Cooling 140
Data Center Heat 141
Data Center Cabling 141
Enterprise DC Infrastructure 143
Data Center Storage 144
Data Center Reference Architecture 146
Defining the DC Access Layer 147
Defining the DC Aggregation Layer 148
Defining the DC Core Layer 149
Security in the DC 150
Fabric Extenders 151
Virtualization Overview 151
Challenges 151
Defining Virtualization and Benefits 151
Virtualization Risks 152
Types of Virtualization 152
Virtualization Technologies 153
VSS 153
VRF 154
vPC 154
Device Contexts 155
Server Virtualization 155
Server Scaling 155
Virtual Switching 156
Network Virtualization Design Considerations 156
Data Center Interconnect 157
DCI Use Cases 157
DCI Transport Options 158
DCI L2 Considerations 159
Load Balancing in the DC 159
Application Load Balancing 159
Network Load Balancing 160
References and Recommended Readings 160
Exam Preparation Tasks 161
Review All Key Topics 161
Complete Tables and Lists from Memory 162
Define Key Terms 162
Q&A 162
Chapter 5 Wireless LAN Design 167
"Do I Know This Already?" Quiz 167
Foundation Topics 169
Wireless LAN Technologies 169
WLAN Standards 169
Service Set Identifier 171
WLAN Layer 2 Access Method 172
WLAN Security 172
Cisco Unified Wireless Network 175
Cisco UWN Architecture 175
Autonomous Access Points 176
Centralized WLAN Architecture 177
LWAPP 177
WLAN Authentication 182
WLAN Controller Components 183
Roaming and Mobility Groups 186
WLAN Design 190
Controller Redundancy Design: Deterministic vs. Dynamic 190
Radio Management and Radio Groups 192
RF Site Survey 194
Using EoIP Tunnels for Guest Services 194
Wireless Mesh for Outdoor Wireless 195
Campus Design Considerations 196
Branch Design Considerations 199
References and Recommended Readings 201
Exam Preparation Tasks 203
Review All Key Topics 203
Complete Tables and Lists from Memory 203
Define Key Terms 203
Q&A 204
Chapter 6 WAN Technologies and the Enterprise Edge 215
"Do I Know This Already?" Quiz 215
Foundation Topics 218
WAN and Enterprise Edge Overview 218
WAN Defined 218
WAN Edge Module 219
Enterprise Edge Modules 219
WAN Transport Technologies 220
ISDN 221
Digital Subscriber Line 222
Cable 222
Wireless 223
Frame Relay 224
Time-Division Multiplexing 225
Metro Ethernet 225
SONET/SDH 225
Multiprotocol Label Switching (MPLS) 226
Dark Fiber 227
Dense Wavelength-Division Multiplexing 228
Ordering WAN Technology and Contracts 228
WAN and Edge Design Methodologies 229
Response Time 230
Throughput 231
Reliability 231
Bandwidth Considerations 231
WAN Link Categories 232
Optimizing Bandwidth Using QoS 233
DMZ Connectivity 236
Segmenting DMZs 237
DMZ Services 238
Internet Connectivity 238
Centralized Internet (Branch) vs. Direct Internet (Branch) 240
High Availability for the Internet Edge 240
VPN Network Design 240
References and Recommended Readings 242
Exam Preparation Tasks 243
Review All Key Topics 243
Complete Tables and Lists from Memory 243
Define Key Terms 243
Q&A 244
Chapter 7 WAN Design 249
"Do I Know This Already?" Quiz 249
Foundation Topics 252
Traditional WAN Technologies 252
Hub-and-Spoke Topology 252
Full-Mesh Topology 253
Partial-Mesh Topology 253
Point-to-Point Topology 254
Remote Site Connectivity 254
Enterprise VPN vs. Service Provider VPN 255
Enterprise Managed VPN: IPsec 255
Service Provider—Managed Offerings 259
VPN Benefits 263
WAN Backup Design 263
WAN Backup over the Internet 263
Enterprise WAN Architecture 264
Cisco Enterprise MAN/WAN 265
Enterprise WAN/MAN Architecture Comparison 266
Enterprise WAN Components 268
Comparing Hardware and Software 269
Enterprise Branch Architecture 270
Branch Design 270
Branch Connectivity 271
Redundancy for Branches 271
Single WAN Carrier vs. Dual WAN Carriers 271
Single MPLS Carrier Site 272
Dual MPLS Carriers 272
Hybrid WAN: L3 VPN with IPsec VPN 273
Enterprise Teleworker Design 279
ISRs for Teleworkers 280
References and Recommended Readings 280
Exam Preparation Tasks 281
Review All Key Topics 281
Complete Tables and Lists from Memory 281
Define Key Terms 281
Q&A 282
Part III The Internet Protocol and Routing Protocols
Chapter 8 Internet Protocol Version 4 Design 287
"Do I Know This Already?" Quiz 287
Foundation Topics 289
IPv4 Header 289
ToS 291
IPv4 Fragmentation 295
IPv4 Addressing 296
IPv4 Address Classes 297
IPv4 Address Types 299
IPv4 Private Addresses 299
NAT 300
IPv4 Address Subnets 302
Mask Nomenclature 302
IP Address Subnet Design Example 303
Determining the Network Portion of an IP Address 304
Variable-Length Subnet Masks 305
IPv4 Addressing Design 310
Goal of IPv4 Address Design 310
Plan for Future Use of IPv4 Addresses 310
Performing Route Summarization 311
Plan for a Hierarchical IP Address Network 311
Private and Public IP Address and NAT Guidelines 313
Steps for Creating an IPv4 Address Plan 313
Case Study: IP Address Subnet Allocation 314
Address Assignment and Name Resolution 316
Recommended Practices of IP Address Assignment 317
BOOTP 317
DHCP 317
DNS 319
ARP 321
References and Recommended Readings 322
Exam Preparation Tasks 324
Review All Key Topics 324
Complete Tables and Lists from Memory 324
Define Key Terms 325
Q&A 325
Chapter 9 Internet Protocol Version 6 Design 333
"Do I Know This Already?" Quiz 333
Foundation Topics 336
Introduction to IPv6 336
IPv6 Header 337
IPv6 Address Representation 339
IPv4-Compatible IPv6 Addresses 339
IPv6 Prefix Representation 340
IPv6 Address Scope Types and Address Allocations 340
IPv6 Address Allocations 341
IPv6 Unicast Address 342
IPv6 Anycast Addresses 344
IPv6 Multicast Addresses 344
IPv6 Mechanisms 347
ICMPv6 347
IPv6 Neighbor Discovery Protocol 348
IPv6 Name Resolution 348
Path MTU Discovery 349
IPv6 Address-Assignment Strategies 350
IPv6 Security 352
IPv6 Routing Protocols 353
RIPng 353
EIGRP for IPv6 353
OSPFv3 353
IS-IS for IPv6 353
BGP4 Multiprotocol Extensions (MP-BGP) for IPv6 353
IPv6 Addressing Design 354
Planning for Addressing with IPv6 354
Route Summarization with IPv6 354
IPv6 Private Addressing 355
IPv6 for the Enterprise 355
IPv6 Address Allocation 355
IPv4-to-IPv6 Transition Mechanisms and Deployment Models 357
Dual-Stack Mechanism 357
IPv6 over IPv4 Tunnels 357
Protocol Translation Mechanisms 359
IPv6 Deployment Models 360
IPv6 Comparison with IPv4 363
References and Recommended Readings 364
Exam Preparation Tasks 367
Review All Key Topics 367
Complete Tables and Lists from Memory 368
Define Key Terms 368
Q&A 368
Chapter 10 Routing Protocol Characteristics, RIP, EIGRP, and IS-IS 377
"Do I Know This Already?" Quiz 377
Foundation Topics 380
Routing Protocol Characteristics 380
Static Versus Dynamic Route Assignment 380
Interior Versus Exterior Routing Protocols 382
Distance-Vector Routing Protocols 383
Link-State Routing Protocols 384
Distance-Vector Routing Protocols Versus Link-State Protocols 384
Hierarchical Versus Flat Routing Protocols 385
Classless Versus Classful Routing Protocols 385
IPv4 Versus IPv6 Routing Protocols 386
Administrative Distance 386
Routing Protocol Metrics and Loop Prevention 388
Hop Count 388
Bandwidth 389
Cost 389
Load 390
Delay 391
Reliability 391
Maximum Transmission Unit 391
Routing Loop-Prevention Schemes 392
Triggered Updates 393
Summarization 393
RIPv2 and RIPng 393
Authentication 394
RIPv2 Routing Database 394
RIPv2 Message Format 394
RIPv2 Timers 396
RIPv2 Design 396
RIPv2 Summary 396
RIPng 397
EIGRP 398
EIGRP Components 399
EIGRP Timers 401
EIGRP Metrics 401
EIGRP Packet Types 403
EIGRP Design 404
EIGRP for IPv4 Summary 406
EIGRP for IPv6 (EIGRPv6) Networks 406
IS-IS 408
IS-IS Metrics 409
IS-IS Operation and Design 409
IS-IS Summary 411
References and Recommended Readings 412
Exam Preparation Tasks 413
Review All Key Topics 413
Complete Tables and Lists from Memory 413
Define Key Terms 413
Q&A 414
Chapter 11 OSPF, BGP, Route Manipulation, and IP Multicast 427
"Do I Know This Already?" Quiz 427
Foundation Topics 430
OSPFv2 430
OSPFv2 Metric 430
OSPFv2 Adjacencies and Hello Timers 431
OSPFv2 Areas 432
OSPF Router Types 434
OSPF DRs 435
LSA Types 436
Autonomous System External Path Types 436
Stub Areas 437
OSPFv2 Router Authentication 439
OSPFv2 Summary 439
OSPFv3 439
OSPFv3 Changes from OSPFv2 440
OSPFv3 Areas and Router Types 440
OSPFv3 LSAs 441
OSPFv3 Summary 443
BGP 443
BGP Neighbors 444
Route Reflectors 446
Confederations 448
BGP Administrative Distance 449
BGP Summary 454
Route Manipulation 455
PBR 455
Route Summarization 455
Route Redistribution 458
Route Filtering 461
Routing Protocols on the Hierarchical Network Infrastructure 462
IP Multicast Review 463
Multicast Addresses 463
Layer 3 to Layer 2 Mapping 464
IGMP 465
Sparse Versus Dense Multicast 467
Multicast Source and Shared Trees 468
PIM 468
DVMRP 470
IPv6 Multicast Addresses 470
References and Recommended Readings 471
Exam Preparation Tasks 473
Review All Key Topics 473
Complete Tables and Lists from Memory 473
Define Key Terms 474
Q&A 474
Part IV Security, Convergence, Network Management
Chapter 12 Managing Security 485
"Do I Know This Already?" Quiz 485
Foundation Topics 488
Network Security Overview 488
Security Legislation 489
Security Threats 490
Security Risks 494
Security Policy and Process 497
Security Policy Defined 498
Basic Approach of a Security Policy 498
Purpose of Security Policies 499
Security Policy Components 499
Risk Assessment 500
Risk Index 501
Continuous Security 501
Integrating Security Mechanisms into Network Design 502
Trust and Identity Management 503
Trust 503
Domains of Trust 503
Identity 504
Network Access Control 506
Secure Services 506
Encryption Fundamentals 507
Encryption Keys 507
VPN Protocols 508
Transmission Confidentiality 509
Data Integrity 509
Threat Defense 510
Physical Security 510
Infrastructure Protection 512
Security Management Solutions 512
References and Recommended Readings 513
Exam Preparation Tasks 514
Review All Key Topics 514
Complete Tables and Lists from Memory 514
Define Key Terms 514
Q&A 515
Chapter 13 Security Solutions 521
"Do I Know This Already?" Quiz 521
Foundation Topics 524
Cisco SAFE Architecture 524
Network Security Platforms 525
Cisco Security Control Framework 526
Trust and Identity Technologies 527
Firewall Fundamentals 527
Firewall ACLs 530
Cisco Identity-Based Network Services 531
Identity and Access Control Deployments 532
Detecting and Mitigating Threats 533
IPS/IDS Fundamentals 534
IPS/IDS Guidelines 535
Threat Detection and Mitigation Technologies 536
Threat-Detection and Threat-Mitigation Solutions 536
FirePOWER IPS 538
Cisco ESA 538
Cisco WSA 538
Security Management Applications 539
Security Platform Solutions 540
Security Management Network 540
Integrating Security into Network Devices 541
IOS Security 542
ISR G2 Security Hardware Options 542
Cisco Security Appliances 543
Catalyst 6500 Service Modules 544
Endpoint Security 545
Securing the Enterprise 545
Implementing Security in the Campus 545
Implementing Security in the Data Center 546
Implementing Security in the Enterprise Edge 548
References and Recommended Readings 550
Exam Preparation Tasks 552
Review All Key Topics 552
Complete Tables and Lists from Memory 552
Define Key Terms 552
Q&A 553
Chapter 14 Voice and Video Design 557
"Do I Know This Already?" Quiz 557
Foundation Topics 559
Traditional Voice Architectures 559
PBX and PSTN Switches 559
Local Loop and Trunks 560
Ports 561
Major Analog and Digital Signaling Types 562
PSTN Numbering Plan 567
Other PSTN Services 568
Voice Engineering Terminology 569
Converged Multiservice Networks 571
VoIP 572
IPT Components 574
IPT Deployment Models 576
Video Deployment Considerations 578
Codecs 580
VoIP Control and Transport Protocols 581
IPT Design 590
Bandwidth 590
Calculating Voice Bandwidth 591
Delay Components in VoIP Networks 592
Packet Loss 594
Echo Cancellation 595
QoS and Bandwidth Mechanisms for VoIP and Video Networks 595
IPT Design Recommendations 600
References and Recommended Readings 602
Exam Preparation Tasks 604
Review All Key Topics 604
Complete Tables and Lists from Memory 604
Define Key Terms 605
Q&A 605
Chapter 15 Network Management Protocols 617
"Do I Know This Already?" Quiz 617
Foundation Topics 619
Simple Network Management Protocol 619
SNMP Components 620
MIB 620
SNMP Message Versions 622
Other Network Management Technologies 624
RMON 624
NetFlow 626
CDP 629
LLDP 630
Syslog 630
References and Recommended Reading 631
Exam Preparation Tasks 633
Review All Key Topics 633
Complete Tables and Lists from Memory 633
Define Key Terms 633
Q&A 634
Part V Comprehensive Scenarios and Final Prep
Chapter 16 Comprehensive Scenarios 641
Scenario One: Friendswood Hospital 641
Scenario One Questions 642
Scenario Two: Big Oil and Gas 642
Scenario Two Questions 643
Scenario Three: Video Games Spot 643
Scenario Three Questions 644
Scenario Four: Diamond Communications 645
Scenario Four Questions 646
Scenario Answers 646
Scenario One Answers 646
Scenario Two Answers 650
Scenario Three Answers 651
Scenario Four Answers 652
Chapter 17 Final Preparation 655
Tools for Final Preparation 655
Review Tools on the Companion Website 655
Pearson Cert Practice Test Engine and Questions 655
The Cisco Learning Network 657
Memory Tables 657
Chapter-Ending Review Tools 658
Suggested Plan for Final Review/Study 658
Subnetting Practice 658
Using the Exam Engine 659
Summary 660
Part VI Appendixes
Appendix A Answers to the Do I Know This Already?" Quizzes and Q&A
Questions 663
Appendix B CCDA 200-310 version 1.0. Exam Updates 699
Appendix C OSI Model, TCP/IP Architecture, and Numeric Conversion 701
Glossary 717
Elements Available on the Book Website
Appendix D Memory Tables
Appendix E Memory Tables Answer Key
Appendix F Study Planner
9781587144547, TOC, 5/25/2016
Unlimited one-month access with your purchase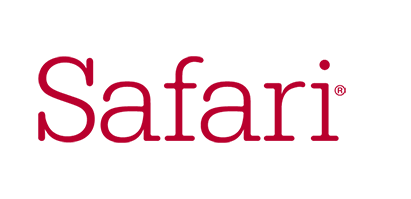 Other Things You Might Like

eBook (Watermarked) $119.99

eBook (Watermarked) $95.99