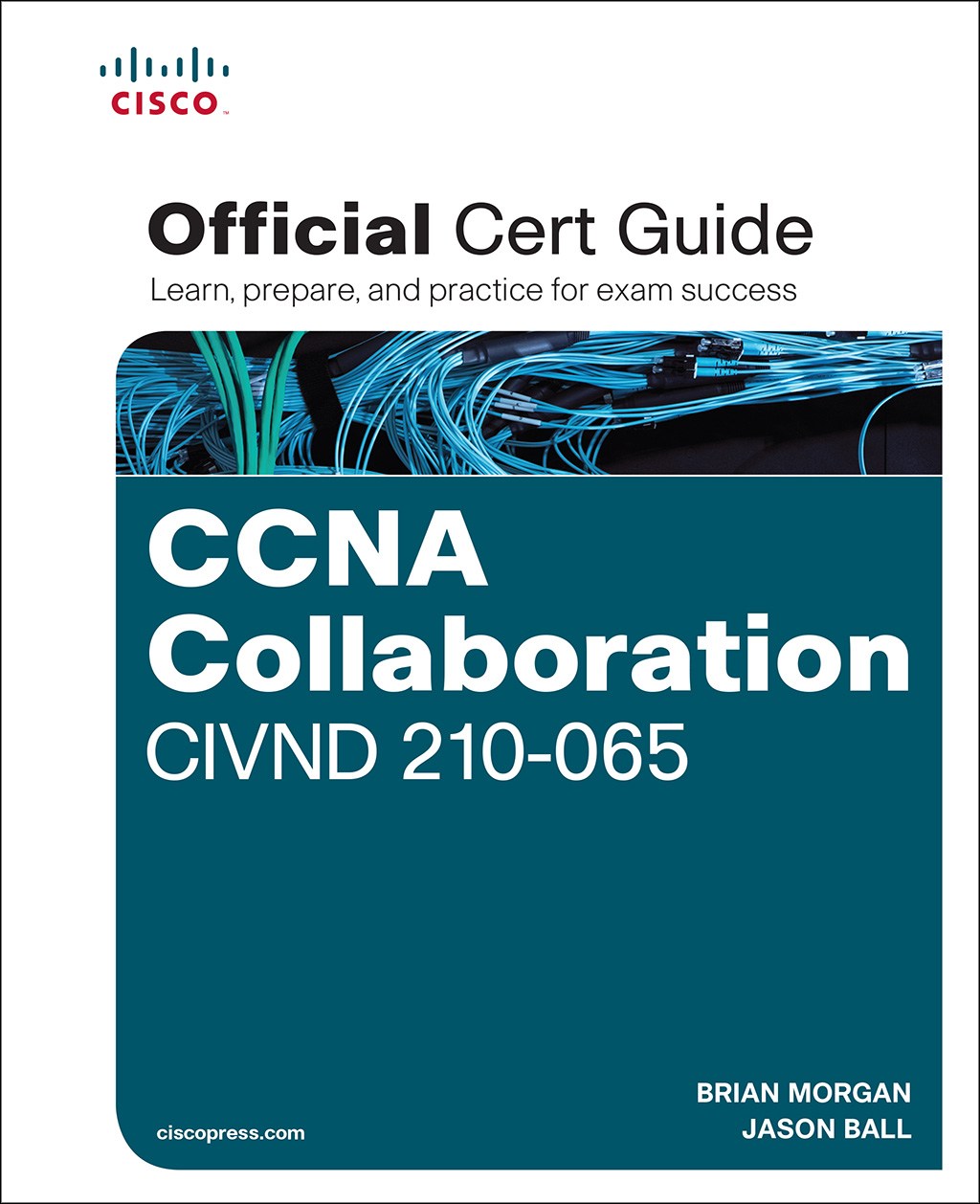 Share
|




Register your product to gain access to bonus material or receive a coupon.
CCNA Collaboration CIVND 210-065 Official Cert Guide
Best Value Purchase
Book + eBook Bundle
Your Price: $57.49
List Price: $99.98
Individual Purchases
Book
Your Price: $39.99
List Price: $49.99
Usually ships in 24 hours.
Premium Edition eBook
Your Price: $39.99
List Price: $49.99
Features
In-depth, expert coverage of every CIVND 210-065 exam objective: all concepts, protocols, commands, and technologies
Book and CD are packed with features to help students master the actual exam's challenging testing methods
Practice tests contain exam-realistic questions designed to reflect the actual exam's difficulty
Additional Information
Copyright 2016
Dimensions: 7-3/8" x 9-1/8"
Pages: 600
Edition: 1st
Book
ISBN-10: 1-58714-442-5
ISBN-13: 978-1-58714-442-4
CCNA Collaboration CIVND 210-065 Official Cert Guide
CCNA Collaboration CIVND 210-065 Official Cert Guide from Cisco Press enables you to succeed on the exam the first time and is the only self-study resource approved by Cisco. Expert Cisco Collaboration engineers Brian Morgan and Jason Ball share preparation hints and test-taking tips, helping you identify areas of weakness and improve both your conceptual knowledge and hands-on skills.

This complete, official study package includes
A test-preparation routine proven to help you pass the exam
"Do I Know This Already?" quizzes, which enable you to decide how much time you need to spend on each section
Chapter-ending exercises, which help you drill on key concepts you must know thoroughly
The powerful Pearson IT Certification Practice Test software, complete with hundreds of well-reviewed, exam-realistic questions, customization options, and detailed performance reports
A final preparation chapter, which guides you through tools and resources to help you craft your review and test-taking strategies
Study plan suggestions and templates to help you organize and optimize your study time
Well regarded for its level of detail, study plans, assessment features, challenging review questions and exercises, this official study guide helps you master the concepts and techniques that ensure your exam success. CCNA Collaboration CIVND 201-065 Official Cert Guide is part of a recommended learning path from Cisco that includes simulation and hands-on training from authorized Cisco Learning Partners and self-study products from Cisco Press. To find out more about instructor-led training, e-learning, and hands-on instruction offered by authorized Cisco Learning Partners worldwide, please visit www.cisco.com.
The official study guide helps you master topics on the CCNA Collaboration CIVND 210-065 exam, including the following:
Cisco Collaboration components and architecture
Cisco Digital Media Suite, Digital Signs, Cisco Cast, and Show and Share
Cisco video surveillance components and architectures
Cisco IP Phones, desktop units, and Cisco Jabber
Cisco TelePresence endpoint portfolio
Cisco Edge Architecture including Expressway
Multipoint, multisite, and multiway video conferencing features
Cisco TelePresence MCU hardware and server family
Cisco TelePresence management
Cisco WebEx solutions
The CD-ROM contains more than 140 practice questions for the exam, memory table exercises and answer keys, and a study planner tool.
Includes Exclusive Offer for 70% Off Premium Edition eBook and Practice Test
Pearson IT Certification Practice Test minimum system requirements:
Windows 10, Windows 8.1, Windows 7, or Vista (SP2), Microsoft .NET Framework 4.5 Client; Pentium-class 1 GHz processor (or equivalent); 512 MB RAM; 650 MB disk space plus 50 MB for each downloaded practice exam; access to the Internet to register and download exam databases
This volume is part of the Official Cert Guide series from Cisco Press. Books in this series provide officially developed exam preparation materials that offer assessment, review, and practice to help Cisco Career Certification candidates identify weaknesses, concentrate their study efforts, and enhance their confidence as exam day nears.
Register your product at ciscopress.com/register for convenient access to downloads, updates, and corrections as they become available.
CCNA Routing Collaboration CIVND 210--065 Official Cert Guide Premium Edition eBook and Practice Test is a comprehensive self-study tool for preparing for the new CCNA Collaboration exam. Complete coverage of all exam topics as posted on the exam topic blueprint ensures readers will arrive at a thorough understanding of what they need to master to succeed on the exam. The book follows a logical organization of the CCNA Collaboration exam objectives. Material is presented in a concise manner, focusing on increasing readers' retention and recall of exam topics. Readers will organize their exam preparation through the use of the consistent features in these chapters, including:
Pre-chapter quiz — These quizzes allow readers to assess their knowledge of the chapter content and decide how much time to spend on any given section.
Foundation Topics — These sections make up the majority of the page count, explaining concepts, configurations, with emphasis on the theory and concepts, and with linking the theory to the meaning of the configuration commands.
Key Topics — Inside the Foundation Topics sections, every figure, table, or list that should absolutely be understood and remembered for the exam is noted with the words "Key Topic" in the margin. This tool allows the reader to quickly review the most important details in each chapter.
Exam Preparation — This ending section of each chapter includes three additional features for review and study, all designed to help the reader remember the details as well as to get more depth. Readers will be instructed to review key topics from the chapter, complete tables and lists from memory, and define key terms.
Final Preparation Chapter–This final chapter details a set of tools and a study plan to help readers complete their preparation for the exams.
This is Cisco's official, comprehensive self-study resource for preparing for the new CIVND 210-065 exam: one of two exams required to earn CCNA Collaboration certification and demonstrate your ability to administer Cisco voice and video networks.
Expert Cisco network professional and trainer Michael Valentine covers every CIVND 210-065 exam objective concisely and logically. You'll find comprehensive, up-to-date coverage of:
Video Fundamentals: video communications concepts, legacy video infrastructure, video standards, and the history/evolution of Cisco video solutions
Cisco Business Video Solutions: Cisco video, content delivery, surveillance, and collaboration
Cisco Unified IP Phones, Collaboration Desk Endpoints, and Cisco Jabber: descriptions, installation, and configuration
Cisco TelePresence Endpoints: description, configuration, operation, and troubleshooting, including Cisco TelePresence CTS, Cisco DX650, DX70, Cisco TelePresence TC software-based endpoints, legacy edge, Expressway Edge, and more
CCNA Routing Collaboration CIVND 210--065 Official Cert Guide Premium Edition eBook and Practice Test is an enhanced eBook that contains:
• Four full practice exams (2 more then the standard edition)
• Direct links from each question to detailed tutorials
• Performance tracking
• PDF, EPUB, and MOBI (Kindle eBook) formats, which are accessible via your PC, tablet, eBook reader, and smartphone
Online Sample Chapter
Sample Pages
Download the sample pages (includes Chapter 3 and Index)
Table of Contents
Introduction xviii

Part I Cisco Business Video Solutions
Chapter 1 Introduction to Video Communications 3
"Do I Know This Already?" Quiz 3
Foundation Topics 5
Video Use Cases 5
Video as an Extension of Telephony 5
Video Meetings and Conferences 6
Extending Video Communications to Teleworkers 6
Video Contact Center 7
Business-to-Business Video 7
Architectural Overview 8
Call Control 9
Endpoints 10
Conferencing 10
Collaboration Edge 11
Applications 12
Summary 13
Exam Preparation Tasks 13
Chapter 2 Cisco Digital Media and Content Delivery 15
"Do I Know This Already?" Quiz 15
Foundation Topics 18
Legacy Digital Media Architecture 18
Streaming Video 19
IPTV 20
Content Portals 20
Cisco Digital Media Suite 21
DMS Components 22
Cisco TCS 22
Cisco Digital Media Manager 23
Cisco Multimedia Experience Engine 25
Digital Media Players 28
Cisco Digital Signs 29
Cisco Cast 30
Cisco Show and Share 31
Capture Transform Share 32
Enterprise Content Delivery System 33
Exam Preparation Tasks 34
Review All Key Topics 34
Complete the Tables and Lists from Memory 34
Define Key Terms 35
Chapter 3 Cisco Video Surveillance 37
"Do I Know This Already?" Quiz 37
Foundation Topics 40
Legacy CCTV Video-Surveillance Architecture Evolution 40
Cisco Physical Security Solution 42
Cisco Video-Surveillance Components 43
Input and Output Devices 43
Management 45
Storage 46
Interactive View 47
Summary 50
Exam Preparation Tasks 51
Review All Key Topics 51
Complete the Tables and Lists from Memory 51
Define Key Terms 51
Chapter 4 Cisco Collaboration Overview 53
"Do I Know This Already?" Quiz 54
Foundation Topics 56
Legacy Videoconferencing 56
Early Transport 56
IP to the Rescue 57
Early Call Control 59
Introducing Cisco Collaboration Solutions 61
Unified Communications 62
Customer Collaboration 62
Conferencing 63
Collaboration Endpoints 64
Cisco Collaboration Architecture 65
Call Control 66
Signaling 67
CAC 67
Unified Dial Plan 68
VCS and Cisco Expressway 68
Endpoints 71
Gateways 72
Media Services 73
Scheduling and Management 75
Exam Preparation Tasks 76
Review All Key Topics 76
Define Key Terms 77
Part II Cisco IP Phones, Collaboration Endpoints, and Software Clients
Chapter 5 Cisco IP Phones, Desk Endpoints, and Jabber Overview 79
"Do I Know This Already?" Quiz 79
Foundation Topics 82
Cisco IP Phone Portfolio 82
Cisco 3900 Series Phones 82
Cisco 7800 Series Phones 84
Cisco 7900 Series Phones 85
7925G/7925G-EX/7926 IP Phones 86
7942G/7962G IP Phones 88
7945G/7965G/7975G IP Phones 92
Cisco 8800 Series Phones 95
Cisco 8811 IP Phone 96
Cisco 8831 IP Phone 97
Cisco 8841/8851/8861 IP Phones 97
Cisco 8845/8865 IP Phones 101
Cisco 8900 Series Phones 105
Cisco 8945 IP Phone 105
Cisco 8961 IP Phone 106
Cisco 9900 Series Phones 109
Cisco 9951 IP Phone 109
Cisco 9971 IP Phone 110
Cisco Collaboration Desktop Endpoints 112
Cisco EX60 112
Cisco EX90 114
Cisco DX650 116
Cisco Jabber Software Clients 118
Cisco Jabber for Desktop 118
Cisco Jabber for Tablet 120
Cisco Jabber for Smartphone 121
Exam Preparation Tasks 123
Review All Key Topics 123
Define Key Terms 123
Chapter 6 Configuring Cisco Unified IP Phones and Cisco Jabber 125
"Do I Know This Already?" Quiz 125
Foundation Topics 130
Cisco Collaboration Endpoint Protocol Overview 130
Cisco IP Phone Configuration 132
Auto-Registration 133
Manual Configuration 134
Cisco IP Phone Registration Process 137
Cisco Jabber Configuration 140
Cisco Jabber Installation and Registration Process 143
Service Discovery 143
Login and Registration 148
Tuning 149
Cisco Collaboration Endpoint Status Verification 150
Exam Preparation Tasks 153
Review All Key Topics 153
Complete the Tables and Lists from Memory 154
Define Key Terms 154
Part III Cisco TelePresence Endpoints
Chapter 7 Cisco TelePresence Endpoint Characteristics 157
"Do I Know This Already?" Quiz 157
Foundation Topics 160
CTS Software-Based Endpoint Overview 160
DX Endpoint Overview 162
TC Software-Based Endpoint Overview 163
Peripheral Device Overview 167
Cisco Intelligent Proximity for Content Sharing 168
Cisco Jabber Video for TelePresence Characteristics and Installation 169
Summary 174
Exam Preparation Tasks 176
Review All Key Topics 176
Complete the Tables and Lists from Memory 176
Define Key Terms 177
Chapter 8 Configuring Cisco TelePresence CTS Software-Based Endpoints 179
"Do I Know This Already?" Quiz 179
Foundation Topics 182
Cisco TelePresence CTS Software-Based Endpoint Overview 182
CTS Software-Based Endpoint Setup 185
Configuring CTS Software-Based Endpoints 186
Calibrating CTS Software-Based Endpoints 189
CTS Software-Based Endpoint User Accounts 192
Summary 194
Exam Preparation Tasks 195
Review All Key Topics 195
Complete the Tables and Lists from Memory 195
Define Key Terms 195
Chapter 9 Configuring Cisco DX Series Endpoints 197
"Do I Know This Already?" Quiz 197
Foundation Topics 200
DX Series Capabilities and Protocol 200
DX Series User Interface 204
Configuring Cisco DX Series Endpoints 205
Registering Cisco DX Series Endpoints 207
Summary 212
Exam Preparation Tasks 213
Review All Key Topics 213
Complete the Tables and Lists from Memory 213
Define Key Terms 214
Chapter 10 Configuring Cisco TelePresence TC Software-Based Endpoints 217
"Do I Know This Already?" Quiz 217
Foundation Topics 220
Cisco TelePresence TC Software-Based Endpoint Overview 220
Configuring a TC Endpoint to Register with a Cisco Unified CM 220
Registering a TC Software-Based Endpoint with the Cisco VCS Using SIP 221
Registering a TC Software-Based Endpoint with the Cisco VCS Using H.323 221
Call Processing with SIP 222
Call Processing with H.323 223
Cisco TelePresence TC Software-Based Endpoint Setup 225
Using the Onscreen Display with the Remote Control 226
Using the Web Interface via HTTP or HTTPS 228
Using the Command-Line Interface via Telnet or SSH 228
Using the Cisco Touch 8 or Touch 10 229
Using Intelligent Proximity for Content Sharing 230
Registering a Cisco TC Software-Based Endpoint with a Cisco Unified CM 231
Registering a Cisco TC Software-Based Endpoint with a Cisco VCS 231
Calibrating a Cisco TC Software-Based Endpoint 235
Calibrating Audio Input and Output Components 235
Calibrating Video Input and Output Components 236
Validating Network Settings 239
Subscribing to Corporate Directories or Phonebooks 241
Cisco TC Software-Based Endpoint Call Scenarios 242
Cisco TC Software-Based Endpoint User Accounts 244
Summary 245
Exam Preparation Tasks 246
Review All Key Topics 246
Complete the Tables and Lists from Memory 247
Define Key Terms 247
Chapter 11 Cisco Legacy Edge Architecture 249
"Do I Know This Already?" Quiz 249
Foundation Topics 252
NAT and Firewall-Traversal Overview 252
Cisco NAT and Firewall-Traversal Solution Components 257
Mobile and Remote Access 258
Jabber Guest 262
Configuring Call Mobility 263
Summary 266
Exam Preparation Tasks 267
Review All Key Topics 267
Complete the Tables and Lists from Memory 267
Define Key Terms 267

Chapter 12 Operating and Troubleshooting Cisco TelePresence Endpoints 269
"Do I Know This Already?" Quiz 269
Foundation Topics 272
Collecting Logs and Status Information on Cisco TelePresence TC Software-Based Endpoints 272
Cisco TelePresence TC Software-Based Endpoint Maintenance 275
Isolating and Identifying Issues on Cisco TelePresence TC Software-Based Endpoints 277
Collecting Logs and Status Information on Cisco TelePresence CTS Software-Based Endpoints 281
Isolating and Identifying Issues on Cisco TelePresence CTS Software-Based Endpoints 283
Using the Cisco DX Series Problem Reporting Tool 285
Isolating and Identifying Issues on Cisco Jabber Video for TelePresence 285
Summary 287
Exam Preparation Tasks 288
Review All Key Topics 288
Complete the Tables and Lists from Memory 288
Define Key Terms 289
Part IV Multipart Calling
Chapter 13 Cisco Multipoint Solution 291
"Do I Know This Already?" Quiz 291
Foundation Topics 294
Cisco Multipoint Solutions and Product Overview 294
Define Multipoint, Multisite, and Multiway 300
Describe Ad Hoc Multipoint Conferences 302
Summary 303
Exam Preparation Tasks 304
Review All Key Topics 304
Complete the Tables and Lists from Memory 304
Define Key Terms 304
Chapter 14 Cisco TelePresence MCUs 307
"Do I Know This Already?" Quiz 307
Foundation Topics 310
Cisco TelePresence MCU Installation 310
Cisco TelePresence MCU Basic Setup for Cisco VCS Registration 314
Cisco TelePresence MCU Basic Setup for Cisco Unified CM Registration 319
Cisco TelePresence MCU Conference Creation and Management 323
Cisco TelePresence MCU Troubleshooting 327
Summary 332
Exam Preparation Tasks 333
Review All Key Topics 333
Complete the Tables and Lists from Memory 333
Define Key Terms 333
Chapter 15 Cisco TelePresence Server 335
"Do I Know This Already?" Quiz 335
Foundation Topics 338
Cisco TelePresence Server Installation 338
Cisco TelePresence Server Basic Setup for Cisco VCS Registration 340
Cisco TelePresence Server Basic Setup for Cisco Unified CM Environment 341
Cisco TelePresence Server Conference Creation and Management 343
Cisco TelePresence Server Troubleshooting 345
Summary 347
Exam Preparation Tasks 348
Review All Key Topics 348
Complete the Tables and Lists from Memory 348
Define Key Terms 348
Chapter 16 Cisco TelePresence Management Suite 351
"Do I Know This Already?" Quiz 351
Foundation Topics 354
TMS Overview 354
Adding Systems to TMS 356
Scheduling Conferences Using TMS 360
Managing Conferences Using TMS 364
TMS Reporting 365
Summary 368
Exam Preparation Tasks 369
Review All Key Topics 369
Complete the Tables and Lists from Memory 369
Define Key Terms 369
Chapter 17 Cisco WebEx Solutions 371
"Do I Know This Already?" Quiz 371
Foundation Topics 374
WebEx Products and Features 374
WebEx Meeting Center 375
Summary 382
Exam Preparation Tasks 383
Review All Key Topics 383
Complete the Tables and Lists from Memory 383
Define Key Terms 383
Part V Final Preparation
Chapter 18 Final Preparation 385
Tools for Final Preparation 385
Exam Engine and Questions on the CD 385
Install the Exam Engine 385
Activate and Download the Practice Exam 386
Activating Other Exams 386
Premium Edition 386
The Cisco Learning Network 387
Memory Tables 387
Chapter-Ending Review Tools 387
Study Plan 387
Recall the Facts 388
Practice Configurations 388
Using the Exam Engine 388
Appendix A Answers to the "Do I Know This Already?" Quizzes 391
Appendix B CCNA Collaboration 210-065 (CIVND) Exam Updates 395
Always Get the Latest at the Companion Website 395
Technical Content 395

Glossary 397
CD-Only Appendixes

Appendix C Memory Tables
Appendix D Memory Table Answer Key

Appendix E Study Planner
Index 418
Unlimited one-month access with your purchase
Other Things You Might Like


Premium Edition eBook $39.99