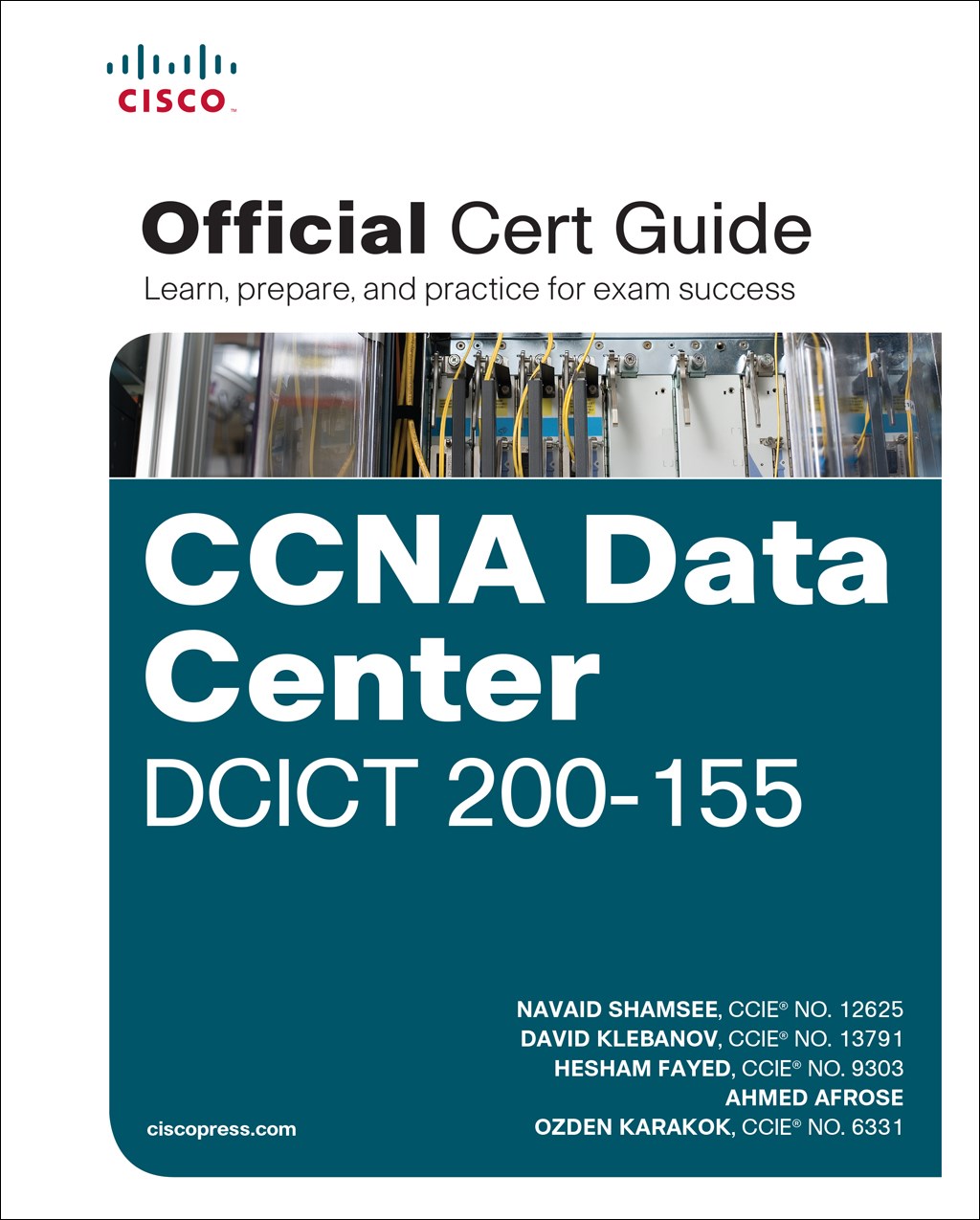 Share
|




Register your product to gain access to bonus material or receive a coupon.
CCNA Data Center DCICT 200-155 Official Cert Guide
Best Value Purchase
Book + eBook Bundle
Your Price: $57.49
List Price: $99.98
Individual Purchases
Book
Your Price: $39.99
List Price: $49.99
Usually ships in 24 hours.
Premium Edition eBook
Your Price: $39.99
List Price: $49.99
Features
Fully updated to align to the new exam objectives
Book and CD are packed with features to help candidates master more difficult testing methods on the actual exams
Practice tests contain exam-realistic questions that closely mimic the difficulty of the actual exam
In-depth expert explanations of all protocols, commands, and technologies on the new cert exam
Copyright 2017
Dimensions: 7-3/8" x 9-1/8"
Pages: 848
Edition: 1st
Book
ISBN-10: 1-58720-591-2
ISBN-13: 978-1-58720-591-0
CCNA Data Center DCICT 200-155 Official Cert Guide from Cisco Press allows you to succeed on the exam the first time and is the only self-study resource approved by Cisco. A team of leading Cisco data center experts share preparation hints and test-taking tips, helping you identify areas of weakness and improve both your conceptual knowledge and hands-on skills.
This complete, official study package includes

A test-preparation routine proven to help you pass the exam

"Do I Know This Already?" quizzes, which allows you to decide how much time you need to spend on each section

Chapter-ending and part-ending exercises, which help you drill on key concepts you must know thoroughly

The powerful Pearson IT Certification Practice Test software, complete with hundreds of well-reviewed, exam-realistic questions, customization options, and detailed performance reports

Study plan suggestions and templates to help you organize and optimize your study time

A final preparation chapter that guides you through tools and resources to help you craft your review and test-taking strategies
Well-regarded for its level of detail, study plans, assessment features, and challenging review questions and exercises, this official study guide helps you master the concepts and techniques that ensure your exam success.
The official study guide helps you master topics on the CCNA Data Center DCICT 200-155 exam, including

Cisco data center concepts: Portchannel, virtual port-channel (vPC), FabricPath, data plane, control plane, management plane, role based access control, and more

Data center unified fabric: FCoE, multihop, VIFs, FEX, and setup

Data center virtualization: servers, devices, and Nexus 1000v, including setup and operations

Cisco Unified Computing: concepts, discovery, connectivity, setup, and UCSM

Cisco Application Centric Infrastructure, ACI logical model, and policy framework n Cloud Computing, services models, and the use of application programming interfaces (APIs)

Cisco UCS Director and troubleshooting UCSD workflows
The exciting new CCNA Data Center DCICT 200-155 Official Cert Guide Premium Edition eBook and Practice Test is a digital-only certification preparation product combining an eBook with enhanced Pearson IT Certification Practice Test. The Premium Edition eBook and Practice Test contains the following items:
The CCNA Data Center DCICT 200-155 Premium Edition Practice Test, including four complete practice exams and enhanced practice test features

PDF and EPUB formats of the CCNA Data Center DCICT 200-155 Official Cert Guide Premium Edition, from Cisco Press, which are accessible via your PC, tablet, and Smartphone
About the Premium Edition Practice Test
This Premium Edition contains an enhanced version of the Pearson IT Certification Practice Test (PCPT) software with four complete practice exams. This integrated learning package:
Allows you to focus on individual topic areas or take complete, timed exams

Includes direct links from each question to detailed tutorials to help you understand the concepts behind the questions

Provides unique sets of exam-realistic practice questions

Tracks your performance and provides feedback on a module-by-module basis, laying out a complete assessment of your knowledge to help you focus your study where it is needed most
Pearson IT Certification Practice Test minimum system requirements:
Windows 10, Windows 8.1, Windows 7, or Vista (SP2)
Microsoft .NET Framework 4.5 Client
Pentium-class 1 GHz processor (or equivalent)
512 MB RAM
650 MB disk space plus 50 MB for each downloaded practice exam; access to the Internet to register and download exam databases
Sample Pages
Download the sample pages (includes Chapter 4 and index)
Table of Contents
Introduction xxxii
Getting Started 3
A Brief Perspective on the CCNA Data Center Certification Exam 3
Suggestions for How to Approach Your Study with This Book 3
This Book Is Compiled from 17 Short Read-and-Review Sessions 4
Practice, Practice, Practice—Did I Mention: Practice? 4
In Each Part of the Book You Will Hit a New Milestone 5
Use the Final Preparation Chapter to Refine Skills 6
Set Goals and Track Your Progress 6
Other Small Tasks Before Getting Started 7
Part I Data Center Networking Technologies 9
Chapter 1 Data Center Networking 11
"Do I Know This Already?" Quiz 11
Foundation Topics 15
Port Channel 15
What Is Port Channel? 15
Benefits of Using Port Channels 15
Port Channel Compatibility Requirements 16
Link Aggregation Control Protocol 16
Port Channel Modes 17
Configuring Port Channel 18
Port Channel Load Balancing 19
Verifying Port Channel Configuration 19
Virtual Port Channel 20
What Is Virtual Port Channel? 20
Benefits of Using vPC 22
Components of vPC 22
vPC Data Plane Operation 24
vPC Control Plane Operation 26
vPC Limitations 27
Configuration Steps of vPC 27
Verification of vPC 29
FabricPath 29
Spanning Tree Protocol 29
What Is FabricPath? 31
Benefits of FabricPath 31
Components of FabricPath 32
FabricPath Frame Format 34
FabricPath Control Plane 35
FabricPath Data Plane 37
Conversational Learning 38
FabricPath Packet Flow Example 38
Unknown Unicast Packet Flow 39
Known Unicast Packet Flow 39
Virtual Port Channel Plus 40
FabricPath Interaction with Spanning Tree 41
Configuring FabricPath 42
Verifying FabricPath 43
Reference List 44
Exam Preparation Tasks 45
Review All Key Topics 45
Complete Tables and Lists from Memory 45
Define Key Terms 45
Chapter 2 Management and Monitoring of Cisco Nexus Devices 47
"Do I Know This Already?" Quiz 47
Foundation Topics 50
Operational Planes of a Nexus Switch 50
Data Plane 50
Store-and-Forward Switching 51
Cut-Through Switching 51
Nexus 5500 Data Plane Architecture 51
Control Plane 53
Nexus 5500 Control Plane Architecture 54
Control Plane Policing 55
Control Plane Analyzer 57
Management Plane 58
Nexus Management and Monitoring Features 59
Out-of-Band Management 59
Console Port 60
Connectivity Management Processor 61
Management Port (mgmt0) 61
In-Band Management 62
Simple Network Management Protocol 62
SNMP Notifications 63
SNMPv3 63
Remote Monitoring 64
RMON Alarms 64
RMON Events 65
Syslog 65
Embedded Event Manager 66
Event Statements 66
Action Statements 66
Policies 66
Generic Online Diagnostics 67
Smart Call Home 68
NX-API 68
Role-Based Access Control 70
User Roles 71
Rules 71
User Role Policies 72
RBAC Characteristics and Guidelines 72
Privilege Levels 72
Reference List 73
Exam Preparation Tasks 74
Review All Key Topics 74
Complete Tables and Lists from Memory 74
Define Key Terms 74
Chapter 3 Unified Fabric Overview 77
"Do I Know This Already?" Quiz 77
Foundation Topics 80
Challenges of Today's Data Center Networks 80
Cisco Unified Fabric Principles 82
Convergence of Network and Storage 82
Scalability and Growth 88
Security and Intelligence 93
Inter-Data Center Unified Fabric 97
Fibre Channel over IP 98
Overlay Transport Virtualization 100
Locator ID Separation Protocol 104
Reference List 106
Exam Preparation Tasks 107
Review All Key Topics 107
Complete Tables and Lists from Memory 107
Define Key Terms 107
Part I Review 108
Part II Network Virtualization 113
Chapter 4 Cisco Nexus 1000V and Virtual Switching 115
"Do I Know This Already?" Quiz 116
Foundation Topics 119
Evolution of Virtual Switching 119
Before Server Virtualization 119
Server Virtualization with Static VMware vSwitch 121
Virtual Network Components 122
Virtual Access Layer 123
Standard VMware vSwitch Overview 124
Standard VMware vSwitch Operations 125
Standard VMware vSwitch Configuration 127
VMware vDS Overview 128
VMware vDS Configuration 129
VMware vDS Enhancements 131
VMware vSwitch and vDS 131
Cisco Nexus 1000V Virtual Networking Solution 132
Cisco Nexus 1000V System Overview 134
Cisco Nexus 1000V Salient Features and Benefits 134
Cisco Nexus 1000V Series Virtual Switch Architecture 137
Cisco Nexus 1000V Virtual Supervisory Module 137
Cisco Nexus 1000V Virtual Ethernet Module 138
Cisco Nexus 1000V Component Communication 140
Cisco Nexus 1000V Management Communication 140
Cisco Nexus 1000V Port Profiles 141
Types of Port Profiles in Cisco Nexus 1000V 142
Cisco Nexus 1000V Administrator View and Roles 142
Cisco Nexus 1000V Verifying Initial Configuration 144
Cisco Nexus 1000V VSM Installation Methods 144
Initial VSM Configuration Verification 145
Verifying VMware vCenter Connectivity 145
Verifying Nexus 1000V Module Status 147
Cisco Nexus 1000V VEM Installation Methods 148
Initial VEM Status on ESX or ESXi Host 148
Verifying VSM Connectivity from vCenter Server 148
Verifying VEM Agent Running 148
Verifying VEM Uplink Interface Status 149
Verifying VEM Parameters with VSM Configuration 150
Validating VM Port Groups and Port Profiles 150
Verifying Port Profile and Groups 152
Key New Technologies Integrated with Cisco Nexus 1000V 153
What Is the Difference Between VN-Link and VN-Tag? 153
What Is VXLAN? 153
What Is vPath Technology? 154
What Is Cisco Application Virtual Switch (AVS)? 154
Reference List 155
Exam Preparation Tasks 156
Review All Key Topics 156
Complete Tables and Lists from Memory 156
Define Key Terms 157
Chapter 5 Data Center Overlay Networks 159
"Do I Know This Already?" Quiz 159
Foundation Topics 162
Overlay Transport Virtualization 162
Introduction to Overlay Transport Virtualization 162
OTV Terminology 164
OTV Control Plane 166
Multicast-Enabled Transport Infrastructure 166
Unicast-Enabled Transport Infrastructure 167
Data Plane for Unicast Traffic 168
Data Plane for Multicast Traffic 170
Failure Isolation 172
STP Isolation 172
Unknown Unicast Handling 172
ARP Optimization 173
OTV Multihoming 173
First Hop Redundancy Protocol Isolation 174
OTV Configuration Example with Multicast Transport 174
OTV Configuration Example with Unicast Transport 177
Virtual Extensible LAN 179
VXLAN Terminology 180
VTEP 180
VNID 181
VXLAN Gateway Types 181
VXLAN Bridging 181
VXLAN Routing 181
VXLAN Packet Forwarding 183
VXLAN VTEP Discovery and Address Learning 183
VXLAN Data Plane Learning 184
VXLAN Unicast-Only Mode 184
VXLAN Using Control Plane Protocol 184
Network Virtualization Using Generic Routing Encapsulation 184
Reference List 185
Exam Preparation Tasks 186
Review All Key Topics 186
Define Key Terms 186
Chapter 6 Virtualizing Cisco Network Devices 189
"Do I Know This Already?" Quiz 189
Foundation Topics 192
Describing VDCs on the Cisco Nexus 7000 Series Switch 192
VDC Deployment Scenarios 194
Horizontal Consolidation Scenarios 194
Vertical Consolidation Scenarios 195
VDCs for Service Insertion 196
Understanding Different Types of VDCs 196
Interface Allocation 198
VDC CPU Shares and Hardware Resources 199
VDC Administration 199
VDC Requirements 200
Verifying VDCs on the Cisco Nexus 7000 Series Switch 201
Describing Layer 3 Virtualization Within VDCs 204
Describe the Benefits and Perform Simple Troubleshooting of VDC STP 207
Verifying STP Operation 209
Describing Network Interface Virtualization 210
Cisco Nexus 2000 FEX Terminology 210
Nexus 2000 Series Fabric Extender Connectivity 211
VN-Tag Overview 212
Cisco Nexus 2000 FEX Packet Flow 213
Cisco Nexus 2000 FEX Port Connectivity 214
Cisco Nexus 2000 FEX Configuration on the Nexus 7000 Series 216
Cisco Adapter FEX Technology 219
Reference List 221
Exam Preparation Tasks 222
Review All Key Topics 222
Define Key Terms 222
Part II Review 224
Part III Cisco Unified Computing 229
Chapter 7 Cisco UCS Architecture 231
"Do I Know This Already?" Quiz 232
Foundation Topics 235
Evolution of Server Computing in a Nutshell 235
What Is a Socket? 236
What Is a Core? 236
What Is Hyperthreading? 237
Understanding Server Processor Numbering 237
Value of Cisco UCS in the Data Center 238
One Unified System 239
Unified Fabric 240
Unified Management and Operations 240
Cisco UCS Stateless Computing 241
Intelligent Automation, Cloud-Ready Infrastructure 242
Describing the Cisco UCS Product Family 243
Cisco UCS Computer Hardware Naming 243
Cisco UCS Fabric Interconnects 244
What Is a Unified Port? 247
What Are QSA Modules and Breakout Cables? 247
Cisco UCS Fabric Interconnect—Expansion Modules 247
Cisco UCS 5108 Blade Server Chassis 248
Cisco UCS 5108 Blade Server Chassis—Power Supply and Redundancy Modes 248
Cisco UCS M4308 Chassis 249
Cisco UCS I/O Modules (FEX) 250
Cisco UCS B-Series Blade Servers 251
Cisco UCS B-Series Best Practices for Populating DRAM 253
Cisco Adapters (Mezzanine Cards) for UCS B-Series Blade Servers 254
Cisco Converged Network Adapters (CNA) 254
Cisco Virtual Interface Cards 255
Cisco UCS VIC 1340/1380 256
Cisco UCS Port Expander 257
What Is Cisco Adapter FEX? 257
What Is Cisco Virtual Machine-Fabric Extender? 257
Cisco UCS Storage Accelerator Adapters 258
Cisco UCS C-Series Rackmount Servers 258
Cisco UCS C-Series Dense Storage Rack Server 261
Cisco UCS C-Series Best Practices for Populating DRAM 261
Cisco Adapters for UCS C-Series Rackmount Servers 262
Cisco UCS C-Series RAID Adapter Options 262
Cisco UCS C-Series Virtual Interface Cards and OEM CAN Adapters 265
Cisco UCS VIC 1387 mLOM 266
What Is SR-IOV (Single Root-IO Virtualization)? 266
Cisco UCS C-Series Network Interface Card 267
Cisco UCS C-Series Host Bus Adapter 268
What Is N_Port ID Virtualization (NPIV)? 269
Cisco UCS Storage Accelerator Adapters 270
Cisco UCS E-Series Servers 271
Cisco UCS Mini 272
Cisco UCS M-Series Servers 272
Cisco UCS Software 274
Cisco UCS Manager 274
Cisco UCS Central 274
Cisco UCS StorMagic SvSAN 274
Cisco UCS Director 274
Cisco IMC Supervisor 275
System Menu 276
Policies Menu 276
Administration Menu 276
Cisco UCS Platform Emulator 277
Cisco goUCS Automation Tool 277
Cisco UCS Connectivity Architecture 277
Cisco UCS 5108 Chassis to Fabric Interconnect Physical Connectivity 277
Cisco UCS C-Series Rackmount Server Physical Connectivity 278
Cisco UCS 6200 Fabric Interconnect to LAN, SAN Connectivity 280
Cisco UCS Fabric Interconnect Switching Modes 281
Ethernet Switching Mode 281
Fibre Channel Switching Mode 282
Cisco UCS I/O Module and Fabric Interconnect Connectivity 283
Cisco UCS I/O Module Architecture 285
Fabric and Adapter Port Channel Architecture 287
Cisco Integrated Management Controller Architecture 287
Reference List 289
Exam Preparation Tasks 290
Review All Key Topics 290
Complete Tables and Lists from Memory 292
Define Key Terms 292
Chapter 8 Cisco UCS Manager 295
"Do I Know This Already?" Quiz 296
Foundation Topics 299
Cabling a Cisco UCS Fabric Interconnect HA Cluster 299
Cisco UCS Fabric Interconnect HA Architecture 299
Cisco UCS Fabric Interconnect Cluster Connectivity 300
Initial Setup Script for Primary Fabric Interconnect 302
Initial Setup Script for Subordinate Secondary Fabric Interconnect 303
Verify Cisco UCS Fabric Interconnect Cluster Setup 303
Changing Cluster Addressing via Command-Line Interface 305
Command Modes 305
Changing Cluster IP Addresses via Command-Line Interface 306
Changing Static IP Addresses via Command-Line Interface 306
Cisco UCS Manager Operations 307
Cisco UCS Manager Functions 307
Cisco UCS Manager GUI Layout 310
Cisco UCS Manager: Navigation Pane—Tabs 313
Equipment Tab 313
Servers Tab 314
LAN Tab 314
SAN Tab 315
VM Tab 315
Admin Tab 317
Storage Tab 317
Basic Port Roles in the Cisco UCS Fabric Interconnects 318
Cisco UCS Manager Hardware Discovery 319
Verifying Device Discovery in Cisco UCS Manager 321
Reference List 323
Exam Preparation Tasks 324
Review All Key Topics 324
Define Key Terms 325
Chapter 9 Cisco Unified Computing System Pools, Policies, Templates, and Service Profiles 327
"Do I Know This Already?" Quiz 327
Foundation Topics 331
Cisco UCS Service Profiles 331
Cisco UCS Hardware Abstraction and Stateless Computing 331
Contents of a Cisco UCS Service Profile 333
Other Benefits of Cisco UCS Service Profiles 335
Ease of Incremental Deployments 335
Plan and Preconfigure Cisco UCS Solutions 335
Ease of Server Replacement 336
Right-Sized Server Deployments 336
Cisco UCS Templates 336
Organizational Awareness with Service Profile Templates 337
Cisco UCS Service Profile Templates 338
Cisco UCS vNIC Templates 339
Cisco UCS vHBA Templates 339
Cisco UCS Logical Resource Pools 340
UUID Identity Pools 341
MAC Address Identity Pools 342
WWN Address Identity Pools 343
WWNN Pools 343
WWPN Pools 344
Cisco UCS Physical Resource Pools 345
Server Pools 345
Cisco UCS Server Qualification and Pool Policies 345
Server Auto-Configuration Policies 346
Creation of Policies for Cisco UCS Service Profiles and Service Profile Templates 347
Frequently Used Policies Explained 347
Equipment Tab—Global Policies 347
BIOS Policy 348
Boot Policy 348
Local Disk Configuration Policy 349
Maintenance Policy 350
Scrub Policy 351
Host Firmware Packages 351
Adapter Policy 352
Cisco UCS Chassis and Blade Power Capping 353
What Is Power Capping? 353
Cisco UCS Power Capping Strategies 353
Utilizing Cisco UCS Service Profile Templates 355
Creating Cisco UCS Service Profile Templates 355
Modifying a Cisco UCS Service Profile Template 356
Utilizing Cisco UCS Service Profile Templates for Different Workloads 357
Creating Service Profiles from Templates 357
Reference List 359
Exam Preparation Tasks 360
Review All Key Topics 360
Complete Tables and Lists from Memory 361
Define Key Terms 361
Chapter 10 Administration, Management, and Monitoring of Cisco UCS 363
"Do I Know This Already?" Quiz 363
Foundation Topics 367
Cisco UCS Administration 367
Organization and Locales 367
Role-Based Access Control 369
Authentication Methods 370
LDAP Providers 370
LDAP Provider Groups 370
Domain, Realm, and Default Authentication Settings 371
Communication Management 372
UCS Firmware, Backup, and License Management 373
Firmware Terminology 373
Firmware Definitions 374
Firmware Update Guidelines 375
Host Firmware Packages 375
Cross-Version Firmware Support 376
Firmware Auto Install 376
UCS Backups 377
Backup Automation 378
License Management 379
Cisco UCS Management 380
Operational Planes 380
In-Band Versus Out-of-Band Management 381
Remote Accessibility 382
Direct KVM Access 382
Advanced UCS Management 383
Cisco UCS Manager XML API 383
goUCS Automation Toolkit 384
Using the Python SDK 386
Multi-UCS Management 387
Cisco UCS Monitoring 387
Cisco UCS System Logs 388
Fault, Event, and Audit Logs (Syslogs) 388
System Event Logs 391
UCS SNMP 391
Fault Suppression 393
Collection and Threshold Policies 394
Call Home and Smart Call Home 396
Reference List 400
Exam Preparation Tasks 401
Review All Key Topics 401
Define Key Terms 401
Chapter 11 Server Virtualization Solutions 403
"Do I Know This Already?" Quiz 403
Foundation Topics 406
Brief History of Server Virtualization 406
Server Virtualization Components 407
Hypervisor 407
Virtual Machines 408
Virtual Switching 409
Shared Storage 410
Management Tools 411
Types of Server Virtualization 411
Full Virtualization 412
Paravirtualization 413
Operating System Virtualization 414
Server Virtualization Benefits and Challenges 415
Server Virtualization Benefits 415
Server Virtualization Challenges 416
Reference List 421
Exam Preparation Tasks 422
Review All Key Topics 422
Define Key Terms 422
Part III Review 424
Part IV Application Centric Infrastructure 429
Chapter 12 ACI Architecture 431
"Do I Know This Already?" Quiz 432
Foundation Topics 436
What's an Application Programming Interface (API)? 436
Network Management Options 436
Cisco Software-Defined Networking (SDN) 438
The Policy-Based Model 445
OpFlex 447
Spine-Leaf Data Center Design 447
ACI Physical Topology and Software 449
ACI Fabric Hardware—Cisco Nexus 9000 Family 452
Application Policy Infrastructure Controller (APIC) 456
VXLAN Forwarding 464
Mapping Database 467
ACI Fabric Provisioning and Startup Discovery 468
Reference List 470
Exam Preparation Tasks 472
Review All Key Topics 472
Complete Tables and Lists from Memory 473
Define Key Terms 473
Chapter 13 ACI Logical Model and Policy Framework 475
"Do I Know This Already?" Quiz 475
Foundation Topics 479
Abstraction 479
ACI Policy Object Model 480
Different Models 487
ACI Logical Constructs 488
Bridge Domains and Subnets 492
In-Band and Out-of-Band Management Networks 493
Endpoint Groups 497
Policy Enforcement 502
Multicast Policy Enforcement 504
Microsegmentation 505
Intra-EPG Endpoint Isolation 505
Application Profiles 506
Contracts 506
Labels, Filters, and Subjects 508
Reference List 509
Exam Preparation Tasks 511
Review All Key Topics 511
Define Key Terms 512
Chapter 14 Operating ACI 515
"Do I Know This Already?" Quiz 515
Foundation Topics 518
ACI and Three-Tier Application Model 518
Unlimited one-month access with your purchase
Other Things You Might Like


Premium Edition eBook $39.99