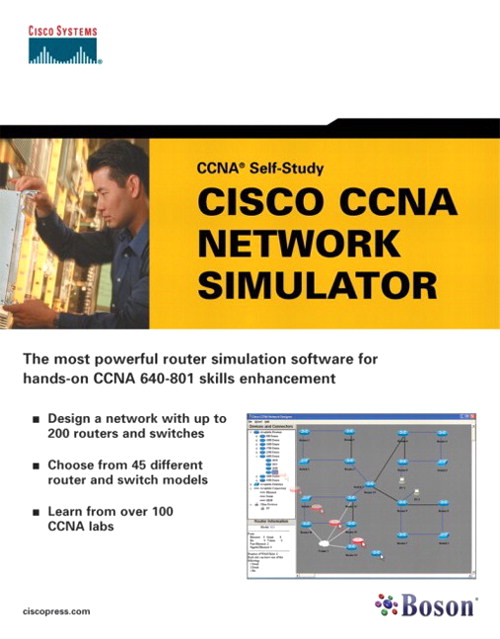 Share
|




Register your product to gain access to bonus material or receive a coupon.
Cisco CCNA Network Simulator (CCNA Self-Study, 640-801)
Book
This product currently is not for sale.
Copyright 2005
Dimensions: Special (all other)
Pages: 12
Edition: 1st
Book
ISBN-10: 1-58720-131-3
ISBN-13: 978-1-58720-131-8
Please note - this product is out of date and no longer available. The new replacement simluator is the Pearson CCNA 640-802 Network Simulator, ISBN 1587202166.
Description of the old product:
Router simulation software for hands-on CCNA 640-801 skills enhancement
Design a network with up to 200 routers and switches
Choose from 45 different router and switch models
Learn from more than 100 CCNA labs
Cisco CCNA Network Simulator helps you develop and practice hands-on skills without the investment in expensive lab hardware. This simulator software, reviewed by six CCIE® engineers, allows you to
Design networks with the drag-and-drop Boson Network Designer that simulates up to 200 devices using 45 different device models–all with no upgrade required.
Practice your networking skills with more than 100 structured labs, including 37 standalone labs, 20 sequential labs, 26 scenario labs, and 22 advanced labs.
Experience actual network device response as each simulated routing and switching protocol maintains its own routing and bridging table for true-to-life routing and switching simulation.
Reinforce your knowledge with excerpts from the best-selling CCNA INTRO and ICND Exam Certification Guides by Wendell Odom.
To find out more about instructor-led, e-learning, and hands-on instruction offered by authorized Cisco Learning Partners worldwide, please visit www.cisco.com/go/authorizedtraining.
Cisco CCNA Network Simulator
Closest Competitor
Number of Included Labs
105
84
Lab Grading Function
yes
no
Integrated Program Tutorial
yes
no
Add Your Own Labs to the Lab Menu System
yes
no
Load/Save Entire Network Snapshot with Configs
yes
no
Load/Save Individual Router/Switch Device Configs
yes
yes
Load Real Router/Switch Device Configs
yes
no
Telnet to a Device with Any Standard Telnet Program
yes
no
Telnet to a Device Using Simulated Terminal Server
yes
no
Different Device Models for Making Custom Network
45
4
Total Simultaneous Devices in the Same Network
200
13
Router Simulator engine and Network Designer both support 45 different Cisco device models, including the following families of routers and switches:

Cisco 800 Series Routers
Cisco 1000 Series Routers
Cisco 1600 Series Routers
Cisco 1700 Series Routers
Cisco 2500 Series Routers
Cisco 2600 Series Routers

Cisco 3600 Series Routers
Cisco 4500 Series Routers
Cisco 1900 Series Switches
Cisco 2950 Series Switches
Slot-Based Devices with Capability to Change Modules
Hosts with Friendly CLI and Integrated Help

Minimum Software Requirements:

IBM-PC 100% Compatible at 500 MHz or faster
Windows® 98 or Me with 64 MB RAM
Windows 2000® or XP with 128 MB RAM
NOT supported: Windows 95, NT, or Server
CD-ROM disk drive 4x or faster
100 MB of free disk space
TCP/IP installed
Adobe® Acrobat® Reader version 5.0 or higher
Internet Explorer version 6.0 or higher
Video card capable of 800x600 resolution with 8-bit (256) colors
Internet access for immediate registration
Unlimited one-month access with your purchase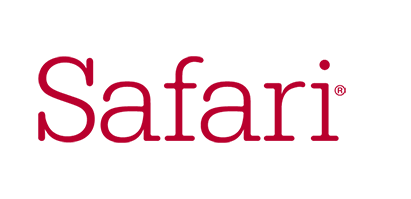 Other Things You Might Like

eBook (Watermarked) $119.99

eBook (Watermarked) $95.99

By uCertify
Book $126.00