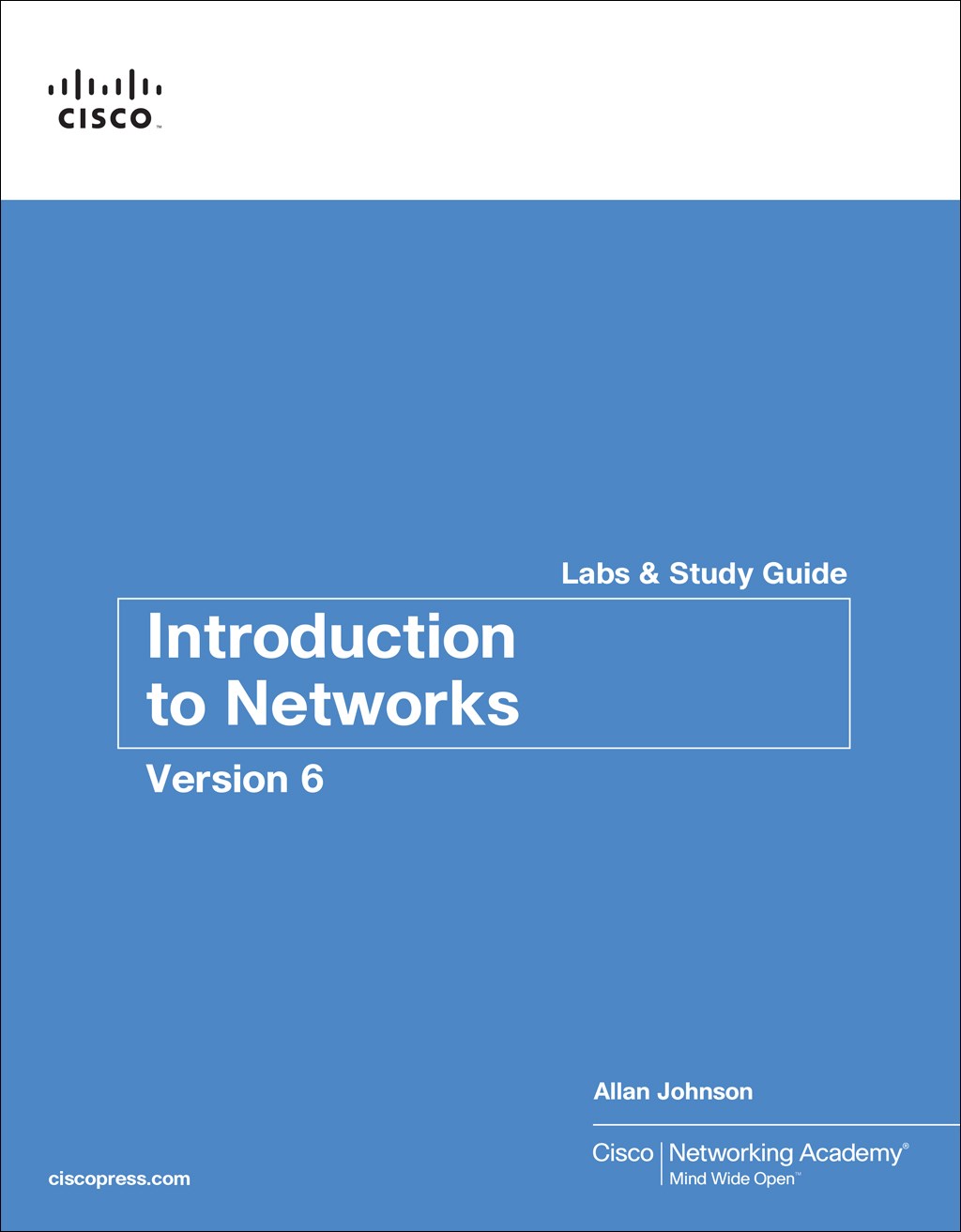 Share
|




Register your product to gain access to bonus material or receive a coupon.
Introduction to Networks v6 Labs & Study Guide
Book
Your Price: $51.00
List Price: $56.67
Estimated Release: Dec 1, 2016
Copyright 2017
Dimensions: 8-1/2" x 10-7/8"
Pages: 672
Edition: 1st
Book
ISBN-10: 1-58713-361-X
ISBN-13: 978-1-58713-361-9
The only authorized Labs & Study Guide for the Cisco Networking Academy Introduction to Networks course in the CCNA Routing and Switching curriculum
Each chapter of this book is divided into a Study Guide section followed by a Lab section.
The Study Guide section offers exercises that help you learn the concepts, configurations, and troubleshooting skills crucial to your success as a CCENT exam candidate. Each chapter is slightly different and includes some or all the following types of exercises:
• Vocabulary Matching Exercises
• Concept Questions Exercises
• Skill-Building Activities and Scenarios
• Configuration Scenarios
• Packet Tracer Exercises
• Troubleshooting Scenarios
The Labs & Activities include all the online course Labs and Packet Tracer activity instructions. If applicable, this section begins with a Command Reference that you will complete to highlight all the commands introduced in the chapter.
Table of Contents
Introduction xxxiv
Chapter 1 Exploring the Network 1
Study Guide 2
Globally Connected 2
Vocabulary Exercise: Matching 2
Completion Exercise 2
LANs, WANs, and the Internet 3
Completion Exercise 3
Classify and Identify Network Components 5
Compare LANs and WANs 6
Vocabulary Exercise: Matching 7
The Network as a Platform 8
Classify the Requirements for a Reliable Network 8
The Changing Network Environment 9
Completion Exercise 9
Network Security Terminology 9
Labs and Activities 10
1.0.1.2 Class Activity—Draw Your Concept of the Internet 10
Objectives 10
Background/Scenario 10
Required Resources 10
Reflection 10
1.1.1.8 Lab—Researching Network Collaboration Tools 11
Objectives 11
Background/Scenario 11
Required Resources 11
Part 1: Use Collaboration Tools 11
Part 2: Share Documents with Google Drive 11
Part 3: Explore Conferencing and Web Meetings 16
Part 4: Create Wiki Pages 16
Reflection 23
1.2.4.4 Packet Tracer—Help and Navigation Tips 24
Topology 24
Objectives 24
Background 24
Challenge 26
Suggested Scoring Rubric 27
1.2.4.5 Packet Tracer—Network Representation 28
Topology 28
Objectives 28
Challenge 30
Suggested Scoring Rubric 31
Objectives 32
Background/Scenario 32
Required Resources 32
Part 1: Survey Your Understanding of Convergence 32
Part 2: Research ISPs Offering Converged Services 32
Part 3: Researching Local ISPs Offering Converged Services 33
Part 4: Select Best Local ISP Converged Service Offering 33
Part 5: Research Local Companies or Public Institutions Using
Convergence Technologies 34
Reflection 34
1.4.4.3 Lab—Researching IT and Networking Job Opportunities 35
Objectives 35
Background/Scenario 35
Required Resources 35
Part 1: Research Job Opportunities 35
Part 2: Reflect on Research 37
1.5.1.1 Class Activity—Draw Your Concept of the Internet Now 39
Objectives 39
Background/Scenario 39
Required Resources 39
Reflection 39
Modeling Activity Graphic Representation 40
Chapter 2 Configure a Network Operating System 41
Study Guide 42
IOS Bootcamp 42
Completion Exercise 42
Accessing Devices 42
Navigating the IOS Matching Exercise 43
Hotkeys and Shortcuts 43
Basic Device Configuration 44
Apply a Basic Configuration 44
Packet Tracer Exercise 2-1: Basic Switch Configuration 46
Labs and Activities 47
Command Reference 47
2.0.1.2 Class Activity—It Is Just an Operating System! 48
Objectives 48
Background/Scenario 48
Required Resources 48
Reflection 48
2.1.4.6 Packet Tracer—Navigating the IOS 49
Topology 49
Objectives 49
Background 49
Part 1: Establish Basic Connections, Access the CLI, and Explore Help 49
Part 2: Explore EXEC Modes 50
Part 3: Set the Clock 51
Suggested Scoring Rubric 53
2.1.4.7 Lab—Establishing a Console Session with Tera Term 54
Topology 54
Objectives 54
Background/Scenario 54
Required Resources 54
Part 1: Access a Cisco Switch Through the Serial Console Port 55
Part 2: Display and Configure Basic Device Settings 57
Part 3: (Optional) Access a Cisco Router Using a Mini-USB Console
Cable 58
Reflection 63
Router Interface Summary Table 63
2.2.3.4 Packet Tracer—Configuring Initial Switch Settings 65
Topology 65
Objectives 65
Background 65
Part 1: Verify the Default Switch Configuration 65
Part 2: Create a Basic Switch Configuration 66
Part 3: Configure a MOTD Banner 68
Part 4: Save Configuration Files to NVRAM 69
Part 5: Configure S2 69
Suggested Scoring Rubric 70
2.3.2.5 Packet Tracer—Implementing Basic Connectivity 71
Topology 71
Addressing Table 71
Objectives 71
Background 71
Part 1: Perform a Basic Configuration on S1 and S2 71
Part 2: Configure the PCs 72
Part 3: Configure the Switch Management Interface 73
Suggested Scoring Rubric 74
2.3.3.3 Lab—Building a Simple Network 75
Topology 75
Addressing Table 75
Objectives 75
Background/Scenario 75
Required Resources 76
Part 1: Set Up the Network Topology (Ethernet Only) 76
Part 2: Configure PC Hosts 77
Part 3: Configure and Verify Basic Switch Settings 81
Reflection 86
Appendix A: Initializing and Reloading a Switch 86
2.3.3.4 Lab—Configuring a Switch Management Address 88
Topology 88
Addressing Table 88
Objectives 88
Background/Scenario 88
Required Resources 88
Part 1: Configure a Basic Network Device 89
Part 2: Verify and Test Network Connectivity 91
Reflection 95
2.4.1.1 Class Activity—Tutor Me! 96
Objectives 96
Background/Scenario 96
Required Resources 96
Reflection 96
2.4.1.2 Packet Tracer—Skills Integration Challenge 98
Addressing Table 98
Objectives 98
Scenario 98
Requirements 98
Chapter 3 Network Protocols and Communications 99
Study Guide 100
Rules of Communication 100
Vocabulary Exercise: Matching 100
Network Protocols and Standards 101
Protocol Definitions: Matching 101
Mapping the Protocols of the TCP/IP Suite 102
Standards Organizations: Matching 103
OSI Reference Model Layers: Matching 104
TCP/IP Model Layers: Matching 104
Mapping the Layers of the OSI and TCP/IP Models 105
Moving Data in the Network 105
Data Encapsulation and the PDUs 106
The Role of Addressing in Network Communications 106
Labs and Activities 107
3.0.1.2 Class Activity—Designing a Communications System 107
Objectives 107
Background/Scenario 107
Reflection 107
3.2.3.4 Lab—Researching Networking Standards 108
Objectives 108
Background/Scenario 108
Required Resources 108
Part 1: Research Networking Standards Organizations 108
Part 2: Reflect on Internet and Computer Networking Experiences 110
3.2.4.6 Packet Tracer—Investigating the TCP/IP and OSI Models in Action 111
Topology 111
Objectives 111
Background 111
Part 1: Examine HTTP Web Traffic 111
Part 2: Display Elements of the TCP/IP Protocol Suite 114
Challenge 115
Suggested Scoring Rubric 115
3.4.1.1 Lab—Installing Wireshark 116
Objectives 116
Background/Scenario 116
Required Resources 116
Download and Install Wireshark 116
3.4.1.2 Lab—Using Wireshark to View Network Traffic 122
Topology 122
Objectives 122
Background/Scenario 122
Required Resources 122
Part 1: Capture and Analyze Local ICMP Data in Wireshark 123
Part 2: Capture and Analyze Remote ICMP Data in Wireshark 128
Reflection 130
Appendix A: Allowing ICMP Traffic Through a Firewall 130
3.4.1.3 Class Activity—Guaranteed to Work! 136
Objectives 136
Background/Scenario 136
Required Resources 136
Reflection 136
Chapter 4 Network Access 137
Study Guide 138
Physical Layer Protocols 138
Completion Exercise 138
Network Media 139
Copper Cabling Completion Exercise 139
Compare UTP, STP, and Coaxial Characteristics 140
Limiting the Negative Effect of Crosstalk 140
UTP Cable Categories 141
UTP Cable Wiring Standards 141
UTP Cable Pinouts 141
Fiber-Optic Cabling Completion Exercise 142
Compare Single-Mode and Multimode Fiber 143
Wireless Media Completion Exercise 143
Data Link Layer Protocols 144
Data Link Layer Completion Exercise 144
Media Access Control 145
Topologies and Access Methods Completion Exercise 145
Label the Generic Frame Fields 146
Labs and Activities 147
4.0.1.2 Class Activity—Managing the Medium 147
Objectives 147
Background/Scenario 147
Required Resources 147
Reflection 147
4.1.2.4 Lab—Identifying Network Devices and Cabling 149
Objectives 149
Background/Scenario 149
Part 1: Identify Network Devices 149
Identify Network Media 150
Reflection 151
4.2.2.7 Lab—Building an Ethernet Crossover Cable 152
Topology 152
Addressing Table 152
Objectives 152
Background/Scenario 152
Required Resources 152
Part 1: Analyze Ethernet Cabling Standards and Pinouts 153
Part 2: Build an Ethernet Crossover Cable 155
Part 3: Test an Ethernet Crossover Cable 156
Reflection 157
4.2.4.4 Packet Tracer—Connecting a Wired and Wireless LAN 158
Topology 158
Addressing Table 158
Objectives 159
Background 159
Part 1: Connect to the Cloud 159
Part 2: Connect Router0 159
Part 3: Connect Remaining Devices 160
Part 4: Verify Connections 160
Part 5: Examine the Physical Topology 160
Suggested Scoring Rubric 161
4.2.4.5 Lab—Viewing Wired and Wireless NIC Information 162
Objectives 162
Background/Scenario 162
Required Resources 162
Part 1: Identify and Work with PC NICs 162
Part 2: Identify and Use the System Tray Network Icons 170
Reflection 172
4.5.1.1 Class Activity—Linked In! 173
Objectives 173
Physical Topology 173
Background/Scenario 173
Required Resources 174
Reflection 174
Chapter 5 Ethernet 175
Study Guide 176
Ethernet Protocol 176
Ethernet Operation Completion Exercise 176
Identify the Ethernet Frame Attributes: Matching 177
Comparing Decimal, Binary, and Hexadecimal Digits 177
Ethernet MAC Address Completion Exercise 178
LAN Switches 178
Building the MAC Address Table 178
Forward the Frame 179
Switching Forwarding Methods Completion Exercise 182
Comparing Switch Forwarding Methods 182
Switching Port Settings Completion Exercise 183
Address Resolution Protocol 183
Identify the MAC and IP Addresses 183
ARP Completion Exercise 184
Labs and Activities 186
Command Reference 186
5.0.1.2 Class Activity—Join My Social Circle 187
Objectives 187
Background/Scenario 187
Required Resources 187
Reflection 187
5.1.1.7 Lab—Using Wireshark to Examine Ethernet Frames 188
Topology 188
Objectives 188
Background/Scenario 188
Required Resources 188
Part 1: Examine the Header Fields in an Ethernet II Frame 188
Reflection 194
5.1.2.8 Lab—Viewing Network Device MAC Addresses 195
Topology 195
Addressing Table 195
Objectives 195
Background/Scenario 195
Required Resources 195
Part 1: Configure Devices and Verify Connectivity 196
Part 2: Display, Describe, and Analyze Ethernet MAC Addresses 196
Reflection 200
5.2.1.7 Lab—Viewing the Switch MAC Address Table 201
Topology 201
Addressing Table 201
Objectives 201
Background/Scenario 201
Required Resources 202
Part 1: Build and Configure the Network 202
Part 2: Examine the Switch MAC Address Table 202
Reflection 204
5.3.1.3 Packet Tracer—Identify MAC and IP Addresses 205
Topology 205
Objectives 205
Background 205
Part 1: Gather PDU Information 205
Example Spreadsheet Format 206
Part 2: Reflection Questions 206
Suggested Scoring Rubric 207
5.3.2.8 Packet Tracer—Examine the ARP Table 208
Topology 208
Addressing Table 208
Objectives 208
Background 208
Part 1: Examine an ARP Request 209
Part 2: Examine a Switch MAC Address Table 209
Part 3: Examine the ARP Process in Remote Communications 210
Suggested Scoring Rubric 211
5.4.1.1 Class Activity—MAC and Choose 212
Objectives 212
Background/Scenario 212
Required Resources 212
Reflection 212
Chapter 6 Network Layer 215
Study Guide 216
Network Layer Protocols 216
The Network Layer 216
Characteristics of the IP 216
Fields of the IPv4 Packet: Matching 217
Fields of the IPv6 Packet: Matching 217
Routing 218
How a Host Routes Packets Completion Exercise 218
Routing Table Entry: Matching 219
Identify Router Components 220
Interpreting the show version Command Exercise 221
Configuring a Cisco Router 221
Basic Router Configuration Exercise 221
Packet Tracer Exercise 6-1: Basic Router Configuration 225
Labs and Activities 227
Command Reference 227
6.0.1.2 Class Activity — The Road Less Traveled…Or Is It? 228
Objectives 228
Background/Scenario 228
Reflection 228
6.3.1.8 Packet Tracer—Exploring Internetworking Devices 229
Topology 229
Objectives 229
Background 229
Part 1: Identify Physical Characteristics of Internetworking Devices 230
Part 2: Select Correct Modules for Connectivity 230
Part 3: Connect Devices 231
Suggested Scoring Rubric 232
6.3.2.7 Lab—Exploring Router Physical Characteristics 233
Topology 233
Objectives 233
Background/Scenario 233
Required Resources 233
Part 1: Examine Router External Characteristics 233
Part 2: Examine Router Internal Characteristics Using Show Commands 236
Reflection 240
6.4.1.3 Packet Tracer—Configure Initial Router Settings 241
Topology 241
Objectives 241
Background 241
Part 1: Verify the Default Router Configuration 241
Part 2: Configure and Verify the Initial Router Configuration 242
Part 3: Save the Running Configuration File 243
Suggested Scoring Rubric 244
6.4.3.3 Packet Tracer—Connect a Router to a LAN 245
Topology 245
Addressing Table 245
Background 246
Part 1: Display Router Information 246
Part 2: Configure Router Interfaces 247
Part 3: Verify the Configuration 248
Suggested Scoring Rubric 248
Packet Tracer—Troubleshooting Default Gateway Issues 250
Topology 250
Addressing Table 250
Objectives 250
Background 250
Part 1: Verify Network Documentation and Isolate Problems 251
Testing and Verification Documentation 251
Part 2: Implement, Verify, and Document Solutions 252
Suggested Scoring Rubric 253
6.5.1.1 Class Activity—Can You Read This Map? 254
Objectives 254
Background/Scenario 254
Required Resources 254
Reflection 255
6.5.1.2 Lab — Building a Switch and Router Network 256
Topology 256
Addressing Table 256
Objectives 256
Background/Scenario 256
Required Resources 257
Part 1: Set Up Topology and Initialize Devices 257
Part 2: Configure Devices and Verify Connectivity 257
Part 3: Display Device Information 258
Reflection 260
Router Interface Summary Table 261
6.5.1.3 Packet Tracer—Skills Integration Challenge 262
Topology 262
Addressing Table 262
Objectives 262
Scenario 262
Requirements 262
Chapter 7 IP Addressing 265
Study Guide 266
IPv4 Network Addresses 266
IPv4 Address Structure 266
IPv4 Subnet Mask 267
IPv4 Unicast, Broadcast, and Multicast 269
Types of IPv4 Addresses 269
IPv6 Network Addresses 270
Representing IPv6 Addresses 270
Identify IPv6 Address Types 271
IPv6 Unicast Addresses 272
IPv6 Multicast Addresses 274
Connectivity Verification 275
ICMP Message Types 275
Testing the Path 275
Labs and Activities 276
Command Reference 276
7.0.1.2 Class Activity—Modeling the Internet of Everything (IoE) 277
Objectives 277
Background/Scenario 277
Required Resources 277
Reflection 277
7.1.2.8 Lab—Using the Windows Calculator with Network Addresses 278
Objectives 278
Background/Scenario 278
Required Resources 279
Part 1: Access the Windows Calculator 279
Part 2: Convert Between Numbering Systems 279
Part 3: Convert Host IPv4 Addresses and Subnet Masks into Binary 281
Part 4: Determine the Number of Hosts in a Network Using Powers of 2 282
Part 5: Convert MAC Addresses and IPv6 Addresses to Binary 283
Reflection 284
7.1.2.9 Lab—Converting IPv4 Addresses to Binary 285
Objectives 285
Background/Scenario 285
Part 1: Convert IPv4 Addresses from Dotted Decimal to Binary 285
Part 2: Use Bitwise ANDing Operation to Determine Network Addresses 286
Part 3: Apply Network Address Calculations 287
Reflection 288
7.1.3.8 Packet Tracer—Investigate Unicast, Broadcast, and Multicast Traffic 289
Topology 289
Objectives 289
Background/Scenario 289
Part 1: Generate Unicast Traffic 289
Part 2: Generate Broadcast Traffic 290
Part 3: Investigate Multicast Traffic 291
Suggested Scoring Rubric 292
7.1.4.9 Lab—Identifying IPv4 Addresses 293
Objectives 293
Background/Scenario 293
Required Resources 293
Part 1: Identify IPv4 Addresses 293
Part 2: Classify IPv4 Addresses 294
Reflection 295
7.2.4.9 Packet Tracer—Configuring IPv6 Addressing 296
Topology 296
Addressing Table 296
Objectives 296
Background 297
Part 1: Configure IPv6 Addressing on the Router 297
Part 2: Configure IPv6 Addressing on the Servers 297
Part 3: Configure IPv6 Addressing on the Clients 298
Part 4: Test and Verify Network Connectivity 298
7.2.5.3 Lab—Identifying IPv6 Addresses 299
Topology 299
Objectives 299
Background/Scenario 299
Required Resources 299
Part 1: Identify the Different Types of IPv6 Addresses 299
Part 2: Examine a Host IPv6 Network Interface and Address 301
Part 3: Practice IPv6 Address Abbreviation 304
Reflection 305
7.2.5.4 Lab—Configuring IPv6 Addresses on Network Devices 306
Topology 306
Addressing Table 306
Objectives 306
Background/Scenario 306
Required Resources 307
Part 1: Set Up Topology and Configure Basic Router and Switch
Settings 307
Part 2: Configure IPv6 Addresses Manually 308
Part 3: Verify End-to-End Connectivity 313
Reflection 314
Router Interface Summary Table 315
7.3.2.5 Packet Tracer—Verifying IPv4 and IPv6 Addressing 316
Topology 316
Addressing Table 316
Objectives 316
Background 317
Part 1: Complete the Addressing Table Documentation 317
Part 2: Test Connectivity Using Ping 317
Part 3: Discover the Path by Tracing the Route 317
Suggested Scoring Rubric 318
Packet Tracer—Pinging and Tracing to Test the Path 319
Topology 319
Addressing Table 319
Objectives 320
Scenario 320
Part 1: Test and Restore IPv4 Connectivity 320
Part 2: Test and Restore IPv6 Connectivity 321
Suggested Scoring Rubric 322
7.3.2.7 Lab—Testing Network Connectivity with Ping and Traceroute 323
Topology 323
Addressing Table 323
Objectives 324
Background/Scenario 324
Required Resources 324
Part 1: Build and Configure the Network 324
Part 2: Use Ping Command for Basic Network Testing 326
Part 3: Use Tracert and Traceroute Commands for Basic Network Testing 331
Part 4: Troubleshoot the Topology 333
Reflection 336
Router Interface Summary Table 337
7.3.2.8 Lab—Mapping the Internet 338
Objectives 338
Background 338
Scenario 338
Required Resources 339
Part 1: Test Network Connectivity Using Ping 339
Part 2: Trace a Route to a Remote Server Using Tracert 342
Reflection 346
7.3.2.9 Packet Tracer—Troubleshooting IPv4 and IPv6 Addressing 347
Topology 347
Addressing Table 347
Objectives 348
Scenario 348
Part 1: Troubleshoot First Issue 348
Part 2: Troubleshoot Second Issue 349
Part 3: Troubleshoot Third Issue 349
7.4.1.1 Class Activity—The Internet of Everything...Naturally 351
Objectives 351
Background /Scenario 351
Required Resources 351
Reflection 351
7.4.1.2 Packet Tracer—Skills Integration Challenge 352
Topology 352
Addressing Table 352
Scenario 353
Requirements 353
Suggested Scoring Rubric 353
Chapter 8 Subnetting IP Networks 355
Study Guide 356
Subnetting an IPv4 Network 356
Subnetting in Four Steps 356
Subnetting Example 356
Subnetting Scenario 1 358
Subnetting Scenario 2 358
Subnetting Scenario 3 359
VLSM Addressing Schemes 359
VLSM Review 359
VLSM Addressing Design Exercises 361
Design Considerations for IPv6 364
Subnetting an IPv6 Network 364
IPv6 Subnetting Practice 365
Labs and Activities 367
8.0.1.2 Class Activity—Call Me! 367
Objectives 367
Background/Scenario 367
Required Resources 367
Reflection 367
8.1.4.6 Lab—Calculating IPv4 Subnets 368
Objectives 368
Background/Scenario 368
Required Resources 368
Part 1: Determine IPv4 Address Subnetting 368
Part 2: Calculate IPv4 Address Subnetting 370
Reflection 373
8.1.4.7 Packet Tracer—Subnetting Scenario 1 374
Topology 374
Addressing Table 374
Objectives 374
Scenario 375
Part 1: Design an IP Addressing Scheme 375
Subnet Table 376
Part 2: Assign IP Addresses to Network Devices and Verify Connectivity 377
Suggested Scoring Rubric 377
8.1.4.8 Lab—Designing and Implementing a Subnetted IPv4 Addressing Scheme 378
Topology 378
Addressing Table 378
Objectives 378
Background/Scenario 378
Required Resources 379
Part 1: Design a Network Subnetting Scheme 379
Part 2: Configure the Devices 382
Part 3: Test and Troubleshoot the Network 383
Reflection 383
Router Interface Summary Table 384
Appendix A: Configuration Details for Steps in Part 2 384
8.2.1.4 Packet Tracer—Designing and Implementing a VLSM Addressing Scheme 386
Topology 386
Addressing Table 386
Objectives 386
Background 386
Part 1: Examine the Network Requirements 386
Part 2: Design the VLSM Addressing Scheme 387
Subnet Table 387
Part 3: Assign IP Addresses to Devices and Verify Connectivity 388
Suggested Scoring Rubric 388
8.2.1.5 Lab—Designing and Implementing a VLSM Addressing Scheme 389
Topology 389
Objectives 389
Background/Scenario 389
Required Resources 390
Part 1: Examine Network Requirements 390
Part 2: Design the VLSM Address Scheme 393
Part 3: Cable and Configure the IPv4 Network 394
Reflection 395
Router Interface Summary Table 395
8.3.1.4 Packet Tracer—Implementing a Subnetted IPv6 Addressing Scheme 396
Topology 396
Addressing Table 396
Objectives 396
Scenario 397
Part 1: Determine the IPv6 Subnets and Addressing Scheme 397
Subnet Table 397
Part 2: Configure the IPv6 Addressing on Routers and PCs and Verify
Connectivity 397
Suggested Scoring Rubric 398
8.4.1.1 Class Activity—Can You Call Me Now 399
Objectives 399
Background/Scenario 399
Required Resources 399
Reflection 399
8.4.1.2 Packet Tracer—Skills Integration Challenge 400
Topology 400
Addressing Table 400
Scenario 400
Requirements 401
Suggested Scoring Rubric 401
Chapter 9 Transport Layer 403
Study Guide 404
Transport Layer Protocols 404
Transportation of Data Completion Exercise 404
TCP and UDP Overview 405
TCP and UDP 407
TCP Communication 407
UDP Communication 408
TCP or UDP, That Is the Question 409
Labs and Activities 410
Command Reference 410
9.0.1.2 Class Activity—We Need to Talk 411
Objectives 411
Background/Scenario 411
Required Resources 411
Reflection 411
9.2.1.6 Lab—Using Wireshark to Observe the TCP 3-Way Handshake 412
Topology 412
Objectives 412
Background/Scenario 412
Required Resources 412
Part 1: Prepare Wireshark to Capture Packets 412
Part 2: Capture, Locate, and Examine Packets 414
Reflection 418
9.2.3.5 Lab—Using Wireshark to Examine a UDP DNS Capture 419
Topology 419
Objectives 419
Background/Scenario 419
Required Resources 419
Part 1: Record a PC's IP Configuration Information 419
Part 2: Use Wireshark to Capture DNS Queries and Responses 420
Part 3: Analyze Captured DNS or UDP Packets 420
Reflection 424
9.2.4.3 Lab—Using Wireshark to Examine TCP and UDP Captures 425
Topology—Part 1 (FTP) 425
Topology—Part 2 (TFTP) 425
Addressing Table (Part 2) 425
Objectives 425
Background/Scenario 426
Required Resources—Part 1 (FTP) 426
Required Resources—Part 2 (TFTP) 426
Part 1: Identify TCP Header Fields and Operation Using a Wireshark FTP
Session Capture 426
Part 2: Identify UDP Header Fields and Operation Using a Wireshark
TFTP Session Capture 434
Reflection 438
Challenge 438
Cleanup 438
9.3.1.1 Class Activity—We Need to Talk, Again 439
Objectives 439
Background/Scenario 439
Reflection 439
9.3.1.2 Packet Tracer Simulation—Exploration of TCP and UDP Communication 440
Topology 440
Objectives 440
Background 440
Part 1: Generate Network Traffic in Simulation Mode 440
Part 2: Examine Functionality of the TCP and UDP Protocols 441
Suggested Scoring Rubric 445
Chapter 10 Application Layer 447
Study Guide 448
Application Layer Protocols 448
OSI and TCP/IP Model Comparison 448
Application and Presentation Protocols and Standards 448
How Application Protocols Interact with End-User Applications 449
Well-Known Application Layer Protocols and Services 450
Web and Email Services 450
IP Addressing Services 450
File Sharing Services 452
Labs and Activities 454
Command Reference 454
10.0.1.2 Class Activity—Application Investigation 455
Objective 455
Background/Scenario 455
Reflection 455
10.1.2.5 Lab—Researching Peer-to-Peer File Sharing 456
Objectives 456
Background/Scenario 456
Required Resources 456
Part 1: Identify P2P Networks, File Sharing Protocols, and
Applications 456
Part 2: Research P2P File Sharing Issues 457
Part 3: Research P2P Copyright Litigations 458
Reflection 458
10.2.1.7 Packet Tracer—Web and Email 459
Topology 459
Objectives 459
Background 459
Part 1: Configure and Verify Web Services 460
Part 2: Configure and Verify Email Services on Servers 460
10.2.2.7 Packet Tracer—DHCP and DNS Servers 462
Topology 462
Objectives 462
Background 462
Part 1: Configure Static IPv4 Addressing 463
Part 2: Configure Records on the DNS Server 464
10.2.2.8 Lab—Observing DNS Resolution 465
Objectives 465
Background/Scenario 465
Required Resources 465
Part 1: Observe the DNS Conversion of a URL to an IP Address 465
Part 2: Observe DNS Lookup Using the nslookup Command on a Web Site 468
Part 3: Observe DNS Lookup Using the nslookup Command on Mail
Servers 469
Reflection 470
10.2.3.3 Packet Tracer—FTP Servers 471
Topology 471
Objectives 471
Background 471
Part 1: Configure FTP Services on Servers 472
Part 2: Upload a File to the FTP Server 472
Part 3: Download a File from the FTP Server 473
10.2.3.4 Lab—Exploring FTP 474
Objectives 474
Background/Scenario 474
Required Resources 474
Part 1: Use FTP from a Command Prompt 474
Part 2: Use FTP in a Browser 476
Part 3: Download an FTP File Using WS_FTP LE (Optional) 477
Reflection 483
10.3.1.1 Class Activity—Make It Happen! 484
Objectives 484
Background/Scenario 484
Reflection 484
10.3.1.2 Packet Tracer—Explore a Network 485
Topology 485
Objectives 485
Background 485
Part 1: Examine Internetwork Traffic at Branch 486
Part 2: Examine Internetwork Traffic to Central 487
Part 3: Examine Internet Traffic from Branch 488
Suggested Scoring Rubric 489
10.3.1.3 Packet Tracer Multiuser—Tutorial 490
Topology 490
Addressing Table 490
Objectives 490
Background 490
Part 1: Establish a Local Multiuser Connection to Another Instance of Packet Tracer 491
Part 2: Verify Connectivity Across a Local Multiuser Connection 493
10.3.1.4 Packet Tracer Multiuser—Implement Services 494
Topology 494
Addressing Table 494
Objectives 494
Background 495
Part 1: Establish a Local Multiuser Connection to Another Instance of
Packet Tracer 495
Part 2: Server Side Player - Implement and Verify Services 496
Part 3: Client Side Player - Configure and Verify Access to Services 497
Chapter 11 Build a Small Network 499
Study Guide 500
Network Design 500
Devices in a Small Network 500
Protocols in a Small Network 501
Scale to Larger Networks 501
Network Security 501
Security Threats and Vulnerabilities 501
Network Attacks 502
Network Attack Mitigation 503
Device Security 503
Packet Tracer Exercise 11-1: SSH Configuration and Verification 504
Basic Network Performance 505
Using the ping Command 505
Tracing a Route 506
Show Commands 506
Network Troubleshooting 507
Troubleshooting Methodology 507
Packet Tracer Exercise 11-2: Troubleshooting Scenario 508
Labs and Activities 509
Command Reference 509
11.0.1.2 Class Activity—Did You Notice? 511
Objectives 511
Topology 511
Background/Scenario 511
Required Resources 512
Reflection 512
11.2.2.6 Lab—Researching Network Security Threats 513
Objectives 513
Background/Scenario 513
Required Resources 513
Part 1: Exploring the SANS Website 513
Part 2: Identify Recent Network Security Threats 514
Part 3: Detail a Specific Network Security Attack 515
Reflection 515
11.2.4.5 Packet Tracer—Configuring Secure Passwords and SSH 516
Topology 516
Addressing Table 516
Scenario 516
Requirements 516
11.2.4.6 Lab—Accessing Network Devices with SSH 518
Topology 518
Addressing Table 518
Objectives 518
Background/Scenario 518
Required Resources 519
Part 1: Configure Basic Device Settings 519
Part 2: Configure the Router for SSH Access 520
Part 3: Configure the Switch for SSH Access 521
Part 4: SSH from the CLI on the Switch 522
Reflection 523
Router Interface Summary Table 523
11.2.4.7 Lab—Examining Telnet and SSH in Wireshark 524
Topology 524
Addressing Table 524
Objectives 524
Background/Scenario 524
Required Resources 524
Part 1: Configure the Devices for SSH Access 525
Part 2: Examine a Telnet Session with Wireshark 526
Part 3: Examine an SSH Session with Wireshark 528
Reflection 531
Router Interface Summary Table 531
11.2.4.8 Lab—Securing Network Devices 533
Topology 533
Addressing Table 533
Objectives 533
Background/Scenario 533
Required Resources 534
Part 1: Configure Basic Device Settings 534
Part 2: Configure Basic Security Measures on the Router 534
Part 3: Configure Basic Security Measures on the Switch 537
Reflection 540
Router Interface Summary Table 540
11.3.2.3 Packet Tracer—Testing Connectivity with Traceroute 541
Topology 541
Objectives 541
Background 541
Part 1: Test End-to-End Connectivity with the tracert Command 541
Part 2: Compare to the traceroute Command on a Router 542
Part 3: Using Extended Traceroute 542
Suggested Scoring Rubric 544
11.3.2.4 Lab—Testing Network Latency with Ping and Traceroute 545
Topology 545
Objectives 545
Background/Scenario 545
Required Resources 545
Part 1: Use Ping to Document Network Latency 545
Part 2: Use Traceroute to Document Network Latency 548
Reflection 549
11.3.3.3 Packet Tracer—Using Show Commands 550
Objectives 550
Background 550
Part 1: Analyze Show Command Output 550
Part 2: Reflection Questions 550
Suggested Scoring Rubric 551
11.3.4.6 Lab—Using the CLI to Gather Network Device Information 552
Topology 552
Addressing Table 552
Objectives 552
Background/Scenario 552
Required Resources 553
Part 1: Set Up the Topology and Initialize Devices 553
Part 2: Configure Devices and Verify Connectivity 553
Part 3: Gather Network Device Information 555
Reflection 559
Router Interface Summary Table 559
11.4.3.5 Lab—Troubleshooting Connectivity Issues 560
Topology 560
Addressing Table 560
Objectives 560
Background/Scenario 560
Required Resources 561
Troubleshooting Configurations 561
Part 1: Identify the Problem. 562
Part 2: Implement Network Changes 567
Part 3: Verify Full Functionality 568
Part 4: Document Findings and Configuration Changes 571
Reflection 571
Router Interface Summary Table 572
11.4.3.6 Packet Tracer—Troubleshooting Connectivity Issues 573
Topology 573
Addressing Table 573
Objectives 573
Background/Scenario 574
Suggested Scoring Rubric 575
11.5.1.1 Class Activity—Design and Build a Small Business Network (Capstone Project) 576
Objectives 576
Background/Scenario 576
Required Resources 576
Reflection 576
11.5.1.2 Packet Tracer—Skills Integration Challenge 577
Topology 577
Addressing Table 577
Scenario/Background 578
Requirements 578
Switch Configurations 579
Verify Connectivity 579
11.5.1.3 Packet Tracer—Troubleshooting Challenge 580
Topology 580
Addressing Table 580
Scenario/Background 581
Requirements 581
Appendix Labs 583
Appendix Lab—Observing ARP with the Windows CLI, IOS CLI, and Wireshark 583
Topology 583
Addressing Table 583
Objectives 583
Background/Scenario 584
Required Resources 584
Part 1: Build and Configure the Network 585
Part 2: Use the Windows ARP Command 585
Part 3: Use the IOS show arp Command 589
Part 4: Use Wireshark to Examine ARP Exchanges 590
Reflection 593
Router Interface Summary Table 594
Appendix Lab—Researching Subnet Calculators 595
Objectives 595
Background/Scenario 595
Required Resources 595
Part 1: Review Available Subnet Calculators 595
Part 2: Perform Network Calculations Using a Subnet Calculator 597
Reflection 599
Appendix Lab—Subnetting Network Topologies 600
Objectives 600
Background/Scenario 600
Part 1: Network Topology A 600
Part 2: Network Topology B 601
Part 3: Network Topology C 602
Part 4: Network Topology D 604
Part 5: Network Topology E 605
Reflection 607
Appendix Lab—Viewing Host Routing Tables 608
Topology 608
Objectives 608
Background/Scenario 608
Required Resources 608
Part 1: Access the Host Routing Table 608
Part 2: Examine IPv4 Host Routing Table Entries 610
Part 3: Examine IPv6 Host Routing Table Entries 611
Reflection 613
Packet Tracer—Configuring an Integrated Router 614
Topology 614
Objectives 614
Background 614
Part 1: Connect to an Integrated Router 614
Part 2: Enable Wireless Connectivity 615
Part 3: Configure and Verify Wireless Client Access 616
Suggested Scoring Rubric 617
Packet Tracer—Subnet Scenario 2 618
Topology 618
Addressing Table 618
Objectives 619
Scenario 619
Part 1: Design an IP Addressing Scheme 619
Subnet Table 620
Part 2: Assign IP Addresses to Network Devices and Verify
Connectivity 621
Suggested Scoring Rubric 621
9781587133619, TOC, 9/16/2016
Unlimited one-month access with your purchase
Other Things You Might Like

eBook (Watermarked) $48.00