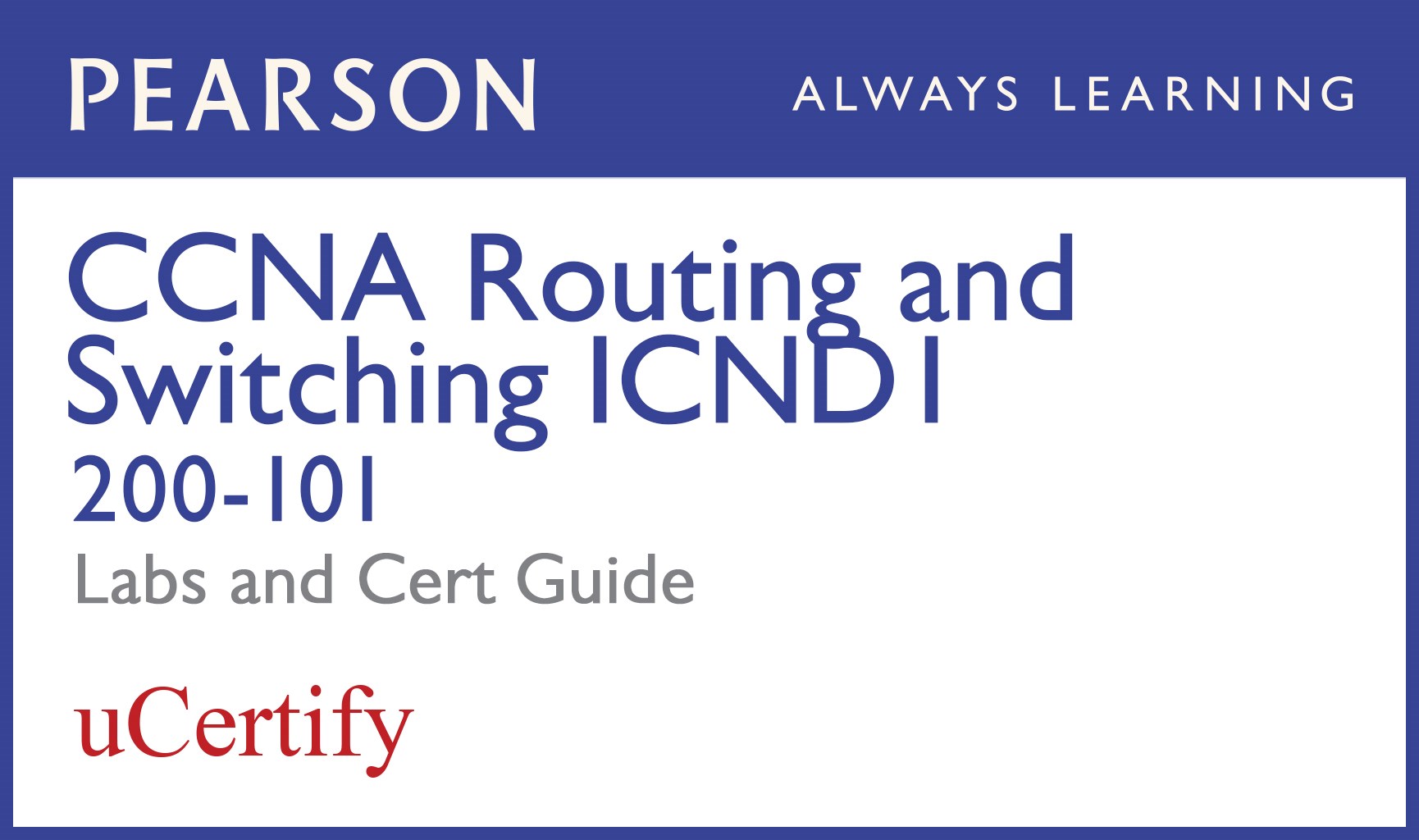 Share
|




Register your product to gain access to bonus material or receive a coupon.
CCNA R&S ICND2 200-101 Official Cert Guide Academic Edition and Network Simulator Bundle
Book
Your Price: $117.00
List Price: $130.00
Usually ships in 24 hours.
Copyright 2015
Dimensions: 7-3/8" x 9-1/8"
Pages: 750
Edition: 1st
Book
ISBN-10: 1-58713-416-0
ISBN-13: 978-1-58713-416-6
CCNA Routing and Switching ICND2 200-101 web-based hands-on labs
CCNA Routing and Switching ICND2 200-101 Network Simulator, Academic Edition Pearson uCertify Labs is an online, hands-on skills enhancement tool that helps students gain the real-world configuration and troubleshooting skills they need to succeed on the Cisco CCNA ICND2 exam and to land a job as a network engineer. The 150+ labs in this product cover the full range of Cisco CCNA R&S ICND2 200-101 exam topics.
These best-selling labs help bridge the gap between conceptual knowledge and real-world application by providing competency-based, interactive, online, 24x7 training. The labs simulate real-world networking hardware that you configure and troubleshoot using the Cisco Command Line Interface (CLI). Working through the labs, you will quickly become proficient with all the common Cisco IOS version 15 router and switch commands on the CCNA Routing and Switching exam. The open command environment allows you to explore configurations beyond the lab steps.
With this product as their guide, students will experience realistic network device performance as they perform a wide range hands-on configuration and troubleshooting exercises on the following topics:

Router and switch navigation and administration
SNMP
Syslog
IOS licensing
VLANs
STP
EtherChannel
EIGRP
OSPFv2 and OSPFv3
IPv6 routing
HSRP
Serial and serial link configuration
CCNA ICND2 200-101 Official Cert Guide, Academic Edition, is a comprehensive textbook and study package for an intermediate-level networking course. This book has been completely revised to align to Cisco's new CCNA 200-101 ICND2 exam. Material is presented in a concise manner, focusing on increasing student's retention and recall of exam topics. The book is printed in four color, allowing students to benefit from carefully crafted figures that utilize color to convey concepts. Students will organize their study through the use of the consistent features in these chapters, including:
Foundation Topics – These sections make up the majority of the page count, explaining concepts, configurations, with emphasis on the theory and concepts, and with linking the theory to the meaning of the configuration commands.
Key Topics – Inside the Foundation Topics sections, every figure, table, or list that should absolutely be understood and remembered for the exam is noted with the words "Key Topic" in the margin. This tool allows the reader to quickly review the most important details in each chapter.
Chapter-ending Summaries – These bulleted lists provide a quick and concise review of the key topics covered in each chapter.
Chapter-ending Review Questions – Each chapter provides a set of multiple choice questions that help student's test their knowledge of the chapter concepts, including answers and full explanations.
Chapter-ending Exercises – Each chapter concludes with a series of exercises designed to help students increase their retention of the chapter content including key term reviews, key topic tables, command review exercises, and memory table exercises.
Part Reviews – This new edition includes a new part review feature that helps students consolidate their knowledge of concepts presented across multiple chapters. A new mind mapping exercise helps students build strong mental maps of concepts. A new exam bank of part review questions helps students test themselves with scenario-based questions that span multiple topics.
In addition to these powerful chapter learning, review, and practice features, this book also contains several other features that make it a truly effective and comprehensive study package, including:
A Getting Started chapter at the beginning of the book offer terrific advice for how to use the book features and build an effective study plan.
The DVD contains over 60 minutes of video mentoring from the author on challenging topics such as OSPF, EIGRP, EIGRP Metrics, PPP, and CHAP.
The book comes complete with the CCNA ICND2 Network Simulator Lite software, providing students with the opportunity to practice their hands-on command line interface skills with Cisco routers and switches. The 13 labs included for free with this product cover a range of EIGRP configuration and troubleshooting exercises.
The Pearson IT Certification Practice Test software that comes with the book includes 4 full ICND2 exams and 4 full CCNA exams, providing tons of opportunities to assess and practice. Including the book review questions and part review questions, the exam bank includes more than 500 unique practice questions.
A Final Preparation Chapter helps students review for final exams and prepare to take the official Cisco CCNA exams, if they want to achieve that certification.
A Study Plan Template is included on the DVD to help students organize their study time.
Unlimited one-month access with your purchase
Other Things You Might Like

Software Download $119.99

Premium Edition eBook $39.99