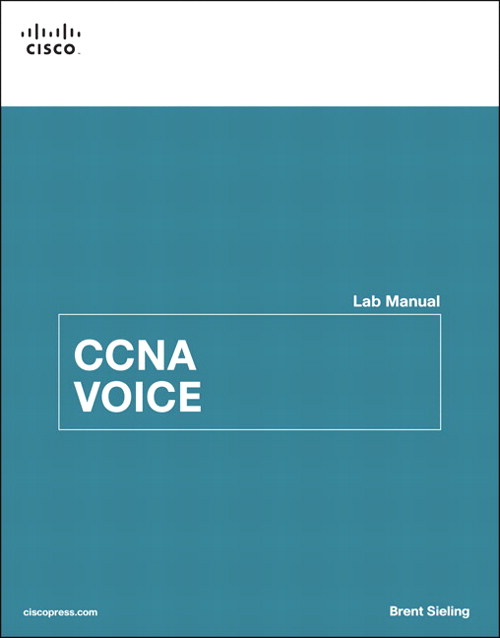 Share
|




Register your product to gain access to bonus material or receive a coupon.
CCNA Voice Lab Manual
Best Value Purchase
Individual Purchases
Features
Direct from Cisco, the only complete hands-on lab guide for the 640-461 ICOMM v8.0 CCNA Voice certification exam
Detailed introductory labs and realistic "challenge" labs help students deploy VoIP and Convergence solutions with Cisco Unified Communications Manager, UCM Express, Unity Connection, Unity Express, and Unified Presence
Beyond the exam: includes practical business examples and additional implementation guidance
Addresses the #1 new course area in Cisco Networking Academies worldwide
Copyright 2013
Dimensions: 8-1/2" x 10-7/8"
Pages: 600
Edition: 1st
Book
ISBN-10: 1-58713-299-0
ISBN-13: 978-1-58713-299-5
The CCNA® Voice certification expands your CCNA-level skill set to prepare for a career in voice networking. This lab manual helps to prepare you for the Introducing Cisco Voice and Unified Communications Administration (ICOMM v8.0) certification exam (640-461).
CCNA Voice Lab Manual gives you extensive hands-on practice for developing an in-depth understanding of voice networking principles, tools, skills, configurations, integration challenges, and troubleshooting techniques. Using this manual, you can practice a wide spectrum of tasks involving Cisco Unified Communications Manager, Unity Connection, Unified Communications Manager Express, and Unified Presence.
CCNA Voice Lab Manual addresses all exam topics and offers additional guidance for successfully implementing IP voice solutions in small-to-medium-sized businesses.
CCNA Voice 640-461 Official Exam Certification Guide, Second Edition
ISBN-13: 978-1-58720-417-3
ISBN-10: 1-58720-417-7
CCNA Voice Portable Command Guide
ISBN-13: 978-1-58720-442-5
ISBN-10: 1-58720-442-8
Configuring Cisco Unified Communications Manager and Unity Connection: A Step-by-Step Guide, Second Edition
ISBN-13: 978-1-58714-226-0
ISBN-10: 1-58714-226-0
CCNA Voice Quick Reference
ISBN-13: 978-1-58705-767-0
ISBN-10: 1-58705-767-0
Online Sample Chapter
CCNA Voice Lab Manual: Establishing Network Connectivity and Understanding IP Phone Registration
Sample Pages
Download the sample pages (includes Chapter 3)
Table of Contents
Introduction xxviii
Hardware Section xxix
Part I: Voice Concepts
Chapter 1 Traditional and Unified Voice 1
Lab 1-1: Telephony Terminology 1
Task 1: Matching Items 1
Chapter 2 Understanding Cisco Unified Communications Solutions 3
Lab 2-1: Key Features of Cisco Unified Communications Solutions 3
Task 1: Questions 3
Chapter 3 Establishing Network Connectivity and Understanding IP Phone Registration 5
Lab 3-1: Network Connectivity 5
Task 1: Clear and Cable Devices 6
Step 1-1: Clear Prior Configurations 6
Step 1-2: Cable Router and Switch 6
Task 2: Configure Basic Setup 6
Step 2-1: Configure Basic Setup on the Router 6
Step 2-2: Configure Basic Setup on the Switch 6
Task 3: Configure the Switch 7
Step 3-1: Create the VLANs 7
Step 3-2: Configure the Trunk Port 7
Step 3-3: Configure the Access Ports 8
Step 3-4: Configure the Switch Management Interface 9
Task 4: Configure the Router Subinterfaces 9
Step 4-1: Configure the Data VLAN Subinterface 9
Step 4-2: Configure the Management VLAN Subinterface 9
Step 4-3: Configure the Voice VLAN Subinterface 9
Step 4-4: Activate the Router Interface 9
Task 5: Verification 10
Step 5-1: Verify Switch VLAN Configuration 10
Step 5-2: Verify Switch Port Assignment 10
Step 5-3: Verify Router Subinterface IP Assignment 11
Task 6: DHCP Services 11
Step 6-1: Configure DHCP Pools on the Router 12
Task 7: Test and Cleanup 12
Step 7-1: Test Connectivity 12
Step 7-2: Save the Configurations 12
Step 7-3: (Optional) Explore Power Over Ethernet on the Switch 13
Lab 3-2: Network Time Protocol 15
Task 1: NTP Services 15
Step 1-1: Load Prior Configurations 15
Step 1-2: (Optional) Configure Local Time Zone 16
Step 1-3: Manually Set the Clock 16
Step 1-4 (Option A): Contact an NTP Server on the Internet 16
Step 1-4 (Option B): Configure Another Cisco Router to Act as an NTP Server 17
Step 1-5: Verify That the Time Is Synchronized 17
Step 1-6: (Optional) Configure the Switch to Get NTP from the Router 21
Step 1-7: Save the Configurations 21
Lab 3-3: Phone Boot/Registration Process 22
Task 1: Questions 22
Part II: Cisco Unified Communications Manager Express (CUCME)
Chapter 4 Introduction to CUCME Administration 23
Lab 4-1: Exploring the Command-Line Interface and Cisco Configuration Professional 23
Task 1: Load Prior Configurations 23
Task 2: Explore Telephony Services 24
Step 2-1: Determine CUCME Version 24
Task 3: Exploring CUCME Using CCP 25
Step 3-1: Test Connectivity Between PC and Router 25
Step 3-2: Configure the Router for CCP Access 25
Step 3-3: Open the CCP Application 26
Step 3-4: Create a Community in CCP 26
Step 3-5: Working with a Community in CCP 27
Step 3-6: Viewing Device Configuration Options in CCP 28
Step 3-7: Establish Unified Communication Functionality in CCP 29
Step 3-8: Deliver Configuration from CCP to the Router 29
Step 3-9: Review Unified Communications Features Summary 30
Step 3-10: Save the Startup Configuration in CCP 31
Step 3-11: Save the Running Configuration to the PC Using CCP 31
Step 3-12: Explore Other Parts of CCP 32
Lab 4-2: Integrated HTML GUI 33
Task 1: Load Prior Configurations 33
Task 2: Configure the Router for Web Access 33
Step 2-1: Enable HTTP Service on the Router 33
Step 2-2: Create a CUCME Web Administrator Account 34
Step 2-3: Use a Web Browser to Connect to the GUI 34
Chapter 5 Configuring Phones and Users in Cisco Unified Communications Manager Express (CUCME) 37
Lab 5-1: Basic Manual Phone Configuration Using the CLI 37
Task 1: Load Prior Configurations 38
Task 2: Configure Telephony-Service 38
Step 2-1: Disable Auto Phone Registration 38
Step 2-2: Establish the Maximum Number of Phones Allowed to Register 38
Step 2-3: Establish the Maximum Number of Directory Numbers (Phone Numbers) 38
Step 2-4: Set the IP Address Used by CUCME 39
Step 2-5: Create the Default Template Files 39
Step 2-6: Inspect the IP Phone Generic Config File 40
Task 3: Configuring Directory Numbers 41
Step 3-1: Create a Dual-Line Ephone-dn 41
Step 3-2: Repeat to Create the Next Three Phone Numbers 41
Task 4: Manually Configure an Ephone and Associate the First Directory Number 42
Step 4-1: Get the MAC Address of the First Phone 42
Step 4-2: Create an Ephone and Assign the MAC Address 42
Step 4-3: Assign the First Directory Number to the First Button on the Phone 43
Step 4-4: Connect the First Phone to the Switch 44
Task 5: Manually Configure a Second Phone 44
Step 5-1: Connect the Second Phone to the Switch 45
Step 5-2: Assign the Second and First Directory Numbers to the Second Phone 45
Step 5-3: Make a Call 46
Step 5-4: Assign Other Extensions to the First Phone 46
Step 5-5: Clear Configuration for the Next Lab 47
Lab 5-2: Advanced Manual Phone Configuration Using the CLI 48
Task 1: Load Prior Configurations 48
Task 2: Configure Telephony-Service 49
Step 2-1: Configure Required Telephony-Service Settings 49
Step 2-2: Configure System Time in Telephony-Service 49
Step 2-3: Configure a Banner Message for Phones with a Display 49
Task 3: Configure Ephone-dns 50
Step 3-1: Add the name Option to an Ephone-dn 50
Step 3-2: Change the Phone Display Header Bar 50
Step 3-3: Change the Text for Each Line Button 51
Step 3-4: Create the Other Ephone-dns 51
Task 4: Configure Ephones 51
Step 4-1: Create an Ephone, and Assign the MAC Address and a Directory Number 51
Step 4-2: Assign the Ephone Model Type 52
Step 4-3: Assign Users to the Phones 52
Step 4-4: Create the Other Ephones 52
Task 5: Test and Save Configuration 53
Step 5-1: Make Calls 53
Step 5-2: Save the Configuration 53
Lab 5-3: Adding Directory Numbers, Phones, and Users with Cisco Configuration Professional (CCP) 54
Task 1: Load Prior Configurations 54
Task 2: Configure Telephony Settings 55
Step 2-1: View Telephony Settings 55
Step 2-2: Edit General Telephony Settings 55
Step 2-3: Edit System Config Telephony Settings 56
Task 3: Configure Extensions 57
Step 3-1: View Extension Settings 57
Step 3-2: Create an Extension 58
Step 3-3: Create More Extensions 60
Task 4: Configure Phones and Users 60
Step 4-1: View Phone/User Settings 60
Step 4-2: Create a Phone 60
Step 4-3: Create a User 62
Step 4-4: Create Another Phone/User 62
Task 5: Test and Save Configuration 63
Step 5-1: Make Calls 63
Step 5-2: Examine the Router Configuration 64
Step 5-3: Save the Configuration 64
Lab 5-4: Examine VoIP Protocols 65
Task 1: Load Prior Configurations 65
Task 2: Establish Packet Capture 65
Step 2-1: Configure the Switch for Packet Capture 66
Task 3: Start Wireshark Capture 66
Step 3-1: Examine Phone Boot in Wireshark 66
Step 3-2: Examine a Phone Call in Wireshark 67
Task 4: Play Captured Audio 70
Task 5: Clean Up 72
Chapter 6 Cisco Unified Communications Manager Express (CUCME) Dial Plans and QoS 73
Lab 6-1: (Optional) Configuring Analog Interfaces 73
Task 1: Load Prior Configurations 74
Task 2: Examine the Interfaces in the Router 74
Task 3: Configuring FXS Ports 75
Step 3-1: Call Signaling Selection 75
Step 3-2: Connect an Analog Phone and Make a Call 75
Step 3-3: Call Progress Tones 75
Step 3-4: Description Information 76
Step 3-5: Caller ID Information 76
Step 3-6: Examine Interface Status 77
Step 3-7: Automatically Dialing Phones 77
Task 4: Configuring FXO Ports 77
Step 4-1: Configure Dial Type 77
Step 4-2: Configure Ring Number 78
Step 4-3: Description Information 78
Step 4-4: Connect the FXO Port (Optional) 78
Step 4-5: Redirect Incoming Calls (Optional) 78
Lab 6-2: (Optional) Configuring Digital Interfaces 79
Task 1: Load Prior Configurations 79
Task 2: Examine Resources in the Router 80
Step 2-1: Examine Hardware 80
Step 2-2: Examine Controller Interface 80
Step 2-3: Examine DSP Resources 81
Task 3: Configure CCS (PRI) Settings 82
Step 3-1: Configure ISDN Switch Type 82
Step 3-2: Configure Clock Participation 82
Step 3-3: Configure Controller T1 Settings 82
Step 3-4: Configure PRI Timeslots 83
Step 3-5: Examine the Interfaces 84
Task 4: Configure ISDN Network End 85
Lab 6-3: Call Legs, Dial Peers, and Wildcards 86
Task 1: Call Legs 86
Step 1-1: Understanding Call Legs 86
Task 2: Introduction to Dial Peers 87
Step 2-1: Call Flow with a Single-Router Dial Peer Exercise 87
Step 2-2: Create POTS Dial Peers 88
Step 2-3: Call Flow for Dual-Router Dial Peers Without Wildcards Exercise 89
Task 3: Introduction to Wildcards in Cisco Unified Communications Manager Express (CUCME) 90
Step 3-1: Call Flow for Dual-Router Dial Peers with Wildcards Exercise 91
Step 3-2: Create Destination Patterns Using Wildcards 92
Task 4: Create POTS and VoIP Dial Peers 93
Lab 6-4: Call Processing, Dial Plans, and Digit Manipulation 95
Task 1: Outbound Call Processing 95
Step 1-1: Examining Dial-Peer Selection 95
Step 1-2: Understanding Dial-Peer Selection 97
Step 1-3: Troubleshooting Dial-Peer Selection with the show dial-peer voice summary Command 99
Step 1-4: Troubleshooting Dial-Peer Selection with Debug 101
Task 2: POTS Dial-Peer Behavior and Digit Manipulation 102
Step 2-1: Examining POTS Dial-Peer Digit Stripping 103
Task 3: Inbound Dial-Peer Selection 106
Step 3-1: Examine Digit Matching for Inbound Calls 106
Task 4: Dial Plans for the PSTN 107
Step 4-1: Understanding Dial Plans 107
Step 4-2: Creating a PSTN Dial Plan for the NANP 108
Lab 6-5: Dial-Peer Configuration Using the CLI 110
Task 1: Load Prior Configurations 111
Task 2: Configure Hardware Used by the Dial Peers 112
Task 3: Configure Secondary Dial Tone 112
Task 4: Configure the PSTN Dial Peers 113
Step 4-1: Configure Emergency Services Calls 113
Step 4-2: Configure Service Code Calls 114
Step 4-3: Configure Local Calls 114
Step 4-4: Configure Long-Distance (Toll) Calls 114
Step 4-5: Configure Toll-Free Calls 115
Step 4-6: Configure Premium-Rate Calls 115
Step 4-7: Configure International Calls 115
Step 4-8: Make Test Calls to the PSTN Simulator 116
Task 5: Inbound Calls 117
Step 5-1: Configure for Inbound Calls 117
Step 5-2: Test Inbound Calls 118
Task 6: Calls over the WAN 119
Step 6-1: Configure a WAN Connection 119
Step 6-2: Configure a Routing Protocol (Optional) 119
Step 6-3: Configure Four-Digit VoIP Dial Peers to Other Pods Using the WAN 119
Step 6-4: Create VoIP Dial Peer for Any Other Pods 120
Step 6-5: Verify Calls to Other Pods Using the WAN 120
Task 7: PSTN Failover 120
Step 7-1: Configure a PSTN Failover 120
Step 7-2: Configure a PSTN Failover 121
Step 7-3: Configure Remaining PSTN Failover Dial Peers 121
Step 7-4: Test PSTN Failover 121
Step 7-5: Verify That VoIP Dial Peers Resume Calls When the WAN Is Back Up 121
Lab 6-6: Dial-Peer Configuration Using CCP 122
Task 1: Load Prior Configurations 123
Task 2A: Configure Digital T1/E1/PRI Interface 124
Step 2A-1: Digital Trunks 124
Step 2A-2: T1/E1 Interface 124
Step 2A-3: Deliver Configuration from CCP to the Router 125
Step 2A-4: Deliver Configuration from CCP to the Router 126
Task 2B: Configure Analog FXO/FXS Interfaces 126
Step 2B-1: Analog Trunks 126
Task 3: Configure Secondary Dial Tone 127
Task 4: Create Outgoing Dial Plan 128
Step 4-1: POTS Dial Plans 128
Step 4-2: Import Outgoing Template 128
Step 4-3: Outgoing Dial Plan Summary 129
Step 4-4: Selecting Destination Trunk 130
Step 4-5: Apply Configuration 130
Task 5: Create Outbound POTS Dial Peers 131
Step 5-1: View POTS Dial Peers 131
Step 5-2: Create POTS Dial Peer 132
Step 5-3: Digit Manipulation 132
Step 5-4: Dial Peers Challenge 133
Step 5-5: Make Test Calls to the PSTN Simulator 134
Task 6: Create Incoming Dial Plan 134
Step 6-1: Create Dial Plans Wizard Selection 134
Step 6-2: Incoming Dial Plan Summary 134
Step 6-3: Create Incoming Dial Plan 134
Step 6-4: Test Incoming Dial Plan 135
Task 7: Create VoIP Dial Peers 135
Step 7-1: Configure a WAN Connection 135
Step 7-2: Configure a Routing Protocol (Optional) 136
Step 7-3: View VoIP Dial Peers 136
Step 7-4: Create VoIP Dial Peer 136
Step 7-5: Create VoIP Dial Peer for Any Other Pods 136
Step 7-6: Verify Calls to Other Pods Using the WAN 136
Task 8: PSTN Failover 137
Step 8-1: Configure a POTS Dial Peer for Failover 137
Step 8-2: Configure a POTS Dial Peer for Failover 137
Step 8-3: Digit Manipulation 138
Step 8-4: Configure Remaining PSTN Failover Dial Peers 139
Step 8-5: Test PSTN Failover 139
Step 8-6: Verify That VoIP Dial Peers Resume Calls When the WAN Is Back Up 139
Lab 6-7: Quality of Service (QoS) 140
Task 1: Questions 144
Task 2: AutoQoS on a Switch (Optional) 144
Step 2-1: Configure a Port for a Cisco Phone 145
Step 2-2: Configure a Port for PC with Cisco IP Communicator 145
Step 2-3: Configure the Uplink to the Router 145
Step 2-4: Examine the Changes to the Switch Config 145
Step 2-5: Verify the QoS Operation 148
Task 3: AutoQoS on a Router (Optional) 149
Step 3-1: Configure the Port Connected to the Switch 149
Step 3-2: Verify the QoS Configuration 149
Chapter 7 Cisco Unified Communications Manager Express (CUCME) Productivity Features 151
Lab 7-1: Configuring the Phone Directory 151
Task 1: Load Prior Configurations 152
Task 2: Populate the Directory 152
Step 2-1: Manually Adding Directory Entries Using the CLI 152
Step 2-2: Manually Adding Directory Entries Using CCP 152
Step 2-3: Enabling the Local Directory on the Phone Display 154
Lab 7-2: Configuring Call Forwarding 156
Task 1: Load Prior Configurations 156
Task 2: Configure Call Forwarding on the Phone 156
Task 3: Configure Call Forwarding on the Router 157
Step 3-1: Configuring Call Forwarding Using the CLI 157
Step 3-2: Configuring Call Forwarding Using the CCP 158
Step 3-3: Infinite Loop Solved 160
Lab 7-3: Configuring Call Detail Records and Accounting 161
Task 1: Load Prior Configurations 161
Task 2: Establish Logging Locally on the Router 162
Task 3: Establish Logging and CDRs to a Syslog Server 163
Part III: Cisco Unified Communications Manager (CUCM)
Chapter 8 Administrative Interfaces 165
Lab 8-1: Exploring the CUCM GUI 165
Task 1: CUCM Administrative Interfaces 166
Task 2: The CCMAdmin Page 168
Chapter 9 Managing Services, Phones, and Users 169
Lab 9-1: Phone Boot Process 169
Lab 9-2: CUCM Services 170
Task 1: Remove DNS Dependencies 171
Step 1-1: Change Server Host Name to IP Address 171
Step 1-2: Change Phone References to IP Address 172
Task 2: Examine Network and Feature Services 173
Step 2-1: Examine Network Services 173
Step 2-2: Examine Feature Services 173
Task 3: Activating Feature Services and Using Help 174
Step 3-1: Service Activation Page 174
Step 3-2: Using the Help Menu 175
Step 3-3: Activate Cisco CallManager and Cisco TFTP Services 176
Task 4: Examine CUCM Licenses 176
Step 4-1: View License Unit Report 176
Lab 9-3: Autoregistration for Phones 178
Task 1: Verify That Required Services Are Ready 179
Task 2: Enable Autoregistration 179
Step 2-1: Verify Enterprise Settings for Autoregistration 179
Step 2-2: Enable Autoregistration 179
Task 3: Testing with Phones 180
Step 3-1: Connect Two Phones 180
Step 3-2: Examine the Registered Phones 181
Task 4: Cleanup 182
Step 4-1: Disable Autoregistration 182
Step 4-2: Remove Registered Phones 182
Lab 9-4: Preparing for Phone Registration 183
Task 1: Examine the Default Device Pool 184
Task 2: Communications Manager Groups 184
Example of a Cluster with Three Servers 185
Task 3: Date/Time Groups 187
Step 3-1: Create Central Time Zone Group 188
Step 3-2: Create Eastern Time Zone Group 188
Task 4: Regions 189
Step 4-1: Examine the Default Region Codecs 190
Step 4-2: Create the First Two Regions 190
Step 4-3: Modify Region Relationships 191
Step 4-4: Create a Third Region 192
Task 5: Locations 193
Task 6: Device Pools 194
Step 6-1: Create Madison Device Pool 195
Step 6-2: Create New York Device Pool 195
Step 6-3: Create Chicago Device Pool 196
Task 7: Phone Button Templates 196
Step 7-1: Create Phone Button Template 196
Step 7-2: Modify Phone Button Template 198
Task 8: Softkey Templates 199
Step 8-1: Create Softkey Template 199
Step 8-2: Modify Softkey Template 200
Task 9: Common Phone Profile 202
Task 10: Device Defaults 202
Task 11: Testing 203
Task 12: Cleanup 204
Lab 9-5: Registering Phones Manually 205
Task 1: Manually Register a Phone 205
Step 1-1: Manually Add a Phone 205
Step 1-2: Manually Add a Directory Number 207
Step 1-3: Manually Add More Directory Numbers 209
Task 2: Manually Register More Phones 210
Task 3: Test Custom Softkey Templates 210
Lab 9-6: Registering and Updating Phones Using the Bulk Administration Tool (BAT) 212
Task 1: Activate the BAT Service 213
Task 2: Examine a Phone Export File 213
Step 2-1: Export Phone Configurations 213
Step 2-2: Job Scheduler 214
Step 2-3: Download Files 215
Step 2-4: Open the Phone Export File in Microsoft Excel 216
Task 3: Download BAT File to Import Phones 217
Step 3-1: Using the BAT File 217
Step 3-2: Upload the BAT Import File 220
Task 4: Create BAT Template 221
Step 4-1: Create BAT Phone Template 221
Step 4-2: Add Lines to the BAT Phone Template 222
Task 5: Validate Data Import 224
Task 6: Complete Importing Phones 225
Task 7: Verify Phone Import 226
Task 8: Modifying Existing Phones 227
Step 8-1: Find the Phones to Update 227
Step 8-2: Update Phone Parameters 227
Lab 9-7: Adding End Users Manually 229
Task 1: Examine Administrative Users 230
Task 2: Examine User Groups 231
Task 3: Examine Roles 232
Task 4: Create New AXL Group 234
Task 5: Create the New AXL User 235
Task 6: Examine the Default Login Credential Policy 235
Task 7: Manually Create an End User 236
Task 8: Explore End User Web Pages 239
Lab 9-8: Adding End Users with the Bulk Administration Tool (BAT) 241
Task 1: Use BAT to Import End Users 241
Step 1-1: Use BAT Template 241
Step 1-2: Upload the BAT Import File 242
Step 1-3: Create BAT User Template 243
Step 1-4: Insert New Users 244
Step 1-5: Verify User Import 244
Lab 9-9: Adding End Users with LDAP Synchronization 246
Task 1: Set Up Windows Server 247
Step 1-1: Verify Server IP Address 247
Step 1-2: Configure Active Directory Sync Admin Account 247
Step 1-3: Create New Organizational Unit in Windows 250
Step 1-4: Create End Users in Windows 250
Task 2: Activate DirSync Service in CUCM 251
Task 3: Configure CUCM LDAP Synchronization 251
Step 3-1: Configure LDAP System 251
Step 3-2: Configure LDAP Directory 252
Step 3-3: Verify New Users 253
Step 3-4: Add CUCM User to Active Directory 254
Step 3-5: Resync LDAP 254
Task 4: Configure CUCM LDAP Authentication 255
Step 4-1: Configure LDAP Authentication 255
Step 4-2: Verification of End-User Passwords 256
Task 5: Clean Up 256
Chapter 10 CUCM Dial Plan 257
Lab 10-1: Call Routing 257
Task 1: Examine CUCM Call-Routing Logic 258
Step 1-1: Understanding CUCM Wildcards 258
Step 1-2: Understanding CUCM Call-Routing Logic 259
Step 1-3: Understanding CUCM Call-Routing Architecture 260
Task 2: Create Devices in CUCM 261
Step 2-1: (Optional) Create a Dummy H.323 Gateway 261
Step 2-2: Prep the Router to Become an MGCP Gateway 262
Step 2-3: Create the MGCP Gateway in CUCM 263
Step 2-4: Activating the MGCP Gateway on the Router 266
Task 3: Create Route Group in CUCM 269
Task 4: Create Route Lists in CUCM 270
Task 5: Create Route Patterns in CUCM to Build a Dial Plan to Match the North American Numbering Plan (NANP) 272
Step 5-1: Creating a Seven-Digit Local Calls Route Pattern 272
Step 5-2: Creating a Ten-Digit Local Calls Route Pattern 275
Step 5-3: Creating an Emergency Services Calls Route Pattern 276
Step 5-4: Creating a Long-Distance Calls Route Pattern 278
Step 5-5: Creating a Premium Services Blocked Calls Route Pattern 279
Step 5-6: Creating a Toll-Free Calls Route Pattern 280
Step 5-7: Creating a Service Codes Calls Route Pattern 281
Step 5-8: Creating an International Calls Route Pattern 282
Step 5-9: Examine the NANP Route Patterns 283
Lab 10-2: Class of Control—Partitions and Calling Search Spaces (CSS) 285
Task 1: Examine Partitions and Calling Search Spaces (CSS) 286
Step 1-1: Examine Partitions 286
Step 1-2: Examine Calling Search Spaces 286
Step 1-3: Examine Partitions and CSS Together 287
Step 1-4: Calculate Partitions and CSS Interactions 290
Step 1-5: Partitions and CSS for SOI 291
Task 2: Create and Assign Partitions 294
Step 2-1: Create Partitions 294
Step 2-2: Assign a Partition 294
Task 3: Create Calling Search Spaces 297
Step 3-1: Create the Mad_Restricted_CSS Calling Search Space 297
Step 3-2: Create the Mad_Guest_CSS Calling Search Space 297
Step 3-3: Create the Mad_Employee_CSS Calling Search Space 298
Step 3-4: Create the Mad_Unrestricted_CSS Calling Search Space 298
Task 4: Assign Calling Search Spaces and Partitions 298
Step 4-1: Assign a CSS and Partition to the Directory Numbers 299
Step 4-2: Assign a Partition to a Route Pattern 300
Step 4-3: Assign Partitions to All the Route Patterns 301
Step 4-4: Assign a CSS to a Gateway 302
Step 4-5: Assign a CSS to a Phone 303
Step 4-6: Experiment with Line/Phone CSS Interaction 304
Step 4-7: Challenge: Complete the Testing 305
Step 4-8: Cleanup 305
Lab 10-3: Centralized Cisco Unified Communications Manager (CUCM)–to–Branch Office Call Routing 306
Task 1: Examine Call Admission Control (CAC) 307
Step 1-1: Examine the Settings for Regions and Locations 307
Step 1-2: Examine Call Statistics on a Phone 307
Step 1-3: Change a Phone to the New York Device Pool 308
Step 1-4: Determine Bandwidth Needed for G.729 Calls 309
Step 1-5: Determine Bandwidth Needed for G.711 Calls 310
Step 1-6: Determine Bandwidth Needed for iLBC Calls 311
Step 1-7: Cleanup 312
Task 2: Implement Alternate Automatic Routing (AAR) 312
Step 2-1: Set Up Branch Office Gateway 312
Step 2-2: Enable AAR Service Parameter 315
Step 2-3: Create AAR Groups 315
Step 2-4: Update Device Pools 316
Step 2-5: Configure a Branch Office Phone 317
Step 2-6: Testing 319
Step 2-7: Verify That the AAR CSS Is Working 320
Step 2-8: Branch Office Dial Plan Challenge 321
Task 3: Implement Survivable Remote Site Telephony (SRST) and Call Forward UnRegistered (CFUR) 321
Step 3-1: Configure SRST Reference in CUCM 322
Step 3-2: Apply SRST Reference to Device Pool 323
Step 3-3: Configure Router for SRST 324
Step 3-4: Configure Dial Peers for SRST 325
Step 3-5: Configure Maximum Redirects 326
Step 3-6: Configure CFUR 326
Step 3-7: Test SRST Failover and CFUR Behavior 327
Tips to Complete Branch Office Dial Plan 328
Lab 10-4: Hunt Groups 330
Task 1: Configure Hunt Groups 331
Step 1-1: Configure Sales Agents Line Group 331
Step 1-2: Configure Managers Line Group 332
Step 1-3: Configure Hunt List 332
Step 1-4: Configure Hunt Pilot 334
Step 1-5: Testing 334
Chapter 11 CUCM Telephony Features 337
Lab 11-1: Extension Mobility 337
Task 1: Activate Extension Mobility Services and Configure Service Parameters 338
Step 1-1: Activate Extension Mobility Service 338
Step 1-2: Configure Extension Mobility Service Parameters 338
Task 2: Configure Extension Mobility IP Phone Service 340
Step 2-1: Configure the Extension Mobility IP Phone Service 340
Task 3: Create and Associate Device Profiles 341
Step 3-1: Create Default Device Profile 341
Step 3-2: Create Device Profile 341
Step 3-3: Configure Lines for the Device Profile 342
Step 3-4: Associate a Device Profile with a User 343
Step 3-5: Enable Extension Mobility on a Phone 344
Task 3: Validate Extension Mobility 344
Lab 11-2: Call Coverage Features 346
Task 1: Configure Call Park and Directed Call Park 347
Step 1-1: Configure Call Park 347
Step 1-2: Test Call Park 348
Step 1-3: Configure Directed Call Park 348
Step 1-4: Test Directed Call Park 349
Task 2: Configure Call Pickup 349
Step 2-1: Create a Call Pickup Group 349
Step 2-2: Assign a Call Pickup Group to a Phone 349
Step 2-3: Test Call Pickup 350
Task 3: Configure Shared Lines 351
Step 3-1: Create a New Directory Number 351
Step 3-2: Assign Directory Number to Second Phone 351
Step 3-3: Test Shared Lines 352
Task 4: Configure Barge and Privacy 352
Step 4-1: Configure System Parameters for Barge 352
Step 4-2: Disable Barge on a Phone 353
Step 4-3: Testing Barge 354
Task 5: Configure Intercom 354
Step 5-1: Create Intercom Partitions 354
Step 5-2: Create Intercom Numbers 355
Step 5-3: Configure Intercom on First Phone 356
Step 5-4: Configure Intercom on Second Phone 358
Step 5-5: Testing Intercom 359
Step 5-6: Intercom Challenge 359
Task 6: Configure Native Presence 359
Step 6-1: Configure Phone Button Template (BLF Speed Dials) 359
Step 6-2: Enable BLF Speed Dials 360
Chapter 12 CUCM Mobility Features 363
Lab 12-1: Mobile Connect 363
Task 1: Enable Users and Phones for Mobile Connect 364
Step 1-1: Configure User to Use Mobile Connect 364
Step 1-2: Configure Softkey Template 365
Step 1-3: Configure Phone for Mobile Connect 367
Task 2: Create Remote Destinations and Remote Destination Profiles 368
Step 2-1: Create Remote Destination Profile 368
Step 2-2: Create Remote Destinations. 369
Task 3: Configure and Apply Access Lists 371
Step 3-1: Create Allowed Number Access List 372
Step 3-2: Create Blocked Number Access List 373
Step 3-3: Apply Access Lists 374
Task 4: Testing Mobile Connect 374
Step 4-1: Mobile Connect—Forwarding to Remote Destination 374
Step 4-2: Mobile Connect—Blocking 375
Lab 12-2: Mobile Voice Access 376
Task 1: Enable MVA 377
Step 1-1: Activate the MVA Service 377
Step 1-2: Configure Service Parameters for MVA 377
Task 2: Configure Users for MVA 377
Step 2-1: Enable MVA for the User 377
Task 3: Configure MVA 378
Step 3-1: Configure MVA Media Resource 378
Step 3-2: Examine IOS Gateway Configuration 379
Part IV: Voicemail and Presence Solutions
Chapter 13 Cisco Unity Connection 381
Lab 13-1: Integrating CUC with CUCM 381
Task 1: Create SCCP Ports for CUCM Connections to CUC 382
Step 1-1: Add Voice Mail Ports Using the Wizard 382
Step 1-2: Add Ports Using the Wizard 383
Step 1-3: Configure Device Information Using the Wizard 384
Step 1-4: Configure Directory Numbers Using the Wizard 384
Step 1-5: Configure Line Group Using the Wizard 385
Step 1-6: Wizard Confirmation 385
Step 1-7: Wizard Summary 385
Step 1-8: Create Hunt List 386
Step 1-9: Create Hunt Pilot 387
Step 1-10: Create Message Waiting Indicator On 388
Step 1-11: Create Message Waiting Indicator Off 389
Step 1-12: Create Voice Mail Pilot 389
Step 1-13: Create Voice Mail Profile 390
Task 2: Configure CUC for SCCP Connection to CUCM 390
Step 2-1: Configure Phone System 390
Step 2-2: Configure Port Group 391
Step 2-3: Configure SCCP Port 392
Step 2-4: Test the CUCM-to-CUC Connection 393
Task 3: Create SIP Trunk for CUCM Connections to CUC 393
Step 3-1: Configure SIP Trunk Security Profile 394
Step 3-2: Configure SIP Trunk 395
Step 3-3: Configure Route Pattern 396
Step 3-4: Create SIP Voice Mail Pilot 397
Step 3-5: Create Voice Mail Profile 398
Step 3-6: Assign SIP Voice Mail Profile to a Phone 399
Task 4: Configure CUC for SIP Connection to CUCM 399
Step 4-1: Configure Phone System 399
Step 4-2: Configure SIP Port Group 400
Step 4-3: Configure SIP Port 400
Step 4-4: Test the CUCM-to-CUC Connection 401
Task 5: Using the Real-Time Monitoring Tool (RTMT) to Examine Voice Mail Call Flow 401
Step 5-1: Download and Install RTMT 401
Step 5-2: Examine Voice Mail Ports Using RTMT 402
Lab 13-2: Configuring Cisco Unity Connection (CUC) Templates and Manually Adding a User 405
Task 1: CUC Authentication Rules and Class of Service 406
Step 1-1: Examine Authentication Rules 406
Step 1-2: Configure Authentication Rules 407
Step 1-3: Examine Class of Service 408
Task 2: CUC User Template 409
Step 2-1: Examine the User Template 409
Step 2-2: Create a User Template 410
Task 3: Configure CUC Users 412
Step 3-1: Configure User with the Custom Template 412
Step 3-2: Test User Voice Mailbox 414
Task 4: Update CUCM Directory Numbers to Use Voice Mail 414
Step 4-1: Configure Voice Mail on a Directory Number 414
Step 4-2: Configure Voice Mail on a Directory Number 415
Step 4-3: Test Call Forwarding to Voice Mail 416
Lab 13-3: Adding Users to Cisco Unity Connection (CUC) from Cisco Unified Communications Manager (CUCM) and Using the Bulk Administration Tool (BAT) 418
Task 1: Configure CUC to Import Users from CUCM 418
Step 1-1: Activate AXL Web Service on CUCM 419
Step 1-2: Create AXL User Account 419
Step 1-3: Configure AXL Services in CUC 419
Step 1-4: Configure User Accounts in CUCM 420
Step 1-5: Import CUCM Users into CUC 421
Step 1-6: Examine Imported User 421
Task 2: Use BAT to Import Users into CUC 422
Step 2-1: Export Users 422
Chapter 14 Cisco Unified Presence 425
Lab 14-1: Configuring Cisco Unified Presence Server 425
Task 1: Configure CUCM for CUPS Functionality 426
Step 1-1: Activate Services 426
Step 1-2: Add CUPS as an Application Server 426
Step 1-3: Add an AXL Group and User 427
Step 1-4: Add a CTI-Enabled Group 427
Step 1-5: Add a CTI User 428
Step 1-6: Add an IP Phone Messenger User 428
Step 1-7: Add the IP Phone Messenger Service 429
Step 1-8: Subscribe Phones to IP Phone Messenger 430
Step 1-9: Add a SIP Trunk Security Profile 430
Step 1-10: Add SIP Publish Trunk 431
Step 1-11: Enable Users for Presence Functionality 432
Task 2: Configure CUPS Connectivity to CUCM 433
Step 2-1: Access the CUPS Web Administration Page 434
Step 2-2: Upload a License File (Optional) 435
Step 2-3: Activate Services 436
Step 2-4: Add a Presence Gateway 436
Step 2-5: Add CUCM as a Presence Gateway 437
Step 2-6: Activating Desk Phone Control/Microsoft RCC 438
Step 2-7: Enable Users for Desk Phone Control/Microsoft RCC 439
Step 2-8: Activate the IP Phone Messenger 439
Task 3: Configure CUPC/Jabber Profile 440
Step 3-1: Configure CUPC Settings 441
Step 3-2: Configure CUPC Voicemail—Voicemail Server 441
Step 3-3: Configure CUPC Voicemail—Mailstore 442
Step 3-4: Configure CUPC Voicemail—Voicemail Profile 443
Step 3-5: Configure CUPC Conferencing (Optional) 444
Step 3-6: Configure CUPC CTI Access 446
Step 3-7a : Configure CUPC CTI Gateway Profile for CUPS Version 8.6.3 or Greater 446
Step 3-7b: Configure CUPC CTI Gateway Profile CUPS Version Prior to 8.6.3 447
Step 3-8: Configure CUPC LDAP Access 448
Step 3-9: Configuring CUPC LDAP Access 449
Step 3-10: Configure a CUPC Audio Profile 450
Step 3-11: Configure a CUPC CCMCIP Profile 450
Step 3-12: Enable User Calendar Integration (Optional) 451
Task 4: Create CSF Devices in CUCM 452
Step 4-1: User/Desk Phone Association 452
Step 4-2: Create CSF Device in CUCM 454
Part V: Management and Troubleshooting
Chapter 15 Troubleshooting Cisco Unified Communications Manager Express (CUCME) 457
Lab 15-1: Troubleshooting Process 457
Task 1: Complete the Troubleshooting Methodology Diagram 458
Task 2: Phone Boot Process 458
Lab 15-2: Troubleshooting CUCME Configuration 459
Task 1: Desired Configuration 459
Task 2: Router Configuration 460
Task 3: Switch Configuration 463
Chapter 16 Troubleshooting CUCM 465
Lab 16-1: Troubleshooting Process 465
Task 1: Complete the Troubleshooting Methodology Diagram 465
Task 2-1: Understand the Phone Boot Process 466
Task 2-2: Playing "What If?" 466
Task 3: Dialed Number Analyzer 469
Step 3-1: Activate Services 469
Step 3-2: Dialed Number Analyzer 469
Task 4: CUCM Reports 473
Step 4-1: Route Plan Report 473
Step 4-2: Cisco Unified Reporting 475
Step 4-3: Call Detail Record Analysis and Reporting 475
Step 4-4: Real Time Monitoring Tool (RTMT) 476
Step 4-5: Disaster Recovery System 479
Chapter 17 Monitoring Cisco Unity Connection 481
Lab 17-1: Cisco Unity Connection Reports 481
Task 1: Prepare the System 482
Step 1-1: Leave Unheard Messages 482
Step 1-2: Examine Authentication Rule Settings 482
Step 1-3: Lock Out an Account 482
Step 1-4: Adjust Report Configuration 482
Task 2: Cisco Unity Connection Serviceability Page 483
Step 2-1: Access the Cisco Unity Connection Serviceability Page 483
Step 2-2: Examine the Users Report 484
Step 2-3: Examine the User Lockout Report 485
Step 2-4: Examine the Phone Interface Failed Logon Report 485
Step 2-5: Examine the User Message Activity Report 486
Step 2-6: Examine Other Reports 486
Task 3: Real-Time Monitoring Tool and Serviceability Reports Archive 487
Step 3-1: Activate the Cisco Serviceability Reporter Service 487
Step 3-2: Examine RTMT Reports 487
Part VI: Appendixes
Appendix A IP Addressing and Phone Extensions for Cisco Unified Communications Manager Express (CUCME) Labs 489
Appendix B IP Addressing and Phone Extensions for Cisco Unified Communications Manager (CUCM) Labs (Chapters 8–14 and 16–17) 495
Appendix C Building Cisco Unified Communications Manager (CUCM), Cisco Unity Connection (CUC), and Cisco Unified Presence (CUPS) Servers in
VMware Workstation 501
Appendix D Configuring the Cisco Unified Communications Manager Express Router 531
Appendix E PSTN Simulator 547
TOC, 12/20/2012, 9781587132995
Unlimited one-month access with your purchase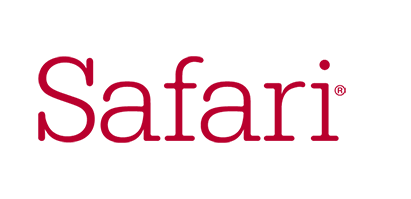 Other Things You Might Like

Online Video $79.99