Web-Based Premium Edition eBook and Practice Tests
Explore the web-based version of the popular Pearson Test Prep practice test software from Cisco Press and Pearson IT Certification. This online version enables you to access the practice tests that come bundled with our best-selling study guides via the Internet on any desktop, laptop, tablet, or smartphone device with Internet connectivity. The web-based version also allows you to download the software to your desktop so you can use the practice test even when you don't have an internet connection. The desktop version syncs with your online version when an internet connection is established, to update and track your progress. Try a free Practice Test today!
This integrated learning package offers these additional benefits:
Allows you to focus on individual topic areas or take complete, timed exams
Contains direct links from each question to detailed tutorials, to help you understand the concepts behind the questions
Presents unique sets of exam-realistic practice questions
Tracks your performance and provides feedback on a module-by-module basis, with a complete assessment of your knowledge to help you focus your study where it is needed most
Includes PDF and EPUB formats, which are accessible via your PC, tablet, and smartphone.
All Premium Edition eBook and Practice Test products are available for 30% off the suggested list price for a limited time period. Simply enter discount code PREMIUM during checkout and 30% discount is applied. Premium Edition eBook and Practice Test products are only available at ciscopress.com, pearsonitcertification.com, and informit.com.
If you have already purchased a print book that has an associated Premium Edition, check the CD sleeve in the back of the book for an insert. This insert has a unique coupon code, which will allow you to purchase a copy of the Premium Edition at a savings of up to 70%. Learn more.
Save 30% with coupon code PREMIUM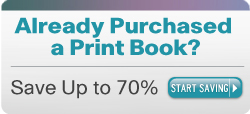 Reviews
"Premium Edition eBook and Practice tests are a good combination for those people who want to study on their own with a product geared towards certification achievement."—Neeraj J.