Practical Studies Series
Part of the Certification Self-Study Product Family
Cisco authorized hands-on guides that provide real-world experience and mid-stage exam preparation for Cisco certification exams
Cisco® authorized learning tools that help users translate networking theory into real-world experience through applied, hands-on exercises
Present lab scenarios that can be practiced on home or lab equipment, a remote-access lab, or a networking simulator
Designed as self-study preparation materials for various popular Cisco certification exams, these titles are also equally effective technical resources
Part of a recommended learning path endorsed by Cisco Systems®, and the only official Practical Studies titles available
What are Practical Studies titles?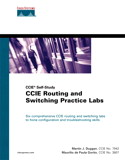 Practical Studies books offer readers a means to apply their theoretical knowledge through hands-on lab scenarios. This unique approach enables readers to practice and hone their internetworking skills while preparing for Cisco certification exams. These books teach readers how to build a home lab and how to learn certification-oriented concepts by working through scenarios on those labs.
Each chapter tackles a key technology, presenting a series of mini-labs, walking readers through the lab scenarios, explaining commands and why those commands are chosen, and providing the resulting configurations. Labs build upon themselves from chapter to chapter, moving up the OSI model from the physical to the application layer. Each title concludes with simulation labs that tie all the technologies together and that test readers' knowledge and ability to perform in a timed environment.
Who should read Practical Studies titles?
Practical studies books are targeted to networking professionals who have theoretical understanding of concepts and want to apply this knowledge to real-world scenarios, whether for Cisco certification exam preparation or on-the-job tasks.
Who writes Practical Studies titles?
Authors of Practical Studies titles are well-respected internetworking professionals who themselves have applied networking theory to their daily jobs. Together they hold dozens of Cisco certifications, including the highly regarded CCIE® certification.
What role do Practical Studies titles play in Cisco certification preparation?
Practical Studies books help translate conceptual knowledge gained from training courses or Cisco Press Self-Study Guides to applied understanding. They are meant for mid-stage exam preparation and are often used before candidates turn to Exam Certification Guides or Flash Card and Exam Practice Packs, which address late-stage exam preparation.
What is the difference between Practical Studies and Practice Labs titles?
Practical Studies titles provide a series of labs that teach one concept at a time; they are developed for CCNA and CCNP exam preparation. Practice Labs titles, which are developed for CCIE preparation, provide fewer, yet broader labs that emulate the all-day lab format of the CCIE lab exam.