Fundamentals Series
Part of the Network Technology Product Family
The basis for understanding the purpose, application, and management of technology
Essential explanations and solutions for networking professionals who must keep abreast of new innovations
Speaks to seasoned networking professionals, avoiding staid and often redundant "introduction to networking" language
Written by leading authorities in the networking industry with expertise in new, emerging technologies
What is the Fundamentals Series?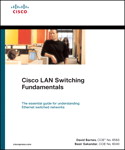 The Fundamentals Series provides networking professionals with a trusted, authoritative introduction to new and established topics, covering network topologies, example deployment concepts, protocols, and management techniques. The series deliberately skips networking primers in favor of valuable, topic-specific coverage, allowing networking professionals to move to the next level quickly. It offers readers an opportunity to master essential networking concepts and solutions, resulting in basic proficiency. Additionally, the Fundamentals Series forms an important bridge into intermediate and advanced Cisco Press books, such as Networking Technology guides, where readers can learn more complex topics.
Who should read Fundamentals books?
Fundamentals titles are written for established networking professionals. Authors assume that readers understand basic networking concepts and are familiar with basic networking terminology, avoiding explanations that would normally appear in the First-Step Series and other entry-level titles. Readers may be advanced-level networking students or hold titles or positions such as network operator, administrator, and manager; network designer or architect; network engineer; network technician; network analyst or consultant; and network database administrator.
Who writes Fundamentals books?
Cisco Press has recruited well-respected authors, college professors, and industry innovators to write books in the Fundamentals Series. These authors bring years of networking experience—including knowledge in new, emerging technologies—to these titles. Together they hold numerous and varied certifications, including the highly regarded CCIE® designation.
How does the Fundamentals Series relate to the First-Step Series and the Networking Technology Guide Series?
Books in the Fundamentals Series provide the basis for understanding the purpose, application, and management of a technology. As such, readers who have completed a First-Step book will next reach for a Fundamentals title to expand their understanding on a topic. After completing a Fundamentals title, readers can turn to Networking Technology Guides for further detailed information like troubleshooting and application management.