Certification Guide Series
Part of the Certification Self-Study Product Family
Mid- to late-stage assessment, review, and exam practice for Cisco certifications
Officially developed exam preparation guides offering assessment, review, and practice for the most popular Cisco certification exams: CCENT, CCNA, CCDA, CCNP, and CCIE;
Well-regarded by readers for level of detail, assessment features, challenging review questions, hands-on exercises, and companion websites containing supplementary content such as test engines, videos, study resources, and more
Specifically focused on exam objectives
Number-one selling, best-of-breed self-study exam guides for Cisco certification exams
What are Certification Guides?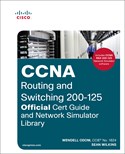 The goal of Certification Guides is to help prepare candidates for Cisco certification exams from CCNA to CCIE. These books assume readers have attained the necessary learning foundation and experience for a certification test and are reviewing material before exam time.
Certification Guides present organized test preparation routines through the use of proven series elements and techniques. "Do I Know This Already?" quizzes open each chapter and allow readers to decide how much time they need to spend on each section. Foundation Summary lists and tables make referencing easy and provide quick refreshers when needed. Chapter-ending review questions help readers assess their knowledge and reinforce key concepts.
Certification Guides include a companion CD-ROM that contains a powerful testing engine that can be customized with practice exam questions and simulation-based questions (when applicable).
These guides are part of a recommended study program from Cisco and are the only official exam guides available.
Who should read Certification Guides?
These are mid- to late-stage exam guides that help readers master exam concepts. These books are written for readers who have conceptual, hands-on knowledge of the material and need to concentrate their study efforts before sitting for the exam.
Who writes Certification Guides?
Authors of Certification Guides are well-respected internetworking instructors, many of whom are certified Cisco instructors and teach courses at Cisco Learning Partners. Together they have more than 150 years of industry experience and hold dozens of Cisco certifications, including the highly regarded CCIE certification.
What role do Certification Guides play in Cisco certification preparation?
As mid- to late-stage study tools, Certification Guides review concepts and prepare candidates for a Cisco certification exam. The audience who relies on these guides usually has conceptual understanding from real-world experience, a training course, or a Cisco Press Foundation Learning Guide and has gained hands-on experience through a Network Simulator or a Portable Command Guide and work experience. After using a Certification Guide, a candidate would proceed to late-stage preparation with a title from the 31 Days series or one of our video training titles.