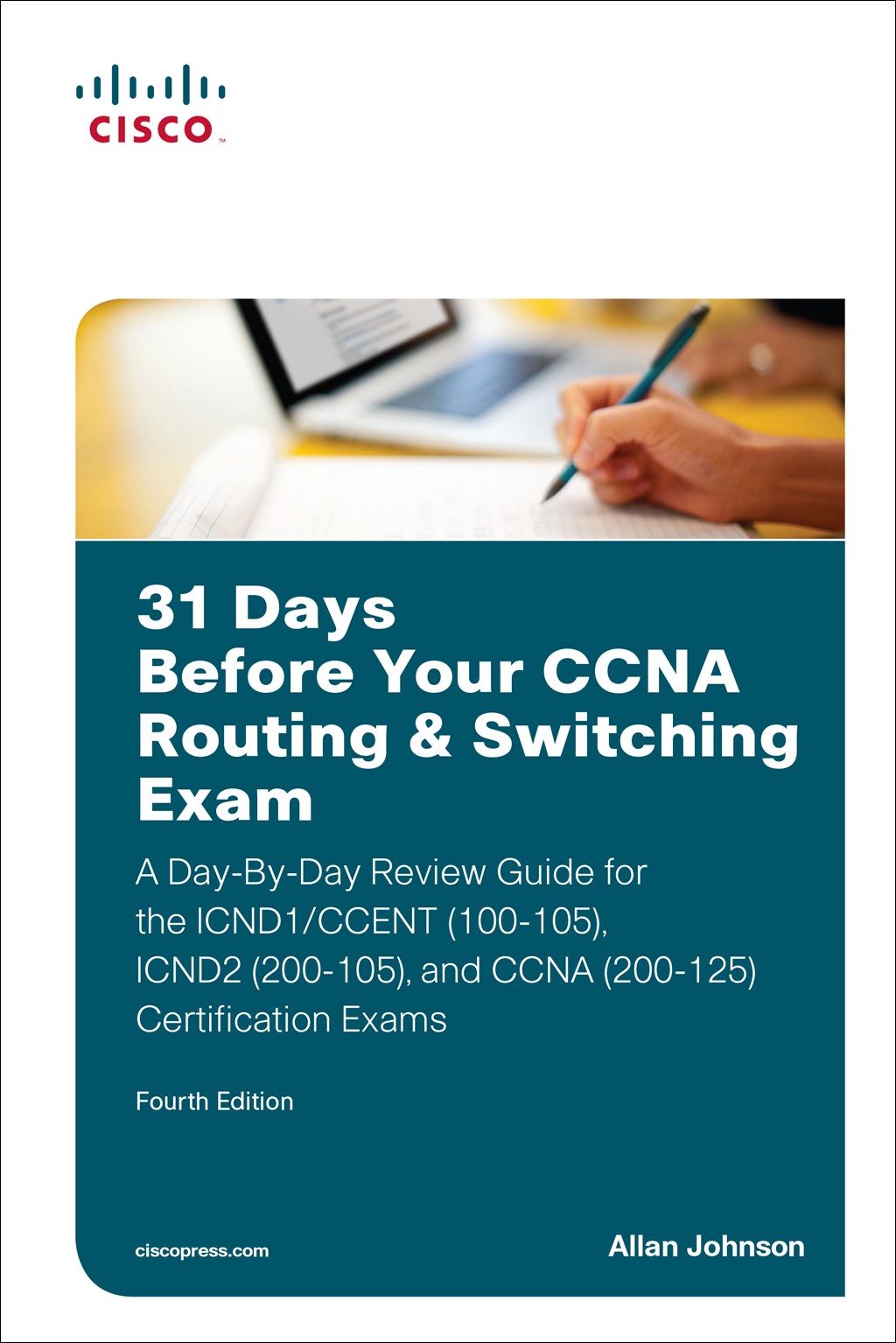 Share
|



Register your product to gain access to bonus material or receive a coupon.
31 Days Before Your CCNA Routing & Switching Exam (Digital Study Guide): A Media-Rich, Web Edition of the Day-By-Day Review Guide for the ICND1 (100-105), ICND2 (200-105), and CCNA (200-125) Certification Exams, 2nd Edition
Web Edition
Sorry, this book is no longer in print.

A Web Edition is an online learning product that you view in your web browser while connected to the Internet. Some Web Editions include additional interactive features, such as videos, quizzes, or live code editing. Read the product description for more details. A Web Edition will be accessible from your Account page after purchase.

Viewing a Web Edition requires a web browser that fully supports HTML5. Supported platforms are:

Windows XP (Firefox only)
Windows 7, 8, or 10 (IE10, IE11, Chrome, or Firefox)
Mac OS X (Safari, Firefox, or Chrome)
Linux (Chrome or Firefox)
iOS 6, 7, or 8 (Mobile Safari)
Copyright 2017
Edition: 2nd
Web Edition
ISBN-10: 0-13-446619-5
ISBN-13: 978-0-13-446619-4
31 Days Before Your CCNA Routing & Switching Exam
31 Days Before Your CCNA Routing and Switching Exam offers you an engaging and practical way to understand the certification process, commit to taking the ICND1 (100-105), ICND2 (200-105), and CCNA (200-125) certification exam, and finish your preparation using a variety of Primary and Supplemental study resources.
Sign up for the exam and use the book's day-by-day guide and checklist to organize, prepare, and review. Each day in this guide breaks down an exam topic into a manageable bit of information to review using short summaries. A Study Resources section provides you with a quick reference for locating more in-depth treatment of a day's topics within the Primary and Supplemental resources.
The features of the book empower you to fit exam preparation into a busy schedule:
· A visual calendar summarizing each day's study topic
· A checklist providing advice for preparation activities leading up to the exam
· A description of the CCNA Routing & Switching exams organization and sign-up process
· Strategies from the author to be mentally, organizationally, and physically prepared for exam day
· A conversational tone, which makes your study time more enjoyable
Contents
Three sample lessons (Days 31, 30, and 29) are available for viewing online, exactly as they appear in the full Digital Study Guide with complete video walkthroughs, exercises, and interactive quizzes (HTML5 browser required).
Day 31: Networking Models, Devices, and Components
Day 29: Switch Configuration Basics
Day 28: VLAN and Trunking Concepts and Configurations
Day 27: IPv4 Addressing
Day 26: IPv6 Addressing
Day 25: Basic Routing Concepts
Day 24: Basic Router Configuration
Day 23: Static and Default Route Configuration
Day 22: RIPv2 Implementation
Day 21: VTP and Inter-VLAN Routing Configuration
Day 20: OSPF Operation
Day 19: Single-Area OSPF Implementation
Day 18: Multiarea OSPF Implementation
Day 17: Fine-Tuning and Troubleshooting OSPF
Day 16: EIGRP Operation
Day 15: EIGRP Implementation
Day 14: Fine-Tuning and Troubleshooting EIGRP
Day 13: CDP and LLDP
Day 12: LAN Security and Device Hardening
Day 11: STP
Day 10: EtherChannel and HSRP
Day 9: ACL Concepts
Day 8: ACL Implementation
Day 7: DHCP and DNS
Day 6: NAT
Day 5: WAN Overview
Day 4: WAN Implementation
Day 3: QoS, Cloud, and SDN
Day 2: Device Monitoring, Management, and Maintenance
Day 1: Troubleshooting Methodologies and Tools
ICND 1 100-105 Practice Test
ICND 2 200-105 Practice Test
Exam Day
Post-Exam Information
Other Things You Might Like