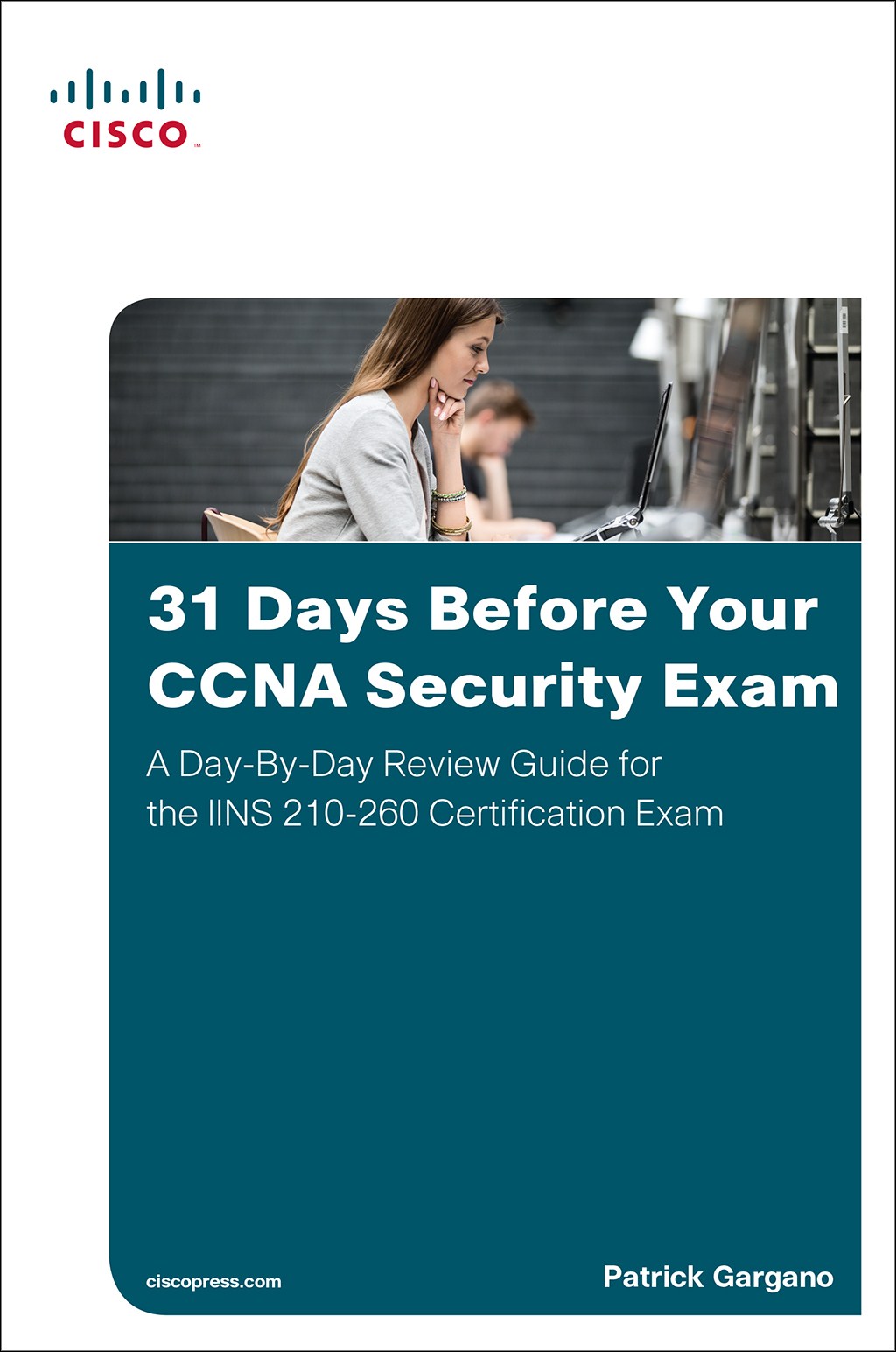 Share
|



Register your product to gain access to bonus material or receive a coupon.
31 Days Before Your CCNA Security Exam: A Day-By-Day Review Guide for the IINS 210-260 Certification Exam
Book
Sorry, this book is no longer in print.
Features
Commit to taking the CCNA Security/IINS exam in one month and understand the process
Review key points of the Networking Academy information with a specific focus on CCNA Security objectives
Provides instructors with a creative way to present relatively dry topics using the book and online companion as well as review at the end of the class
Empowers an individual to fit CCNA Security studies into an otherwise busy schedule with a daily timeline
Copyright 2016
Dimensions: 6" x 9"
Pages: 352
Edition: 1st
Book
ISBN-10: 1-58720-578-5
ISBN-13: 978-1-58720-578-1
31 Days Before Your CCNA Security Exam
31 Days Before Your CCNA Security Exam offers you an engaging and practical way to understand the certification process, commit to taking the CCNA Security IINS 210-260 certification exam, and finish your preparation using a variety of Primary and Supplemental study resources.
The IINS 210-260 exam tests your knowledge of secure network infrastructure, core security concepts, secure access, VPN encryption, firewalls, intrusion prevention, web/email content security, and endpoint security. It also tests your skills for installing, troubleshooting, and monitoring secure networks to maintain the integrity, confidentiality, and availability of data and devices.
Sign up for the IINS 210-260 exam and use the book's day-by-day guide and checklist to organize, prepare, and review. Each day in this guide breaks down an exam topic into a manageable bit of information to review using short summaries. A Study Resources section provides you with a quick reference for locating more in-depth treatment of a day's topics within the Primary and Supplemental resources.
The features of the book empower you to fit exam preparation into a busy schedule:
· A visual calendar summarizing each day's study topic
· A checklist providing advice for preparation activities leading up to the exam
· A description of the CCNA Security IINS 210-260 exam organization and sign-up process
· Strategies from the author to be mentally, organizationally, and physically prepared for exam day
· A conversational tone, which makes your study time more enjoyable
Primary Resources:
CCNA Security 210-260 Official Cert Guide ISBN-13: 978-1-58720-566-8
CCNA Security Course Booklet Version 2 ISBN-13: 978-1-58713-351-0
CCNA Security Lab Manual Version 2 ISBN-13: 978-1-58713-350-3
Supplemental Resources:
CCNA Security 210-260 Complete Video Course ISBN-13: 978-0-13-449931-4
CCNA Security Portable Command Guide, Second Edition ISBN-13: 978-1-58720-575-0
Cisco ASA: All-in-One Next-Generation Firewall, IPS, and VPN Services, Third Edition ISBN-13: 978-1-58714-307-6
Category: Certification
Covers: CCNA Security
Sample Pages
Download the sample pages (includes Chapter 29 and Index)
Table of Contents
Day 31: Common Security Principles
Day 30: Common Security Threats
Day 29: Cryptographic Technologies
Day 28: PKI and Network Security Architectures
Day 27: Secure Management Systems
Day 26: AAA Concepts
Day 25: TACACS+ and RADIUS Implementation
Day 24: 802.1X
Day 23: BYOD
Day 22: IPsec Technologies
Day 21: Clientless Remote-Access VPN
Day 20: AnyConnect Remote Access VPN
Day 19: Site-to-Site VPN
Day 18: VPN Advanced Topics
Day 17: Secure Device Access
Day 16: Secure Routing Protocols
Day 15: Control Plane Security
Day 14: Layer 2 Infrastructure Security
Day 13: Layer 2 Protocols Security
Day 12: VLAN Security
Day 11: Firewall Technologies
Day 10: Cisco ASA NAT Implementation
Day 9: Cisco IOS Zone-Based Policy Firewall
Day 8: Cisco ASA Firewall Concepts
Day 7: ASA Firewall Configuration
Day 6: IDS/IPS Concepts
Day 5: IDS/IPS Technologies
Day 4: Email-based Threat Mitigation
Day 3: Web-based Threat Mitigation
Day 2: Endpoint Protection
Day 1: CCNA Security Skills Review and Practice
Errata
We've made every effort to ensure the accuracy of this book and its companion content. Any errors that have been confirmed since this book was published can be downloaded below.
Other Things You Might Like



Cisco Certified DevNet Professional DEVCOR 350-901 Official Cert Guide Premium Edition and Practice Test

Premium Edition eBook $55.99