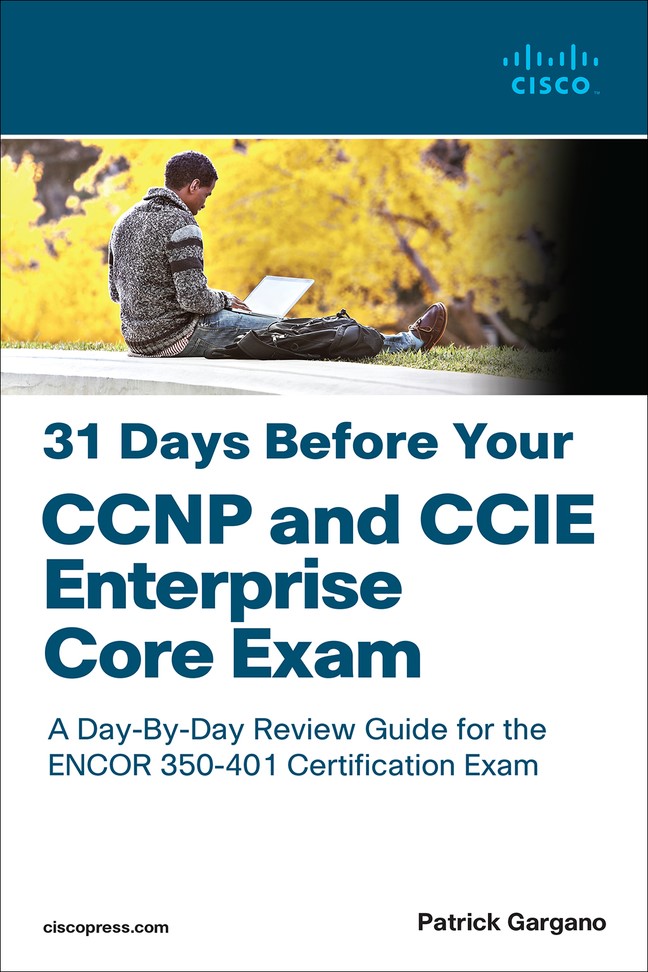 Register your product to gain access to bonus material or receive a coupon.
31 Days Before Your CCNP and CCIE Enterprise Core Exam
eBook (Watermarked)
Your Price: $28.79
List Price: $35.99
Includes EPUB and PDF

This eBook includes the following formats, accessible from your Account page after purchase:

EPUB The open industry format known for its reflowable content and usability on supported mobile devices.

PDF The popular standard, used most often with the free Adobe® Reader® software.

This eBook requires no passwords or activation to read. We customize your eBook by discreetly watermarking it with your name, making it uniquely yours.
Copyright 2021
Pages: 720
Edition: 1st
eBook (Watermarked)
ISBN-10: 0-13-696516-4
ISBN-13: 978-0-13-696516-9
31 Days Before Your CCNP and CCIE Enterprise Core Exam is the friendliest, most practical way to understand the CCNP and CCIE Enterprise certification process, commit to taking your ENCOR 350-401 exam, and finish your preparation using a variety of primary and supplemental study resources.

Thoroughly updated for the current exam, this comprehensive guide offers a complete day-by-day plan for what and how to study. It covers ENCOR 350-401 enterprise network technology implementation topics including dual stack (IPv4/IPv6) architecture, virtualization, infrastructure, network assurance, security, and automation.

Each day breaks down an exam topic into a short, easy-toreview summary, with Daily Study Resource quick-references pointing to deeper treatments elsewhere. Sign up for your exam now, and use this day-by-day guide and checklist to organize, prepare, review, and succeed!

How this book helps you fit exam prep into your busy schedule:

Visual tear-card calendar summarizes each day's study topic, to help you get through everything
Checklist offers expert advice on preparation activities leading up to your exam
Descriptions of exam organization and sign-up processes help make sure nothing falls between the cracks
Proven strategies help you prepare mentally, organizationally, and physically
Conversational tone makes studying more enjoyable
Primary Resources:
CCNP and CCIE Enterprise Core ENCOR 350-401 Official Cert Guide
ISBN: 978-1-5871-4523-0
CCNP and CCIE Enterprise Core ENCOR 350-401 Complete Video Course
ISBN: 978-0-13-658412-4
CCNP Enterprise Advanced Routing ENARSI 300-410 Official Cert Guide
ISBN: 978-1-5871-4525-4
CCNP Enterprise Advanced Routing ENARSI 300-410 Complete Video Course
ISBN: 978-0-13-658289-2
CCNP Enterprise: Core Networking (ENCOR) Lab Manual v8
ISBN: 978-0-13-690643-8
CCNP Enterprise: Advanced Routing (ENARSI) Lab Manual v8
ISBN: 978-0-13-687093-7
Supplemental Resources:
CCNP and CCIE Enterprise Core & CCNP Enterprise Advanced Routing Portable Command Guide
ISBN: 978-0-13-576816-7
Table of Contents
Introduction xxx
Day 31: Enterprise Network Architecture 1
ENCOR 350-401 Exam Topics 1
Key Topics 1
Hierarchical LAN Design Model 1
Enterprise Network Architecture Options 4
Study Resources 13
Day 30: Packet Switching and Forwarding 15
ENCOR 350-401 Exam Topics 15
Key Topics 15
Layer 2 Switch Operation 15
Layer 3 Switch Operation 17
Forwarding Mechanisms 19
Study Resources 32
Day 29: LAN Connectivity 33
ENCOR 350-401 Exam Topics 33
Key Topics 33
VLAN Overview 33
Access Ports 35
802.1Q Trunk Ports 38
Dynamic Trunking Protocol 44
VLAN Trunking Protocol 46
Inter-VLAN Routing 50
Study Resources 54
Day 28: Spanning Tree Protocol 55
ENCOR 350-401 Exam Topics 55
Key Topics 55
IEEE 802.1D STP Overview 55
Rapid Spanning Tree Protocol 64
RSTP Rapid Transition to Forwarding State 66
RSTP Synchronization 66
RSTP Topology Change 67
STP and RSTP Configuration and Verification 68
STP Stability Mechanisms 77
Multiple Spanning Tree Protocol 83
Study Resources 90
Day 27: Port Aggregation 91
ENCOR 350-401 Exam Topics 91
Key Topics 91
Need for EtherChannel 91
EtherChannel Mode Interactions 93
EtherChannel Configuration Guidelines 95
EtherChannel Load Balancing Options 96
EtherChannel Configuration and Verification 97
Advanced EtherChannel Tuning 101
Study Resources 104
Day 26: EIGRP 105
ENCOR 350-401 Exam Topics 105
Key Topics 105
EIGRP Features 105
EIGRP Reliable Transport Protocol 106
Establishing EIGRP Neighbor Adjacency 109
EIGRP Metrics 110
EIGRP Path Selection 115
EIGRP Load Balancing and Sharing 117
Study Resources 119
Day 25: OSPFv2 121
ENCOR 350-401 Exam Topics 121
Key Topics 121
OSPF Characteristics 121
OSPF Process 123
OSPF Neighbor Adjacencies 125
Building a Link-State Database 127
OSPF Neighbor States 127
OSPF Packet Types 129
OSPF LSA Types 130
Single-Area and Multiarea OSPF 131
OSPF Area Structure 132
OSPF Network Types 133
OSPF DR and BDR Election 134
OSPF Timers 136
Multiarea OSPF Configuration 137
Verifying OSPF Functionality 138
Study Resources 141
Day 24: Advanced OSPFv2 and OSPFv3 143
ENCOR 350-401 Exam Topics 143
Key Topics 143
OSPF Cost 143
OSPF Passive Interfaces 145
OSPF Default Routing 146
OSPF Route Summarization 147
OSPF Route Filtering Tools 151
Distribute Lists 151
OSPF Filtering Options 152
OSPFv3 155
OSPFv3 Configuration 157
Study Resources 162
Day 23: BGP 163
ENCOR 350-401 Exam Topics 163
Key Topics 163
BGP Interdomain Routing 163
BGP Multihoming 167
BGP Operations 169
BGP Neighbor States 171
BGP Neighbor Relationships 172
BGP Path Selection 173
BGP Path Attributes 175
BGP Configuration 176
Study Resources 182
Day 22: First-Hop Redundancy Protocols 183
ENCOR 350-401 Exam Topics 183
Key Topics 183
Default Gateway Redundancy 183
First Hop Redundancy Protocol 184
VRRP 199
Study Resources 203
Day 21: Network Services 205
ENCOR 350-401 Exam Topics 205
Key Topics 205
Network Address Translation 205
Network Time Protocol 218
Study Resources 226
Day 20: GRE and IPsec 227
ENCOR 350-401 Exam Topics 227
Key Topics 227
Generic Routing Encapsulation 227
IP Security (IPsec) 232
IPsec: IKE 240
IPsec Site-to-Site VPN Configuration 242
Study Resources 250
Day 19: LISP and VXLAN 251
ENCOR 350-401 Exam Topics 251
Key Topics 251
Locator/ID Separation Protocol 251
Virtual Extensible LAN (VXLAN) 262
Study Resources 268
Day 18: SD-Access 269
ENCOR 350-401 Exam Topics 269
Key Topics 269
Software-Defined Access 269
Cisco SD-Access Fabric Data Plane and Control Plane 275
Cisco SD-Access Fabric Policy Plane 275
Cisco SD-Access Fabric Components 277
Shared Services in Cisco SD-Access 281
Study Resources 283
Day 17: SD-WAN 285
ENCOR 350-401 Exam Topics 285
Key Topics 285
Software-Defined WAN 285
Cisco SD-WAN Solution Example 295
Cisco SD-WAN Routing 299
Study Resources 301
Day 16: Multicast 303
ENCOR 350-401 Exam Topics 303
Key Topics 303
Multicast Overview 303
Internet Group Management Protocol 311
Multicast Distribution Trees 313
IP Multicast Routing 315
Study Resources 321
Day 15: QoS 323
ENCOR 350-401 Exam Topics 323
Key Topics 323
Quality of Service 323
QoS Models 327
QoS Mechanisms Overview 329
Study Resources 348
Day 14: Network Assurance, Part 1 349
ENCOR 350-401 Exam Topics 349
Key Topics 349
Troubleshooting Concepts 349
Network Diagnostic Tools 352
Cisco IOS IP SLAs 360
Switched Port Analyzer Overview 365
Study Resources 372
Day 13: Network Assurance, Part 2 373
ENCOR 350-401 Exam Topics 373
Key Topics 373
Logging Services 373
Understanding Syslog 374
Simple Network Management Protocol 376
NetFlow 378
Study Resources 387
Day 12: Wireless Concepts 389
ENCOR 350-401 Exam Topics 389
Key Topics 389
Explain RF Principles 389
IEEE Wireless Standards 399
Study Resources 406
Day 11: Wireless Deployment 407
ENCOR 350-401 Exam Topics 407
Key Topics 407
Wireless Deployment Overview 407
Wireless AP Operation 422
Antenna Characteristics 428
Study Resources 431
Day 10: Wireless Client Roaming and Authentication 433
ENCOR 350-401 Exam Topics 433
Key Topics 433
Wireless Roaming 434
Wireless Location Services 442
Wireless Client Authentication 445
Study Resources 463
Day 9: Secure Network Access 465
ENCOR 350-401 Exam Topics 465
Key Topics 465
Network Security Threatscape 465
Network Security Components 468
Endpoint Security 471
Firewall Concepts 476
TrustSec 478
MACsec 483
Identity Management 484
Study Resources 490
Day 8: Infrastructure Security 491
ENCOR 350-401 Exam Topics 491
Key Topics 491
Secure Access Control 491
Access Control Lists 504
Control Plane Policing 513
Study Resources 516
Day 7: Virtualization 517
ENCOR 350-401 Exam Topics 517
Key Topics 517
Server Virtualization 517
Network Function Virtualization 523
Network Path Isolation 527
Study Resources 532
Day 6: Cisco DNA Center 533
ENCOR 350-401 Exam Topics 533
Key Topics 533
Need for Digital Transformation 533
Cisco Digital Network Architecture 535
Cisco Intent-Based Networking 537
Cisco DNA Center Features 539
Cisco DNA Assurance Workflow 548
Study Resources 554
Day 5: Network Programmability 555
ENCOR 350-401 Exam Topics 555
Key Topics 555
Python Concepts 555
Device Management and Network Programmability 565
Study Resources 582
Day 4: REST APIs 583
ENCOR 350-401 Exam Topics 583
Key Topics 583
Application Programming Interfaces 583
Southbound APIs 584
Northbound APIs 584
REST API Response Codes and Results 585
REST APIs in Cisco DNA Center 587
REST APIs in Cisco vManage 590
Cisco SD-WAN API Library and Documentation 592
Study Resources 598
Day 3: Network Automation 599
ENCOR 350-401 Exam Topics 599
Key Topics 599
Configuration Management Tools 599
Embedded Events Manager 615
Study Resources 620
Day 2: Review Lab 1 621
Objective 621
Day 1: Review Lab 2 633
Objective 633
9780136965220, TOC, 10/2/2020