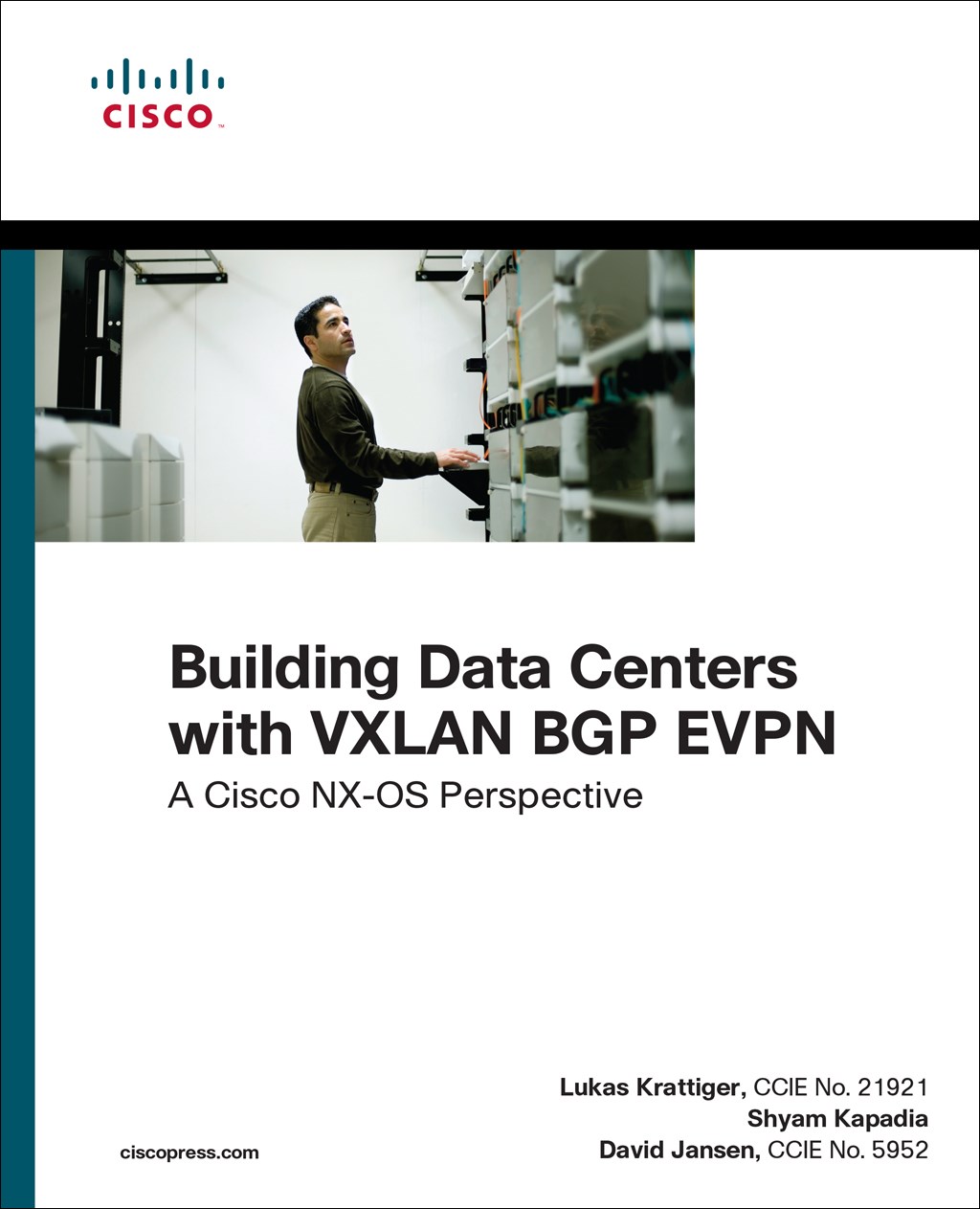 Register your product to gain access to bonus material or receive a coupon.
Building Data Centers with VXLAN BGP EVPN: A Cisco NX-OS Perspective
eBook (Watermarked)
Your Price: $38.39
List Price: $47.99
Includes EPUB and PDF

This eBook includes the following formats, accessible from your Account page after purchase:

EPUB The open industry format known for its reflowable content and usability on supported mobile devices.

PDF The popular standard, used most often with the free Adobe® Reader® software.

This eBook requires no passwords or activation to read. We customize your eBook by discreetly watermarking it with your name, making it uniquely yours.
Copyright 2017
Dimensions: 7-3/8" x 9-1/8"
Pages: 352
Edition: 1st
eBook (Watermarked)
ISBN-10: 0-13-451490-4
ISBN-13: 978-0-13-451490-1
The complete guide to building and managing next-generation data center network fabrics with VXLAN and BGP EVPN
This is the only comprehensive guide and deployment reference for building flexible data center network fabrics with VXLAN and BGP EVPN technologies. Writing for experienced network professionals, three leading Cisco experts address everything from standards and protocols to functions, configurations, and operations.
The authors first explain why and how data center fabrics are evolving, and introduce Cisco's fabric journey. Next, they review key switch roles, essential data center network fabric terminology, and core concepts such as network attributes, control plane details, and the associated data plane encapsulation.
Building on this foundation, they provide a deep dive into fabric semantics, efficient creation and addressing of the underlay, multi-tenancy, control and data plane interaction, forwarding flows, external interconnectivity, and service appliance deployments. You'll find detailed tutorials, descriptions, and packet flows that can easily be adapted to accommodate customized deployments. This guide concludes with a full section on fabric management, introducing multiple opportunities to simplify, automate, and orchestrate data center network fabrics.
Learn how changing data center requirements have driven the evolution to overlays, evolved control planes, and VXLAN BGP EVPN spine-leaf fabrics
Discover why VXLAN BGP EVPN fabrics are so scalable, resilient, and elastic
Implement enhanced unicast and multicast forwarding of tenant traffic over the VXLAN BGP EVPN fabric
Build fabric underlays to efficiently transport uni- and multi-destination traffic
Connect the fabric externally via Layer 3 (VRF-Lite, LISP, MPLS L3VPN) and Layer 2 (VPC)
Choose your most appropriate Multi-POD, multifabric, and Data Center Interconnect (DCI) options
Integrate Layer 4-7 services into the fabric, including load balancers and firewalls
Manage fabrics with POAP-based day-0 provisioning, incremental day 0.5 configuration, overlay day-1 configuration, or day-2 operations

Sample Pages
Download the sample pages (includes Chapter 3, Appendix A, and the Index)
Table of Contents
Introduction xv
Chapter 1 Introduction to Programmable Fabric 1
Today's Data Center Challenges and Requirements 2
The Data Center Fabric Journey 3
Cisco Open Programmable Fabric 10
Fabric-Related Terminology 13
Data Center Network Fabric Properties 14
Server or Endpoint Connectivity Options 15
Summary 17
References 17
Chapter 2 VXLAN BGP EVPN Basics 21
Overlays 23
Introduction to VXLAN 27
VXLAN Flood and Learn (F&L) 30
Introduction to BGP EVPN with VXLAN 32
MP-BGP Features and Common Practices 34
IETF Standards and RFCs 37
Host and Subnet Route Distribution 40
Host Deletion and Move Events 46
Summary 48
References 49
Chapter 3 VXLAN/EVPN Forwarding Characteristics 53
Multidestination Traffic 54
Leveraging Multicast Replication in the Underlying Network 55
Using Ingress Replication 58
VXLAN BGP EVPN Enhancements 60
ARP Suppression 60
Distributed IP Anycast Gateway 65
Integrated Route and Bridge (IRB) 69
Endpoint Mobility 73
Virtual PortChannel (vPC) in VXLAN BGP EVPN 76
DHCP 81
Summary 85
References 85
Chapter 4 The Underlay 87
Underlay Considerations 88
MTU Considerations 91
IP Addressing 93
IP Unicast Routing 99
OSPF as an Underlay 100
IS-IS as an Underlay 102
BGP as an Underlay 103
IP Unicast Routing Summary 106
Multidestination Traffic 107
Unicast Mode 107
Multicast Mode 109
PIM Any Source Multicast (ASM) 112
BiDirectional PIM (PIM BiDir) 114
Summary 119
References 119
Chapter 5 Multitenancy 121
Bridge Domains 123
VLANs in VXLAN 124
Layer 2 Multitenancy: Mode of Operation 129
VLAN-Oriented Mode 130
BD-Oriented Mode 131
VRF in VXLAN BGP EVPN 132
Layer 3 Multitenancy: Mode of Operation 134
Summary 137
References 138
Chapter 6 Unicast Forwarding 139
Intra-Subnet Unicast Forwarding (Bridging) 139
Non-IP Forwarding (Bridging) 147
Inter-Subnet Unicast Forwarding (Routing) 149
Routed Traffic to Silent Endpoints 158
Forwarding with Dual-Homed Endpoint 164
IPv6 167
Summary 169
Chapter 7 Multicast Forwarding 171
Layer 2 Multicast Forwarding 171
IGMP in VXLAN BGP EVPN Networks 174
Layer 2 Multicast Forwarding in vPC 178
Layer 3 Multicast Forwarding 182
Summary 184
References 184
Chapter 8 External Connectivity 185
External Connectivity Placement 185
External Layer 3 Connectivity 189
U-Shaped and Full-Mesh Models 190
VRF Lite/Inter-AS Option A 192
LISP 195
MPLS Layer 3 VPN (L3VPN) 200
External Layer 2 Connectivity 203
Classic Ethernet and vPC 204
Extranet and Shared Services 206
Local/Distributed VRF Route Leaking 207
Downstream VNI Assignment 210
Summary 212
Reference 212
Chapter 9 Multi-Pod, Multifabric, and Data Center Interconnect (DCI) 213
Contrasting OTV and VXLAN 213
Multi-Pod 219
Interconnection at the Spine Layer 227
Interconnection at the Leaf Layer 227
Multifabric 228
Inter-pod/Interfabric 231
Interfabric Option 1: Multi-Pod 232
Interfabric Option 2: Multifabric 233
Interfabric Option 3 (Multisite for Layer 3) 235
Interfabric Option 4 (Multisite for Layer 2) 236
Summary 238
References 238
Chapter 10 Layer 4—7 Services Integration 241
Firewalls in a VXLAN BGP EVPN Network 242
Routing Mode 242
Bridging Mode 244
Firewall Redundancy with Static Routing 245
Static Route Tracking at a Service Leaf 248
Static Routing at a Remote Leaf 248
Physical Connectivity 249
Inter-Tenant/Tenant-Edge Firewall 250
Services-Edge Design 254
Intra-Tenant Firewalls 254
Mixing Intra-Tenant and Inter-Tenant Firewalls 260
Application Delivery Controller (ADC) and Load Balancer in a VXLAN BGP
EVPN Network 262
One-Armed Source-NAT 262
Direct VIP Subnet Approach 263
Indirect VIP Subnet Approach 264
Return Traffic 265
Service Chaining: Firewall and Load Balancer 267
Summary 271
References 271
Chapter 11 Introduction to Fabric Management 273
Day-0 Operations: Automatic Fabric Bring-Up 275
In-Band Versus Out-of-Band POAP 276
Other Day-0 Considerations 278
Day-0.5 Operations: Incremental Changes 279
Day-1 Operations: Overlay Services Management 280
Virtual Topology System (VTS) 282
Nexus Fabric Manager (NFM) 282
Data Center Network Manager (DCNM) 283
Compute Integration 283
Day-2 Operations: Monitoring and Visibility 285
VXLAN OAM (NGOAM) 294
Summary 299
References 299
Appendix A VXLAN BGP EVPN Implementation Options 303
9781587144677, TOC, 3/16/17

Other Things You Might Like



eBook (Watermarked) $38.39