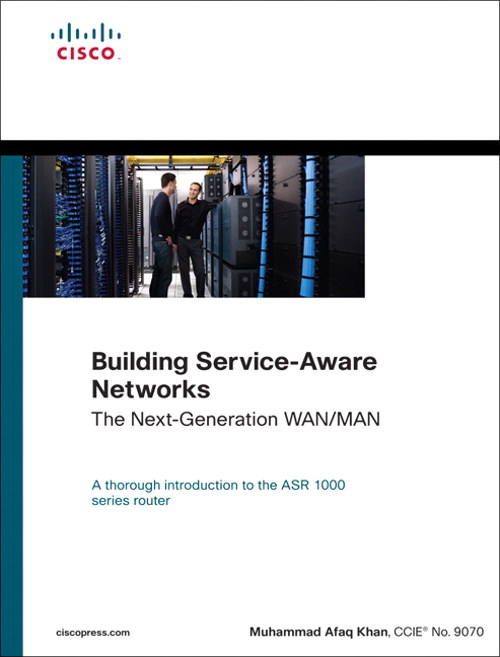 Register your product to gain access to bonus material or receive a coupon.
Building Service-Aware Networks: The Next-Generation WAN/MAN
Book
Sorry, this book is no longer in print.
Copyright 2010
Edition: 1st
Book
ISBN-10: 1-58705-788-3
ISBN-13: 978-1-58705-788-5
Building Service-Aware Networks
The Next-Generation WAN/MAN
Muhammad Afaq Khan, CCIE® No. 9070
A thorough introduction to the ASR 1000 series router
Building Service-Aware Networks is the insider's guide to the next-generation Aggregation Services Router (ASR) 1000. Authored by a leading Cisco® expert, this book offers practical, hands-on coverage for the entire system lifecycle, including planning, setup and configuration, migration, and day-to-day management.
Muhammad Afaq Khan systematically introduces the ASR 1000's evolved architecture, showing how the ASR 1000 can deliver major performance and availability improvements in tomorrow's complex, collaborative, mobile, and converged network environments. Then, to help you plan your network deployments more effectively, the author walks you through realistic deploy-ment scenarios for IP routing, IP services, WAN optimization services, security services, and unified communications. He presents a wide variety of realistic, easy-to-adapt configuration examples for enterprise and provider inetworks, including everything from command-line interface (CLI) snippets to best practices for troubleshooting.
Understand tomorrow's enterprise business requirements, the demand they create for routing infrastructure, and how the ASR 1000 meets them
Leverage the ASR 1000's revolutionary system architecture to dramatically improve performance and availability
Select and qualify an enterprise edge platform for next-generation WANs
Understand ASR 1000 series architecture, hardware, software, packaging, licensing, and releases
Perform initial ASR 1000 setup and configuration
Implement In Service Software Upgrades (ISSU)
Size routers for enterprise and carrier environments
Consolidate multiple applications, platforms, and functions onto the ASR 1000
Troubleshoot ASR 1000 common system error messages, step by step
This book is part of the Networking Technology Series from Cisco Press®, which offers networking professionals valuable information for constructing efficient networks, understanding new technologies, and building successful careers.
Category: Networking
Covers: Routing and Switching
Online Sample Chapter
Sample Pages
Download the sample pages (includes Chapter 12 and Index)
Table of Contents
Introduction
Part I Overview of WAN Architectures
Chapter 1 Introduction to WAN Architectures
Introduction to WAN Solutions
Branch/Private WAN Aggregation Role
Basic Feature Requirements
Basic Service Level Agreement Requirements
Internet Edge Role
Basic Feature Requirements
Data Center Interconnect
Basic Feature Requirements
Large Branch WAN
Summary
Review Questions
Answers
Further Reading
Chapter 2 Next-Generation WAN Architectures
The Evolution of Next-Generation WAN Architectures
Business Drivers Behind WAN Evolution
Service Awareness and Integration
Infrastructure Consolidation
Segmentation/Virtualization
Security and Reliability
Bandwidth Commoditization
Carbon Footprint Reduction
Regulatory Compliance
Time to Adoption
Mean Time to Understanding and Troubleshooting
How the Changing Business Requirements Relate to Network Infrastructure
Summary
Review Questions
Answers
Further Reading
References
Chapter 3 Selecting and Qualifying Enterprise Edge Platforms for Next-Generation WANs
Essential Attributes of an Enterprise Edge Platform
Carrier-Class Routing
True Services Integration
Robust In-Built Quality of Service
Flexible System Architecture
Feature Velocity
Common Sharing and Sparing for Investment Protection
Interface Diversity and Density
Power and Space Friendly
Industry Standard Compliance
Qualifying the Enterprise WAN/MAN Edge Platform
Anatomy of a Test Plan
Test Scope and Objective
Test Setup and Topology
Test Resources
Test Approach and Methodology
Test Entry and Exit Criteria
Test Schedule
Test Results Reporting
Test Case Details
Summary
Chapter Review Questions
Answers
Further Reading
Chapter 4 Sizing Up a Router
What to Look for When Choosing a Router
Metrics for Benchmarking a Router
Routing-Plane Performance and Scale
Data-Plane Performance and Scale
Summary
Chapter Review Questions
Answers
Further Reading
Part II ASR 1000 System Hardware, Software, and Configuration
Chapter 5 System Overview and Carrier-Class Attributes
Introduction to ASR 1000 Series Routers
ASR 1000 Carrier-Class Attributes
Availability
Reliability
Scalability
Quality of Service
ROI and Investment Protection
ASR 1000 Applications
ASR 1000 Enterprise WAN Aggregation
Enterprise Internet Gateway
Enterprise Security Headend (Branch and Remote User Aggregation)
Service Provider Layer 3 VPN
Service Provider Layer 2 VPN
Broadband Aggregation, Including FTTH and DSL LNS, LAC, and PTA
High-End Customer Premises Equipment
Reinventing Enterprise Routing with the ASR 1000
Cisco QuantumFlow Processor and Embedded Services
True Carrier-Class Routing
Chassis Design and Modularity
Operating System Modularity
In-Service Software Upgrade
Separation of Planes
Dealing with Oversubscription
Integrated QoS
BITS Reference Clock
Nonstop Router Management
Breadth and Diversity of LAN/WAN Interfaces
Introducing ASR 1000 System Hardware Components
Chassis Options
Chassis Slots Naming and Numbering
Route Processor
Embedded Service Processor
SPA Interface Processor
Introducing ASR 1000 Software Components
IOS XE
RP Software
ESP Software
SIP Software
IOSD and Linux Kernel
System ROMMON
Basic Partitioning of the ASR 1000 System
Routing Plane
Data Plane
Input/Output Plane
Introduction to ASR 1000 System Redundancy and Modularity
Summary
Chapter Review Questions
Answers
Further Reading
Chapter 6 Cisco ASR 1000 Series Router Hardware and Software Details
Route Processor Overview
Route Processor Functional Elements
Front Panel
CPU, DRAM, Bootflash, Hard Disk Drive, and Interconnect Application-Specific Integrated Circuits
RP Initialization
RP Packet Handling
Hardware-Assisted Control-Plane Protection
Legacy Protocol Traffic
ESP Overview
ESP Functional Elements
ESP Initialization
ESP Packet Handling
ESP and Crypto Engine
SPA Interface Processor Overview
High-Level System Software Architecture
RP Software Details
RP Chassis Manager
RP Forwarding Manager
RP Interface Manager
ESP Software Details
QFP Software
ESP Forwarding Manager
ESP Chassis Manager
SIP Software Details
SIP Chassis Manager
SIP Interface Manager
SPA Drivers
Day in the Life of a Packet
Ingress Processing
Arrival Processing
Egress Processing
Summary
Review Questions
Answers
Further Reading
Chapter 7 Cisco IOS XE Software Packaging, Releases, and Licensing
Cisco IOS XE Software Overview
Cisco IOS XE Software Packaging
Software Redundancy
Cisco IOS XE Software Releases
Cisco IOS XE Software Licensing
Summary
Review Questions
Answers
Further Reading
Chapter 8 Cisco ASR 1000 Initial Setup and Configuration
Booting the ASR 1000
Initial Cisco ASR 1000 Configuration
Understanding the Cisco ASR 1000 File System Structure
Summary
Chapter Review Questions
Answers
Further Reading
Chapter 9 In-Service Software Upgrade and Software Modularity
Why ISSU Is Needed
Operational Benefits
Business Benefits
ASR 1000 ISSU Details
A Consolidated Package ISSU on a Fully Redundant 6RU
ISSU on 6RU System (with Dual RP and ESP) for IOSD Using Legacy issu Commands
Subpackage ISSU on a Fully Redundant 6RU
Upgrading SIP/SPA Subpackages
Upgrading the RP-Specific Subpackages on the Active RP
Upgrading the ESP Subpackage on the Standby RP (Formerly Active)
Running Dual IOSD on a 2 or 4RU System
Summary
Chapter Review Questions
Answers
Further Reading
Part III System Management and Troubleshooting
Chapter 10 Using the ASR 1000 Embedded Graphical User Interface
Introduction to the ASR 1000 Web GUI
Configuring the ASR 1000 GUI
Common Usage Examples
Summary
Review Questions
Answers
Further Reading
Chapter 11 Understanding ASR 1000 System Troubleshooting and Error Messages
Troubleshooting Methodology
ASR 1000–Specific Troubleshooting Commands
Troubleshooting System Hardware and Software
Displaying the Overall Processor and Memory Utilization on an ASR 1000 System
Displaying IPv4-Related Drops for the Active QFP
Displaying Overall QFP Memory Statistics for IRAM, DRAM, and SRAM Usage
Displaying QFP Memory Statistics on a Per-IOS Feature and Internal-Usage Basis
Tracking Control CPU Usage from the Linux Shell
Tracking a Command Output Repeatedly Using the monitor Command
Displaying the Status of Front-Panel LEDs Using the show platform hardware Command
Displaying the Status of SPAs in a SIP
Displaying Statistics for a Slot or SIP
Displaying Drop Statistics for All Interfaces in the System
Displaying the Interface-Level FIA for Both the Ingress and Egress Feature Set
Displaying System Components Such as RP, ESP, and SIP Insertion and Uptime
Displaying QFP PPE Utilization Information
Useful debug Commands
Troubleshooting IOS Features via Platform-Specific Commands
Common System Error Messages
Message: "Warning: Filesystem Is Not Clean" During RP Boot
Message: "%IOSXE-7-PLATFORM: F0: sntp: Resetting on Error x > y"
Message: "%ASR1000_PEM-3-PEMFAIL: The PEM in Slot 0 Is Switched Off or Encountering a Failure Condition"
Summary
Review Questions
Answers
Further Reading
Part IV ASR 1000—Bringing Innovative Solutions to the Routing Industry
Chapter 12 IP Routing Use Cases
Introduction to the Scalable and Modular Control Plane on the ASR 1000
NSF/SSO, NSR, Graceful Restart to Ensure Robust Routing
Use Case: Achieving High Availability Using NSF/SSO
Packet Capture Using Encapsulated Remote SPAN
Use Case: Ethernet Frame Capture and Transport Across a Layer 3 Cloud
Achieving Segmentation Using MPLS over GRE and MPLS VPNs over GRE Solutions
Use Case: Self-Managed MPLS and Enterprise Private WAN Segmentation
Scalable v4/VPNv4 Route Reflector
Use Case: Route Reflection
Scalable and Flexible Internet Edge
Use Case: Internet Gateway/Edge Router
Scalable Data Center Interconnect
Use Case: Encrypting Traffic over an EoMPLS Psuedowire at Layer 2 Using TrustSec
Summary
Chapter Review Questions
Answers
Further Reading
Chapter 13 IP Services Use Cases
Introduction to IOS IP Services on the ASR 1000
Scalable In-Built QoS Using QFP's Traffic Manager
Ingress SIP Buffering
Traffic Manager Packet Buffering
Unicast Packets
Multicast Packets
Punt Packet
Egress SIP Buffering
ESP Interconnect Scheduler Default Behavior (Aggregating All SIP Traffic)
ASR 1000 Traffic Manager Priority Queues
Scalable Hierarchical QoS and Metro-E Use Case
Scalable IPv4 and IPv6 Multicast Acceleration Using Cisco QuantumFlow Processor
Multicast High Availability on the ASR 1000
Multicast Replication on the ESP
Scalable In-Built Multigigabit NAT
High-Speed Logging Using NetFlow v9 Format for NAT and Firewall
Scalable In-Built Multigigabit NBAR and FPM
Summary
Chapter Review Questions
Answers
Further Reading
Chapter 14 Security Services Use Cases
Introduction to IOS Security Services on the Cisco ASR 1000
Secure Connectivity Solutions
Introduction to IPsec Solutions on the Cisco ASR 1000
IPsec Packet Flow (Ingress)
IPsec Packet Flow (Egress)
IPsec High-Availability Considerations
IPsec and Interaction with IP Multicast
Scalable Encryption with QoS Before/After Crypto Engine
Scalable DMVPN Hub and Spoke
Scalable GETVPN Group Member for Data Center and Large Branch Solutions
Cisco ASR 1000 GETVPN Solution Benefits
Cisco ASR 1000 GETVPN Solution Architecture Overview
GETVPN Configuration Overview
Cisco ASR 1000 Memory, Performance, and Scaling
Caveats and Limitations
Cisco ASR 1000 GETVPN Deployment Models
Troubleshooting GETVPN on Cisco ASR 1000
Integrated Threat Control Solutions
Introduction to Threat Control Solutions on the ASR 1000
Using In-Built Firewall High Availability
IOS Firewall Zone/Zone Pair Scale
Scalable Multigigabit Router Firewall at the Internet Edge: Use Case
Summary
Chapter Review Questions
Answers
Further Reading
Chapter 15 WAN Optimization Services Use Cases
Introduction to WAN Optimization Solutions on the Cisco ASR 1000
Using WCCPv2 for Web Caching
Interaction of WCCPv2 with Other IOS Features
WAN Optimization Through WAAS Integration
Campus WAN Headend Deployment
Branch Deployment
WAN Headend and IronPort's WSA Appliance
Troubleshooting WCCPv2 on Cisco ASR 1000
Voice Header Compression Using Cisco IOS cRTP
Chapter Review Questions
Answers
Further Reading
Chapter 16 Unified Communications Services Use Cases
Introduction to Unified WAN Solutions on Cisco ASR 1000
Using Integrated CUBE
CUBE (SP) Deployment Scenarios
SP-to-SP Peering
SP-to-Managed Enterprise and Residential SIP Trunking
Business-to-Business Telepresence
Troubleshooting CUBE
Using the WebEx Node Services Module
WebEx Node Deployment Architecture
Deployment Considerations
Installation Steps
Summary
Review Questions
Answers
Further Reading
9781587057885 TOC 8/19/2009
Other Things You Might Like



eBook (Watermarked) $38.39