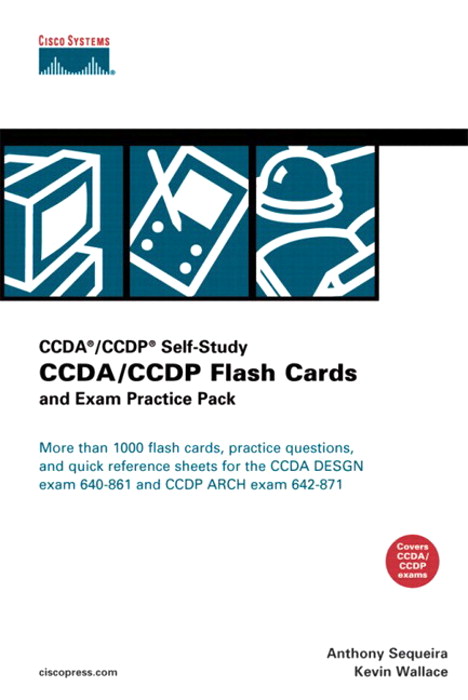 Share
|



Register your product to gain access to bonus material or receive a coupon.
CCDA/CCDP Flash Cards and Exam Practice Pack
Book
Sorry, this book is no longer in print.
Click on "CD-ROM fixes" under the "More Information" bar below if you are unable to register the CD-ROM accompanying the Flash Cards.
Copyright 2004
Dimensions: 6" x 9"
Pages: 504
Edition: 1st
Book
ISBN-10: 1-58720-117-8
ISBN-13: 978-1-58720-117-2
More than 950 flash cards, practice questions, and quick reference sheets for the CCDA DESGN exam 640-861 and CCDP ARCH exam 642-871
Run through practice exam questions while reviewing crucial information on challenging topics
Boost memory retention with 350+ flash cards, specifically designed to cover all exam objectives
Download the electronic flash cards to your handheld for ultimate portability
Create and save personalized sets of electronic flash cards for focused review
Digest complex CCDA and CCDP information with a set of 55+ quick reference sheets
Review all exam objectives in a variety of formats using proven self-study methods
CCDA/CCDP Flash Cards and Exam Practice Pack includes the following three tried-and-true methods of late-stage test preparation:

More than 350 flash cards. Test your understanding of CCDA and CCDP concepts with flash cards in print and electronic formats. The electronic version is PC-, Palm OS-, and Pocket PC-compatible, allowing for supreme flexibility. Shuffle the electronic cards, work from preset groups of cards, or create and save your own challenging set for focused review.
550 practice exam questions. Verify your knowledge with this robust exam engine. Test your proficiency in two modes-study mode and practice mode-and identify areas of weakness so you can concentrate on specific topics for which you need the most help.
55+ quick reference sheets. Review crucial CCDA and CCDP exam objectives with these comprehensive reference sheets. Succinct text overviews of complex concepts are supported with detailed diagrams to provide a valuable late-stage review of all that must be mastered for exam success.
Are you ready to take your CCDA DESGN or CCDP ARCH exam? You've learned the concepts, you have the experience to put them into real-world use, and now you want to practice, practice, practice until exam time. CCDA/CCDP Flash Cards and Exam Practice Pack gives you three methods of proven, late-stage CCDA and CCDP exam preparation in one package.
Test Engine
550-question exam engine includes both practice and study modes
Flash Cards
More than 350 flash cards in PC, handheld, and print formats, available in customizable sets and perforated for easy removal
Quick Reference Sheets
All exam topics included in 55+ graphical quick reference sheets
CCDA/CCDP Flash Cards and Exam Practice Pack is part of a recommended learning path from Cisco Systems that includes simulation and hands-on training from authorized Cisco Learning Partners and self-study products from Cisco Press. To find out more about instructor-led, e-learning, and hands-on instruction offered by authorized Cisco Learning Partners worldwide, please visit www.cisco.com/go/authorizedtraining.
Companion CD-ROM
The CD-ROM contains 350 flash cards and 550 practice test questions. Flash cards are downloadable to Palm OS and Pocket PC handheld devices.
Minimum System Requirements
Windows 98, Me, 2000 Pro, or XP
Acrobat Reader 5.0 or higher
Internet Explorer 5.5 or higher
16 MB RAM for Windows 98 and Me; 64 MB RAM for Windows 2000 Pro and XP
800 x 600 resolution or higher
256 or more colors
Internet access for "instant" registration
Optional: Palm or Palm OS-compliant handheld device; Pocket PC handheld device
This volume is in the Flash Cards and Exam Practice Pack Series from Cisco Press. Products in this series arm Cisco Career Certification candidates with a set of exam practice tools, formats, and environments to help them in the final stages of their self-study regimen and increase recall of key exam topics.
CCDA/CCDP Flash Cards and Exam Practice Pack covers all the objectives on the most recent CCDA and CCDP exams, including the gathering of network requirements, designing IPv6 solutions, using security, working with MPLS, deploying wireless technologies, using content networking, designing IP telephony solutions, and implementing storage networking.
Flip through the flash cards and test yourself on the critical details that form the foundation of the CCDA and CCDP exams. Whether you are searching for the ultimate Cisco design exam late-stage test preparation tool or simply need a complete package with at-a-glance, comprehensive information on advanced networking, CCDA/CCDP Flash Cards and Exam Practice Pack is packed with everything you need to access this information at home, at work, and on the go!
Online Sample Chapter
CCDA and CCDP Flash Cards: Content Networking
Downloadable Sample Chapter
Sample Chapter - 189 KB -- Section 11: Content Networking
Table of Contents


Foreword


Introduction

I: CCDA-DESGN
Network Design Methodologies
PDIOO. Design Methodology. ROI. Top-Down Design Approach. Bottom-Up Design Approach. Decision Tables.
Evaluating Organizational Policies and Procedures.
Network Organization Models. Network Organizational Architecture Components. Organizational Policies. Organizational Procedures.
Examining Customer Requirements.
Scope. Design Data-Gathering Steps.
Characterizing the Existing Network.
Network Auditing. Network Auditing Recommendations. Manual Network Auditing Tools. Automated Network Auditing Tools. Network Traffic Analysis. Summary Report.
Implementing the Design Methodology.
Pilot Versus Prototype. Documenting the Design. Network Hierarchies.
Modular Network Designs.
Enterprise Composite Network Model.
Switching Design Considerations.
Shared Versus Switched. Network Application Comparison Criteria. L2 and L3 Design Considerations. Spanning Tree Protocol.
Campus Design Details.
80/20 Rule..20/80 Rule. Multicast. QoS. Access Layer Considerations. Distribution Layer Considerations. Core Layer Considerations. Single L2 VLAN Core Design. Split L2 Core Design. L3 Core Design. Dual-Path L3 Core Design. Server Farm Module. Edge Distribution Module.
Enterprise WAN Solutions.
Traditional WAN Technologies. Emerging Technologies. Application Drivers for WAN Selection. Bandwidth Optimization Techniques. Window Size. Queuing Services. WAN Backup Technologies. MPLS.
IP Addressing.
Address Classes. Conversion Table. Defining Subnets. Design Questions to Answer. Private IPv4 Addresses. Network Address Translation. Route Summarization. Fixed Length Subnet Masking. Variable Length Subnet Masking. Classful Versus Classless Routing Protocols. Assigning Addresses. Name Resolution.
IPv6.
IPv6 Address Formats. IPv6 Header. IPv6 Address Types. IPv6 Routing Protocols. IPv6 Address Assignment. IPv4 to IPv6 Deployment.
Routing Protocols.
Static Versus Dynamic. Distance Vector Versus Link-State. Interior Versus Exterior. Hierarchical Versus Flat. ODR Routing. RIP v2. EIGRP. OSPF Integrated IS-IS. BGP.
Security.
Denial of Service Attacks. Reconnaissance Attacks. Traffic Attacks. Network Security Practices. Physical Security.
AAA.
SAFE Blueprint.
SAFE Guidelines for Securing the Internet Connectivity Module. SAFE Guidelines for Securing the E-Commerce Module. SAFE Guidelines for Securing the Remote Access and VPN Module. SAFE Guidelines for Securing the WAN Module. SAFE Guidelines for Securing the Network Management Module. SAFE Guidelines for Securing the Server Farm Module.
Voice.
PBX.
PSTN Switch.
Telephone Infrastructure.
Telephony Signaling.
Analog Signaling.
Analog and Digital Trunk Signaling. PSTN Numbering Plans. PSTN Services. VoIP. H.323. Single-Site Design. Centralized IP Telephony Design. Internet IP Telephony Design. Dial Plans. Voice Issues.
Coding and Compression Algorithms.
Voice-Coding Standards. Mean Opinion Score. Call Control Functions. VoFR. VoATM. QoS for Voice. Congestion Management QoS Mechanisms. On-Net and Off-Net Calling. Grade of Service. Erlang Tables. DSP. Calculating Capacity for the WAN. Call Admission Control.
Campus IP Telephony Capacity Planning.
Network Management.
SNMP. RMON. CDP. Syslog. FCAPS. Service Level Agreements. Service Level Management. CiscoWorks. Service Assurance Agent. Internetwork Performance Monitor.
II: CCDP-ARCH.
Network Architectures.
AVVID. Network Deployment Concerns. Enterprise Composite Network Model. Enterprise Campus Components. Enterprise Edge Components. Service Provider Edge Components. Steps to Campus Design. Campus Design: Step 1. Campus Design: Step 2. Campus Design: Step 3. Campus Design: Step 44. Campus Design: Step 54. Campus Design: Step 6. Campus Design: Step 7. Server Farm Design. The Enterprise Edge. Steps to Enterprise Edge Design. Enterprise Edge Design: Step 1. Enterprise Edge Design: Step 2. Enterprise Edge Design: Step 3. Enterprise Edge Design: Step 4. Enterprise Edge Design: Step 5. Enterprise Edge Design: Step 6. Enterprise Edge Design: Step 7. Enterprise Edge Design: Step 8. Remote Access and VPN Module. Internet Connectivity Module.
Network Management.
Network Management Goals. Policies and Procedures. Functions of the Network Management Module. CiscoWorks. Network Management Infrastructure.
Network Management Data Collection.
Sizing Recommendations.
High Availability.
High Availability Measurement. High Availability Design. Fault-Tolerant Campus Design. Hardware Redundancy. Layer 3 Redundancy. Spanning Tree Protocol Redundancy. Design Considerations for High Availability Networks. High Availability Best Practices. Server Farm High Availability Design. Enterprise Edge High Availability Design.
Network Security.
Security Risks. Security Policy. Security Process. Security Keys. Security Attacks and Mitigations. Firewall Considerations. Intrusion Detection System Considerations. AAA. IPSec. Securing Network Components. SAFE.
Quality of Service.
QoS Design Requirements. IntServ and DiffServ. Classification and Marking. Congestion Avoidance. Congestion Management. Traffic Conditioning. Signaling. Link Efficiency Mechanisms. QoS Design.
IP Multicasting
Importance of IP Multicast. Multicast Forwarding. Group Membership/Distribution Trees. PIM. Control Mechanisms. IP Multicast Networks.
VPNs
The Need for VPNs. VPN Tunneling. VPN Security. Site-to-Site Designs. Challenge of Fragmentation. IPSec VPN Modes. Remote Access Designs. Remote Access Provisioning. Remote Access NAT Considerations. Split-Tunneling.
Wireless LANs.
Need for Wireless Networks. 802.11 Standards. Cisco Wireless Products. WLAN Design and Planning. WLAN Redundancy. Mobility, Multicast, and QoS WLAN Support. Designing WLAN Security. Small Office WLAN Design. Enterprise WLAN Design. WLAN Design for SOHO Environments. WLAN Design for Enterprise Environments.
IP Telephony
Components of an IP Telephony Network. Cisco CallManager Platform. CCM Scalability (for CCM Version 3.1). CCM Design Models. Gateway Selection. Transcoding, MTP, and Conferencing. Add-On Applications. CCM Clusters. CCM Design Guidelines. IP Telephony Infrastructure Design. Management, Availability, Security, and QoS Considerations.
Content Networking
Components of Content Networking. Content Caching. Content Switching. Content Routing. Content Distribution and Management. Services. Designing Content Networks. Designing Content Networking Solutions.
Storage Networking.
Need for Storage Networking. Network Storage Models. Underlying Technology. Storage Network Services. Designing Storage Networks.
Errata
Errata -- 29 KB
CD-ROM fixes
A limited number of the CCDA/CCDP Flash Cards and Exam Practice Packs do not contain serial numbers for the CD-ROM. If your CD-ROM does not include a serial number, please e-mail us at information@ciscopress.com so that we can assist you.
Other Things You Might Like


Designing for Cisco Internetwork Solutions (DESGN) (Authorized CCDA Self-Study Guide) (Exam 640-863), 2nd Edition

By Diane Teare
eBook (Watermarked) $43.99