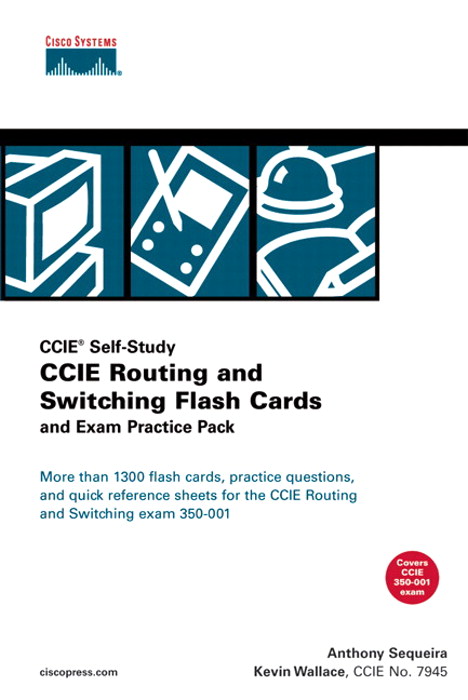 Share
|



Register your product to gain access to bonus material or receive a coupon.
CCIE Routing and Switching Flash Cards and Exam Practice Pack (CCIE Self-Study)
Premium Website
Sorry, this book is no longer in print.
A printing error caused the first two digits of the serial number to be dropped off on a limited number of copies of this book. Serial numbers are supposed to be 9-digits long. If you received a book with a 7-digit serial number, simply add "00" to the beginning of the serial number when registering your software.
Copyright 2005
Edition: 1st
Premium Website
ISBN-10: 1-58720-129-1
ISBN-13: 978-1-58720-129-5
More than 1300 flash cards, practice questions, and quick reference sheets for the CCIE Routing and Switching exam 350-001 2.0 blueprint
Are you ready to take the CCIE Routing and Switching written exam? You've learned the concepts, you have the experience to put them into real-world use, and now you want to practice, practice, practice until exam time. CCIE Routing and Switching Flash Cards and Exam Practice Pack gives you three methods of proven, late-stage exam preparation for the CCIE Routing and Switching written exam in one package.
Test Engine
650-question exam engine includes both practice and study modes
Flash Cards
More than 500 flash cards in PC, handheld, and print formats, available in customized sets
Quick Reference Sheets
All exam topics included in the 150+ graphical quick reference sheets, which appear in the book and on the CD-ROM
CCIE Routing and Switching Flash Cards and Exam Practice Pack is part of a recommended learning path from Cisco Systems that includes simulation and hands-on training from authorized Cisco Learning Partners and self-study products from Cisco Press. To find out more about instructor-led training, e-learning, and hands-on instruction offered by authorized Cisco Learning Partners worldwide, please visit www.cisco.com/go/authorizedtraining.
Companion CD-ROM
The CD-ROM contains 500+ flash cards and 650 practice test questions. Flash cards are downloadable to Palm OS and Pocket PC 2002/2003 handheld devices.
Minimum System Requirements
Windows 98, Me, 2000 Pro, or XP
Acrobat Reader 5.0 or higher
Internet Explorer 5.5 or higher
16 MB RAM for Windows 98 and Me; 64 MB RAM for Windows 2000 Pro and XP
800 x 600 resolution or higher
256 or more colors
Internet access for "instant" registration
Optional: Palm or Palm OS-compliant handheld device; Pocket PC handheld device
This volume is in the Flash Cards and Exam Practice Pack Series from Cisco Press. Products in this series arm Cisco certification candidates with a set of exam practice tools, formats, and environments to help them in the final stages of their self-study regimen and increase recall of key exam topics.
Online Sample Chapter
CCIE Routing and Switching Flash Cards: General Networking Theory
Downloadable Sample Chapter
Download - 419 KB -- Section 1: General Networking Theory
Table of Contents
Introduction
Section 1 General Networking Theory
Section 2 General Networking Theory Quick Reference Sheets
Section 3 Bridging and LAN Switching
Section 4 Bridging and LAN Switching Quick Reference Sheets
Section 5 PIP Quick Reference Sheets
Section 6 IP Routing
Section 7 IP Routing Quick Reference Sheets
Section 8 Quality of Service
Section 9 Quality of Service (QoS) Quick Reference Sheets
Section 10 WAN
Section 11 WAN Quick Reference Sheets
Section 12 IP Multicast
Section 13 IP Multicasting Quick Reference Sheets
Section 14 Security
Section 15 Security Quick Reference Sheets
Section 16 Wireless
Section 17 Wireless Quick Reference Sheets
Other Things You Might Like

By Chris Olsen
eBook (Watermarked) $43.20

eBook (Watermarked) $44.00
eBook (Watermarked) $19.99