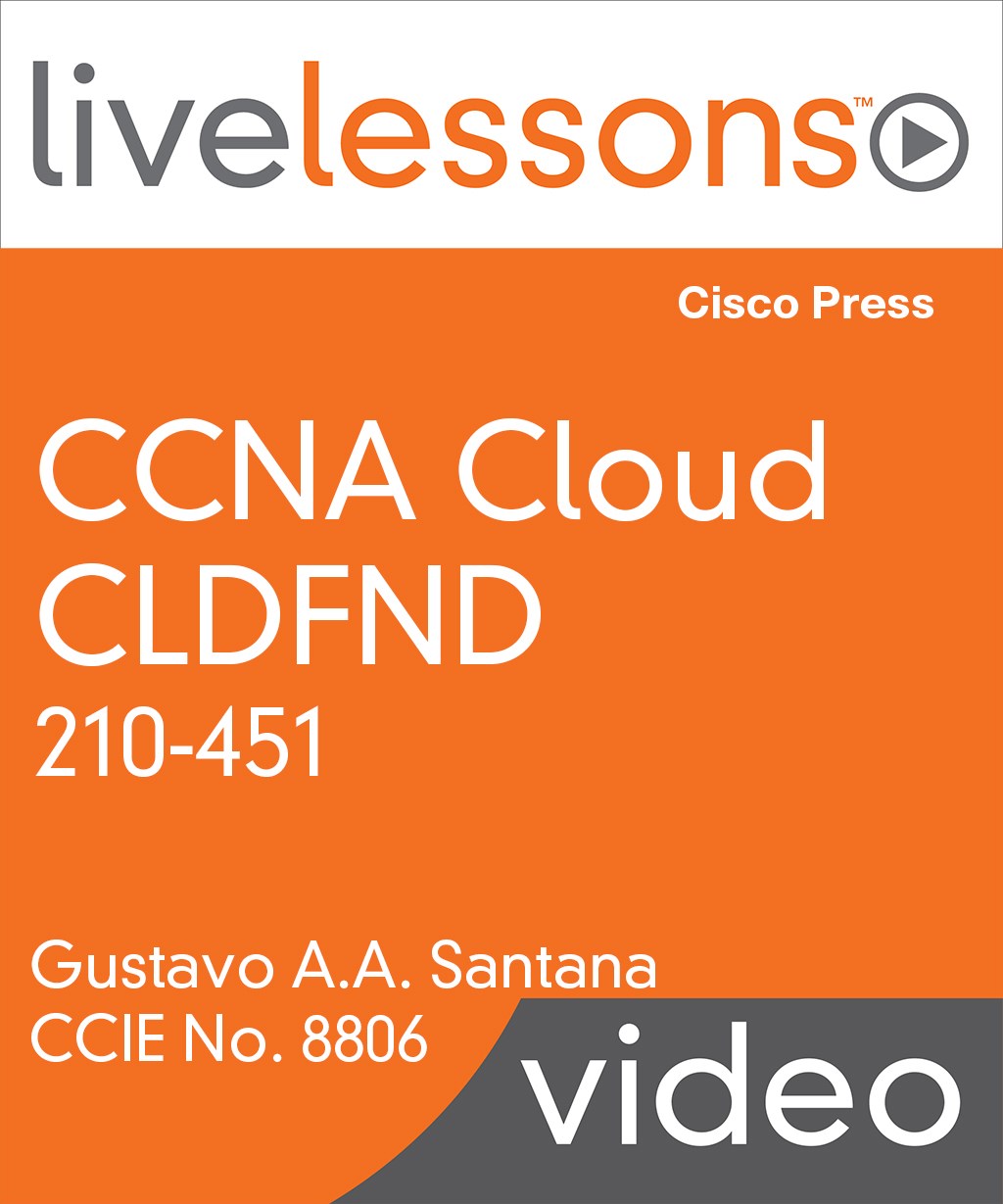 Register your product to gain access to bonus material or receive a coupon.
CCNA Cloud CLDFND 210-451 LiveLessons: Understanding Cisco Cloud Fundamentals
Online Video
Sorry, this book is no longer in print.

Video accessible from your Account page after purchase.
Copyright 2016
Edition: 1st
Online Video
ISBN-10: 0-13-452441-1
ISBN-13: 978-0-13-452441-2
More than 6 Hours of Video Instruction

Overview

More than 6 hours of video instruction on cloud computing concepts, service models, infrastructure solutions, and architectures.
Description
Cisco CCNA Cloud CLDFND 200-451 LiveLessons is a unique video product that provides a solid understanding of the key areas of knowledge required to pass the 200-451 Cloud Fundamentals exam. This product walks the customer through each topic of the exam blueprint. Customers will gain knowledge of fundamental cloud technologies, including cloud computing definitions, cloud service models, and cloud aspects in infrastructure components such as servers, networking, and storage.
Cisco CCNA Cloud CLDFND 200-451 LiveLessons contains 14 independent video lessons, delivering more than 6 hours of instruction on this new Cisco exam. The videos contain slides, detailed instructions, and demonstrations of Cisco and third-party cloud solutions to both contextualize the explained concepts and introduce related Cisco products in practical examples.
Major topics include
--Cloud Characteristics and Models
--Cloud Deployment
--Cloud Workloads
--Cloud Networking
--Cloud Storage
Skill Level
Beginning
What You Will Learn
--CCNA Cloud certification will help the candidate gain foundational understanding of Cisco Cloud deployment
--Combines conceptual knowledge with hands-on skills
--Enables organizations to improve business flexibility and reduce technology infrastructure spending through Cisco Cloud deployments, by utilizing industry-recognized certifications to validate professionals
--Transition into and become a recognized Cloud professional
--Take advantage of a broad range of self-study, instructor-led assessment and lifelong learning products that provide new and extended knowledge of emerging Cloud solutions
Who Should Take This Course
Primary Audience: Cloud administrators, designers, architects, and network engineers, including working engineers in Enterprise and service provider companies who want to incorporate cloud concepts and technologies into their curriculum. More specifically, candidates who want a dynamic explanation of the CCNA Cloud exam's content.
Secondary Audience: Candidates for other certifications, such as CCNP and CCIE Data Center, can also use this content as a foundational review of established cloud topics. Finally, the course can be valuable for technicians who want a solid conceptual background before working with Cisco cloud products and solutions.
Course Requirements
--Basic networking background (Ethernet and TCP/IP architectures)
--Server, storage, and operational systems awareness
Table of Contents
Module 1 Cloud Characteristics and Models
Lesson 1 Describe Common Cloud Characteristics
Lesson 1.1 NIST Cloud Definition
Lesson 1.2 On-demand Self-service
Lesson 1.3 Elasticity
Lesson 1.4 Resource Pooling
Lesson 1.5 Metered Service
Lesson 1.6 Ubiquitous Networking
Lesson 1.7 Cloud Misconceptions
Lesson 2 Describe Cloud Service Models
Lesson 2.1 Typical Cloud Service Offers
Lesson 2.2 Infrastructure as a Service
Lesson 2.3 Platform as a Service
Lesson 2.4 Software as a Service
Lesson 2.5 Anything as a Service
Module 2 Cloud Deployment
Lesson 3 Describe Cloud Deployment Models
Lesson 3.1 Public Clouds
Lesson 3.2 Security, Control, and Cost
Lesson 3.3 Private Clouds
Lesson 3.4 Community Clouds
Lesson 3.5 Hybrid Clouds
Lesson 4 Describe the Components of the Cisco Intercloud Solution
Lesson 4.1 Challenges of Hybrid Clouds
Lesson 4.2 Cisco Intercloud Strategy
Lesson 4.3 Cisco Intercloud Fabric
Lesson 4.4 Demo - Intercloud Fabric
Module 3 Cloud Compute
Lesson 5 Identify Key Features of UCS
Lesson 5.1 UCS Architecture
Lesson 5.2 UCS Manager
Lesson 5.3 Exploring UCS Manager
Lesson 5.4 UCS Central
Lesson 5.5 Exploring UCS Central
Lesson 5.6 UCS B-Series
Lesson 5.7 UCS C-Series
Lesson 5.8 Service Profiles
Lesson 5.9 Creating a Service Profile
Lesson 5.10 Templates and Address Pools
Lesson 6 Describe Server Virtualization
Lesson 6.1 Server Virtualization History
Lesson 6.2 Server Virtualization Definitions
Lesson 6.3 Anatomy of a Virtual Machine
Lesson 6.4 Creating a Virtual Machine
Lesson 6.5 Hypervisor Architectures
Lesson 6.6 Online Migrations
Lesson 6.7 Moving a Virtual Machine
Lesson 6.8 Virtualization Cluster Features
Module 4 Cloud Networking
Lesson 7 Describe Network Architectures for the Data Center
Lesson 7.1 Requirements for Cloud Networking
Lesson 7.2 Unified Fabric: Fabric Extenders
Lesson 7.3 Unified Fabric: Virtualization and Fabric Evolution
Lesson 7.4 Unified Fabric: I/O Consolidation and Layer 2 Extension
Lesson 7.5 Software Defined Networking
Lesson 7.6 SDN Challenges and Application Centric Infrastructure
Lesson 7.7 Using Application Centric Infrastructure
Lesson 7.8 Provisioning an Application in ACI
Lesson 8 Describe Infrastructure Virtualization
Lesson 8.1 Virtual Networking Challenges
Lesson 8.2 vSwitch and Distributed Virtual Switch
Lesson 8.3 Nexus 1000V
Lesson 8.4 Exploring Nexus 1000V
Lesson 8.5 VXLAN
Lesson 8.6 Virtual Networking Services
Lesson 8.6 Virtual Appliances and Network Containers
Module 5 Cloud Storage
Lesson 9 Describe Storage Provisioning Concepts
Lesson 9.1 Disk Arrays
Lesson 9.2 RAID Levels and Disk Pools
Lesson 9.3 Thick Provisioning
Lesson 9.4 Thin Provisioning
Lesson 10 Describe the Difference Between All the Storage Access Technologies
Lesson 10.1 Block-based Access and SANs
Lesson 10.2 File-based Access and NAS
Lesson 11 Describe Basic SAN Storage Concepts
Lesson 11.1 Introduction to SCSI
Lesson 11.2 Fibre Channel Basics
Lesson 11.3 Fibre Channel Addressing and Forwarding
Lesson 11.4 Zoning
Lesson 11.5 Demo--Deploying Zoning
Lesson 11.6 Virtual SANs
Lesson 12 Describe Basic NAS Storage Concepts
Lesson 12.1 Shares and Mount Points
Lesson 12.2 Permissions
Lesson 13 Describe the Various Cisco Storage Network Devices
Lesson 13.1 Cisco MDS 9000 Family
Lesson 13.2 Nexus Storage Portfolio
Lesson 13.3 UCS Invicta
Lesson 14 Describe Various Integrated Infrastructures
Lesson 14.1 Modular Data Centers
Lesson 14.2 FlexPod
Lesson 14.3 Vblock
Lesson 14.4 VSPEX
Lesson 14.5 UCSO
About LiveLessons Video Training

LiveLessons Video Training series publishes hundreds of hands-on, expert-led video tutorials covering a wide selection of technology topics designed to teach you the skills you need to succeed. This professional and personal technology video series features world-leading author instructors published by your trusted technology brands: Addison-Wesley, Cisco Press, IBM Press, Pearson IT Certification, Prentice Hall, Sams, and Que. Topics include IT Certification, Programming, Web Development, Mobile Development, Home and Office Technologies, Business and Management, and more.
View all LiveLessons on InformIT at http://www.ciscopress.com/livelessons

Other Things You Might Like


Cisco Certified Support Technician CCST Networking 100-150 Official Cert Guide Premium Edition and Practice Test

By Russ White
Premium Edition eBook $47.99

eBook (Watermarked) $38.39