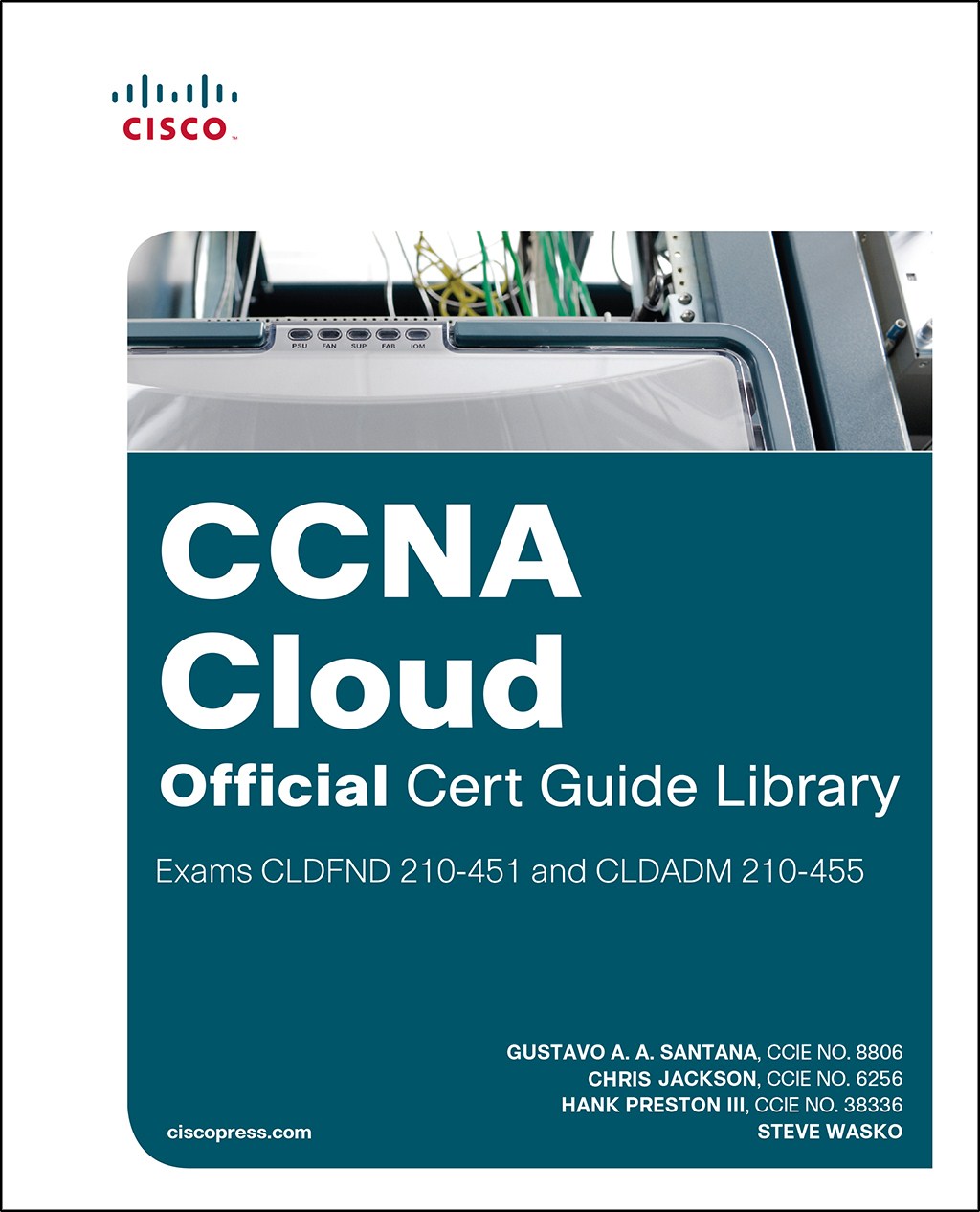 Share
|



Register your product to gain access to bonus material or receive a coupon.
CCNA Cloud Official Cert Guide Library (Exams CLDFND 210-451 and CLDADM 210-455)
Book
Sorry, this book is no longer in print.
Features
Authoritative coverage of every CCNA Introducing Cisco Cloud Administration (210-455 CLDADM) and Understanding Cisco Cloud Fundamentals (210-451 CLDFND) exam topic, with all the context and practical examples students need to succeed
Logical, well-organized, and practical coverage of key Cisco cloud concepts, features, and designs
Includes realistic practice tests, plus extensive proven features to help students review more efficiently
Copyright 2017
Dimensions: 7-3/8" x 9-1/8"
Edition: 1st
Book
ISBN-10: 1-58714-701-7
ISBN-13: 978-1-58714-701-2
&>CCNA Cloud CLDFND Official Cert Guide is a comprehensive self-study guide that provides a thorough coverage of all topics from the exam's blueprint. The book explores concepts, features, and designs to provide an adequate understanding about cloud environments and their particular infrastructure requirements. It also follows a logical order and practical approach, both designed to offer the reader a gradual and rich experience. At first sight, both CCNA Cloud and CCNA Data Center certifications may appear to share a considerable number of topics related to Cisco Data Center portfolio. However, this book presents these products and technologies through a "cloud perspective", highlighting how these solutions fulfill basic cloud computing requirements, such as automation and standardization.
CCNA Cloud CLDADM Official Cert Guide is a self-study guide all of the topics from the corresponding Cisco exam's blueprint. This book delves in to the many operational and administrative processes and tasks that would be required to successfully operate a Cisco Cloud environment. By providing an operational spin on Cloud, it compliments other technology focused books by drilling down into the practical skills needed for the care feeding and feeding of your company's cloud deployment. The book is broken up into 4 sections. The first section starts with foundational topics that level set the reader on key concepts and background necessary to provide context on why cloud is important to transform into an agile, flexible, and operationally efficient business. Section 2 provides an overview of the Cisco technology and software suites relevant to the exam. Section 3 delves into Cloud administration and operations concepts like deploying virtual machines and application containers, managing role based access control, services catalogs, and reporting and chargeback systems. Section 4 closes out the book by exploring cloud monitoring, capacity planning, and remediation methodologies.
Table of Contents
CLDADM 210-455
Part I Cloud Admin Fundamentals
Chapter 1 A n Introduction to Cloud
Chapter 2 Cloud: A New Operations Model for IT
Chapter 3 The Cloud Operation Journey
Part II Cloud Technologies
Chapter 4 Cisco Cloud Automation/Orchestration Suites
Chapter 5 Cisco Prime Service Catalog
Chapter 6 Cisco Cloud Infrastructure
Part III Cloud Administration and Operations
Chapter 7 Managing Users and Groups
Chapter 8 Virtual Machine Management
Chapter 9 Automating Cloud Infrastructure with UCS Direct
Chapter 10 Building a Service Catalog and User Portal with UCS Director and Prime Service Catalog
Chapter 11 Deploying Virtual Application Containers
Chapter 12 Chargeback, Billing, and Reporting
Part IV Cloud Management, Monitoring, and Reporting
Chapter 13 Cloud Performance and Capacity Management
Chapter 14 Monitoring and Maintaining the Health of Your Cloud
Chapter 15 Final Preparation
Glossary
Appendix A Answers to the "Do I Know This Already?" Quizzes
Appendix B Memory Tables
Appendix C Memory Tables Answer Key
CLDFND 210-451
Chapter 1 What Is Cloud Computing?
Chapter 2 Cloud Shapes: Service Models
Chapter 3 Cloud Heights: Deployment Models
Chapter 4 Behind the Curtain
Chapter 5 Server Virtualization
Chapter 6 Infrastructure Virtualization
Chapter 7 Virtual Networking Services and Application Containers
Chapter 8 Block Storage Technologies
Chapter 9 File Storage Technologies
Chapter 10 Network Architectures for the Data Center: Unified Fabric
Chapter 11 Network Architectures for the Data Center: SDN and ACI
Chapter 12 Unified Computing
Chapter 13 Cisco Cloud Infrastructure Portfolio
Chapter 14 Integrated Infra
Other Things You Might Like
Premium Edition eBook $39.99


Premium Edition eBook $39.99