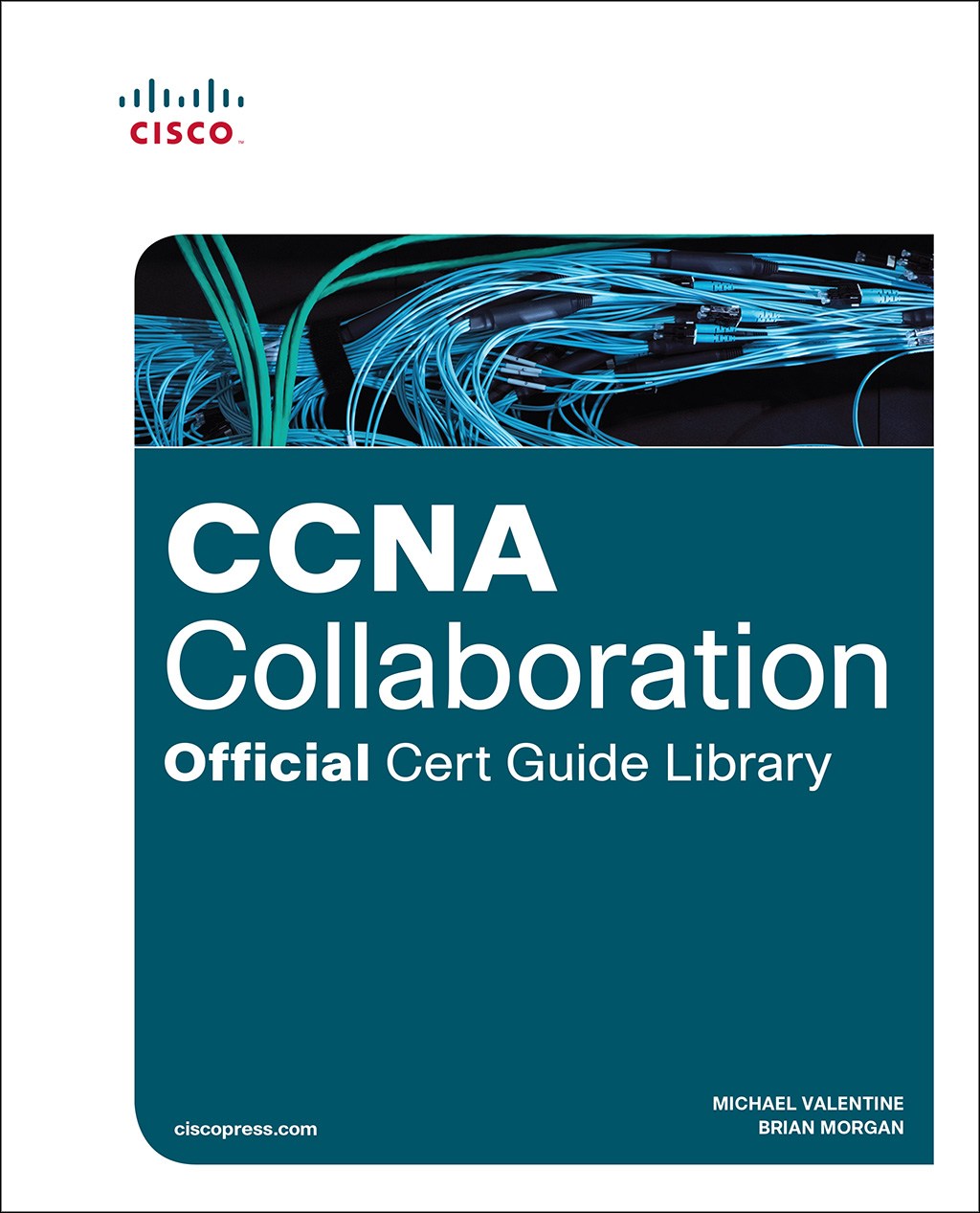 Register your product to gain access to bonus material or receive a coupon.
CCNA Collaboration Official Cert Guide Library (Exams CICD 210-060 and CIVND 210-065)
Book
Sorry, this book is no longer in print.
Features
Fully updated to align to the new CCNA Collaboration exams objectives
Book and CD are packed with features to help candidates master more difficult testing methods on the actual exams
Practice tests contain exam-realistic questions that closely mimic the difficulty of the actual exam
In-depth expert explanations of all protocols, commands, and technologies on the CICD and CIVND exams
Copyright 2016
Dimensions: 7-3/8" x 9-1/8"
Pages: 1200
Edition: 1st
Book
ISBN-10: 1-58714-444-1
ISBN-13: 978-1-58714-444-8
CCNA Collaboration Official Cert Guide Library is a comprehensive self-study tool for preparing for the new CCNA Collaboration exams. This package includes the two books: CCNA Collaboration CICD 210-060 Official Cert Guide and CCNA Collaboration CIVND 210-065 Official Cert Guide. Complete coverage of all exam topics as posted on the exam topic blueprint ensures readers will arrive at a thorough understanding of what they need to master to succeed on the exams. The books follow a logical organization of the CICD and CIVND exam objectives. Material is presented in a concise manner, focusing on increasing readers' retention and recall of exam topics. Readers will organize their exam preparation through the use of the consistent features in these chapters, including:
Pre-chapter quiz – These quizzes allow readers to assess their knowledge of the chapter content and decide how much time to spend on any given section.
Foundation Topics – These sections make up the majority of the page count, explaining concepts, configurations, with emphasis on the theory and concepts, and with linking the theory to the meaning of the configuration commands.
Key Topics – Inside the Foundation Topics sections, every figure, table, or list that should absolutely be understood and remembered for the exam is noted with the words "Key Topic" in the margin. This tool allows the reader to quickly review the most important details in each chapter.
Exam Preparation – This ending section of each chapter includes three additional features for review and study, all designed to help the reader remember the details as well as to get more depth. Readers will be instructed to review key topics from the chapter, complete tables and lists from memory, and define key terms.
Final Preparation Chapter—This final chapter details a set of tools and a study plan to help readers complete their preparation for the exams.
CD-ROM Practice Test—The companion CD-ROM contains a set of customizable practice tests.
Table of Contents
Exam 45 TOC
Part 1: Voice Perspectives
1. Traditional Voice vs. Unified Voice
2. Understanding the Pieces of Cisco Unified Communications
3. Understanding the Cisco IP Phone Concepts and Registration
Part 2: Cisco Unified Communications Manager Express and Cisco Unity Express
4. Getting Familiar with CME Administration
5. Managing Endpoint and End Users with CME
6. Understanding the CME Dial-Plan
7. Enabling Telephony Features with CME
8. Understanding Cisco Unity Express
Part 3: Cisco Unified Communications Manager
9. Getting Familiar with CUCM Administration
10. Managing Endpoint and End Users with CUCM
11. Understanding the CUCM Dial-Plan
12. Enabling Telephony Features with CUCM
13. Enabling Mobility Features with CUCM
Part 4: Cisco Unity Connection, CUCM IM and Presence, and Cisco Telepresence
14. Voicemail Integration with Unity Connection
15. Enabling CUCM IM and Presence
16. Understanding Cisco Telepresence
Part 5: Voice Network Management and Troubleshooting
17. Common CME Management and Troubleshooting Issues
18. Common CUCM Management and Troubleshooting Issues
19. Unity Connection and CUCM IM and Presence Management and Troubleshooting
Part 6: Final Preparation
20. Final Preparation
Appendix A. Answers to the Do I Know This Already? Quizzes
Appendix B. Exam Updates
Appendix C. Memory Tables
Appendix D. Memory Tables Answer Key
Appendix E. Study Planner
Glossary
Exam 46 TOC
Part I: Video Fundamentals
1. Introduction to Video Communications
2. Legacy Video Infrastructure Overview
3. Video Standards Overview
4. Cisco Video Solutions History and Evolution
Part II: Cisco Business Video Solutions
5. Describing Cisco Video and Content Delivery
6. Describing Cisco Video Surveillance
7. Describing Cisco Collaboration
Part III: Cisco Unified IP Phones, Collaboration Desk Endpoints, and Cisco Jabber
8. Describing and Installing Cisco Unified IP Phones, Collaboration Desk Endpoints, and Cisco Jabber
9. Configuring Cisco Unified IP Phones and Cisco Jabber
Part IV: Cisco TelePresence Endpoints
10. Describing Cisco TelePresence Endpoint Characteristics and Installation
11. Configuring Cisco TelePresence CTS Software-Based
12. Configuring Cisco DX650 Endpoints
13. Configuring Cisco DX70 Endpoints
14. Configuring Cisco DX80 Endpoints
15. Configuring Cisco TelePresence TC Software-Based Endpoints
16. Cisco Legacy Edge Architecture
17. Cisco Expressway Edge Architecture
18. Operating and Troubleshooting Cisco TelePresence Endpoints
Part V: Final Preparation
19. Final Preparation
Appendix A. Answers to the Do I Know This Already? Quizzes
Appendix B. Numeric Reference Tables
Glossary
Appendix C: Memory Tables
Appendix D: Memory Tables Answer Key
Appendix E: Study Planner
Other Things You Might Like


Online Video $79.99

eBook (Watermarked) $28.80