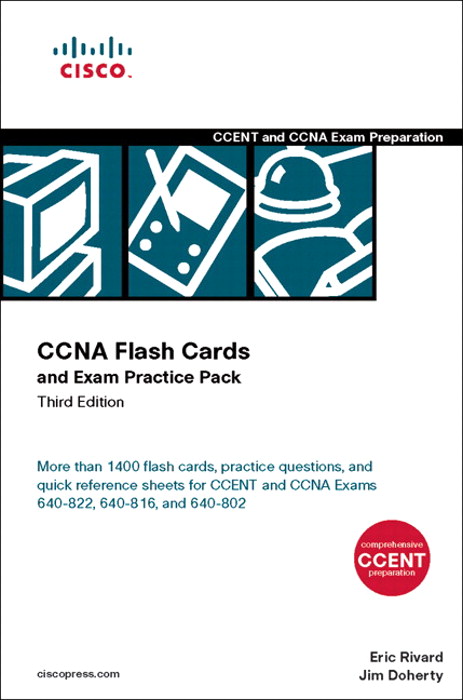 Share
|



Register your product to gain access to bonus material or receive a coupon.
CCNA Flash Cards and Exam Practice Pack (CCENT Exam 640-822 and CCNA Exams 640-816 and 640-802), 3rd Edition
Book
Sorry, this book is no longer in print.
Copyright 2008
Edition: 3rd
Book
ISBN-10: 1-58720-190-9
ISBN-13: 978-1-58720-190-5
CCNA Flash Cards and Exam Practice Pack
Third Edition
More than 1400 flash cards, practice questions, and quick reference sheets for CCENT and CCNA Exams 640-822, 640-816, and 640-802
Comprehensive CCENT preparation
Eric Rivard
Jim Doherty
Are you ready to take the ICND1, ICND2, or full CCNA® exam for the CCENT™ or CCNA certification? You've learned the concepts, you have the experience to put them to real-world use, and now you want to practice, practice, practice until exam time. CCNA Flash Cards and Exam Practice Pack, Third Edition, gives you three methods of proven, late-stage exam preparation in one package.
Test Engine
The CCNA practice exam engine includes new testlet question types and updated simulation questions for a more realistic practice exam experience.
Flash Cards
More than 700 flash cards in print and PC as well as Palm and PocketPC handheld device formats are available in customizable sets that you can tailor to your study needs.
Quick Reference Sheets
All exam topics are covered for a quick review and refresh in the nearly 200 graphical quick reference sheets.
CCNA Flash Cards and Exam Practice Pack, Third Edition, is part of a recommended learning path from Cisco® that includes simulation and hands-on training from authorized Cisco Learning Partners and self-study products from Cisco Press. To find out more about instructor-led training, e-learning, and hands-on instruction offered by authorized Cisco Learning Partners worldwide, please visit www.cisco.com/go/authorizedtraining.
Eric Rivard, CCNP®, CCDA®, CCNA, is the IT manager at Valley Center Municipal Water District.
Jim Doherty is the VP of marketing at CipherOptics. Jim has 17 years of engineering and marketing experience across a broad range of networking and communication technologies.
Companion CD-ROM
The CD-ROM contains more than 700 flash cards and more than 500 practice test questions. Flash cards are downloadable to PC, Palm OS, and most PocketPC handheld devices.
Minimum System Requirements
Windows 2000, XP, or Vista
Acrobat Reader 5.0 or higher
Internet Explorer 5.5 or higher
64 MB RAM for Windows 2000 Pro and XP
800 X 600 resolution or higher
256 or more colors
Internet access for registration
Optional: Palm or Palm OS®-compliant handheld device; Windows Mobile version 2003 or version 5 PocketPC handheld device
This volume is in the Flash Cards and Exam Practice Pack Series from Cisco Press®. Products in this series arm Cisco Career Certification candidates with a set of exam practice tools, formats, and environments to help them in the final stages of their self-study regimen and increase recall of key exam topics.
Category: Cisco Press–Cisco Certification
Covers: CCENT and CCNA Exams 640-822, 640-816, and 640-802
Downloadable Sample Chapter
Download ICND2 Section 6: Implementing EIGRP
Table of Contents
Foreword xii
Introduction xiii
ICND1
Part I: Summarizing Network Technology 3
Section 1 Building a Simple Network 4
Section 2 Understanding TCP/IP 38
Section 3 Understanding Ethernet 70
Part II: Growing the Network (LANs) 87
Section 4 LAN Network Topologies 88
Section 5 Operating Cisco IOS 114
Section 6 Configuring a Cisco Switch 128
Section 7 Extending the LAN 174
Part III: Connecting LANs 191
Section 8 Exploring the Functions of Routing 192
Section 9 Configuring a Cisco Router 218
Part IV: Connecting Networks 252
Section 10 Understanding WAN Technologies 254
Section 11 RIP Routing 294
Section 12 Managing Your Network Environment 314
ICND2
Part I: LAN Switching 345
Section 1 Implementing VLANs and Trunks 346
Section 2 Redundant Switching and STP 380
Section 3 Troubleshooting Switched Networks 410
Part II: Routing 425
Section 4 Routing Operations and VLSM 426
Section 5 Implementing OSPF in a Single Area 452
Section 6 Implementing EIGRP 492
Part III: Access Lists and Managing Address Spaces 513
Section 7 Managing Traffic with ACLs 514
Section 8 Managing Address Space with NAT and IPv6 538
Part IV: Extending the Network into the WAN 571
Section 9 Establishing Serial Point-to-Point Connections 572
Section 10 Establishing Frame Relay Connections 594
Section 11 Introducing VPN Solutions 618
Quick Reference Sheets
ICND1 634
ICND2 752
Foreword
Introduction
Other Things You Might Like

Cisco Certified DevNet Professional DEVCOR 350-901 Official Cert Guide Premium Edition and Practice Test

Premium Edition eBook $55.99

eBook (Watermarked) $63.99

eBook (Watermarked) $79.99