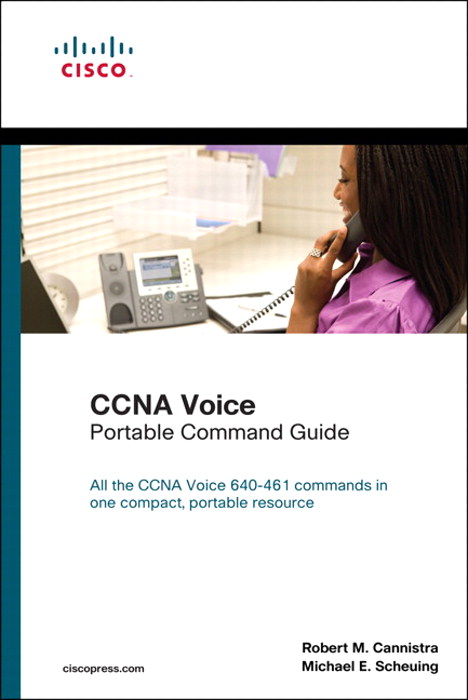 Register your product to gain access to bonus material or receive a coupon.
CCNA Voice Portable Command Guide
Book
Sorry, this book is no longer in print.
Features
The compact, convenient Cisco CCNA® Voice command reference: every command exam candidates need, in one portable resource!
Practical, example-rich information for every command on Cisco's new CCNA® Voice exams
Real-world scenarios help pros work more efficiently, and pass the first time
Covers voice fundamentals, Unified Voice, Cisco Unified CME, CUCM telephony, mobility, Unity Connection, Unified Presence, and more
Perfect take-anywhere resource: no need for thick books or Web access
Copyright 2013
Edition: 1st
Book
ISBN-10: 1-58720-442-8
ISBN-13: 978-1-58720-442-5
Preparing for the latest CCNA® Voice exam? Here are all the CCNA Voice commands you'll need to prepare for the Cisco 640-461 ICOMM v8.0 Exam, in one handy, condensed resource. Filled with valuable, easy-to-access information, the CCNA Voice Portable Command Guide is portable enough for you to use whether you're in the server room or the equipment closet. This quick reference summarizes all commands, keywords, command arguments, and associated prompts relevant for Exam 640-461, and offers tips and examples for applying these commands in live Cisco Unified Communications environments.
Topics covered include
• Fundamentals: Unified Communications components, functions, call signaling, media flows, and VoIP quality
• Preparation: Configure Cisco switches, routers, and other devices to support Unified Voice
• Provisioning: Create/modify users, accounts, endpoints, directory numbers, user and mobility features, and calling privileges
• Messaging and Presence: Configure voice messaging, Cisco Unity Connection, and Cisco Unified Presence
• Management/Monitoring: Generate reports, monitor voicemail usage, perform backups, and more
• Support: Verify PSTN connectivity and define fault domains; troubleshoot endpoints, call quality, and voicemail
Access all CCNA Voice commands–use as a quick, offline resource for research and solutions
Logical how-to topic groupings provide one-stop research
Great for review before CCNA Voice 640-461 certification exams
Includes configuration examples for Cisco Unified Communications Manager, Cisco Unified Communications Manager Express, Cisco Unity Connection, and Cisco Unified Presence
Compact size makes it easy to carry with you, wherever you go
"Create Your Own Journal" section with blank, lined pages allows you to personalize the book for your needs
"What Do You Want to Do?" chart inside cover helps you quickly reference specific tasks
This book is part of the Cisco Press® Certification Self-Study Product Family, which offers readers a self-paced study routine for Cisco® certification exams. Titles in the Cisco Press Certification Self-Study Product Family are part of a recommended learning program from Cisco that includes simulation and hands-on training from authorized Cisco Learning Partners and self-study products from Cisco Press.
Online Sample Chapter
CCNA Voice Portable Command Guide: Cisco Unity Connection and Cisco Unified Presence
Sample Pages
Download the sample pages (includes Chapter 7 and Index)
Table of Contents
CHAPTER 1 Voice Fundamentals for Unified Communication 1
Voice Fundamentals 1
Cisco VoIP Structure 3
Common Topologies 3
CHAPTER 2 Cisco Switch, Router, and Phone Fundamentals for Unified Voice 7
Technology Overview—Device Connections: Router, Switch, IP Phones 7
Topology 8
Configuration 9
Configure the Router's Hostname 9
Configure the Router for InterVLAN Routing 9
Configure the PoE Switch for Basic Connectivity 10
Configure Voice and Data VLANs on the PoE Switch 11
Configure One Interface for the Data VLAN 11
Configure One Interface for the Voice VLAN 11
Configure One Interface for Both the Data VLAN and the Voice VLAN 12
Reset the Cisco 7965G Unified IP Phone to Factory Defaults 13
Verification 13
Troubleshooting 14
Actively Debug Issues When They Arise 14
CHAPTER 3 Cisco Unified Communications Manager Express 15
Topology 15
Administration Interfaces 16
Configuration 16
Configuring Cisco Unified Communications Manager Express for the First Time 16
Accessing and Using the Cisco Configuration Professional 16
Basic Telephony Settings 23
CHAPTER 4 Cisco Unified CME Features 49
Creating Extensions 49
Modifying Extensions 63
Deleting Extensions 65
Cloning Extensions 66
Creating Phones and Users 67
Modifying Phones and Users 82
Deleting Phones and Users 83
Other Telephony Features 85
CHAPTER 5 Cisco Unifi ed Communications Manager (CUCM) Administration and Management 87
Topology 88
Cisco Unified Communications Manager Administration Interfaces 88
Accessing the Management GUI and CLI Interfaces 89
Accessing and Using the Web GUI 89
Accessing and Using the CLI 91
Changing CUCM Name to IP Address for DNS Independence 93
Configuring a Unified CM Group 97
Configuring a Phone NTP Reference 99
Configuring a Date/Time Group 99
Configuring a Region 101
Configuring Locations 104
Configuring Device Pools 105
Configuring a Partition 106
Configuring a Calling Search Space 108
Activating Services and Features 109
Creating a Phone Button Template 111
Creating a Softkey Template 112
Creating a Common Phone Profile 114
Creating an Application User with Administrative Rights 116
Creating an Application User with Read-Only Rights 118
Creating an End User Manually 118
Adding Users via LDAP Synchronization 119
Configuring LDAP Authentication for End Users 122
Adding an IP Phone to CUCM Manually 123
Adding a Directory Number (DN) to a Phone 125
Adding Phones Using Auto-registration 128
Adding End Users and Phones with the Bulk Administration Tool (BAT) 130
Configuring an H.323 Gateway in CUCM 134
Configuring a Route Pattern 135
CHAPTER 6 Cisco Unified Communications Manager (CUCM) Telephony and Mobility Features 139
Topology 140
Configuring a Hunt Group 140
Configuring a Line Group 140
Configuring a Hunt List 143
Configuring a Hunt Pilot 144
Configuring Shared Lines 145
Configuring Barge and Privacy 147
Configuring Call Forward 149
Configuring Call Pickup 152
Configuring Call Park 154
Configuring Directed Call Park 155
Configuring Native Presence (Busy Lamp Field [BLF] Speed Dial) 156
Configuring Extension Mobility 159
Configuring Intercom 164
Configuring Mobile Connect 167
Configuring Mobile Voice Access (MVA) 172
Summary 175
CHAPTER 7 Cisco Unity Connection and Cisco Unifi ed Presence 177
Topology 178
Cisco Unity Connection Administration Interfaces 178
Cisco Unity Connection 178
Configuring Class of Service in Cisco Unity Connection 180
Configuring Partitions and Search Spaces in Unity Connection 182
Configuring User Templates in Cisco Unity Connection 184
Managing Users in Cisco Unity Connection 185
Adding Users Manually 185
Importing Users via AXL from CUCM 186
Importing Users with LDAP 189
Importing Users with the Bulk Administration Tool (BAT) 191
Configuring Call Handlers in Cisco Unity Connection 195
Cisco Unity Connection Reports 200
Cisco Unified Presence Server Administration Interfaces 201
Cisco Unity Connection and Cisco Unified Presence Backup and Restore 201
CHAPTER 8 Management, Monitoring, and Troubleshooting CUCM 203
Topology 203
Cisco IP Phone Boot and Restart Processes 204
Cisco IP Phone Boot Process 204
Phone Restart Procedure 205
Troubleshooting Using the Phone Web Page 205
Dialed Number Analyzer 207
Cisco Unified Reporting 210
Cisco Real Time Monitoring Tool (RTMT) 211
Monitoring and Troubleshooting Using CLI Commands 216
Configuring Backup and Recovery 217
Summary 218
CHAPTER 9 Putting It All Together 219
Topology 219
Design 220
Configuration 220
Verification 223
Troubleshooting 223
APPENDIX Create Your Own Journal Here 225
Other Things You Might Like

Online Video $79.99

eBook (Watermarked) $28.80