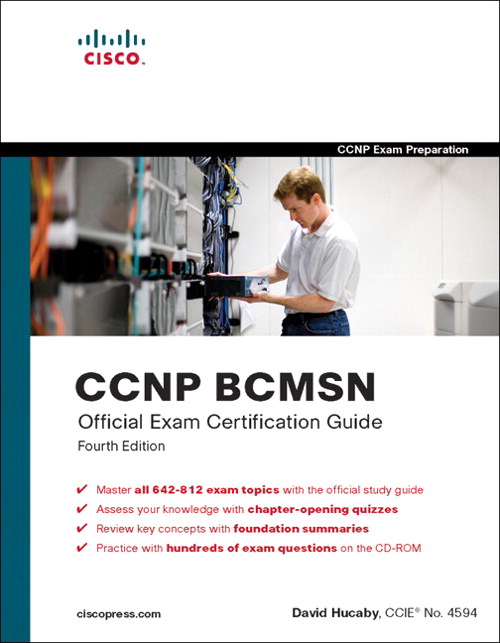 Share
|



Register your product to gain access to bonus material or receive a coupon.
CCNP BCMSN Official Exam Certification Guide, 4th Edition
eBook (Watermarked)
Sorry, this book is no longer in print.

This PDF will be accessible from your Account page after purchase and requires the free Adobe® Reader® software to read it.

The eBook requires no passwords or activation to read. We customize your eBook by discreetly watermarking it with your name, making it uniquely yours.
Copyright 2009
Edition: 4th
eBook (Watermarked)
ISBN-10: 1-58705-871-5
ISBN-13: 978-1-58705-871-4
CCNP BCMSN Official Exam Certification Guide
Fourth Edition
Master all 642-812 exam topics with the official study guide
Assess your knowledge with chapter-opening quizzes
Review key concepts with foundation summaries
Practice with hundreds of exam questions on the CD-ROM
David Hucaby, CCIE® No. 4594
CCNP BCMSN Official Exam Certification Guide, Fourth Edition, is a best of breed Cisco® exam study guide that focuses specifically on the objectives for the BCMSN exam. Successfully passing the BCMSN 642-812 exam certifies that you have knowledge and skills necessary to implement scalable multilayer switched networks.
CCNP BCMSN Official Exam Certification Guide, Fourth Edition, follows a logical organization of the BCMSN exam objectives. Material is presented in a concise manner, focusing on increasing readers' retention and recall of exam topics. Lead network engineer and consultant David Hucaby shares preparation hints and test-taking tips, helping you identify areas of weakness and improve your switching knowledge through the use of the consistent features in each chapter. "Do I Know This Already?" quizzes open each chapter and allow you to decide how much time you need to spend on each section. Exam topic lists and Foundation Summary tables make referencing easy and give you a quick refresher whenever you need it. Scenario-based exercises help you think about exam objectives in real-world situations, thus increasing recall during exam time. Challenging chapter-ending review questions help you assess your knowledge and reinforce key concepts.
The companion CD-ROM contains a powerful testing engine that enables you to focus on individual topic areas or take complete, timed exams. The assessment engine also tracks your performance and provides feedback on a module-by-module basis, presenting question-by-question remediation to the text.
Well regarded for its level of detail, assessment features, and challenging review questions and exercises, this book helps you master the concepts and techniques that will enable you to succeed on the exam the first time.
David Hucaby, CCIE® No. 4594, is a lead network engineer for a large medical environment using Cisco multilayer switching and security products. He also is an independent networking consultant focusing on Cisco-based solutions for healthcare and banking clients.
The official study guide helps you master all the topics on the BCMSN exam, including
Spanning Tree Protocol concepts
Virtual LAN (VLAN), VLAN trunking, and inter-VLAN routing
Gateway redundancy technologies and protocols
Wireless LAN topologies, components, connectivity, and standards
Implementing a Cisco Unified Wireless Network
Access layer voice concepts
Preventing and mitigating attacks against switched network security
Companion CD-ROM
The CD-ROM contains an electronic copy of the book and more than 200 practice questions for the BCMSN exam, including simulation-based questions, all available in study mode, test mode, and flash card format.
This volume is part of the Exam Certification Guide Series from Cisco Press®. Books in this series provide officially developed exam preparation materials that offer assessment, review, and practice to help Cisco Career Certification candidates identify weaknesses, concentrate their study efforts, and enhance their confidence as exam day nears.
Category: Cisco Certification
Covers: BCMSN Exam 642-812
$59.99 USA / $74.99 CAN
Table of Contents
Foreword
Introduction
Part I Overview and Design of a Campus Network
Chapter 1 Campus Network Overview
"Do I Know This Already?" Quiz
Switching Functionality
Layer 2 Switching
Layer 3 Routing
Layer 3 Switching
Layer 4 Switching
Multilayer Switching
Campus Network Models
Shared Network Model
LAN Segmentation Model
Network Traffic Models
Predictable Network Model
Hierarchical Network Design
Access Layer
Distribution Layer
Core Layer
Chapter 2 Modular Network Design
"Do I Know This Already?" Quiz27
Modular Network Design31
Switch Block32
Core Block35
Core Size in a Campus Network38
Other Building Blocks39
Can I Use Layer 2 Distribution Switches?41
Evaluating an Existing Network42
Discovering the Network Topology43
Migrating to a Hierarchical Design47
Part II Building a Campus Network
Chapter 3 Switch Operation
"Do I Know This Already?" Quiz57
Layer 2 Switch Operation61
Transparent Bridging61
Follow That Frame!63
Multilayer Switch Operation65
Types of Multilayer Switching65
Follow That Packet!66
Multilayer Switching Exceptions68
Tables Used in Switching69
Content Addressable Memory69
Ternary Content Addressable Memory70
Troubleshooting Switching Tables74
CAM Table Operation74
TCAM Operation75
Chapter 4 Switch Port Configuration
"Do I Know This Already?" Quiz81
Ethernet Concepts85
Ethernet (10 Mbps)85
Fast Ethernet86
Gigabit Ethernet89
10-Gigabit Ethernet90
Connecting Switch Block Devices92
Console Port Cables/Connectors92
Ethernet Port Cables and Connectors92
Gigabit Ethernet Port Cables and Connectors93
Switch Port Configuration94
Selecting Ports to Configure94
Identifying Ports96
Port Speed96
Port Duplex Mode97
Managing Error Conditions on a Switch Port97
Enable and Use the Switch Port99
Troubleshooting Port Connectivity100
Chapter 5 VLANs and Trunks
"Do I Know This Already?" Quiz109
Virtual LANs113
VLAN Membership114
Deploying VLANs117
VLAN Trunks119
VLAN Frame Identification121
Dynamic Trunking Protocol123
VLAN Trunk Configuration124
VLAN Trunk Configuration124
Troubleshooting VLANs and Trunks128
Chapter 6 VLAN Trunking Protocol
"Do I Know This Already?" Quiz135
VLAN Trunking Protocol139
VTP Domains139
VTP Modes139
VTP Advertisements140
VTP Configuration144
Configuring a VTP Management Domain145
Configuring the VTP Mode145
Configuring the VTP Version146
VTP Configuration Example148
VTP Status148
VTP Pruning149
Enabling VTP Pruning151
Troubleshooting VTP152
Chapter 7 Aggregating Switch Links
"Do I Know This Already?" Quiz159
Switch Port Aggregation with EtherChannel164
Bundling Ports with EtherChannel165
Distributing Traffic in EtherChannel165
Configuring EtherChannel Load Balancing167
EtherChannel Negotiation Protocols169
Port Aggregation Protocol169
Link Aggregation Control Protocol169
EtherChannel Configuration170
Configuring a PAgP EtherChannel170
Configuring a LACP EtherChannel171
Troubleshooting an EtherChannel172
Chapter 8 Traditional Spanning Tree Protocol
"Do I Know This Already?" Quiz181
IEEE 802.1D Overview185
Bridging Loops185
Preventing Loops with Spanning Tree Protocol189
Spanning-Tree Communication: Bridge Protocol Data Units189
Electing a Root Bridge191
Electing Root Ports192
Electing Designated Ports195
STP States197
STP Timers199
Topology Changes200
Types of STP206
Common Spanning Tree206
Per-VLAN Spanning Tree206
Per-VLAN Spanning Tree Plus207
Chapter 9 Spanning Tree Configuration
"Do I Know This Already?" Quiz215
STP Root Bridge219
Root Bridge Placement219
Root Bridge Configuration223
Spanning-Tree Customization226
Tuning the Root Path Cost227
Tuning the Port ID228
Tuning Spanning-Tree Convergence229
Modifying STP Timers230
Redundant Link Convergence232
PortFast: Access-Layer Nodes233
UplinkFast: Access-Layer Uplinks234
BackboneFast: Redundant Backbone Paths236
Troubleshooting STP237
Chapter 10 Protecting the Spanning Tree†Protocol Topology
"Do I Know This Already?" Quiz243
Protecting Against Unexpected BPDUs247
Root Guard247
BPDU Guard248
Protecting Against Sudden Loss of BPDUs250
Loop Guard250
UDLD251
Using BPDU Filtering to Disable STP on a Port254
Troubleshooting STP Protection254
Chapter 11 Advanced Spanning Tree Protocol
"Do I Know This Already?" Quiz259
Rapid Spanning Tree Protocol263
RSTP Port Behavior263
BPDUs in RSTP265
RSTP Convergence265
Topology Changes and RSTP269
RSTP Configuration270
Rapid Per-VLAN Spanning Tree Protocol270
Multiple Spanning Tree Protocol272
MST Overview274
MST Regions274
Spanning Tree Instances Within MST275
MST Configuration277
Part III Layer 3 Switching
Chapter 12 Multilayer Switching
"Do I Know This Already?" Quiz287
InterVLAN Routing291
Types of Interfaces292
Configuring InterVLAN Routing292
Multilayer Switching with CEF295
Traditional MLS Overview295
CEF Overview295
Forwarding Information Base296
Adjacency Table299
Packet Rewrite302
Configuring CEF303
Fallback Bridging303
Verifying Multilayer Switching304
Verifying InterVLAN Routing304
Verifying CEF307
Verifying Fallback Bridging308
Chapter 13 Router, Supervisor, and Power Redundancy
"Do I Know This Already?" Quiz313
Router Redundancy in Multilayer Switching317
Packet Forwarding Review317
Hot Standby Router Protocol318
Virtual Router Redundancy Protocol327
Gateway Load Balancing Protocol330
Verifying Gateway Redundancy338
Redundancy Within a Switch Chassis339
Redundant Switch Supervisors339
Redundant Power Supplies343
Part IV Campus Network Services
Chapter 14 IP Telephony
"Do I Know This Already?" Quiz353
Power over Ethernet (PoE)357
How Power over Ethernet Works357
Detecting a Powered Device358
Supplying Power to a Device359
Configuring Power over Ethernet360
Verifying Power over Ethernet360
Voice VLANs361
Voice VLAN Configuration362
Verifying Voice VLAN Operation364
Voice QoS366
QoS Overview366
Best-Effort Delivery367
Integrated Services Model368
Differentiated Services Model368
DiffServ QoS369
Layer 2 QoS Classification369
Layer 3 QoS Classification with DSCP370
Implementing QoS for Voice372
Configuring a Trust Boundary374
Using Auto-QoS to Simplify a Configuration375
Verifying Voice QoS378
Chapter 15 Securing Switch Access
"Do I Know This Already?" Quiz385
Port Security389
Port-Based Authentication392
802.1x Configuration393
802.1x Port-Based Authentication Example394
Mitigating Spoofing Attacks395
DHCP Snooping395
Best Practices for Securing Switches401
Chapter 16 Securing with VLANs
"Do I Know This Already?" Quiz409
VLAN Access Lists413
VACL Configuration413
Private VLANs414
Private VLAN Configuration416
Configure the Private VLANs417
Associate Ports with Private VLANs417
Associate Secondary VLANs to a Primary VLAN SVI419
Securing VLAN Trunks420
Switch Spoofing420
VLAN Hopping422
Part V Wireless LANs
Chapter 17 Wireless LAN Overview
"Do I Know This Already?" Quiz431
Wireless LAN Basics435
Comparing Wireless and Wired LANs435
Avoiding Collisions in a WLAN436
WLAN Building Blocks438
Access Point Operation441
Wireless LAN Cells442
An Introduction to Wireless LAN RF445
Basic RF Operation445
RF Characteristics447
RF Signal Strength Terminology452
WLAN Antennas457
WLAN Standards459
Regulatory Agencies459
WLAN Frame Types and Sizes460
802.11b460
802.11g463
802.11a463
Additional 802.11 Standards464
Chapter 18 Wireless Architecture and Design
"Do I Know This Already?" Quiz471
WLAN Security475
Legacy Security476
EAP-Based Security Methods477
WPA479
WPA2480
Wireless Client Operation481
AP Association and Roaming482
The Roaming Process484
Roaming Implications486
Cell Layout and Channel Usage487
Sizing AP Cells488
WLAN Channel Layout489
Chapter 19 Cisco Unified Wireless Network
"Do I Know This Already?" Quiz497
Traditional WLAN Architecture501
Cisco Unified Wireless Network Architecture503
WLC Functions506
Lightweight AP Operation508
Traffic Patterns in a Cisco Unified Wireless Network509
Lightweight AP Association and Roaming511
Intra-Controller Roaming512
Inter-Controller Roaming514
Mobility Groups518
Basic Wireless LAN Configuration518
WLC Configuration519
LAP Configuration524
Part VI Scenarios for Final Preparation
Chapter 20 Scenarios for Final Preparation
Scenario 1: Trunking and DTP535
Scenario 2: VLANs, Trunking, and VTP536
Scenario 3: EtherChannels537
Scenario 4: Traditional STP538
Scenario 5: Advanced STP539
Scenario 6: Router Redundancy with HSRP, VRRP, and GLBP540
Scenario 7: IP Telephony in a Switched Network541
Scenario 8: Securing Access and Managing Traffic in a Switched Network541
Scenario 9: Implementing a Wireless LAN542
Scenario 1 Answers544
Scenario 2 Answers544
Scenario 3 Answers545
Scenario 4 Answers545
Scenario 5 Answers547
Scenario 6 Answers547
Scenario 7 Answers548
Scenario 8 Answers549
Scenario 9 Answers551
Part VII Appendix
Appendix A Answers to Chapter 'Do I Know This Already?' Quizzes and Q&A Sections
1587201712 TOC 11/16/2006
Other Things You Might Like

eBook (Watermarked) $48.00

eBook (Watermarked) $48.00

eBook (Watermarked) $47.99