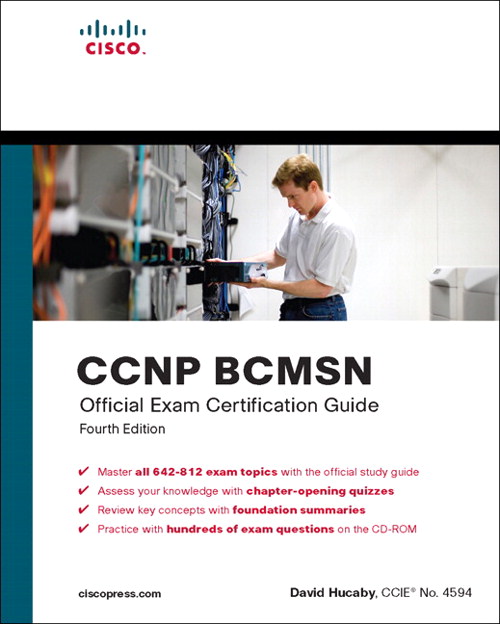 Share
|



Register your product to gain access to bonus material or receive a coupon.
CCNP BCMSN Official Exam Certification Guide, 4th Edition
Book
Sorry, this book is no longer in print.
Features
Prepare for the new CCNP BCMSN Exam from Cisco with the neweest edition of the all-time best-selling BCMSN book on the market
Learn from the all-time best-selling BCMSN book on the market
Review all the new CCNP Switching topics from the only official, Cisco-endorsed book publisher
Practice for the test with the robust, 200 question CD-ROM based test engine
Master your knowledge with proven and popular learning tools from the Cisco Press Exam Certification Guide series
Copyright 2007
Edition: 4th
Book
ISBN-10: 1-58720-171-2
ISBN-13: 978-1-58720-171-4
CCNP BCMSN Official Exam Certification Guide
Fourth Edition
Master all 642-812 exam topics with the official study guide
Assess your knowledge with chapter-opening quizzes
Review key concepts with foundation summaries
Practice with hundreds of exam questions on the CD-ROM
David Hucaby, CCIE® No. 4594
CCNP BCMSN Official Exam Certification Guide, Fourth Edition, is a best of breed Cisco® exam study guide that focuses specifically on the objectives for the BCMSN exam. Successfully passing the BCMSN 642-812 exam certifies that you have knowledge and skills necessary to implement scalable multilayer switched networks.
CCNP BCMSN Official Exam Certification Guide, Fourth Edition, follows a logical organization of the BCMSN exam objectives. Material is presented in a concise manner, focusing on increasing readers' retention and recall of exam topics. Lead network engineer and consultant David Hucaby shares preparation hints and test-taking tips, helping you identify areas of weakness and improve your switching knowledge through the use of the consistent features in each chapter. "Do I Know This Already?" quizzes open each chapter and allow you to decide how much time you need to spend on each section. Exam topic lists and Foundation Summary tables make referencing easy and give you a quick refresher whenever you need it. Scenario-based exercises help you think about exam objectives in real-world situations, thus increasing recall during exam time. Challenging chapter-ending review questions help you assess your knowledge and reinforce key concepts.
The companion CD-ROM contains a powerful testing engine that enables you to focus on individual topic areas or take complete, timed exams. The assessment engine also tracks your performance and provides feedback on a module-by-module basis, presenting question-by-question remediation to the text.
Well regarded for its level of detail, assessment features, and challenging review questions and exercises, this book helps you master the concepts and techniques that will enable you to succeed on the exam the first time.
David Hucaby, CCIE® No. 4594, is a lead network engineer for a large medical environment using Cisco multilayer switching and security products. He also is an independent networking consultant focusing on Cisco-based solutions for healthcare and banking clients.
The official study guide helps you master all the topics on the BCMSN exam, including
Spanning Tree Protocol concepts
Virtual LAN (VLAN), VLAN trunking, and inter-VLAN routing
Gateway redundancy technologies and protocols
Wireless LAN topologies, components, connectivity, and standards
Implementing a Cisco Unified Wireless Network
Access layer voice concepts
Preventing and mitigating attacks against switched network security
Companion CD-ROM
The CD-ROM contains an electronic copy of the book and more than 200 practice questions for the BCMSN exam, including simulation-based questions, all available in study mode, test mode, and flash card format.
This volume i
Downloadable Sample Chapter
Download - 1.33 MB -- Chapter 18: Wireless Architecture and Design
Table of Contents
Foreword
Introduction
Part I Overview and Design of a Campus Network
Chapter 1 Campus Network Overview
"Do I Know This Already?" Quiz
Switching Functionality
Layer 2 Switching
Layer 3 Routing
Layer 3 Switching
Layer 4 Switching
Multilayer Switching
Campus Network Models
Shared Network Model
LAN Segmentation Model
Network Traffic Models
Predictable Network Model
Hierarchical Network Design
Access Layer
Distribution Layer
Core Layer
Chapter 2 Modular Network Design
"Do I Know This Already?" Quiz27
Modular Network Design31
Switch Block32
Core Block35
Core Size in a Campus Network38
Other Building Blocks39
Can I Use Layer 2 Distribution Switches?41
Evaluating an Existing Network42
Discovering the Network Topology43
Migrating to a Hierarchical Design47
Part II Building a Campus Network
Chapter 3 Switch Operation
"Do I Know This Already?" Quiz57
Layer 2 Switch Operation61
Transparent Bridging61
Follow That Frame!63
Multilayer Switch Operation65
Types of Multilayer Switching65
Follow That Packet!66
Multilayer Switching Exceptions68
Tables Used in Switching69
Content Addressable Memory69
Ternary Content Addressable Memory70
Troubleshooting Switching Tables74
CAM Table Operation74
TCAM Operation75
Chapter 4 Switch Port Configuration
"Do I Know This Already?" Quiz81
Ethernet Concepts85
Ethernet (10 Mbps)85
Fast Ethernet86
Gigabit Ethernet89
10-Gigabit Ethernet90
Connecting Switch Block Devices92
Console Port Cables/Connectors92
Ethernet Port Cables and Connectors92
Gigabit Ethernet Port Cables and Connectors93
Switch Port Configuration94
Selecting Ports to Configure94
&nbsp
Foreword
Download - 32 KB -- Foreword by Don Field, Director, Certifications
Cisco System, Inc.
Index
Download - 100 KB -- Index
Other Things You Might Like


eBook (Watermarked) $15.99

By Amir Ranjbar
Book $39.96