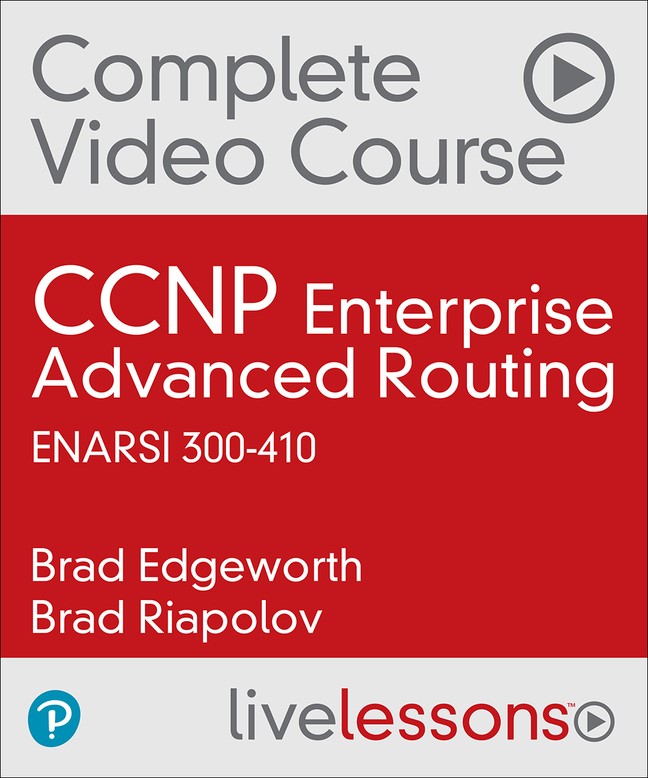 Register your product to gain access to bonus material or receive a coupon.
CCNP Enterprise Advanced Routing ENARSI 300-410 Complete Video Course
Online Video
Your Price: $319.99
List Price: $399.99

Video accessible from your Account page after purchase.
Copyright 2021
Edition: 1st
Online Video
ISBN-10: 0-13-658289-3
ISBN-13: 978-0-13-658289-2
21+ Hours of Video Instruction

Overview
CCNP Enterprise Advanced Routing ENARSI 300-410 Complete Video Course is a comprehensive training course that brings Cisco ENARSI exam topics to life, making learning these foundational networking topics easy and fun.

Expert network engineers Brad Edgeworth and Brad Riapolov walk you through the full range of topics on the Cisco ENARSI exam, including Layer 3 routing, VPN technologies, infrastructure security, and infrastructure services. This unique product gives you the knowledge and skills you need to deploy and troubleshoot advanced routing technologies and services. It combines video instruction with live CLI configuration and troubleshooting demonstrations and provides you with hands-on lab activities. Practicing the lessons that you have learned with hands-on labs helps reinforce the concepts that are being taught. This course includes instructor-developed Cisco Modeling Labs (CML) topology files that correlate with the lab exercises that they demonstrate. This enables you to load the topology files into your CML instance and follow along with the instructor to ensure that you understand the concepts being taught.

Note: To download the CML files, go to www.pearsonitcertification.com/title/9780136582892 and click the Downloads tab.

The videos and exercises contained in this product provide more than 20 hours of instruction. Modules are divided into easy-to-digest lessons and sublessons. Designed to take you inside advanced routing concepts in a unique and interactive way, CCNP Enterprise Advanced Routing ENARSI 300-410 Complete Video Course is guaranteed to help you master the foundational networking topics that will help you succeed on the exam and on the job.


Skill Level
Intermediate


Learn How To Configure and Troubleshoot
* OSPF
* EIGRP
* BGP
* Route manipulation
* Route redistribution
* MPLS
* DMVPN
* IPv6 first-hop security
* Cisco router security
* Infrastructure security and services
* SNMP
* DHCP
* NetFlow
* Cisco DNA Center Assurance


Who Should Take This Course
* Anyone interested in obtaining their Cisco Certified Network Professional Enterprise certification (CCNP Enterprise) or CCNP Enterprise Advanced Routing specialty certification
* Enterprise network engineers, system engineers, system administrators, and network administrators interested in configuring and troubleshooting advanced routing technologies and services


Course Requirements
Before taking this course, you should have foundational knowledge equivalent to the concepts covered in the CCNA 200-301 and CCNP Enterprise Core ENCOR 350-401 exams, including
* General understanding of network fundamentals
* Basic knowledge of how to implement LANs
* General understanding of how to manage network devices
* General understanding of how to secure network devices
* Basic knowledge of network automation


About Pearson Video Training
Pearson publishes expert-led video tutorials covering a wide selection of technology topics designed to teach you the skills you need to succeed. These professional and personal technology videos feature world-leading author instructors published by your trusted technology brands: Addison-Wesley, Cisco Press, Pearson IT Certification, Prentice Hall, Sams, and Que. Topics include IT Certification, Network Security, Cisco Technology, Programming, Web Development, Mobile Development, and more. Learn more about Pearson Video training at http://www.informit.com/video.

Video Lessons are available for download for offline viewing within the streaming format. Look for the green arrow in each lesson.


Downloads
Table of Contents
Introduction
Lesson 1: EIGRP
1.1 Introducing EIGRP
1.2 EIGRP Configuration
1.3 EIGRP Path Calculations and Metrics
1.4 EIGRP Timers and Convergence
1.5 EIGRP Route Summarization
1.6 EIGRP WAN Considerations
1.7 EIGRP Route Manipulation
1.8 EIGRP Over VRF-Lite
1.9 Troubleshooting EIGRP
Lesson 2: EIGRPv6
2.1 EIGRPv6 Fundamentals
2.2 EIGRPv6 Configuration
2.3 Troubleshooting EIGRPv6
Lesson 3: OSPF
3.1 OSPF Fundamentals
3.2 OSPF Authentication
3.3 OSPF Network Types
3.4 OSPF LSAs
3.5 OSPF Route Summarization
3.6 OSPF Stubby Areas
3.7 Virtual Links
3.8 OSPF Path Selection
3.9 OSPF VRF-Lite
3.10 OSPF Troubleshooting
Lesson 4: OSPFv3
4.1 OSPFv3 Fundamentals
4.2 OSPFv3 Configuration
Lesson 5: BGP
5.1 BGP Fundamentals
5.2 BGP Communication
5.3 BGP Session Configuration
5.4 Prefix Advertisement
5.5 BGP Route Filtering
5.6 BGP Scalability Optimizations
5.7 BGP Communities
5.8 BGP Best Path Selection
5.9 Multiprotocol BGP for IPv6
5.10 VRF-Lite for BGP
5.11 Troubleshooting BGP
Lesson 6: Route Manipulation and Advanced Routing Concepts
6.1 Access Control Lists (ACLs)
6.2 Prefix Lists
6.3 Regular Expressions (RegEx)
6.4 Route Maps
6.5 Modifying Routing Protocols AD and Troubleshooting
6.6 Configure and Verify Policy-Based Routing
6.7 EIGRP Route Manipulation
6.8 Describe Bidirectional Forwarding Detection
6.9 BGP Filtering of prefixes
6.10 Configure and verify VRF-Lite
Lesson 7: Route Redistribution
7.1 Route Redistribution Fundamentals
7.2 Route Redistribution Configuration
7.3 Problems with redistribution
7.4 Preventing Issues with Route Redistribution
7.5 IPv6 Route Redistribution
Lesson 8: MPLS
8.1 MPLS Fundamentals
8.2 MPLS L3VPN
8.3 MPLS Demonstration
Lesson 9: DMVPN
9.1 Introducing DMVPN
9.2 DMVPN Configuration
9.3 DMVPN IPsec Tunnel Protection
Lesson 10: Infrastructure Security
10.1 Introduction
10.2 Troubleshoot router security features
10.3 Troubleshoot device security using IOS AAA (TACACS+, RADIUS, local database)
10.4 IPv4 access control lists (standard, extended, time-based)
10.5 IPv6 traffic filter
10.6 Unicast reverse path forwarding (uRPF)
10.7 Troubleshoot control plane policing (CoPP) (Telnet, SSH, HTTP(S), SNMP, EIGRP, OSPF, BGP)
10.8 Describe IPv6 First Hop security features (RA guard, DHCP guard, binding table, ND inspection/snooping, source guard)
Lesson 11: Infrastructure Services
11.1 Introduction
11.2 Troubleshoot device management
11.3 Console and VTY, Telnet, SSH
11.4 HTTP, HTTPS, SCP, (T)FTP
11.5 Troubleshoot SNMP (v2c, v3)
11.6 Troubleshoot network problems using logging (local, syslog, debugs, conditional debugs, timestamps)
11.7 Troubleshoot IPv4 and IPv6 DHCP (DHCP client, IOS DHCP server, DHCP relay, DHCP options)
11.8 Troubleshoot network performance issues using IP SLA (jitter, tracking objects, delay, connectivity)
11.9 Troubleshoot NetFlow (v5, v9, flexible NetFlow)
11.10 Troubleshoot network problems using Cisco DNA Center assurance (connectivity, monitoring, device health, network health)
11.11 DHCP
11.12 DHCPv6
Summary