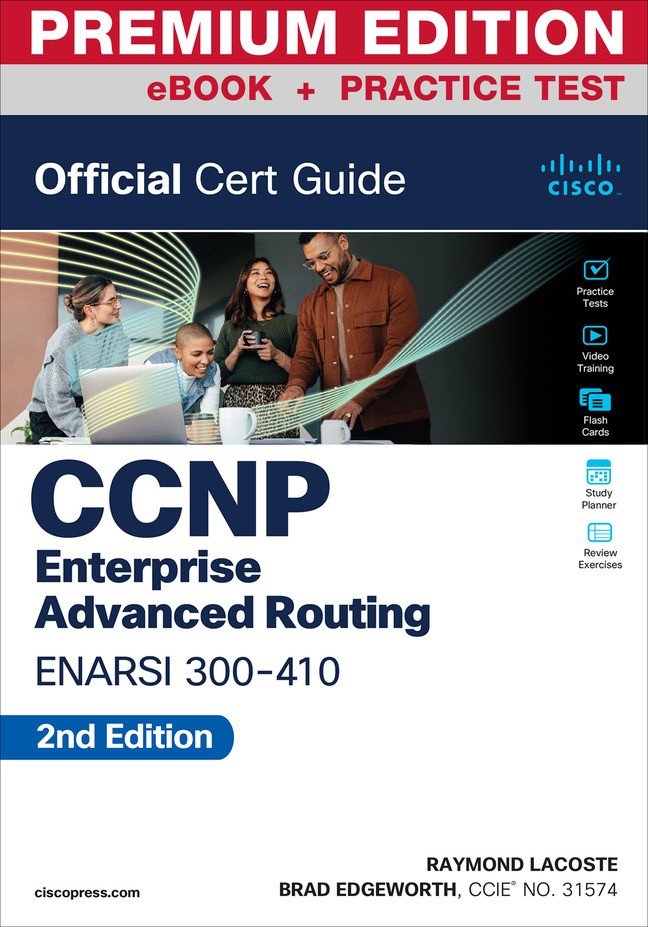 Register your product to gain access to bonus material or receive a coupon.
CCNP Enterprise Advanced Routing ENARSI 300-410 Official Cert Guide Premium Edition and Practice Test, 2nd Edition
Premium Edition eBook
Your Price: $67.99
List Price: $84.99
Estimated Release: Oct 27, 2023
Copyright 2024
Edition: 2nd
Premium Edition eBook
ISBN-10: 0-13-821750-5
ISBN-13: 978-0-13-821750-1
CCNP Advanced Routing ENARSI 300-410 Official Cert Guide Premium Edition eBook and Practice Test, Second Edition
The exciting new CCNP Advanced Routing ENARSI 300-401 Official Cert Guide Premium Edition eBook and Practice Test, Second Edition is a digital-only certification preparation product combining an eBook with enhanced Pearson IT Certification Practice Test. The Premium Edition eBook and Practice Test contains the following items:
The CCNP ENARSI 300-401 Premium Edition Practice Test, including four full practice exams and enhanced practice test features
PDF and EPUB formats of the CCNP Advanced Routing ENARSI 300-410 Official Cert Guide, Second Edition from Cisco Press, which are accessible via your PC, tablet, and smartphone
About the Premium Edition Practice Test
This Premium Edition contains an enhanced version of the Pearson Test Prep practice test software with four full practice exams. In addition, it contains all the chapter-opening assessment questions from the book. This integrated learning package
Enables you to focus on individual topic areas or take complete, timed exams
Includes direct links from each question to detailed tutorials to help you understand the concepts behind the questions
Provides unique sets of exam-realistic practice questions
Tracks your performance and provides feedback on a module-by-module basis, laying out a complete assessment of your knowledge to help you focus your study where it is needed most
Pearson Test Prep online system requirements:
Browsers: Chrome version 73 and above; Safari version 12 and above; Microsoft Edge 44 and above.
Devices: Desktop and laptop computers, tablets running on Android v8.0 and iOS v13, smartphones with a minimum screen size of 4.7. Internet access required.
Pearson Test Prep offline system requirements:
Windows 11, Windows 10, Windows 8.1; Microsoft .NET Framework 4.5 Client; Pentium-class 1 GHz processor (or equivalent); 512 MB RAM; 650 MB disk space plus 50 MB for each downloaded practice exam; access to the Internet to register and download exam databases
About the Premium Edition eBook
Trust the best-selling Official Cert Guide series from Cisco Press to help you learn, prepare, and practice for the CCNP ENARSI 300-410 exam. Well regarded for its level of detail, study plans, assessment features, and challenging review questions and exercises, CCNP Advanced Routing ENARSI 300-410 Official Cert Guide helps you master the concepts and techniques that ensure your exam success and is the only self-study resource approved by Cisco. Expert authors Raymond Lacoste and Brad Edgeworth share preparation hints and test-taking tips, helping you identify areas of weakness, and improve both your conceptual knowledge and hands-on skills.
This complete study package includes:
A test-preparation routine proven to help you pass the exam
Do I Know This Already? quizzes, which allow you to decide how much time you need to spend on each section
Exam Topic lists that make referencing easy
Chapter-ending exercises, which help you drill on key concepts you must know thoroughly
The powerful Pearson Test Prep Practice Test software, complete with hundreds of well-reviewed, exam-realistic questions, customization options, and detailed performance reports
More than 70 minutes of video mentoring from the author
A final preparation chapter, which guides you through tools and resources to help you craft your review and test-taking strategies
Study plan suggestions and templates to help you organize and optimize your study time
Content Update Program:
This fully updated second edition includes the latest topics and additional information covering changes to the latest ENARSI 300-410 exam. Visit ciscopress.com/newcerts for information on annual digital updates for this book that align to Cisco exam blueprint version changes.
This official study guide helps you master all the topics on the CCNP Enterprise Advanced Routing ENARSI exam, including
Layer 3 technologies, including IPv4/IPv6 routing, EIGRP, OSPF, and BGP
VPN services, including MPLS Layer 3 VPNs and DMVPN
Infrastructure and on-device security, including ACLs, AAA, uRPF, CoPP, and IPv6 first hop security features
Infrastructure services, including DHCP, syslog, SNMP, IP SLA, Object Tracking, NetFlow, Flexible NetFlow, and more
Companion Website:
The companion website contains more than 200 unique practice exam questions, practice exercises, a study planner, and 70 minutes of video training.
Table of Contents
Introduction xxxv
Chapter 1 IPv4/IPv6 Addressing and Routing Review 2
Do I Know This Already? Quiz 3
Foundation Topics 7
IPv4 Addressing 7
DHCP for IPv4 11
IPv6 Addressing 19
IPv6 SLAAC, Stateful DHCPv6, and Stateless DHCPv6 22
Packet-Forwarding Process 31
Administrative Distance 38
Static Routes 41
Trouble Tickets 48
Exam Preparation Tasks 66
Review All Key Topics 66
Define Key Terms 68
Use the Command Reference to Check Your Memory 68
Chapter 2 EIGRP 72
Do I Know This Already? Quiz 72
Foundation Topics 74
EIGRP Fundamentals 74
EIGRP Configuration Modes 80
Path Metric Calculation 94
References in This Chapter 102
Exam Preparation Tasks 102
Review All Key Topics 103
Define Key Terms 103
Use the Command Reference to Check Your Memory 103
Chapter 3 Advanced EIGRP 106
Do I Know This Already? Quiz 106
Foundation Topics 108
Failure Detection and Timers 108
Route Summarization 114
WAN Considerations 119
Route Manipulation 129
References in This Chapter 135
Exam Preparation Tasks 135
Review All Key Topics 135
Define Key Terms 136
Use the Command Reference to Check Your Memory 136
Chapter 4 Troubleshooting EIGRP for IPv4 138
Do I Know This Already? Quiz 138
Foundation Topics 141
Troubleshooting EIGRP for IPv4 Neighbor Adjacencies 141
Troubleshooting EIGRP for IPv4 Routes 151
Troubleshooting Miscellaneous EIGRP for IPv4 Issues 162
EIGRP for IPv4 Trouble Tickets 169
Exam Preparation Tasks 184
Review All Key Topics 184
Define Key Terms 185
Use the Command Reference to Check Your Memory 185
Chapter 5 EIGRPv6 188
Do I Know This Already? Quiz 188
Foundation Topics 191
EIGRPv6 Fundamentals 191
Troubleshooting EIGRPv6 Neighbor Issues 197
Troubleshooting EIGRPv6 Routes 201
Troubleshooting Named EIGRP 204
EIGRPv6 and Named EIGRP Trouble Tickets 209
Exam Preparation Tasks 218
Review All Key Topics 218
Define Key Terms 219
Use the Command Reference to Check Your Memory 219
Chapter 6 OSPF 222
Do I Know This Already? Quiz 222
Foundation Topics 225
OSPF Fundamentals 225
OSPF Configuration 232
The Designated Router and Backup Designated Router 242
OSPF Network Types 246
Failure Detection 254
Authentication 255
References in This Chapter 257
Exam Preparation Tasks 258
Review All Key Topics 258
Define Key Terms 258
Use the Command Reference to Check Your Memory 258
Chapter 7 Advanced OSPF 260
Do I Know This Already? Quiz 260
Foundation Topics 262
Link-State Advertisements 262
OSPF Stubby Areas 284
OSPF Path Selection 294
Summarization of Routes 298
Discontiguous Network 305
Virtual Links 307
References in This Chapter 310
Exam Preparation Tasks 310
Review All Key Topics 310
Define Key Terms 311
Use the Command Reference to Check Your Memory 311
Chapter 8 Troubleshooting OSPFv2 314
Do I Know This Already? Quiz 314
Foundation Topics 317
Troubleshooting OSPFv2 Neighbor Adjacencies 317
Troubleshooting OSPFv2 Routes 332
Troubleshooting Miscellaneous OSPFv2 Issues 346
OSPFv2 Trouble Tickets 353
Exam Preparation Tasks 366
Review All Key Topics 366
Define Key Terms 367
Use the Command Reference to Check Your Memory 367
Chapter 9 OSPFv3 370
Do I Know This Already? Quiz 370
Foundation Topics 371
OSPFv3 Fundamentals 371
OSPFv3 Configuration 374
OSPFv3 LSA Flooding Scope 384
References in This Chapter 390
Exam Preparation Tasks 390
Review All Key Topics 390
Define Key Terms 391
Use the Command Reference to Check Your Memory 391
Chapter 10 Troubleshooting OSPFv3 392
Do I Know This Already? Quiz 392
Foundation Topics 394
Troubleshooting OSPFv3 for IPv6 394
OSPFv3 Trouble Tickets 401
Troubleshooting OSPFv3 Address Families 408
OSPFv3 AF Trouble Ticket 418
Exam Preparation Tasks 423
Review All Key Topics 423
Define Key Terms 424
Use the Command Reference to Check Your Memory 424
Chapter 11 BGP 426
Do I Know This Already? Quiz 426
Foundation Topics 428
BGP Fundamentals 428
Basic BGP Configuration 435
Understanding BGP Session Types and Behaviors 448
Multiprotocol BGP for IPv6 465
References in This Chapter 475
Exam Preparation Tasks 476
Review All Key Topics 476
Define Key Terms 477
Use the Command Reference to Check Your Memory 477
Chapter 12 Advanced BGP 480
Do I Know This Already? Quiz 480
Foundation Topics 482
Route Summarization 482
BGP Route Filtering and Manipulation 493
BGP Communities 507
Maximum Prefix 516
Configuration Scalability 517
References in This Chapter 519
Exam Preparation Tasks 520
Review All Key Topics 520
Define Key Terms 520
Use the Command Reference to Check Your Memory 521
Chapter 13 BGP Path Selection 524
Do I Know This Already? Quiz 524
Foundation Topics 526
Understanding BGP Path Selection 526
BGP Best Path 527
BGP Multipath 553
Exam Preparation Tasks 554
Review All Key Topics 554
Define Key Terms 554
Use the Command Reference to Check Your Memory 554
Chapter 14 Troubleshooting BGP 556
Do I Know This Already? Quiz 557
Foundation Topics 559
Troubleshooting BGP Neighbor Adjacencies 559
Troubleshooting BGP Routes 573
Troubleshooting BGP Path Selection 588
Troubleshooting BGP for IPv6 593
BGP Trouble Tickets 598
MP-BGP Trouble Ticket 614
Exam Preparation Tasks 617
Review All Key Topics 617
Define Key Terms 618
Use the Command Reference to Check Your Memory 618
Chapter 15 Route Maps and Conditional Forwarding 620
Do I Know This Already? Quiz 620
Foundation Topics 622
Conditional Matching 622
Route Maps 627
Conditional Forwarding of Packets 632
Trouble Tickets 637
Exam Preparation Tasks 645
Review All Key Topics 646
Define Key Terms 646
Use the Command Reference to Check Your Memory 646
Chapter 16 Route Redistribution 648
Do I Know This Already? Quiz 648
Foundation Topics 650
Redistribution Overview 650
Protocol-Specific Configuration 656
Reference in This Chapter 672
Exam Preparation Tasks 672
Review All Key Topics 672
Define Key Terms 673
Use the Command Reference to Check Your Memory 673
Chapter 17 Troubleshooting Redistribution 674
Do I Know This Already? Quiz 674
Foundation Topics 677
Troubleshooting Advanced Redistribution Issues 677
Troubleshooting IPv4 and IPv6 Redistribution 687
Redistribution Trouble Tickets 702
Exam Preparation Tasks 721
Review All Key Topics 722
Define Key Terms 722
Command Reference to Check Your Memory 723
Chapter 18 VRF, MPLS, and MPLS Layer 3 VPNs 724
Do I Know This Already? Quiz 724
Foundation Topics 727
Implementing and Verifying VRF-Lite 727
An Introduction to MPLS Operations 747
Forwarding Equivalence Class (FEC) 749
An Introduction to MPLS Layer 3 VPNs 755
Reference in This Chapter 762
Exam Preparation Tasks 762
Review All Key Topics 762
Define Key Terms 763
Use the Command Reference to Check Your Memory 763
Chapter 19 DMVPN Tunnels 766
Do I Know This Already? Quiz 766
Foundation Topics 769
Generic Routing Encapsulation (GRE) Tunnels 769
GRE Tunnel Configuration 769
GRE Sample Configuration 771
Next Hop Resolution Protocol (NHRP) 774
Dynamic Multipoint VPN (DMVPN) 776
DMVPN Configuration 779
Spoke-to-Spoke Communication 795
Problems with Overlay Networks 806
DMVPN Failure Detection and High Availability 810
IPv6 DMVPN Configuration 811
References in This Chapter 817
Exam Preparation Tasks 817
Review All Key Topics 817
Define Key Terms 818
Use the Command Reference to Check Your Memory 818
Chapter 20 Securing DMVPN Tunnels 820
Do I Know This Already? Quiz 820
Foundation Topics 821
Elements of Secure Transport 821
IPsec Fundamentals 823
IPsec Tunnel Protection 827
References in This Chapter 839
Exam Preparation Tasks 840
Review All Key Topics 840
Define Key Terms 840
Use the Command Reference to Check Your Memory 840
Chapter 21 Troubleshooting ACLs and Prefix Lists 842
Do I Know This Already? Quiz 842
Foundation Topics 845
Troubleshooting IPv4 ACLs 845
Troubleshooting IPv6 ACLs 850
Troubleshooting Prefix Lists 852
Trouble Tickets 855
Exam Preparation Tasks 863
Review All Key Topics 863
Define Key Terms 864
Use the Command Reference to Check Your Memory 864
Chapter 22 Infrastructure Security 866
Do I Know This Already? Quiz 866
Foundation Topics 869
Cisco IOS AAA Troubleshooting 869
Troubleshooting Unicast Reverse Path Forwarding (uRPF) 874
Troubleshooting Control Plane Policing (CoPP) 875
IPv6 First-Hop Security 885
Exam Preparation Tasks 887
Review All Key Topics 887
Define Key Terms 888
Use the Command Reference to Check Your Memory 888
Use the IPv6 Features Table to Check Your Memory 889
Chapter 23 Device Management and Management Tools Troubleshooting 890
Do I Know This Already? Quiz 890
Foundation Topics 893
Device Management Troubleshooting 893
Management Tools Troubleshooting 903
Exam Preparation Tasks 939
Review All Key Topics 939
Define Key Terms 940
Use the Command Reference to Check Your Memory 940
Chapter 24 Final Preparation 944
Advice About the Exam Event 944
Chapter 25 ENARSI 300-410 Exam Updates 954
The Purpose of This Chapter 954
News About the Next Exam Release 956
Updated Technical Content 956
Appendix A Answers to the Do I Know This Already? Quiz Questions 958
Glossary 972
Online Elements
Appendix B Command Reference Exercises
Appendix C Command Reference Exercises Answer Key
Appendix D Study Planner
9780138217525, TOC, 8/30/2023
Other Things You Might Like

By Zig Zsiga
Premium Edition eBook $71.99