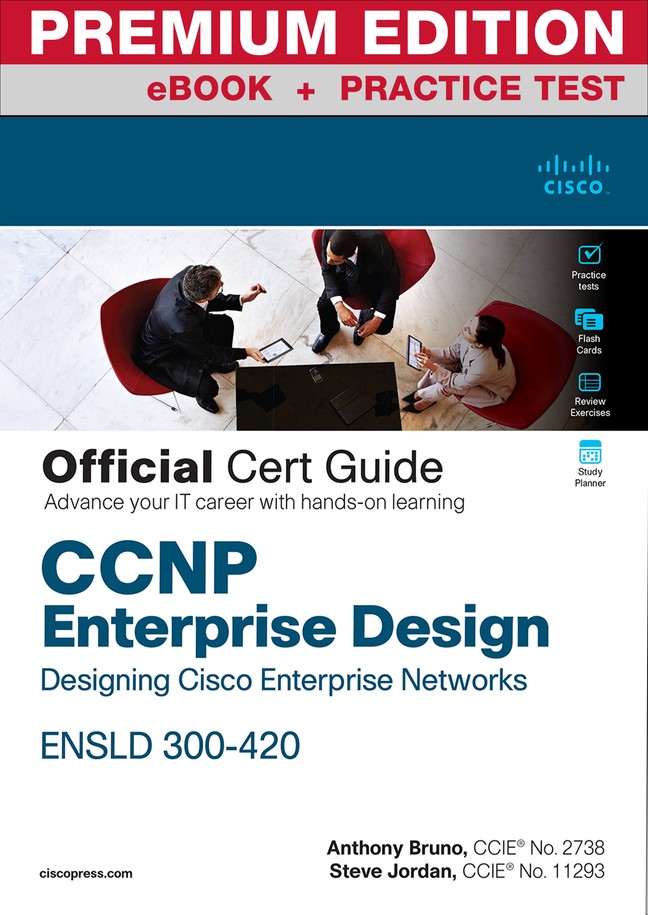 Share
|



Register your product to gain access to bonus material or receive a coupon.
CCNP Enterprise Design ENSLD 300-420 Official Cert Guide Premium Edition and Practice Test
Premium Edition eBook
Your Price: $55.99
List Price: $69.99
Copyright 2021
Pages: 528
Edition: 1st
Premium Edition eBook
ISBN-10: 0-13-659075-6
ISBN-13: 978-0-13-659075-0
The exciting new CCNP Enterprise Design ENSLD 300-420 Official Cert Guide, Premium Edition eBook and Practice Test is a digital-only certification preparation product combining an eBook with enhanced Pearson IT Certification Practice Test. The Premium Edition eBook and Practice Test contains the following items:


The CCNP ENSLD 300-420 Premium Edition Practice Test, including four full practice exams and enhanced practice test features
PDF, EPUB, and Mobi/Kindle formats of the CCNP Enterprise Design ENSLD 300-420 Official Cert Guide from Cisco Press, which are accessible via your PC, tablet, and smartphone
About the Premium Edition Practice Test

This Premium Edition contains an enhanced version of the Pearson Test Prep practice test software with four full practice exams. In addition, it contains all the chapter-opening assessment questions from the book. This integrated learning package
Allows you to focus on individual topic areas or take complete, timed exams
Includes direct links from each question to detailed tutorials to help you understand the concepts behind the questions
Provides unique sets of exam-realistic practice questions
Tracks your performance and provides feedback on a module-by-module basis, laying out a complete assessment of your knowledge to help you focus your study where it is needed most
Pearson Test Prep online system requirements:

Browsers: Chrome version 73 and above; Safari version 12 and above; Microsoft Edge 44 and above.Devices: Desktop and laptop computers, tablets running on Android v8.0 and iOS v13, smartphones with a minimum screen size of 4.7". Internet access required.
Pearson Test Prep offline system requirements:

Windows 10, Windows 8.1; Microsoft .NET Framework 4.5 Client; Pentium-class 1 GHz processor (or equivalent); 512 MB RAM; 650 MB disk space plus 50 MB for each downloaded practice exam; access to the Internet to register and download exam databases
About the Premium Edition eBook

CCNP Enterprise Design ENSLD 300-420 Official Cert Guide
focuses specifically on the objectives for the Cisco CCNP Enterprise Design ENSLD 300-420 exam. Expert authors Anthony Bruno and Steve Jordan share preparation hints and test-taking tips, helping you identify areas of weakness and improve both your conceptual knowledge and hands-on skills. Material is presented in a concise manner, focusing on increasing your understanding and retention of exam topics.
This complete study package includes
A test-preparation routine proven to help you pass the exams
Do I Know This Already? quizzes, which allow you to decide how much time you need to spend on each section
Chapter-ending Key Topic tables, which help you drill on key concepts you must know thoroughly
Practice exercises that help you enhance your knowledge
An online interactive Flash Cards application to help you drill on Key Terms by chapter
A final preparation chapter, which guides you through tools and resources to help you craft your review and test-taking strategies
Study plan suggestions and templates to help you organize and optimize your study time
Well regarded for its level of detail, assessment features, and challenging review questions and exercises, this official study guide helps you master the concepts and techniques that ensure your exam success.
The official study guide helps you master all the topics on the CCNP Designing Cisco Enterprise Networks (300-420 ENSLD) exam, including
Advanced Addressing and Routing Solutions
Advanced Enterprise Campus Networks
WAN for Enterprise Networks
Network Services
SD Access and SD-WAN
Automation
Table of Contents
Chapter 1 Internet Protocol Version 4 (IPv4) Design 2
Do I Know This Already? Quiz 2
Foundation Topics 4
IPv4 Header 5
IPv4 Addressing 10
IPv4 Address Subnets 16
IPv4 Addressing Design 23
Address Assignment and Name Resolution 29
References and Recommended Readings 35
Exam Preparation Tasks 36
Review All Key Topics 36
Complete Tables and Lists from Memory 37
Define Key Terms 37
Q&A 37
Chapter 2 Internet Protocol Version 6 (IPv6) Design 44
Do I Know This Already? Quiz 44
Foundation Topics 47
Introduction to IPv6 47
IPv6 Header 49
IPv6 Address Representation 50
IPv6 Address Scope Types and Address Allocations 52
IPv6 Mechanisms 58
IPv6 Routing Protocols 64
IPv4-to-IPv6 Migration Strategies and Deployment Models 67
References and Recommended Readings 77
Exam Preparation Tasks 79
Review All Key Topics 79
Complete Tables and Lists from Memory 80
Define Key Terms 80
Q&A 80
Chapter 3 Routing Protocol Characteristics, EIGRP, and IS-IS 90
Do I Know This Already? Quiz 90
Foundation Topics 92
Routing Protocol Characteristics 92
Routing Protocol Metrics and Loop Prevention 100
EIGRP 105
IS-IS 115
References and Recommended Readings 121
Exam Preparation Tasks 121
Review All Key Topics 122
Complete Tables and Lists from Memory 122
Define Key Terms 122
Q&A 122
Chapter 4 OSPF, BGP, and Route Manipulation 132
Do I Know This Already? Quiz 132
Foundation Topics 134
OSPFv2 134
OSPFv3 144
BGP 147
Route Manipulation 161
References and Recommended Readings 168
Exam Preparation Tasks 169
Review All Key Topics 169
Complete Tables and Lists from Memory 170
Define Key Terms 170
Q&A 170
Chapter 5 IP Multicast and Network Management 178
Do I Know This Already? Quiz 178
Foundation Topics 180
IP Multicast Review 180
Network Management Design 188
References and Recommended Readings 200
Exam Preparation Tasks 202
Review All Key Topics 202
Complete Tables and Lists from Memory 203
Define Key Terms 203
Q&A 203
Chapter 6 Enterprise LAN Design and Technologies 210
Do I Know This Already? Quiz 210
Foundation Topics 211
Hierarchical Network Models 212
LAN Media 221
Spanning Tree Protocol Design Considerations 228
References and Recommended Readings 233
Exam Preparation Tasks 234
Review All Key Topics 234
Complete Tables and Lists from Memory 234
Define Key Terms 234
Q&A 234
Chapter 7 Advanced Enterprise Campus Design 242
Do I Know This Already? Quiz 242
Foundation Topics 244
Campus LAN Design and Best Practices 244
High Availability Network Services 252
References and Recommended Readings 264
Exam Preparation Tasks 264
Review All Key Topics 264
Complete Tables and Lists from Memory 264
Define Key Terms 264
Q&A 265
Chapter 8 WAN for the Enterprise 272
Do I Know This Already? Quiz 272
Foundation Topics 274
WAN Overview 274
WAN Transport Technologies 276
Site-to-Site VPN Design 284
References and Recommended Readings 291
Exam Preparation Tasks 292
Review All Key Topics 292
Complete Tables and Lists from Memory 293
Define Key Terms 293
Q&A 293
Chapter 9 WAN Availability and QoS 298
Do I Know This Already? Quiz 298
Foundation Topics 300
WAN Design Methodologies 300
Design for High Availability 303
Internet Connectivity 307
Backup Connectivity 309
QoS Strategies 310
Designing End-to-End QoS Policies 312
References and Recommended Readings 315
Exam Preparation Tasks 316
Review All Key Topics 316
Complete Tables and Lists from Memory 316
Define Key Terms 317
Q&A 317
Chapter 10 SD-Access Design 322
Do I Know This Already? Quiz 322
Foundation Topics 324
SD-Access Architecture 324
SD-Access Fabric Design Considerations for Wired and Wireless Access 332
References and Recommended Readings 340
Exam Preparation Tasks 341
Review All Key Topics 341
Complete Tables and Lists from Memory 342
Define Key Terms 342
Q&A 342
Chapter 11 SD-WAN Design 348
Do I Know This Already? Quiz 348
Foundation Topics 350
SD-WAN Architecture 350
SD-WAN Design Considerations 356
References and Recommended Readings 366
Exam Preparation Tasks 366
Review All Key Topics 366
Complete Tables and Lists from Memory 367
Define Key Terms 367
Q&A 367
Chapter 12 Automation 374
Do I Know This Already? Quiz 374
Foundation Topics 376
Introduction to Network APIs and Protocols 376
YANG, NETCONF, and RESTCONF Explored 380
IETF, OpenConfig, and Cisco YANG Models 386
Model-Driven Telemetry 387
References and Recommended Readings 391
Exam Preparation Tasks 392
Review All Key Topics 392
Complete Tables and Lists from Memory 393
Define Key Terms 393
Q&A 393
Chapter 13 Final Preparation 398
Getting Ready 398
Tools for Final Preparation 399
Suggested Plan for Final Review/Study 402
Summary 402
Appendix A Answers to the Do I Know This Already? Quiz Questions Q&A Questions 404
Appendix B CCNP Enterprise Design ENSLD 300-420 Official Cert Guide Exam Updates 428
Appendix C OSI Model, TCP/IP Architecture, and Numeric Conversion 430
Glossary 445

Online Elements:

Appendix D Memory Tables
Appendix E Memory Tables Answers
Appendix F: Study Planner
TOC, 9780136575191, 6/4/2020

Other Things You Might Like