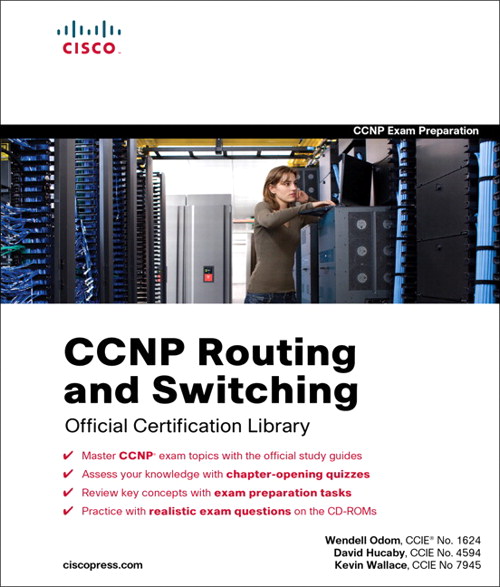 Register your product to gain access to bonus material or receive a coupon.
CCNP Routing and Switching Official Certification Library (Exams 642-902, 642-813, 642-832)
ValuePack
This product currently is not for sale.
Copyright 2010
Edition: 1st
ValuePack
ISBN-10: 1-58720-224-7
ISBN-13: 978-1-58720-224-7
Master CCNP® exam topics with the official study guides
Assess your knowledge with chapter-opening quizzes
Review key concepts with exam preparation tasks
Practice with realistic exam questions on the CD-ROMs
CCNP Routing and Switching Official Certification Library is a comprehensive review and practice package for the three CCNP Routing and Switching exams: ROUTE, SWITCH, and TSHOOT. The three books contained in this package, CCNP ROUTE 642-902 Official Certification Guide, CCNP SWITCH 642-813 Official Certification Guide, and CCNP TSHOOT 642-832 Official Certification Guide, present complete reviews and ample opportunity to test your knowledge of CCNP Routing and Switching exam topics. These authorized CCNP Routing and Switching study guides are written by CCIE® certified experts, bringing years of teaching and consulting experience together in an ideal test preparation format.
CCNP ROUTE 642-902 Official Certification Guide teaches you how to use advanced IP addressing and routing to implement enterprise-level router networks connected to LANs and WANs. CCNP SWITCH 642-813 Official Certification Guide ensures that you have the skills necessary to implement scalable, multilayer switched networks. CCNP TSHOOT 642-832 Official Certification Guide helps you master the troubleshooting methodologies, tools, and tasks needed to effectively monitor and maintain large enterprise networks.
Each of these official study guides provides you with an organized test preparation routine through the use of proven series elements and techniques. "Do I Know This Already?" quizzes open each chapter and enable you to decide how much time you need to spend on each section. Exam topic lists make referencing easy. Chapter-ending Exam Preparation Tasks sections help you drill on key concepts you must know thoroughly. The companion CD-ROMs contains a powerful testing engine that enables you to focus on individual topic areas or take complete, timed exams. The assessment engine also tracks your performance and provides feedback on a module-by-module basis, laying out a complete study plan for review.
Well regarded for their level of detail, assessment features, and challenging review questions and exercises, these official study guides helps you master the concepts and techniques that will enable you to succeed on the exams the first time.
CCNP Routing and Switching Certification Library is part of a recommended learning path from Cisco that includes simulation and hands-on training from authorized Cisco Learning Partners and self-study products from Cisco Press. To find out more about instructor-led training, e-learning, and hands-on instruction offered by authorized Cisco Learning Partners worldwide, please visit www.cisco.com/go/authorizedtraining.
These official certification guides help you master all the topics on the three CCNP Routing and Switching exams:
ROUTE:
EIGRP and OSPF
IGP Redistribution and BGP
Policy-based routing and IP service level agreement (IP SLA)
IPv6 and IPv4/IPv6 coexistence
Routing over branch Internet connections
SWITCH:
VLANs, trunks, VTP, and STP
Aggregating switch links
Multilayer switching
Router and supervisor redundancy
IP telephony, wireless LANs, and security
TSHOOT:
Troubleshooting models, tools, and tasks
Cisco IOS® troubleshooting commands and features
Troubleshooting Cisco Catalyst® Switches and STP
Troubleshooting OSPF, EIGRP, BGP, and route redistribution
Security, IP Services, IP communications, and IPv6 troubleshooting
Large enterprise network troubleshooting
Companion CD-ROMS
The three companion CD-ROMs contain 300 practice questions developed by Cisco Press for the CCNP Routing and Switching exams and delivered by the Boson Exam Environment (BEE).
Boson's ExSim-Max premium practice exams available at www.boson.com
This library is part of the Certification Guide Series from Cisco Press. Books in this series provide officially developed exam preparation materials that offer assessment, review, and practice to help Cisco Career Certification candidates identify weaknesses, concentrate their study efforts, and enhance their confidence as exam day nears.
Covers: ROUTE exam 642-902, SWITCH exam 642-813, TSHOOT exam 642-832
Sample Pages
Download the sample pages (includes Chapter 3 and Index)
Table of Contents
CCNP ROUTE toc
Module 1: Planning Routing Services to Requirements
Module 2: Implementing an EIGRP based Solution
Module 3: Implementing a Scalable Multiarea Network OSPF based Solution
Module 4: Implement an IPv4 based redistribution solution
Module 5: Implement Path Control
Module 6: Configuring Policy Based Routing
Module 7: Connecting an Enterprise Network to ISP Networks
Module 8: Implementing IPv6
Module 9: Implementing Routing Facilities for Branch Offices and Mobile Workers
CCNP TSHOOT toc
Module 1: Planning Maintenance for Complex Networks
Module 2: Selecting Maintenance and Troubleshooting Tools and Applications
Module 3: Planning Troubleshooting Processes for Complex Enterprise Networks
Module 4: Maintaining and Troubleshooting Routing Based Solutions
Module 5: Maintaining and Troubleshooting Campus Switching Based Problems
Module 6: Maintaining and Troubleshooting Network Security Solutions
Module 7: Maintaining and Troubleshooting Network and Applications Services
Module 8: Troubleshooting Branch Office and Remote Worker Problems
Module 9: Maintaining and troubleshooting integrated, complex enterprise networks
CCNP SWITCH toc
Module 1: Analyzing Campus Network Designs
Module 2: Implementing VLANs in Campus Networks
Module 3: Implementing Spanning Tree
Module 4: Implementing Inter-VLAN Routing
Module 5: Implementing High Availability in a Campus Environment
Module 6: Implementing a First Hop Redundancy Protocols Solution
Module 7: Minimizing Service Loss and Data Theft in a Campus Network
Module 8: Integrating Wireless LANs into a Campus Network
Module 9: Accommodating Voice and Video in Campus Networks
Other Things You Might Like