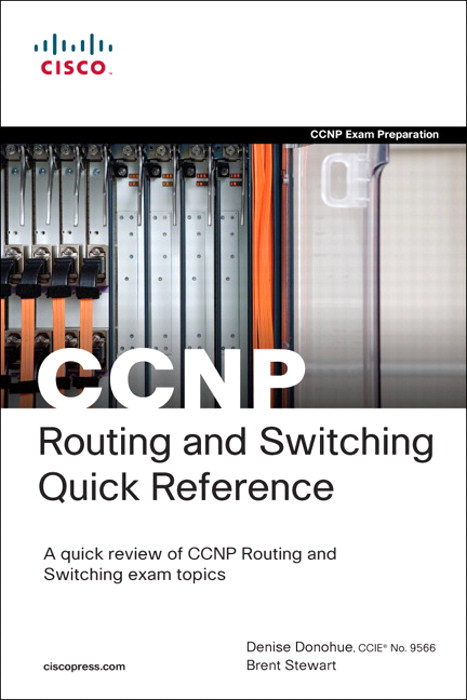 Share
|



Register your product to gain access to bonus material or receive a coupon.
CCNP Routing and Switching Quick Reference (642-902, 642-813, 642-832)
Book
Sorry, this book is no longer in print.
Copyright 2010
Edition: 1st
Book
ISBN-10: 1-58720-284-0
ISBN-13: 978-1-58720-284-1
As a final preparation tool providing a review of CCNP exam topics, the CCNP Quick Reference 2/e complements official Cisco curriculum, other books, or other exam preparatory material in a candidates preparation for the four CCNP exams. This concise guide provides you with detailed, graphical-based information, highlighting only the key topics on the latest CCNP exams in a review-style format. This fact-filled Quick Reference allows you to get all-important information at a glance, helping you to focus your study on areas of weakness and to enhance memory retention of important concepts. This book provides a comprehensive final review for candidates taking any of the CCNP exams. It steps through exam objectives one-by-one, providing concise and accurate review for all topics. Using this book, you will be able to easily and effectively review test objectives without having to wade through numerous books and documents for relevant content for final review.
Online Sample Chapter
CCNP Routing and Switching Quick Reference: BGP and Internet Connectivity
Table of Contents
ROUTE
Chapter 1 Planning for Complex Networks 1
Network Design Models 1
Hierarchical Design Model 1
Enterprise Composite Model 2
Cisco Enterprise Architecture 7
SONA and IIN 7
Understanding Routing Protocols 9
Administrative Distance 9
Routing Protocol Characteristics 10
Building the Routing Table 11
Choosing a Route 11
Planning a Routing Implementation 12
Creating an Implementation Plan 12
Creating Implementation Documentation 13
Chapter 2 EIGRP 14
EIGRP Overview 14
EIGRP Messages 15
Packet Types 15
Neighbor Discovery and Route Exchange 15
EIGRP Route Selection 16
EIGRP Metric 16
Diffusing Update Algorithm (DUAL) 17
Route Selection Example 18
Planning an EIGRP Implementation 19
Basic EIGRP Configuration 20
Creating an EIGRP Default Route 20
Verify and Troubleshoot EIGRP 21
EIGRP Across a WAN 21
EIGRP over EoMPLS 21
EIGRP over MPLS 22
EIGRP over Frame Relay 23
WAN Bandwidth 24
Customizing the EIGRP Configuration 25
Passive Interface 25
Unicast Neighbors 25
Summarization 26
Load Balancing 26
EIGRP Authentication 27
EIGRP Scalability 29
EIGRP Stub 29
Active Process Enhancement 30
Graceful Shutdown 30
Chapter 3 OSPF 31
OSPF Overview 31
OSPF Network Structure 31
OSPF Metric 33
Link Stat
Other Things You Might Like

By Zig Zsiga
Premium Edition eBook $63.99