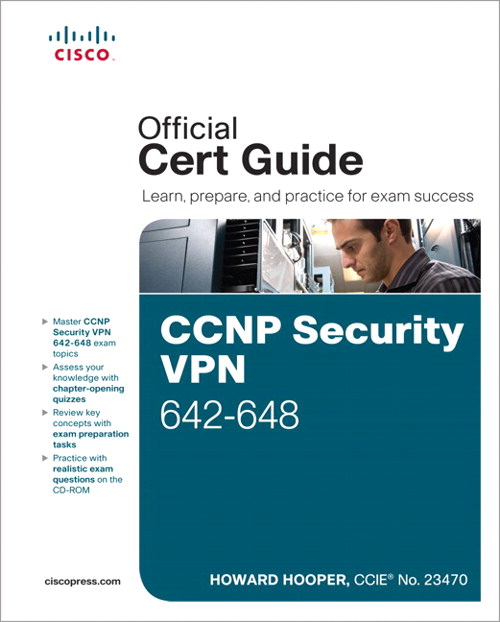 Register your product to gain access to bonus material or receive a coupon.
CCNP Security VPN 642-648 Official Cert Guide, 2nd Edition
eBook (Watermarked)
Sorry, this book is no longer in print.

This PDF will be accessible from your Account page after purchase and requires the free Adobe® Reader® software to read it.

The eBook requires no passwords or activation to read. We customize your eBook by discreetly watermarking it with your name, making it uniquely yours.
Copyright 2012
Dimensions: 7-3/8" x 9-1/8"
Edition: 2nd
eBook (Watermarked)
ISBN-10: 0-13-296637-9
ISBN-13: 978-0-13-296637-5
The official study guide helps you master all the topics on the CCNP Security VPN exam, including
Configuring policies, inheritance, and attributes
· AnyConnect Remote Access VPN solutions
· AAA and Dynamic Access Policies (DAP)
· High availability and performance
· Clientless VPN solutions
· SSL VPN with Cisco Secure Desktop
· Easy VPN solutions
· IPsec VPN clients and site-to-site VPNs
The CD-ROM contains a free, complete practice exam.
Includes Exclusive Offer for 70% Off Premium Edition eBook and Practice Test
Pearson IT Certification Practice Test minimum system requirements:
Windows XP (SP3), Windows Vista (SP2), or Windows 7; Microsoft .NET Framework 4.0 Client; Pentium class 1GHz processor (or equivalent);
512 MB RAM; 650 MB disc space plus 50 MB for each downloaded practice exam
This volume is part of the Official Cert Guide Series from Cisco Press. Books in this series provide officially developed exam preparation materials that offer assessment, review, and practice to help Cisco Career Certification candidates identify weaknesses, concentrate their study efforts, and enhance their confidence as exam day nears.
CCNP Security VPN 642-648 Official Cert Guide is a best of breed Cisco exam study guide that focuses specifically on the objectives for the CCNP Security VPN exam. Cisco Certified Internetwork Expert (CCIE) Howard Hooper shares preparation hints and test-taking tips, helping you identify areas of weakness and improve both your conceptual knowledge and hands-on skills. Material is presented in a concise manner, focusing on increasing your understanding and retention of exam topics.
CCNP Security VPN 642-648 Official Cert Guide presents you with an organized test-preparation routine through the use of proven series elements and techniques. "Do I Know This Already?" quizzes open each chapter and enable you to decide how much time you need to spend on each section. Exam topic lists make referencing easy. Chapter-ending Exam Preparation Tasks help you drill on key concepts you must know thoroughly.
The companion CD-ROM contains a powerful testing engine that enables you to focus on individual topic areas or take a complete, timed exam. The assessment engine also tracks your performance and provides feedback on a module-by-module basis, laying out a complete assessment of your knowledge to help you focus your study where it is needed most.
Well-regarded for its level of detail, assessment features, and challenging review questions and exercises, this official study guide helps you master the concepts and techniques that will enable you to succeed on the exam the first time.
CCNP Security VPN 642-648 Official Cert Guide is part of a recommended learning path from Cisco that includes simulation and hands-on training from authorized Cisco Learning Partners and self-study products from Cisco Press. To find out more about instructor-led training, e-learning, and hands-on instruction offered by authorized Cisco Learning Partners worldwide, please visit www.cisco.com/go/authorizedtraining.
Table of Contents
Introduction
Part I ASA Architecture and Technologies Overview
Chapter 1 Examining the Role of VPNs and the Technologies Supported by the ASA
"Do I Know This Already?" Quiz
Foundation Topics
Introducing the Virtual Private Network
VPN Termination Device (ASA) Placement
Meet the Protocols
Symmetric and Asymmetric Key Algorithms
IPsec
IKEv1
Authentication Header and Encapsulating Security Payload
IKEv2
SSL/TLS
SSL Tunnel Negotiation
Handshake
DTLS
ASA Packet Processing
The Good, the Bad, and the Licensing
Time-Based Licenses
When Time-Based and Permanent Licenses Combine
Shared SSL VPN Licenses
Failover Licensing
Exam Preparation Tasks
Review All Key Topics
Complete Tables and Lists from Memory
Define Key Terms
Chapter 2 Configuring Policies, Inheritance, and Attributes
"Do I Know This Already?" Quiz
Foundation Topics
Policies and Their Relationships
Understanding Connection Profiles
Group URL
Group Alias
Certificate-to-Connection Profile Mapping
Per-User Connection Profile Lock
Default Connection Profiles
Understanding Group Policies
Configure User Attributes
Using External Servers for AAA and Policies
Exam Preparation Tasks
Review All Key Topics
Complete Tables and Lists from Memory
Define Key Terms
Part II Cisco Clientless Remote-Access VPN Solutions
Chapter 3 Deploying a Clientless SSL VPN Solution
"Do I Know This Already?" Quiz
Foundation Topics
Clientless SSL VPN Overview
Deployment Procedures and Strategies
Deploying Your First Clientless SSL VPN Solution
IP Addressing
Hostname, Domain Name, and DNS
Become a Member of a Public Key Infrastructure
Adding a CA Root Certificate
Certificate Revocation List
Revocation Check
CRL Retrieval Policy
CRL Retrieval Method
OCSP Rules
Advanced
Enable the Relevant Interfaces for SSL
Create Local User Accounts for Authentication
Create a Connection Profile (Optional)
Basic Access Control
Bookmarks
HTTP and HTTPS
CIFS
FTP
Group Policies
Content Transformation
Gateway Content Rewriting
Application Helper Profiles
Java Code Signing
Troubleshooting a Basic Clientless SSL VPN
Troubleshooting Session Establishment
Troubleshooting Certificate Errors
Exam Preparation Tasks
Review All Key Topics
Complete Tables and Lists from Memory
Define Key Terms
Chapter 4 Advanced Clientless SSL VPN Settings
"Do I Know This Already?" Quiz
Foundation Topics
Overview of Advanced Clientless SSL VPN Settings
Application Access Through Port Forwarding
Configuring Port Forwarding
Application Access Using Client-Server Plug-Ins
Configuring Client-Server Plug-In Access
Application Access Through Smart Tunnels
Configuring Smart Tunnel Access
Configuring SSL/TLS Proxies
Email Proxy
Internal HTTP and HTTPS Proxy
Troubleshooting Advanced Application Access
Troubleshooting Application Access
Client
ASA/VPN Termination Appliance
Application/Web Server
Exam Preparation Tasks
Review All Key Topics
Complete Tables and Lists from Memory
Define Key Terms
Chapter 5 Customizing the Clientless Portal
"Do I Know This Already?" Quiz
Foundation Topics
Basic Portal Layout Configuration
Logon Page Customization
Portal Page Customization
Logout Page Customization
Outside-the-Box Portal Configuration
Portal Language Localization
Getting Portal Help
AnyConnect Portal Integration
Clientless SSL VPN Advanced Authentication
Using an External and Internal CA for Clientless Access
Clientless SSL VPN Double Authentication
Deploying Clientless SSL VPN Single Signon
Troubleshooting PKI and SSO Integration
Exam Preparation Tasks
Review All Key Topics
Complete Tables and Lists from Memory
Define Key Terms
Chapter 6 Clientless SSL VPN Advanced Authentication and Authorization
"Do I Know This Already?" Quiz
Foundation Topics
Configuration Procedures, Deployment Strategies, and Information Gathering
Create a DAP
Specify User AAA Attributes
Specify Endpoint Attributes
Configure Authorization Parameters
Configure Authorization Parameters for the Default DAP
DAP Record Aggregation
Troubleshooting DAP Deployment
ASDM Test Feature
ASA Logging
DAP Debugging
Exam Preparation Tasks
Review All Key Topics
Complete Tables and Lists from Memory
Define Key Terms
Chapter 7 Clientless SSL High Availability and Performance
"Do I Know This Already?" Quiz
Foundation Topics
High-Availability Deployment Information and Common Strategies
Failover
Active/Active
Active/Standby
VPN Load Balancing (Clustering)
External Load Balancing
Redundant VPN Peering
Content Caching for Optimization
Clientless SSL VPN Load Sharing Using an External Load Balancer
Clustering Configuration for Clientless SSL VPN
Troubleshooting Load Balancing and Clustering
Exam Preparation Tasks
Review All Key Topics
Complete Tables and Lists from Memory
Define Key Terms
Part III Cisco AnyConnect Remote-Access VPN Solutions
Chapter 8 Deploying an AnyConnect Remote-Access VPN Solution
"Do I Know This Already?" Quiz
Foundation Topics
AnyConnect Full-Tunnel SSL VPN Overview
Configuration Procedures, Deployment Strategies, and Information Gathering
AnyConnect Secure Mobility Client Installation
Deploying Your First Full-Tunnel AnyConnect SSL VPN Solution
IP Addressing
Enable IPv6 Access
Hostname, Domain Name, and DNS
Enroll with a CA and Become a Member of a PKI
Add an Identity Certificate
Add the Signing Root CA Certificate
Enable the Interfaces for SSL/DTLS and AnyConnect Client Connections
Create a Connection Profile
Deploying Your First AnyConnect IKEv2 VPN Solution
Enable the Relevant Interfaces for IKEv2 and AnyConnect Client Access
Create Your IKEv2 Policies
Create a Connection Profile
Client IP Address Allocation
Connection Profile Address Assignment
Group Policy Address Assignment
Direct User Address Assignment
Advanced Controls for Your Environment
ACLs and Downloadable ACLs
Split Tunneling
Access Hours/Time Range
Troubleshooting the AnyConnect Secure Mobility Client
Exam Preparation Tasks
Review All Key Topics
Complete Tables and Lists from Memory
Define Key Terms
Chapter 9 Advanced Authentication and Authorization of AnyConnect VPNs
"Do I Know This Already?" Quiz
Foundation Topics
Authentication Options and Strategies
Provisioning Certificates as a Local CA
Configuring Certificate Mappings
Certificate-to-Connection Profile Maps
Mapping Criteria
Provisioning Certificates from a Third-Party CA
Configure an XML Profile for Use by the AnyConnect Client
Configure a Dedicated Connection Profile for Enrollment
Enroll the AnyConnect Client into a PKI
Optionally, Configure Client Certificate Selection
Import the Issuing CA's Certificate into the ASA
Create a Connection Profile Using Certificate-Based Authentication
Advanced PKI Deployment Strategies
Doubling Up on Client Authentication
Troubleshooting Your Advanced Configuration
Exam Preparation Tasks
Review All Key Topics
Complete Tables and Lists from Memory
Define Key Terms
Chapter 10 Advanced Deployment and Management of the AnyConnect Client
"Do I Know This Already?" Quiz
Foundation Topics
Configuration Procedures, Deployment Strategies, and Information Gathering
AnyConnect Installation Options
Manual Predeployment
Automatic Web Deployment
Managing AnyConnect Client Profiles
Advanced Profile Features
Start Before Login
Trusted Network Detection
Advanced AnyConnect Customization and Management
Exam Preparation Tasks
Review All Key Topics
Complete Tables and Lists from Memory
Define Key Terms
Chapter 11 AnyConnect Advanced Authorization Using AAA and DAPs
"Do I Know This Already?" Quiz
Foundation Topics
Configuration Procedures, Deployment Strategies, and Information Gathering
Configuring Local and Remote Group Policies
Full SSL VPN Accountability
Authorization Through Dynamic Access Policies
Troubleshooting Advanced Authorization Settings
Exam Preparation Tasks
Review All Key Topics
Complete Tables and Lists from Memory
Define Key Terms
Chapter 12 AnyConnect High Availability and Performance
"Do I Know This Already?" Quiz
Foundation Topics
Overview of High Availability and Redundancy Methods
Hardware-Based Failover
VPN Clustering (VPN Load Balancing)
Redundant VPN Peering
External Load Balancing
Deploying DTLS
Performance Assurance with QOS
Basic ASDM QoS Configuration
Basic CLI QoS Configuration
AnyConnect Redundant Peering and Failover
Hardware-Based Failover with VPNs
Configure LAN Failover Interfaces
Configure Standby Addresses on Interfaces Used for Traffic Forwarding
Define Failover Criteria
Configure Nondefault MAC Addresses
Redundancy in the VPN Core
VPN Clustering
Load Balancing Using an External Load Balancer
Exam Preparation Tasks
Review All Key Topics
Complete Tables and Lists from Memory
Define Key Terms
Part IV Cisco Secure Desktop
Chapter 13 Cisco Secure Desktop
"Do I Know This Already?" Quiz
Foundation Topics
Cisco Secure Desktop Overview and Configuration
Prelogin Assessment
Host Scan
Secure Desktop (Vault)
Cache Cleaner
Keystroke Logger
Integration with DAP
Host Emulation Detection
Windows Mobile Device Management
Standalone Installation Packages
CSD Manual Launch
CSD Order of Operations
Prelogin Phase
Post-Login Phase
Session-Termination Phase
CSD Supported Browsers, Operating Systems, and Credentials
Enabling Cisco Secure Desktop on the ASA
Configure Prelogin Criteria
Keystroke Logger and Safety Checks
Cache Cleaner
Secure Desktop (Vault) General
Secure Desktop (Vault) Settings
Secure Desktop (Vault) Browser
Host Endpoint Assessment
Authorization Using DAPs
Troubleshooting Cisco Secure Desktop
Exam Preparation Tasks
Review All Key Topics
Complete Tables and Lists from Memory
Define Key Terms
Part V Cisco IPsec Remote-Access Client Solutions
Chapter 14 Deploying and Managing the Cisco VPN Client
"Do I Know This Already?" Quiz
Foundation Topics
Cisco IPsec VPN Client Features
Cisco ASA Basic Remote IPsec Client Configuration
IPsec Client Software Installation and Basic Configuration
Create New VPN Connection Entry, Main Window
Authentication Tab
Transport Tab
Backup Servers Tab
Dial-Up Tab
Advanced Profile Settings
VPN Client Software GUI Customization
Troubleshooting VPN Client Connectivity
Exam Preparation Tasks
Review All Key Topics
Complete Tables and Lists from Memory
Define Key Terms
Part VI Cisco Easy VPN Solutions
Chapter 15 Deploying Easy VPN Solutions
"Do I Know This Already?" Quiz
Foundation Topics
Configuration Procedures, Deployment Procedures, and Information Gathering
Easy VPN Basic Configuration
ASA IP Addresses
Configure Required Routing
Enable IPsec Connectivity
Configure Preferred IKEv1 and IPsec Policies
Client IP Address Assignment
VPN Client Authentication Using Pre-Shared Keys
Using XAUTH for VPN Client Access
IP Address Allocation Using the VPN Client
DHCP Configuration
Controlling Your Environment with Advanced Features
ACL Bypass Configuration
Basic Interface ACL Configuration
Per-Group ACL Configuration
Per-User ACL Configuration
Split-Tunneling Configuration
Troubleshooting a Basic Easy VPN
Exam Preparation Tasks
Review All Key Topics
Complete Tables and Lists from Memory
Define Key Terms
Chapter 16 Advanced Authentication and Authorization Using Easy VPN
"Do I Know This Already?" Quiz
Foundation Topics
Authentication Options and Strategies
Configuring PKI for Use with Easy VPN
Configuring Mutual/Hybrid Authentication
Configuring Digital Certificate Mappings
Provisioning Certificates from a Third-Party CA
Advanced PKI Deployment Strategies
CRLs
OCSP
AAA
Troubleshooting Advanced Authentication for Easy VPN
Exam Preparation Tasks
Review All Key Topics
Complete Tables and Lists from Memory
Define Key Terms
Chapter 17 Advanced Easy VPN Authorization
"Do I Know This Already?" Quiz
Foundation Topics
Configuration Procedures, Deployment Strategies, and Information Gathering
Configuring Local and Remote Group Policies
Assigning a Group Policy to a Local User Account
Assigning a Group Policy to a Connection Profile
Accounting Methods for Operational Information
NetFlow 9
RADIUS VPN Accounting
SNMP
Exam Preparation Tasks
Review All Key Topics
Complete Tables and Lists from Memory
Define Key Terms
Chapter 18 High Availability and Performance for Easy VPN
"Do I Know This Already?" Quiz
Foundation Topics
Configuration Procedures, Deployment Strategies, and Information Gathering
VPN Client HA and Failover
Hardware-Based Failover with VPNs
Configure Optional Active/Standby Failover Settings
Clustering Configuration for Easy VPN
Troubleshooting Device Failover and Clustering
Exam Preparation Tasks
Review All Key Topics
Complete Tables and Lists from Memory
Define Key Terms
Chapter 19 Easy VPN Operation Using the ASA 5505 as a Hardware Client
"Do I Know This Already?" Quiz
Foundation Topics
Easy VPN Remote Hardware Client Overview
Client Mode
Network Extension Mode
Configuring a Basic Easy VPN Remote Client Using the ASA 5505
Configuring Advanced Easy VPN Remote Client Settings for the ASA 5505
X-Auth and Device Authentication
Remote Management
Tunneled Management
Clear Tunneled Management
NAT Traversal
Device Pass-Through
Troubleshooting the ASA 5505 Easy VPN Remote Hardware Client
Exam Preparation Tasks
Review All Key Topics
Complete Tables and Lists from Memory
Define Key Terms
Part VII Cisco IPsec Site-to-Site VPN Solutions
Chapter 20 Deploying IPsec Site-to-Site VPNs
"Do I Know This Already?" Quiz
Foundation Topics
Configuration Procedures, Deployment Strategies, and Information Gathering
IKEv1
Phase 1
Phase 2 (Quick Mode)
IKEv2
Phase 1
Phase 2
Configuring a Basic IKEv1 IPsec Site-to-Site VPN
Configure Basic Peer Authentication
Enable IKEv1 on the Interface
Configure IKEv1 Policies
Configure Pre-Shared Keys
Configure Transmission Protection
Select Transform Set and VPN Peer
Define Interesting Traffic
Configuring a Basic IKEv2 IPsec Site-to-Site VPN
Configure Advanced Authentication for IKEv1 IPsec Site-to-Site VPNs
Troubleshooting an IPsec Site-to-Site VPN Connection
Tunnel Not Establishing: Phase 1
Tunnel Not Establishing: Phase 2
Traffic Not Passing Through Your Tunnel
Exam Preparation Tasks
Review All Key Topics
Complete Tables and Lists from Memory
Define Key Terms
Chapter 21 High Availability and Performance Strategies for IPsec Site-to-Site VPNs
"Do I Know This Already?" Quiz
Foundation Topics
Configuration Procedures, Deployment Strategies, and Information Gathering
High Assurance with QoS
Basic QoS Configuration
Deploying Redundant Peering for Site-to-Site VPNs
Site-to-Site VPN Redundancy Using Routing
Hardware-Based Failover with VPNs
Configure LAN Failover Interfaces
Configure Standby Addresses on Interfaces Used for Traffic Forwarding
Define Failover Criteria
Configure Nondefault Mac Addresses
Troubleshooting HA Deployment
Exam Preparation Tasks
Review All Key Topics
Complete Tables and Lists from Memory
Define Key Terms
Part VIII Exam Preparation
Chapter 22 Final Exam Preparation
Tools for Final Preparation
Pearson Cert Practice Test Engine and Questions on the CD
Install the Software from the CD
Activate and Download the Practice Exam
Activating Other Exams
Premium Edition
The Cisco Learning Network
Memory Tables
Suggested Plan for Final Review/Study
Using the Exam Engine
Summary
Part IX Appendixes
Appendix A Answers to the "Do I Know This Already?" Quizzes
Appendix B 642-648 CCNP Security VPN Exam Updates, Version 1.0
Appendix C Memory Tables (CD-only) 3
Appendix D Memory Tables Answer Key (CD-only) 19
Glossary
9781587204470 TOC 5/21/2012
Other Things You Might Like


Cisco Certified Support Technician CCST Networking 100-150 Official Cert Guide Premium Edition and Practice Test

By Russ White
Premium Edition eBook $47.99