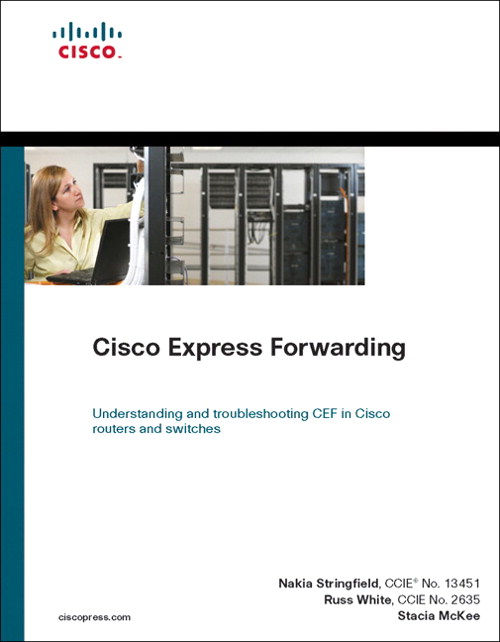 Register your product to gain access to bonus material or receive a coupon.
Cisco Express Forwarding
eBook (Watermarked)
Your Price: $44.79
List Price: $55.99
Includes EPUB and PDF

This eBook includes the following formats, accessible from your Account page after purchase:

EPUB The open industry format known for its reflowable content and usability on supported mobile devices.

PDF The popular standard, used most often with the free Adobe® Reader® software.

This eBook requires no passwords or activation to read. We customize your eBook by discreetly watermarking it with your name, making it uniquely yours.
Copyright 2007
Dimensions: 7-3/8" x 9-1/8"
Edition: 1st
eBook (Watermarked)
ISBN-10: 0-13-343334-X
ISBN-13: 978-0-13-343334-0
<>
Cisco Express Forwarding
Understanding and troubleshooting CEF in Cisco routers and switches
Nakia Stringfield, CCIE® No. 13451
Russ White, CCIE No. 2635
Stacia McKee
How does a router switch a packet? What is the difference between routing a packet, switching a frame, and packet switching? What is the Cisco® Express Forwarding (CEF) feature referred to in Cisco documentation and commonly found in Cisco IOS® commands? CEF is a general term that describes the mechanism by which Cisco routers and Catalyst® switches packet-switch (route) frames. CEF is found in almost all Cisco routers and Catalyst switches, and understanding how CEF operates can improve the performance, scalability, and efficiency of your network.
Cisco Express Forwarding demystifies the internal workings of Cisco routers and switches, making it easier for you to optimize performance and troubleshoot issues that arise in Cisco network environments. This book addresses common misconceptions about CEF and packet switching across various platforms, helping you to improve your troubleshooting skills for CEF- and non-CEF-related problems.
The first part of the book provides an overview of packet-switching architectures and CEF operation and advanced features. It also covers the enhanced CEF structure and general troubleshooting. The second part of the book provides case studies that focus on the common topics that have been problematic for customers and those supporting Cisco networks.
Full of practical examples and configurations, this book draws on years of experience to help you keep your Cisco networks running efficiently.
Nakia Stringfield, CCIE® No. 13451, is a network consulting engineer for Advanced Services at Cisco, supporting top financial customers with network design and applying best practices. She was formerly a senior customer support engineer for the Routing Protocols Technical Assistance Center (TAC) team troubleshooting issues related to CEF and routing protocols. Nakia has been with Cisco for more than six years, previously serving as a technical leader for the Architecture TAC team.
Russ White, CCIE No. 2635, is a Principle Engineer in the Routing Protocol Design and Architecture team at Cisco. He is a member of the IETF Routing Area Directorate, co-chair of the Routing Protocols Security Working Group in the IETF, a regular speaker at Cisco Networkers, a member of the CCIE Content Advisory Group, and the coauthor of six other books about routing and routing protocols, including Optimal Routing Design from Cisco Press. Russ primarily works in the development of new features and design architectures for routing protocols.
Stacia McKee is a customer support engineer and technical leader of the Routing Protocols Technical Assistance Center (TAC) team. This team focuses on providing post-sales support of IP routing protocols, MPLS, QoS, IP multicast, and many other Layer 3 technologies. Stacia has been with Cisco for more than six years, previously serving as a technical leader of the Architecture TAC team and a member of the WAN/Access TAC team.
Learn the key features of packet-switching architectures
Understand the basics of the CEF architecture and operation
Examine the enhanced CEF structure, which improves scalability
Learn how to troubleshoot in software-switching environments
Understand the effect of CEF on a Cisco Catalyst 6500 Supervisor 720
Configure and troubleshoot load sharing with CEF
Evaluate the effect of CEF in an MPLS VPN environment
Review CEF design considerations that impact scalability
Part I Understanding, Configuring, and Troubleshooting CEF

Chapter 1 Introduction to Packet-Switching Architectures

Chapter 2 Understanding Cisco Express Forwarding
Chapter 3 CEF Enhanced Scalability
Chapter 4 Basic IP Connectivity and CEF Troubleshooting
Part II CEF Case Studies

Chapter 5 Understanding Packet Switching on the Cisco Catalyst 6500 Supervisor 720

Chapter 6 Load Sharing with CEF

Chapter 7 Understanding CEF in an MPLS VPN Environment

Part III Appendix

Appendix A Scalability

This book is part of the Networking Technology Series from Cisco Press®, which offers networking professionals valuable information for constructing efficient networks, understanding new technologies, and building successful careers.
Category: Networking
Covers: Routing and Switching
1587052369
Table of Contents
Part I Understanding, Configuring, and Troubleshooting CEF 3
Chapter 1 Introduction to Packet-Switching Architectures 5
Routing and Switching 5
Understanding Broadcast and Collision Domains 5
Layer 3 Switching 8
Understanding Router Pieces and Parts 9
Interface Processors 10
Central Processing Unit 11
Memory 11
Backplanes and Switching Fabrics 11
Cisco IOS Software: The Brains 17
Memory Management 17
Interaction with Interface Processors 28
Processes and Scheduling 28
Process Memory 28
Process Scheduling 29
Putting the Pieces Together: Switching a Packet 35
Getting the Packet off the Network Media 35
Switching the Packet 39
Transmitting the Packet 44
Hardware and Software show Commands 45
Summary 48
Chapter 2 Understanding Cisco Express Forwarding 51
Evolving Packet-Switching Methods 51
Process Switching 51
Fast Switching 52
What Is CEF? 53
CEF Tables 54
Forwarding Information Base (FIB) 54
The Adjacency Table 60
Relating the CEF Tables 61
CEF Table Entries 62
FIB Entries 62
Generic FIB Entries 67
Interface-Specific FIB Entries 68
FIB Entries Built for a Multiaccess Network Interface 68
FIB Entries Built on a Point-to-Point Network Interface 69
FIB Entries Built on a 31-Bit Prefix Network Interface 69
Special Adjacencies 69
Auto Adjacencies 70
Punt Adjacency 70
Glean Adjacency 71
Drop Adjacency 72
Discard Adjacency 73
Null Adjacency 73
No Route Adjacencies 74
Cached and Uncached Adjacencies 74
Unresolved Adjacency 75
Switching a Packet with CEF 75
The CEF Epoch 77
Configuring CEF/dCEF 77
Summary 78
References 79
Chapter 3 CEF Enhanced Scalability 81
Fundamental Changes to CEF for CSSR 82
Data Structures 82
Switching Path Changes 84
Changes to show Commands 86
show ip cef 86
show ip cef interface 86
show ip cef summary 87
show cef state capabilities 88
New show ip cef Commands 89
show ip cef tree 89
show ip cef internal 90
show ip cef switching statistics 91
New show cef Commands 91
CEF Event Logger 94
CEF Consistency Checker 97
Passive Checkers 97
Active Checkers 97
Consistency-Checking Process 98
New CEF Processes 100
FIB Manager 100
Adjacency Manager 100
Update Manager 100
Summary 101
Chapter 4 Basic IP Connectivity and CEF Troubleshooting 103
Troubleshooting IP Connectivity 103
Accurately Describe the Problem 104
Scoping the Network Topology 105
Reviewing the OSI Model for Troubleshooting 106
Verifying the ARP Table 108
Verifying the Routing Table 111
Troubleshooting the CEF FIB Table 116
Troubleshooting Punt Adjacencies 129
Understanding CEF Error Messages 131
Troubleshooting Commands Reference 131
Summary 133
References 133
Part II CEF Case Studies 135
Chapter 5 Understanding Packet Switching on the Cisco Catalyst 6500 Supervisor 720 137
CEF Switching Architecture on the Cisco Catalyst 6500 137
Understanding Software-Based CEF and Hardware-Based CEF 137
Centralized and Distributed Switching 138
Troubleshooting CEF on the Catalyst 6500 SUP720 Platforms 139
Simple Checking of Connectivity 139
Systematic Checking of Connectivity 141
Troubleshooting Load Sharing 148
Summary 149
References 149
Chapter 6 Load Sharing with CEF 163
Benefits of Load Sharing 163
Load Sharing with Process Switching and Fast Switching 164
Comparing CEF Per-Packet and CEF Per-Destination Load Sharing 168
Understanding Per-Destination Load Sharing 168
Understanding Per-Packet Load Sharing 169
CEF Architecture and Load Sharing 171
CEF Load Sharing Across Parallel Paths 173
CEF Per-Destination Example 173
CEF Per-Packet Example 180
Per-Packet Load Sharing on Hardware-Based Platforms 184
CEF Per-Packet Load Sharing on the Cisco GSR Platform 185
CEF Load-Sharing Troubleshooting Examples 186
CEF Per-Destination Load Sharing Overloading One Link 186
CEF Per-Packet Load Sharing Causing Performance Issues 198
Troubleshooting a Single-Path Failure with CEF Load Sharing 200
CEF Traffic-Share Allocation 202
CEF Polarization and Load-Sharing Algorithms 210
Summary 214
References 215
Chapter 7 Understanding CEF in an MPLS VPN Environment 217
An Internet Service Provider's Simple MPLS VPN Design 217
Understanding the CEF and MPLS VPN Relationship 219
Case 1: Label Disposition 221
Case 2: Label Imposition 222
Case 3: Label Swapping 224
Troubleshooting an MPLS VPN 224
CEF Considerations When Troubleshooting MPLS VPN Across Various
Platforms 225
Cisco 7200 Router with an NPE-G2 226
Cisco 7500 Router 226
Cisco Catalyst 6500 with a Supervisor 2 227
Catalyst 6500 with a Supervisor 720 3BXL 228
Cisco 12000 Series Router 231
Cisco 10000 Series Router 236
CEF and MPLS VPN Load-Sharing Considerations 237
PE-CE Load Sharing: CE Multihomed to Same PE 237
PE-CE Load Sharing: Site Multihomed to Different PEs 243
Load Sharing Between P and P Devices 252
CEF and MPLS VPN Load-Sharing Platform Dependencies 253
Summary 253
References 254
Part III Appendix 257
Appendix A Scalability 259
Other Things You Might Like



eBook (Watermarked) $38.39