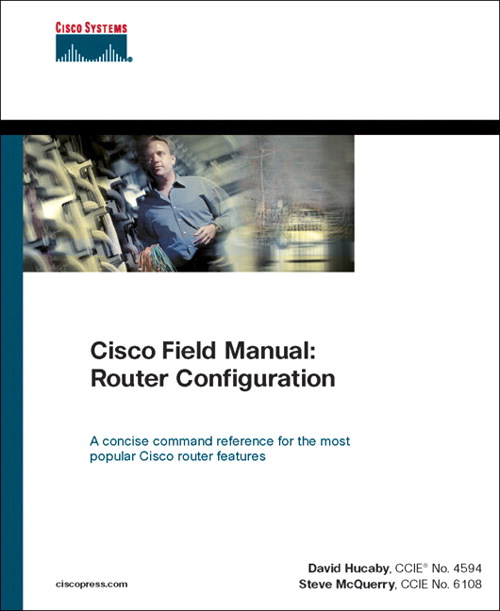 Share
|



Register your product to gain access to bonus material or receive a coupon.
Cisco Field Manual: Router Configuration
Book
Sorry, this book is no longer in print.
Copyright 2002
Dimensions: 7-3/8" x 9-1/8"
Pages: 696
Edition: 1st
Book
ISBN-10: 1-58705-024-2
ISBN-13: 978-1-58705-024-4
Cisco Field Manual: Router Configuration is the ultimate command reference that shows readers how to configure routers and switches with Cisco IOS software. Complete with shaded tab sections for different IOS software feature families for easy reference. Each section provides a succinct background of the group, configuration information and example components. With information on the most recent IOS releases as well as on previous releases in simple to read tables, Cisco Field Manual: Router Configuration is designed to be an invaluable workplace tool.
Presents the common elements of complex configurations for Cisco routers, switches, and firewalls in an intuitive, easy-to-reference format.
Each feature includes concise background information, configuration notes, port numbers, and examples.
Describes actual configuration commands and options in the order they should be used.
Saves time spent searching for pertinent information in the Cisco IOS documentation.
Useful as a hands-on command reference in the field or as a part of any candidate¿s Cisco Career Certifications preparation.
Downloadable Sample Chapter
Download - 331 KB -- Chapter 3: Dial Solutions
Table of Contents
I. CONFIGURATION FUNDAMENTALS.
1. Configuration Basics.
2. Interface Configuration.
3. Dial Solutions.
II. LAYER 2 NETWORKING.
4. Bridging.
5. IBM Networking.
III. NETWORK PROTOCOLS.
6. IP Addressing & Services.
7. IP Routing Protocols.
8. IP Route Processing.
9. Non-IP Routing Protocols.
IV. PACKET PROCESSING.
10. Quality of Service.
11. Cisco IOS Software Switching Services.
V. VOICE & TELEPHONY.
12. Voice & Telephony.
VI. SECURITY.
13. Security & VPNs.
14. Access Lists.
VII. APPENDIXES.
Appendix A: Cisco IOS Software Releases and Filenames.
Appendix B: Cabling Quick Reference.
Appendix C: SNMP MIB Structure.
Appendix D: Password Recovery.
Appendix E: Configuration Register Settings.
Appendix F: Well-known IP Protocol Numbers.
Appendix G: Well-known IP Port Numbers.
Appendix H: Well-known ICMP Type and Code Numbers.
Appendix I: Well-known Multicast Addresses.
Appendix J: Well-known IPX SAP Codes.
Appendix K: Ethernet Type Codes.
Index
Download - 339 KB -- Index
Other Things You Might Like



eBook (Watermarked) $38.39