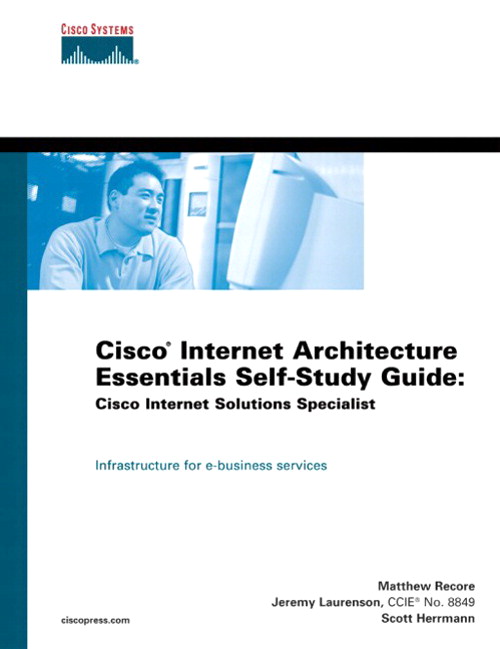 Share
|



Register your product to gain access to bonus material or receive a coupon.
Cisco Internet Architecture Essentials Self-Study Guide: Cisco Internet Solutions Specialist
Book
Sorry, this book is no longer in print.
Copyright 2003
Dimensions: 7-3/8" x 9-1/8"
Pages: 288
Edition: 1st
Book
ISBN-10: 1-58705-044-7
ISBN-13: 978-1-58705-044-2
Infrastructure for e-business services
Understand the benefits of e-business solutions and evaluate the different components that make up the Internet Business Solutions Architecture
Understand the need for and methods of implementing highly available networks to ensure access and reliable service
Learn about security concerns and solutions within the context of the Cisco SAFE Blueprint, including authentication, authorization, and accounting (AAA); encryption; firewalls; and intrusion detection
Review the driving factors behind QoS, and the different means to achieving end-to-end QoS
Understand the five components of content delivery networks-intelligent network services, content switching, content routing, content distribution and management, and content edge delivery
Explore the justification for and determination of service-level agreements
Evaluate network management requirements and solutions for maintaining your Internet Business Solutions Architecture
Cisco Systems(r) is the worldwide leader in networking for the Internet. Cisco is also recognized as an innovator in how business is conducted. Cisco is a pioneer in using the Internet to support customers, sell products, offer training, and manage finances. The company has used the Internet to transform and integrate its core processes and culture. The results have been dramatic: 90 percent of customer orders taken online, over 82 percent of support calls resolved over the Internet, increased customer satisfaction, and a financial benefit of almost $1.7 billion in fiscal year 2001.
The Cisco Internet Solutions Specialist focused certification validates skills and knowledge in developing Internet business solutions. Cisco Internet Architecture Essentials Self-Study Guide gives network engineers an introduction to building an Internet architecture to support innovative applications. This book also imparts the knowledge needed to ensure consistent and scalable network specifications for e-business implementation. Focused on providing a broad overview of an end-to-end Internet system architecture, the book addresses a number of Cisco Internet business solutions and the benefits organizations can realize through the implementation of customer care, e-commerce, e-learning, and supply-chain management systems. This book discusses how to design networks with customer-specific requirements in mind while focusing on issues such as capacity, connectivity, availability, security, quality of service (QoS), and network systems management. Additional chapters concentrate on important new technology developments such as content switching, content routing, and content edge delivery. The book wraps up with a brief discussion of service-level agreements, providing an overview of business requirements as well as tools and applications.
Cisco Internet Architecture Essentials Self-Study Guide is part of a recommended study program from Cisco Systems that can include simulation and hands-on training from authorized Cisco Learning Partners and self-study and exam preparation guides from Cisco Press. To find out more about instructor-led, e-learning, and hands-on instruction offered by authorized Cisco Learning Partners, please visit www.cisco.com/go/training.
Online Sample Chapter
Table of Contents


Introduction.


1. Internet System Architecture Overview.

Internet System Architecture Definition. Types of Internet Business Solutions. Summary. Review Questions.
2. Internet System Architecture Design Overview.
Internet System Architecture Components. Cisco Internet System Reference Architecture Components. Benefits Realized After Implementing the Internet Systems Architecture. Summary. Review Questions.
3. High Availability Overview.
Benefits of Highly Available Systems. Total Cost of Ownership Model. Downtime and Availability. Designing High Availability Architecture. The Two Design Approaches to Availability. E-Commerce Architecture. High Availability Design Enabling Technologies. Non-network Considerations. Failure Analysis and Recovery. Summary. Review Questions.
4. Security Concepts and Design.
How Important Is Security? What Is a Security Policy? Types of Attacks. Conclusions About Attacks. Firewalls. Virtual Private Networks. Intrusion Detection. Access Control. Cisco SAFE Architecture. Summary. Review Questions.
5. Content Delivery Networks.
Traditional Web Growth. Anatomy of a Network. Cisco's Content Networking Architecture: Components. Applications of Content Delivery Networking. Content Filtering Solution. Summary. Review Questions.
6. Quality of Service.
What is QoS? Planning for QoS. Implementing the Larger Scale Policy. Summary. Review Questions.
7. Network Management.
Network Management and the FCAPS Model. Fault Management. Performance Management. SNMP and RMON Overview. Eight Guidelines for Managing a Network. Third-Party Network Management Tools. Cisco Network Management Solutions. Summary. Review Questions.
8. Service Level Agreements.
Service Level Management Chain. Business Synchronization. What is a Service Level Definition? Creating and Maintaining SLAs. Internal and External SLAs. Sample External Service Level Agreement. Common Core Requirements and Metrics of an SLA. Design Integration. Cisco Service Management Tools. Summary. Review Questions.
Appendix A. Answers to the Chapter Review Questions.
Chapter 1 Review Questions. Chapter 2 Review Questions. Chapter 3 Review Questions. Chapter 4 Review Questions. Chapter 5 Review Questions. Chapter 6 Review Questions. Chapter 7 Review Questions. Chapter 8 Review Questions.
Index.
Index
Download - 110 KB -- Index
Other Things You Might Like


eBook (Watermarked) $31.99