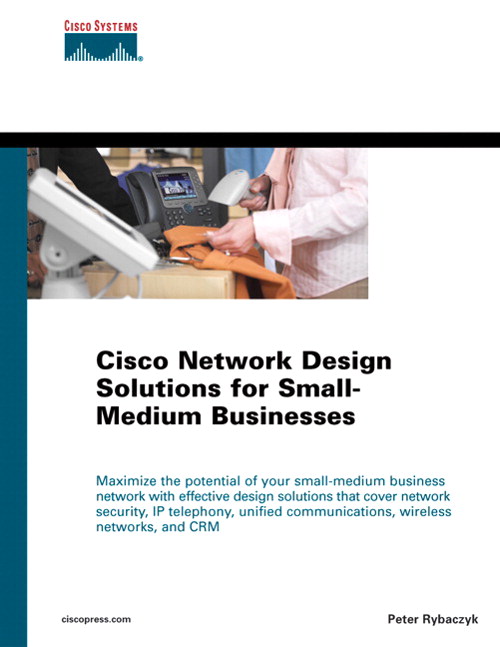 Share
|



Register your product to gain access to bonus material or receive a coupon.
Cisco Network Design Solutions for Small-Medium Businesses
Premium Website
Sorry, this book is no longer in print.
Copyright 2005
Edition: 1st
Premium Website
ISBN-10: 1-58705-143-5
ISBN-13: 978-1-58705-143-2
Maximize the potential of your small-medium business network with effective design solutions that cover network security, IP telephony, unified communications, wireless networks, and CRM.
Design and implement effective network solutions by mastering the design process that is used by successful networking professionals
Understand the diversity of solutions for the SMB environment, avoiding the pitfalls of the one-size-fits-all approach
Create effective and customizable security solutions across the spectrum of SMB types and sizes
Exploit the trend of universal communications convergence by expanding into the VoIP market with the Cisco IP Telephony and unified communication solutions
Break into the fast-growing CRM marketplace with the Cisco CRM integration solutions
Implement wireless LAN solutions that facilitate productivity and workforce optimization
In today's business world, investing in technology solutions that improve productivity and save money is critical, but the road to a modern, technology-driven business is full of pitfalls. Cisco Network Design Solutions for Small-Medium Businesses zeros in on critical solutions for networking professionals who are deploying computer networks within a small-medium business (SMB). You'll learn about core networking issues and associated solutions, including security, IP telephony, unified communications, customer relations management (CRM), wireless LANs, and more within this complete design guide.
Cisco Network Design Solutions for Small-Medium Businesses is separated into two parts. Part I helps you explore the network design process, survey the SMB landscape, and identify your network requirements from the edge to the core for an effective solution implementation. Part II delves into security, CRM, IP telephony, unified messaging, IP/TV, and wireless LAN solutions, which can save businesses critical time and money.
For networking professionals, Cisco Network Design Solutions for Small-Medium Businesses is a one-stop reference and design guide for the effective implementation of SMB networking solutions that enhance the bottom-line.
This book is part of the Networking Technology Series from Cisco Press¿ which offers networking professionals valuable information for constructing efficient networks, understanding new technologies, and building successful careers.
Online Sample Chapter
SMB Networking Environments and Solutions Design Considerations
Downloadable Sample Chapter
Download - 212 KB -- Chapter 2: SMB Networking Environments and Solutions Design Considerations
Table of Contents
Introduction
Part I Network Design Process and Solutions Overview for SMBs
Chapter 1 Effective Networking Solution Design Process
Step 1: Identifying Stakeholder Requirements
Management (Executive and Line of Business)
IT Department
End Users
Customers
Vendors
Output from the Requirements Identification Stage
Step 2: Validating Stakeholder Requirements
Achieving Consensus
Assigning Priorities
Output from the Validation of Requirements Stage
Step 3: Creating and Reviewing the Draft Design Document
Identifying the Physical Network Topology
Determining Measurable Performance Requirements
Formulating a Viable Budget
Creating a Realistic Completion Timeline
Step 4: Creating a Final Design Document Before Implementation
Networking Solution Implementation Considerations
Sources of Implementation Expertise
Project Management During Implementation
Performance Testing
Documentation
Training
Putting It All Together
Summary
Chapter 2 SMB Networking Environments and Solutions Design Considerations
One Name, a Multitude of Shapes and Sizes
Business Sectors
Business Sizes
Business Missions
The Pitfalls of the One-Size-Fits-All Approach
SMB Networking Solutions Design Considerations
Network and Data Security Design Considerations
Remote Access Design Considerations
Wireless Design Considerations
IP Telephony Design Considerations
Partner Collaboration Design Considerations
Customer Care Design Considerations
Front Office/Back Office Integration
Solution Identification and Discovery Process for SMBs
The Case Against and for a Security Solution
The Case Against and for a Remote Access Solution
The Case Against and for a Collaboration with Partners Solution
The Case Against and for a Customer Care Solution
The Case Against and for a Front Office/Back Office Integration Solution
Summary
Chapter 3 Network Infrastructure Requirements for Effective Solutions Implementation
The Telecom Closets
Patch Panels, Horizontal Cabling, and Work-Area Cabling
Switches
Routers
Data Centers or Computer Rooms
Network Servers
Network Storage
Power Protection
The User Desktop Environment
Workstations
Network Printers and Other Peripherals
Network Upgrades Planning
Sources of Upgrades Expertise: The Who
Upgrades Timing: The When
Upgrades Impact: The How
Upgrades Cost: The How Much
Applications, E-Mail, and Network-Management Tools
The Impact of Applications
E-Mail Options
Network-Management Methods
Summary
Part II SMB Networking Design Solutions
Chapter 4 Overview of the Network Security Issues
Categories of Security Threats
Information Corruption
Information Disclosure
Repudiation and Lack of Authentication and Authorization
Denial of Service
What Security Threats Mean to an SMB
What if My Website Is Defaced?
What if My Website Is Inaccessible?
What if Someone Intercepts and Reads My E-Mails?
What if My Customers Can't Send Me E-Mail?
What if Unauthorized Personnel Gain Access to My Internal Databases?
What if Unauthorized Employees Get into My Payroll Files?
Which to Fear More: Internal or External Security Threats
Strong Authentication
Granularity in Authorization
Restricting Network Access
Physical Security
Encrypting Sensitive Information
Network Segmentation
Security Procedures Important to SMB Success
Security Threat Antidotes
Information Integrity
Information Confidentiality
Nonrepudiation, Authentication, and Authorization
System Availability
The Importance of Having a Security Policy
Summary
Chapter 5 Cisco Security Solutions
Virtual Private Networks
VPN Deployment Considerations
VPN Deployment Scenarios
The Cisco VPN 3000 Series Concentrator Family
VPN-Capable Routers
Firewalls
Firewall Deployment Considerations
The Cisco PIX Product Line and the IOS Firewall
Intrusion Detection Systems
IDS Deployment Considerations
Cisco IDS Product Lines
Router Security Features
Router Security Deployment Considerations
Implementing Routing Protocols Security
Summary
Chapter 6 The Wireless LAN Solution
WLAN-Specific Security Considerations
WLAN Security Threats
WLAN Security Mechanisms
WLAN Sound Security Practices
WLAN Performance and Topology Considerations
WLAN Performance Considerations
WLAN Topology Considerations
WLAN Components
Radio Frequencies, Transmit Power, and Antennae
Access Points and Wireless Bridges
Wireless Routers
Wireless Clients
The Cisco WLAN (Aironet) Products Family
The 1400 Series Bridges
The 1200 Series Access Points
The Aironet Antennae
The Aironet Clients
WLAN Deployment Scenarios
A Small Office or Workgroup Deployment
An Enterprise Deployment
A Telecommuters Deployment
Summary
Chapter 7 Customer Relationship Management Solutions
CRM Deployment Considerations
Modes of the SMB's Interactions with Customers
Customer Information Accessibility
SMB's Customer Categorization Capability
Levels of Commitment to CRM
Analytics Tools and Metrics
Popular CRMs' Relationship to Cisco Products
E.piphany CRM
SAP mySAP
PeopleSoft CRM
Pegasystems Customer Process Manager
Microsoft CRM
Cisco Solutions for CRM Integration
Cisco ICM Product Family
Cisco IP Contact Center
IP Interactive Voice Response Application
Which CRM Solution Is Right for My SMB?
I Am a Retail Outlet
I Am a Bank
I Am a Manufacturer
I Am a Hospital or a Health Clinic
Summary
Chapter 8 IP Telephony Solutions
IP Telephony Deployment Considerations
QoS Factors
Single Communications Infrastructure for Voice and Data
Open Standards Protocols
Common OS Hardware Platforms
IP Telephony Components and Protocols
Gateways
Gatekeepers
Software-Based PBXes
IP Phones
VoIP Protocols
Cisco IP Telephony Solutions
Integrated IP Telephony Solutions
CallManager Deployment Options
CallManager Integration with Legacy PBX
CallManager Dial Plan Configuration Considerations
IP Telephony Voice Applications
Cisco IP Phones
Cisco ISP/Carrier Solution
Summary
Chapter 9 Unified Communications Solutions
Deployment Considerations for Unified Messaging Solutions
The Cisco Unity Solution
Message Centralization
Text-to-Speech Capability
Multilanguage Capability
Global Administration via the Cisco Unity Administrator
Personalized Administration via the Cisco Unity Assistant and Inbox
The Cisco IP/TV Solution
Deployment Considerations for Movie-Quality Video to the Desktop
IP/TV Solution Components
The Value of an Intranet in an SMB Environment
Human Resources Services and Announcements
IT Help Desk Support
Summary
Chapter 10 Front and Back Office Integration Solutions
Getting Past the Jargon
Front Office: Concepts and Applications
Back Office: Concepts and Applications
Enterprise Applications Integration Tools
Is Integration for Me?
Integration Challenges
The Case for Integration
The Case Against Integration
The Integrators
The Synergex Solutions
IT Consultants with Programming Skills
In-House Analyst
Summary
Epilogue The Future of SMB Networking
Bibliography
Index
Index
Download - 242 KB -- Index
Other Things You Might Like

eBook (Watermarked) $47.99