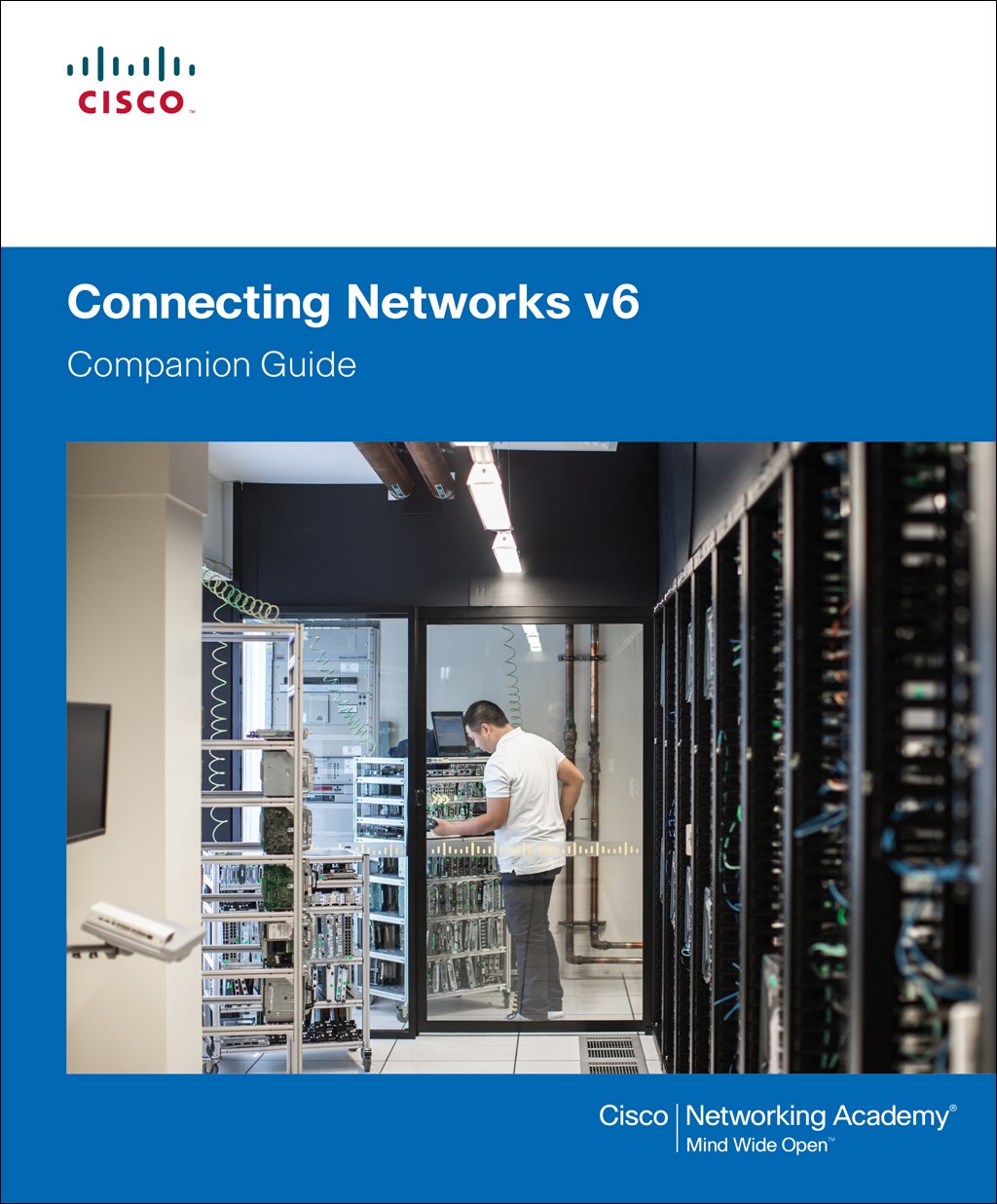 Register your product to gain access to bonus material or receive a coupon.
Connecting Networks v6 Companion Guide
eBook (Watermarked)
Your Price: $52.80
List Price: $58.67
Includes EPUB and PDF

This eBook includes the following formats, accessible from your Account page after purchase:

EPUB The open industry format known for its reflowable content and usability on supported mobile devices.

PDF The popular standard, used most often with the free Adobe® Reader® software.

This eBook requires no passwords or activation to read. We customize your eBook by discreetly watermarking it with your name, making it uniquely yours.
Copyright 2018
Dimensions: 8" x 9-1/8"
Pages: 512
Edition: 1st
eBook (Watermarked)
ISBN-10: 0-13-476088-3
ISBN-13: 978-0-13-476088-9
Connecting Networks v6 Companion Guide is the official supplemental textbook for the Connecting Networks version 6 course in the Cisco Networking Academy CCNA Routing and Switching curriculum.
The Companion Guide is designed as a portable desk reference to use anytime, anywhere to reinforce the material from the course and organize your time.
The book's features help you focus on important concepts to succeed in this course:
Chapter Objectives–Review core concepts by answering the focus questions listed at the beginning of each chapter.
Key Terms–Refer to the lists of networking vocabulary introduced and highlighted in context in each chapter.
Glossary–Consult the comprehensive Glossary with 347 terms.
Summary of Activities and Labs–Maximize your study time with this complete list of all associated practice exercises at the end of each chapter.
Check Your Understanding–Evaluate your readiness with the end-of-chapter questions that match the style of questions you see in the online course quizzes. The answer key explains each answer.
How To–Look for this icon to studythe steps you need to learn to perform certain tasks.
Interactive Activities–Reinforce your understanding of topics with dozens of exercises from the online course identified throughout the book with this icon.
Packet Tracer Activities–Explore and visualize networking concepts using Packet Tracer exercises interspersed throughout the chapters and provided in the accompanying Labs & Study Guide book.
Videos–Watch the videos embedded within the online course.
Hands-on Labs–Work through all the course labs and additional Class Activities that are included in the course and published in the separate Labs & Study Guide.
Sample Pages
Download the sample pages (includes Chapter 1 thru 3 and Index)
Table of Contents
Introduction xix
Chapter 1 WAN Concepts 1
Objectives 1
Key Terms 1
Introduction (1.0) 3
WAN Technologies Overview (1.1) 3
Purpose of WANs (1.1.1) 3
Why a WAN? (1.1.1.1) 3
Are WANs Necessary? (1.1.1.2) 4
WAN Topologies (1.1.1.3) 5
Evolving Networks (1.1.1.4) 8
Small Office (1.1.1.5) 8
Campus Network (1.1.1.6) 9
Branch Networks (1.1.1.7) 10
Distributed Network (1.1.1.8) 11
WAN Operations (1.1.2) 13
WANs in the OSI Model (1.1.2.1) 13
Common WAN Terminology (1.1.2.2) 14
WAN Devices (1.1.2.3) 16
Circuit Switching (1.1.2.4) 17
Packet Switching (1.1.2.5) 18
Selecting a WAN Technology (1.2) 20
WAN Services (1.2.1) 20
WAN Link Connection Options (1.2.1.1) 20
Service Provider Network Infrastructure (1.2.1.2) 21
Private WAN Infrastructures (1.2.2) 23
Leased Lines (1.2.2.1) 23
Dialup (1.2.2.2) 25
ISDN (1.2.2.3) 26
Frame Relay (1.2.2.4) 28
ATM (1.2.2.5) 29
Ethernet WAN (1.2.2.6) 30
MPLS (1.2.2.7) 32
VSAT (1.2.2.8) 32
Public WAN Infrastructure (1.2.3) 33
DSL (1.2.3.1) 34
Cable (1.2.3.2) 35
Wireless (1.2.3.3) 36
3G/4G Cellular (1.2.3.4) 37
VPN Technology (1.2.3.5) 38
Selecting WAN Services (1.2.4) 39
Choosing a WAN Link Connection (1.2.4.1) 40
Choosing a WAN Link Connection (Cont.) (1.2.4.2) 41
Summary (1.3) 43
Practice 44
Class Activities 44
Labs 44
Check Your Understanding Questions 44
Chapter 2 Point-to-Point Connections 49
Objectives 49
Key Terms 49
Introduction (2.0) 51
Serial Point-to-Point Overview (2.1) 51
Serial Communications (2.1.1) 52
Serial and Parallel Ports (2.1.1.1) 52
Point-to-Point Communication Links (2.1.1.2) 53
Serial Bandwidth (2.1.1.3) 54
HDLC Encapsulation (2.1.2) 56
WAN Encapsulation Protocols (2.1.2.1) 56
HDLC Encapsulation (2.1.2.2) 57
Configuring HDLC Encapsulation (2.1.2.3) 58
Troubleshooting a Serial Interface (2.1.2.4) 59
PPP Operation (2.2) 63
Benefits of PPP (2.2.1) 63
Introducing PPP (2.2.1.1) 64
Advantages of PPP (2.2.1.2) 65
LCP and NCP (2.2.2) 65
PPP-Layered Architecture (2.2.2.1) 65
PPP: Link Control Protocol (LCP) (2.2.2.2) 66
PPP: Network Control Protocol (NCP) (2.2.2.3) 66
PPP Frame Structure (2.2.2.4) 67
PPP Sessions (2.2.3) 68
Establishing a PPP Session (2.2.3.1) 68
LCP Operation (2.2.3.2) 69
PPP Configuration Options (2.2.3.3) 72
NCP Explained (2.2.3.4) 72
PPP Implementation (2.3) 74
Configure PPP (2.3.1) 74
PPP Configuration Options (2.3.1.1) 74
PPP Basic Configuration Command (2.3.1.2) 76
PPP Compression Commands (2.3.1.3) 76
PPP Link Quality Monitoring Command (2.3.1.4) 77
PPP Multilink Commands (2.3.1.5) 78
Verifying PPP Configuration (2.3.1.6) 81
Configure PPP Authentication (2.3.2) 82
PPP Authentication Protocols (2.3.2.1) 83
Password Authentication Protocol (PAP) (2.3.2.2) 83
Challenge Handshake Authentication Protocol (CHAP) (2.3.2.3) 85
PPP Authentication Command (2.3.2.4) 86
Configuring PPP with Authentication (2.3.2.5) 87
Troubleshoot WAN Connectivity (2.4) 89
Troubleshoot PPP (2.4.1) 89
Troubleshooting PPP Serial Encapsulation (2.4.1.1) 90
Debugging PPP (2.4.1.2) 91
Troubleshooting a PPP Configuration with Authentication (2.4.1.3) 94
Summary 96
Practice 97
Class Activities 97
Labs 97
Packet Tracer Activities 98
Check Your Understanding Questions 98
Chapter 3 Branch Connections 101
Objectives 101
Key Terms 101
Introduction (3.0) 103
Remote-Access Connections (3.1) 104
Broadband Connections (3.1.1) 104
What Is a Cable System? (3.1.1.1) 104
Cable Components (3.1.1.2) 105
What Is DSL? (3.1.1.3) 107
DSL Connections (3.1.1.4) 107
Wireless Connection (3.1.1.5) 109
Select a Broadband Connection (3.1.2) 112
Comparing Broadband Solutions (3.1.2.1) 112
PPPoE (3.2) 113
PPPoE Overview (3.2.1) 113
PPPoE Motivation (3.2.1.1) 113
PPPoE Concepts (3.2.1.2) 114
Implement PPPoE (3.2.2) 115
PPPoE Configuration (3.2.2.1) 115
PPPoE Verification (3.2.2.2) 116
PPPoE Troubleshooting (3.2.2.3) 118
PPPoE Negotiation (3.2.2.4) 118
PPPoE Authentication (3.2.2.5) 119
PPPoE MTU Size (3.2.2.6) 120
VPNs (3.3) 122
Fundamentals of VPNs (3.3.1) 122
Introducing VPNs (3.3.1.1) 123
Benefits of VPNs (3.3.1.2) 124
Types of VPNs (3.3.2) 125
Site-to-Site VPNs (3.3.2.1) 125
Remote-Access VPNs (3.3.2.2) 126
DMVPN (3.3.2.3) 127
GRE (3.4) 128
GRE Overview (3.4.1) 129
GRE Introduction (3.4.1.1) 129
GRE Characteristics (3.4.1.2) 130
Implement GRE (3.4.2) 131
Configure GRE (3.4.2.1) 131
Verify GRE (3.4.2.2) 133
Troubleshoot GRE (3.4.2.3) 134
eBGP (3.5) 136
BGP Overview (3.5.1) 136
IGP and EGP Routing Protocols (3.5.1.1) 137
eBGP and iBGP (3.5.1.2) 138
BGP Design Considerations (3.5.2) 139
When to Use BGP (3.5.2.1) 139
When Not to Use BGP (3.5.2.2) 140
BGP Options (3.5.2.3) 140
eBGP Branch Configuration (3.5.3) 142
Steps to Configure eBGP (3.5.3.1) 142
BGP Sample Configuration (3.5.3.2) 143
Verify eBGP (3.5.3.3) 145
Summary (3.6) 148
Practice 149
Check Your Understanding Questions 150
Chapter 4 Access Control Lists 155
Objectives 155
Key Terms 155
Introduction (4.0.1.1) 156
Standard ACL Operation and Configuration Review (4.1) 156
ACL Operation Overview (4.1.1) 156
ACLs and the Wildcard Mask (4.1.1.1) 156
Applying ACLs to an Interface (4.1.1.2) 158
A TCP Conversation (4.1.1.3) 159
ACL Packet Filtering (4.1.1.4) 160
Types of IPv4 ACLs (4.1.2) 162
Standard and Extended IPv4 ACLs (4.1.2.1) 162
Numbered and Named ACLs (4.1.2.2) 163
Where to Place ACLs (4.1.2.3) 163
Standard ACL Placement Example (4.1.2.4) 165
Extended ACL Placement Example (4.1.2.5) 166
Standard IPv4 ACL Implementation (4.1.3) 167
Configure a Standard IPv4 ACL (4.1.3.1) 167
Apply a Standard IPv4 ACL (4.1.3.2) 169
Standard Named IPv4 ACLs (4.1.3.3) 170
Verify ACLs (4.1.3.4) 171
Extended IPv4 ACLs (4.2) 173
Structure of an Extended IPv4 ACLs (4.2.1) 173
Extended ACLs (4.2.1.1) 173
Filtering Ports and Services (4.2.1.2) 173
Configure Extended IPv4 ACLs (4.2.2) 175
Configuring Extended ACLs (4.2.2.1) 175
Applying Extended ACLs to Interfaces (4.2.2.2) 177
Filtering Traffic with Extended ACLs (4.2.2.3) 178
Creating Extended Named ACLs (4.2.2.4) 180
Verifying Extended ACLs (4.2.2.5) 181
Editing Extended ACLs (4.2.2.6) 182
IPv6 ACLs (4.3) 184
IPv6 ACL Creation (4.3.1) 184
Types of IPv6 ACLs (4.3.1.1) 184
Comparing IPv4 and IPv6 ACLs (4.3.1.2) 185
Configuring IPv6 ACLs (4.3.2) 186
Configuring IPv6 Topology (4.3.2.1) 186
Configuring IPv6 ACLs (4.3.2.2) 188
Applying an IPv6 ACL to an Interface (4.3.2.3) 189
IPv6 ACL Examples (4.3.2.4) 190
Verifying IPv6 ACLs (4.3.2.5) 192
Troubleshoot ACLs (4.4) 194
Processing Packets with ACLs (4.4.1) 194
Inbound and Outbound ACL Logic (4.4.1.1) 194
ACL Logic Operations (4.4.1.2) 195
Standard ACL Decision Process (4.4.1.3) 196
Extended ACL Decision Process (4.4.1.4) 197
Common ACL Errors (4.4.2) 197
Troubleshooting IPv4 ACLs: Example 1 (4.4.2.1) 197
Troubleshooting IPv4 ACLs: Example 2 (4.4.2.2) 198
Troubleshooting IPv4 ACLs: Example 3 (4.4.2.3) 199
Troubleshooting IPv4 ACLs: Example 4 (4.4.2.4) 200
Troubleshooting IPv4 ACLs: Example 5 (4.4.2.5) 200
Troubleshooting IPv6 ACLs: Example 1 (4.4.2.6) 201
Troubleshooting IPv6 ACLs: Example 2 (4.4.2.7) 203
Troubleshooting IPv6 ACLs: Example 3 (4.4.2.8) 205
Summary (4.5) 208
Practice 209
Check Your Understanding Questions 210
Chapter 5 Network Security and Monitoring 215
Objectives 215
Key Terms 215
Introduction (5.0.1.1) 217
LAN Security (5.1) 217
LAN Security Attacks (5.1.1) 218
Common LAN Attacks (5.1.1.1) 218
CDP Reconnaissance Attack (5.1.1.2) 219
Telnet Attacks (5.1.1.3) 220
MAC Address Table Flooding Attack (5.1.1.4) 222
VLAN Attacks (5.1.1.5) 225
DHCP Attacks (5.1.1.6) 226
LAN Security Best Practices (5.1.2) 227
Secure the LAN (5.1.2.1) 227
Mitigate MAC Address Flooding Table Attacks (5.1.2.2) 228
Mitigate VLAN Attacks (5.1.2.3) 229
Mitigate DHCP Attacks (5.1.2.4) 230
Secure Administrative Access Using AAA (5.1.2.5) 231
Secure Device Access Using 802.1X (5.1.2.6) 233
SNMP (5.2) 234
SNMP Operation (5.2.1) 234
Introduction to SNMP (5.2.1.1) 235
SNMP Operation (5.2.1.2) 236
SNMP Agent Traps (5.2.1.3) 237
SNMP Versions (5.2.1.4) 238
Community Strings (5.2.1.5) 241
Management Information Base Object ID (5.2.1.6) 243
SNMPv3 (5.2.1.7) 246
Configuring SNMP (5.2.2) 248
Steps for Configuring SNMP (5.2.2.1) 248
Verifying SNMP Configuration (5.2.2.2) 249
SNMP Best Practices (5.2.2.3) 252
Steps for Configuring SNMPv3 (5.2.2.4) 254
Verifying SNMPv3 Configuration (5.2.2.5) 254
Cisco Switch Port Analyzer (5.3) 255
SPAN Overview (5.3.1) 256
Port Mirroring (5.3.1.1) 256
Analyzing Suspicious Traffic (5.3.1.2) 257
Local SPAN (5.3.1.3) 257
Remote SPAN (5.3.1.4) 259
SPAN Configuration (5.3.2) 260
Configuring Local SPAN (5.3.2.1) 260
Verifying Local SPAN (5.3.2.2) 261
SPAN as a Troubleshooting Tool (5.3.3) 262
Troubleshooting with SPAN Overview (5.3.3.1) 262
Summary (5.4) 264
Practice 264
Check Your Understanding Questions 265
Chapter 6 Quality of Service 269
Objectives 269
Key Terms 269
Introduction (6.0.1.1) 271
QoS Overview (6.1) 271
Network Transmission Quality (6.1.1) 271
Prioritizing Traffic (6.1.1.1) 271
Bandwidth, Congestion, Delay, and Jitter (6.1.1.2) 272
Packet Loss (6.1.1.3) 273
Traffic Characteristics (6.1.2) 275
Network Traffic Trends (6.1.2.1) 275
Voice (6.1.2.2) 276
Video (6.1.2.3) 276
Data (6.1.2.4) 277
Queueing Algorithms (6.1.3) 278
Queuing Overview (6.1.3.1) 279
First-In First-Out (FIFO) (6.1.3.2) 279
Weighted Fair Queuing (WFQ) (6.1.3.3) 280
Class-Based Weighted Fair Queuing (CBWFQ) (6.1.3.4) 281
Low Latency Queuing (LLQ) (6.1.3.5) 282
QoS Mechanisms (6.2) 283
QoS Models (6.2.1) 283
Selecting an Appropriate QoS Policy Model (6.2.1.1) 283
Best Effort (6.2.1.2) 284
Integrated Services (6.2.1.3) 285
Differentiated Services (6.2.1.4) 286
QoS Implementation Techniques (6.2.2) 288
Avoiding Packet Loss (6.2.2.1) 288
QoS Tools (6.2.2.2) 289
Classification and Marking (6.2.2.3) 290
Marking at Layer 2 (6.2.2.4) 291
Marking at Layer 3 (6.2.2.5) 292
Trust Boundaries (6.2.2.6) 295
Congestion Avoidance (6.2.2.7) 296
Shaping and Policing (6.2.2.8) 297
Summary (6.3) 299
Practice 300
Check Your Understanding Questions 300
Chapter 7 Network Evolution 303
Objectives 303
Key Terms 303
Introduction (7.0.1.1) 305
Internet of Things (7.1) 305
IoT Elements (7.1.1) 305
What Is the IoT? (7.1.1.1) 305
The Converged Network and Things (7.1.1.2) 305
Challenges to Connecting Things (7.1.1.3) 306
The Six Pillars of the Cisco IoT System (7.1.1.4) 307
IoT Pillars (7.1.2) 307
The Network Connectivity Pillar (7.1.2.1) 308
The Fog Computing Pillar (7.1.2.2) 308
The Security Pillar (7.1.2.3) 311
Data Analytics Pillar (7.1.2.4) 312
Management and Automation Pillar (7.1.2.5) 313
Application Enablement Platform Pillar (7.1.2.6) 313
Cloud and Virtualization (7.2) 314
Cloud Computing (7.2.1) 314
Cloud Overview (7.2.1.2) 314
Cloud Services (7.2.1.3) 315
Cloud Models (7.2.1.4) 315
Cloud Computing versus Data Center (7.2.1.5) 316
Virtualization (7.2.2) 317
Cloud Computing and Virtualization (7.2.2.1) 317
Dedicated Servers (7.2.2.2) 318
Server Virtualization (7.2.2.3) 319
Advantages of Virtualization (7.2.2.4) 320
Abstraction Layers (7.2.2.5) 321
Type 2 Hypervisors (7.2.2.6) 321
Virtual Network Infrastructure (7.2.3) 323
Type 1 Hypervisors (7.2.3.1) 323
Installing a VM on a Hypervisor (7.2.3.2) 324
Network Virtualization (7.2.3.3) 324
Network Programming (7.3) 326
Software-Defined Networking (7.3.1) 326
Control Plane and Data Plane (7.3.1.1) 326
Virtualizing the Network (7.3.1.2) 327
SDN Architecture (7.3.1.3) 329
Controllers (7.3.2) 331
SDN Controller and Operations (7.3.2.1) 331
Cisco Application Centric Infrastructure (7.3.2.2) 332
Core Components of ACI (7.3.2.3) 332
Spine-Leaf Topology (7.3.2.4) 333
SDN Types (7.3.2.5) 334
APIC-EM Features (7.3.2.6) 336
APIC-EM ACL Analysis (7.3.2.7) 337
Summary (7.4) 340
Practice 341
Check Your Understanding Questions 341
Chapter 8 Network Troubleshooting 347
Objectives 347
Key Terms 347
Introduction (8.0.1.1) 349
Troubleshooting Methodology (8.1) 349
Network Documentation (8.1.1) 349
Documenting the Network (8.1.1.1) 349
Network Topology Diagrams (8.1.1.2) 352
Establishing a Network Baseline (8.1.1.3) 355
Steps to Establish a Network Baseline (8.1.1.4) 355
Measuring Data (8.1.1.5) 358
Troubleshooting Process (8.1.2) 360
General Troubleshooting Procedures (8.1.2.1) 360
Gathering Symptoms (8.1.2.2) 362
Questioning End Users (8.1.2.3) 364
Isolating the Issue Using Layered Models (8.1.3) 365
Using Layered Models for Troubleshooting (8.1.3.1) 365
Troubleshooting Methods (8.1.3.2) 367
Other Troubleshooting Methods (8.1.3.3) 370
Guidelines for Selecting a Troubleshooting Method (8.1.3.4) 371
Troubleshooting Scenarios (8.2) 372
Using IP SLA (8.2.1) 372
IP SLA Concepts (8.2.1.1) 372
IP SLA Configuration (8.2.1.2) 373
Sample IP SLA Configuration (8.2.1.3) 375
Verifying an IP SLA Configuration (8.2.1.4) 376
Troubleshooting Tools (8.2.2) 377
Software Troubleshooting Tools (8.2.2.1) 377
Protocol Analyzers (8.2.2.2) 379
Hardware Troubleshooting Tools (8.2.2.3) 380
Using a Syslog Server for Troubleshooting (8.2.2.4) 385
Symptoms and Causes of Network Troubleshooting (8.2.3) 387
Physical Layer Troubleshooting (8.2.3.1) 387
Data Link Layer Troubleshooting (8.2.3.2) 390
Network Layer Troubleshooting (8.2.3.3) 392
Transport Layer Troubleshooting: ACLs (8.2.3.4) 394
Transport Layer Troubleshooting: NAT for IPv4 (8.2.3.5) 396
Application Layer Troubleshooting (8.2.3.6) 397
Troubleshooting IP Connectivity (8.2.4) 398
Components of Troubleshooting End-to-End Connectivity (8.2.4.1) 398
End-to-End Connectivity Problem Initiates Troubleshooting (8.2.4.2) 400
Step 1: Verify the Physical Layer (8.2.4.3) 402
Step 2: Check for Duplex Mismatches (8.2.4.4) 404
Step 3: Verify Layer 2 and Layer 3 Addressing on the Local Network (8.2.4.5) 406
Step 4: Verify Default Gateway (8.2.4.6) 411
Step 5: Verify Correct Path (8.2.4.7) 415
Step 6: Verify the Transport Layer (8.2.4.8) 418
Step 7: Verify ACLs (8.2.4.9) 420
Step 8: Verify DNS (8.2.4.10) 422
Summary (8.3) 425
Practice 426
Check Your Understanding Questions 427
Appendix A Answers to the "Check Your Understanding" Questions 431
Glossary 443
9781587134326 TOC 8/11/2017
Other Things You Might Like

Book $81.00

eBook (Watermarked) $64.80