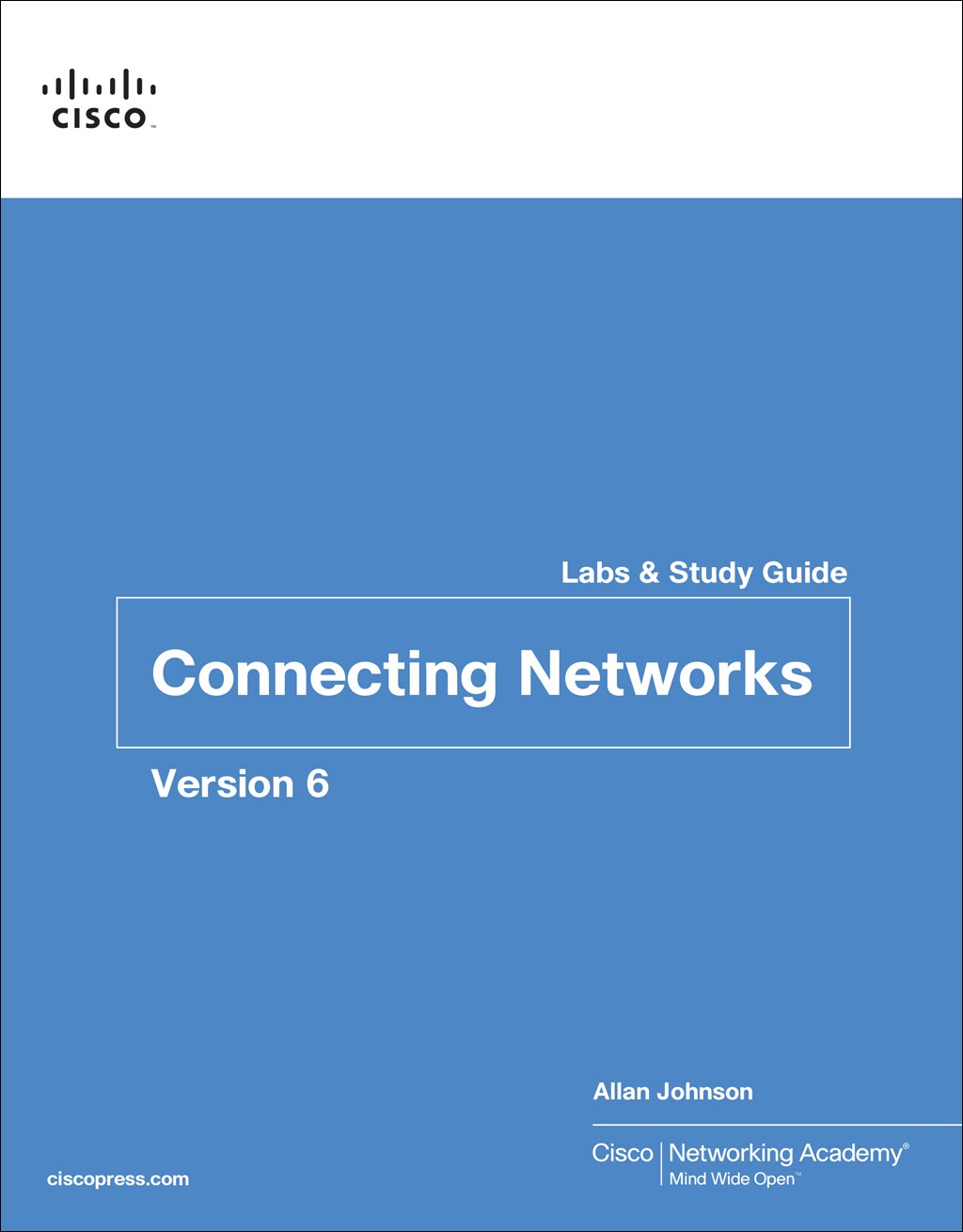 Share
|



Register your product to gain access to bonus material or receive a coupon.
Connecting Networks v6 Labs & Study Guide
Book
Your Price: $51.00
List Price: $56.67
Usually ships in 24 hours.
Features
Easy to read, highlight, and review on the go, wherever the Internet is not available.
Extracted directly from the online course
Copyright 2018
Dimensions: 8-1/2" x 10-7/8"
Pages: 320
Edition: 1st
Book
ISBN-10: 1-58713-429-2
ISBN-13: 978-1-58713-429-6
The only authorized Lab Manual for the Cisco Networking Academy Connecting Networks course in the CCNA Routing and Switching curriculum
Each chapter of this book is divided into a Study Guide section followed by a Lab section.
The Study Guide section offers exercises that help you learn the concepts, configurations, and troubleshooting skills crucial to your success as a CCNA R&S exam candidate. Each chapter is slightly different and includes some or all the following types of exercises:
Vocabulary Matching Exercises
Concept Questions Exercises
Skill-Building Activities and Scenarios
Configuration Scenarios
Packet Tracer Exercises
Troubleshooting Scenarios
The Labs & Activities include all the online course Labs and Packet Tracer activity instructions. If applicable, this section begins with a Command Reference that you will complete to highlight all the commands introduced in the chapter.

Sample Pages
Download the sample pages (includes Chapter 1 thru 3)
Table of Contents
Introduction xxii
Chapter 1 WAN Concepts 1
WAN Technologies Overview 1
Network Types and Their Evolving WAN Needs 1
WAN Operations and Terminology 1
Selecting a WAN Technology 3
Varieties of WAN Link Connections 3
Private and Public WAN Access Options 4
Labs and Activities 6
1.0.1.2 Class Activity—Branching Out 7
Objective 7
Scenario 7
Resources 7
1.2.4.3 Lab—Researching WAN Technologies 9
Objectives 9
Background/Scenario 9
Required Resources 9
Part 1: Investigate Dedicated WAN Technologies and Providers 9
Part 2: Investigate a Dedicated Leased Line Service Provider in Your Area 10
Reflection 12
1.3.1.1 Class Activity—WAN Device Modules 13
Objective 13
Scenario 13
Resources 13
Directions 13
Chapter 2 Point-to-Point Connections 15
Serial Point-to-Point Overview 15
Serial Communications 15
WAN Protocols 15
HDLC Encapsulation 16
HDLC Configuration and Troubleshooting 16
Troubleshooting Serial Interfaces 16
PPP Operation 17
PPP Components 17
PPP Sessions 19
Configure PPP 21
Basic PPP Configuration with Options 21
PPP Authentication 23
PAP Configuration 24
CHAP Configuration 25
Packet Tracer Exercise 2-1: PPP Implementation 25
Troubleshoot WAN Connectivity 25
Labs and Activities 27
Command Reference 27
2.0.1.2 Class Activity—PPP Persuasion 28
Objectives 28
Scenario 28
Resources 28
2.1.2.5 Packet Tracer—Troubleshooting Serial Interfaces 29
Topology 29
Addressing Table 29
Objectives 29
Scenario 29
Part 1: Diagnose and Repair the Physical Layer 30
Part 2: Diagnose and Repair the Data Link Layer 30
Part 3: Diagnose and Repair the Network Layer 31
2.3.2.6 Packet Tracer—Configuring PAP and CHAP Authentication 32
Topology 32
Addressing Table 32
Objectives 32
Background 33
Part 1: Review Routing Configurations 33
Part 2: Configure PPP as the Encapsulation Method 33
Part 3: Configure PPP Authentication 34
2.3.2.7 Lab—Configuring Basic PPP with Authentication 35
Topology 35
Addressing Table 35
Objectives 36
Background/Scenario 36
Required Resources 36
Part 1: Configure Basic Device Settings 36
Part 2: Configure PPP Encapsulation 37
Part 3: Configure PPP CHAP Authentication 46
Reflection 51
Router Interface Summary Table 51
2.4.1.4 Packet Tracer—Troubleshooting PPP with Authentication 52
Topology 52
Addressing Table 52
Objectives 52
Scenario 53
Part 1: Diagnose and Repair the Physical Layer 53
Part 2: Diagnose and Repair the Data Link Layer 53
Part 3: Diagnose and Repair the Network Layer 55
2.4.1.5 Lab—Troubleshooting Basic PPP with Authentication 56
Topology 56
Addressing Table 56
Objectives 57
Background/Scenario 57
Required Resources 57
Part 1: Build the Network and Load Device Configurations 57
Part 2: Troubleshoot the Data Link Layer 60
Part 3: Troubleshoot the Network Layer 62
Router Interface Summary Table 63
2.5.1.1 Class Activity—PPP Validation 64
Objective 64
Scenario 64
Resources 64
2.5.1.2 Packet Tracer—Skills Integration Challenge 66
Topology 66
Addressing Table 66
Background 67
Requirements 67
Chapter 3 Branch Connections 69
Broadband Connections 69
Cable 69
DSL 70
Broadband Wireless 71
Select a Broadband Solution Connection 72
PPPoE 72
PPPoE Overview 72
Configuring PPPoE 73
VPNs 74
Fundamentals of VPNs 74
Types of VPNs 75
GRE 76
Fundamentals of Generic Routing Encapsulation 76
Configuring GRE Tunnels 77
Packet Tracer Exercise 3-1: GRE Implementation 78
eBGP 79
BGP Overview 79
eBGP Branch Configuration 79
Packet Tracer Exercise 3-2: BGP Branch Configuration 80
Requirements 81
Labs and Activities 82
Command Reference 82
3.0.1.2 Class Activity—Broadband Varieties 83
Objective 83
Scenario 83
Resources 83
3.1.2.2 Lab—Researching Broadband Internet Access Technologies 84
Objectives 84
Background/Scenario 84
Required Resources 84
Part 1: Investigate Broadband Distribution 84
Part 2: Research Broadband Access Options for Specific Scenarios 87
Reflection 89
3.2.2.7 Lab—Configuring a Router as a PPPoE Client for DSL Connectivity 90
Topology 90
Addressing Table 90
Objectives 90
Background/Scenario 90
Required Resources 91
Part 1: Build the Network 91
Part 2: Configure the ISP Router 91
Part 3: Configure the Cust1 Router 92
Reflection 94
Router Interface Summary Table 94
3.2.2.8 Lab—Troubleshoot PPPoE 95
Topology 95
Addressing Table 95
Objectives 95
Background/Scenario 95
Required Resources 96
Part 1: Build the Network 96
Part 2: Troubleshoot PPPoE on Cust1 97
Reflection 100
Router Interface Summary Table 101
3.4.2.4 Packet Tracer—Configuring GRE 102
Topology 102
Addressing Table 102
Objectives 102
Scenario 102
Part 1: Verify Router Connectivity 103
Part 2: Configure GRE Tunnels 103
Part 3: Verify Router Connectivity 104
3.4.2.5 Packet Tracer—Troubleshooting GRE 105
Topology 105
Addressing Table 105
Objectives 105
Scenario 105
Part 1: Find and Correct All Network Errors 106
Part 2: Verify Connectivity 106
3.4.2.6 Lab—Configuring a Point-to-Point GRE VPN Tunnel 107
Topology 107
Addressing Table 107
Objectives 108
Background/Scenario 108
Required Resources 108
Part 1: Configure Basic Device Settings 108
Part 2: Configure a GRE Tunnel 109
Part 3: Enable Routing over the GRE Tunnel 111
Reflection 112
Router Interface Summary Table 113
3.5.3.5 Packet Tracer—Configure and Verify eBGP 114
Topology 114
Objectives 114
Background/Scenario 114
Address Table 114
3.5.3.5 Lab—Configure and Verify eBGP 116
Topology 116
Addressing Table 116
Objectives 116
Background/Scenario 116
Required Resources 116
Part 1: Build the Network and Configure Basic Device Settings 117
Part 2: Configure eBGP on R2 117
Part 3: Verify eBGP Configuration 118
Reflection 119
Router Interface Summary Table 120
3.6.1.1 Class Activity—VPN Planning Design 121
Objective 121
Scenario 121
Resources 121
3.6.1.2 Packet Tracer—Skills Integration Challenge 122
Topology 122
Addressing Table 122
Background/Scenario 123
Requirements 123
3.6.1.3 Lab—Configure a Branch Connection 125
Topology 125
Addressing Table 125
Objectives 125
Background/Scenario 126
Required Resources 126
Part 1: Build the Network and Load Device Configurations 126
Part 2: Configure a PPPoE Client Connection 128
Part 3: Configure a GRE Tunnel 129
Part 4: Configure BGP over PPPoE and BGP over a GRE Tunnel 130
Router Interface Summary Table 131
Chapter 4 Access Control Lists 133
ACL Operation 133
Guidelines for ACL Creation 134
Calculating Wildcard Masks 134
Wildcard Mask in Operation 135
Standard Versus Extended IPv4 ACLs 136
Guidelines for ACL Placement 136
Standard IPv4 ACLs 137
Configuring Standard IPv4 ACLs 137
Modifying IPv4 ACLs 140
Extended IPv4 ACLs 141
Configuring Extended IPv4 ACL Statements 141
Extended ACL Configuration Scenarios 141
Evaluating Extended IPv4 ACL Statements 142
Extended ACL Quiz 144
IPv6 ACLs 146
Comparing IPv4 and IPv6 ACLs 146
Configuring IPv6 ACLs 146
Troubleshoot ACLs 147
Labs and Activities 149
Command Reference 149
4.1.3.5 Packet Tracer—Configure Standard IPv4 ACLs 150
Topology 150
Addressing Table 150
Objectives 151
Background/Scenario 151
Part 1: Configure a Standard IPv4 ACL to Restrict Access to the Pink LAN 151
Part 2: Configure a Standard IPv4 ACL to Restrict Access to the Blue LAN 152
Part 3: Configure a Named Standard IPv4 ACL 152
Reflection 153
4.2.2.10 Packet Tracer—Configuring Extended ACLs—Scenario 1 154
Topology 154
Addressing Table 154
Objectives 154
Background/Scenario 154
Part 1: Configure, Apply, and Verify an Extended Numbered ACL 154
Part 2: Configure, Apply, and Verify an Extended Named ACL 157
4.2.2.11 Packet Tracer—Configuring Extended ACLs—Scenario 2 158
Topology 158
Addressing Table 158
Objectives 158
Background/Scenario 158
Part 1: Configure, Apply, and Verify an Extended Numbered ACL 158
Part 2: Reflection Questions 160
Suggested Scoring Rubric 160
4.2.2.12 Packet Tracer—Configuring Extended ACLs—Scenario 3 161
Topology 161
Addressing Table 161
Objectives 161
Background/Scenario 161
Part 1: Configure a Named Extended ACL 161
Part 2: Apply and Verify the Extended ACL 163
4.2.2.13 Lab—Configuring and Verifying Extended ACLs 164
Topology 164
Addressing Table 164
Objectives 165
Background/Scenario 165
Required Resources 165
Part 1: Set Up the Topology and Initialize Devices 166
Part 2: Configure Devices and Verify Connectivity 166
Part 3: Configure and Verify Extended Numbered and Named ACLs 168
Part 4: Modify and Verify Extended ACLs 170
Reflection 171
Router Interface Summary Table 172
4.3.2.6 Packet Tracer—Configuring IPv6 ACLs 173
Topology 173
Addressing Table 173
Objectives 173
Part 1: Configure, Apply, and Verify an IPv6 ACL 173
Part 2: Configure, Apply, and Verify a Second IPv6 ACL 174
4.3.2.7 Lab—Configuring and Verifying IPv6 ACLs 175
Topology 175
Addressing Table 175
Objectives 176
Background/Scenario 176
Required Resources 176
Part 1: Set Up the Topology and Initialize Devices 176
Part 2: Configure Devices and Verify Connectivity 176
Part 3: Configure and Verify IPv6 ACLs 180
Part 4: Edit IPv6 ACLs 181
Reflection 182
Router Interface Summary Table 183
4.4.2.9 Packet Tracer—Troubleshooting IPv4 ACLs 184
Topology 184
Addressing Table 184
Objectives 184
Scenario 185
Part 1: Troubleshoot ACL Issue 1 185
Part 2: Troubleshoot ACL Issue 2 185
Part 3: Troubleshoot ACL Issue 3 186
Suggested Scoring Rubric 186
4.4.2.10 Packet Tracer—Troubleshooting IPv6 ACLs 187
Topology 187
Addressing Table 187
Objectives 187
Scenario 188
Part 1: Troubleshoot HTTP Access 188
Part 2: Troubleshoot FTP Access 189
Part 3: Troubleshoot SSH Access 189
Suggested Scoring Rubric 190
4.4.2.11 Lab—Troubleshooting ACL Configuration and Placement 191
Topology 191
Addressing Table 192
Objectives 192
Background/Scenario 192
Required Resources 193
Part 1: Build the Network and Configure Basic Device Settings 194
Part 2: Troubleshoot Internal Access 196
Part 3: Troubleshoot Remote Access 198
Part 4: Troubleshoot IPv6 ACL 199
Reflection 200
Router Interface Summary Table 201
4.5.1.1 Packet Tracer—Skills Integration Challenge 202
Topology 202
Addressing Table 202
Scenario 203
Requirements 203
Chapter 5 Network Security and Monitoring 205
LAN Security 205
Common Security Attacks 206
LAN Attack Mitigation 206
SNMP 207
SNMP Operation 207
Configuring SNMP v2c 209
Configuring SNMP v3 210
Cisco Switch Port Analyzer 211
SPAN Terminology 211
SPAN Configuration 212
Labs and Activities 213
Command Reference 213
5.0.1.2 Class Activity—Network Maintenance Development 214
Objective 214
Scenario 214
Resources 214
Directions 214
5.2.1.9 Lab—Researching Network Monitoring Software 215
Objectives 215
Background/Scenario 215
Required Resources 215
Part 1: Survey Your Understanding of Network Monitoring 215
Part 2: Research Network Monitoring Tools 215
Part 3: Select a Network Monitoring Tool 216
Reflection 217
5.2.2.6 Lab—Configuring SNMP 218
Topology 218
Addressing Table 218
Objectives 218
Background/Scenario 218
Required Resources 219
Part 1: Build the Network and Configure Basic Device Settings 219
Part 2: Configure SNMPv2 Manager and Agent 220
Part 3: Configure SNMPv3 Manager and Agent 223
Reflection 227
Router Interface Summary Table 228
5.3.2.3 Lab—Implement Local SPAN 229
Topology 229
Addressing Table 229
Objectives 229
Background/Scenario 229
Required Resources 230
Part 1: Build the Network and Verify Connectivity 230
Part 2: Configure Local SPAN and Capture Copied Traffic with
Wireshark 231
Reflection 234
Router Interface Summary Table 234
5.3.3.2 Lab—Troubleshoot LAN Traffic Using SPAN 235
Topology 235
Addressing Table 235
Objectives 235
Background/Scenario 235
Required Resources 236
Part 1: Build the Network and Verify Connectivity 236
Part 2: Configure Local SPAN and Capture Copied Traffic with
Wireshark 237
Reflection 240
Router Interface Summary Table 240
Chapter 6 Quality of Service 241
QoS Overview 241
Network Transmission Quality Terminology 242
Traffic Characteristics 243
Queuing Algorithms 243
Queuing Algorithm Characteristics 245
QoS Mechanisms 246
QoS Models 246
QoS Implementation Techniques 246
Labs and Activities 250
Chapter 7 Network Evolution 251
Internet of Things 252
Cloud and Virtualization 252
Cloud Computing Terminology 253
Virtualization Terminology 254
Network Programming 254
Control and Data Plane 254
Types of SDN Controllers 255
APIC-EM Features and Terminology 255
Labs and Activities 256
Chapter 8 Network Troubleshooting 257
Troubleshooting Methodology 257
Network Documentation 257
Troubleshooting Process 259
Troubleshooting Scenarios 261
Using IP SLA 261
Troubleshooting Tools 262
Network Troubleshooting and IP Connectivity 263
Labs and Activities 265
Command Reference 265
8.0.1.2 Class Activity—Network Breakdown 266
Objective 266
Scenario 266
Resources 266
Directions 266
8.1.1.8 Packet Tracer—Troubleshooting Challenge—Documenting the Network 267
Topology 267
Addressing Table 267
Objectives 268
Background/Scenario 268
Part 1: Test Connectivity 268
Part 2: Discover PC Configuration Information 268
Part 3: Discover the Configuration Information of the Default Gateway 269
Part 4: Discover Routes and Neighbors in the Network 269
Part 5: Draw the Network Topology 270
Suggested Scoring Rubric 271
8.2.1.5 Lab—Configure IP SLA ICMP Echo 272
Topology 272
Addressing Table 272
Objectives 272
Background/Scenario 272
Required Resources 273
Part 1: Build the Network and Verify Connectivity 273
Part 2: Configure IP SLA ICMP Echo on R1 274
Part 3: Test and Monitor the IP SLA Operation 274
Reflection 275
Router Interface Summary Table 276
8.2.4.12 Packet Tracer—Troubleshooting Enterprise Networks 1 277
Topology 277
Addressing Table 277
Background 278
Requirements 278
Troubleshooting Documentation 279
Verification Documentation 279
Suggested Scoring Rubric 279
8.2.4.13 Packet Tracer—Troubleshooting Enterprise Networks 2 280
Topology 280
Addressing Table 280
Background 280
Requirements 281
Troubleshooting Documentation 281
Verification Documentation 282
Suggested Scoring Rubric 282
8.2.4.14 Packet Tracer—Troubleshooting Enterprise Networks 3 283
Topology 283
Addressing Table 283
Background 284
Requirements 284
Troubleshooting Documentation 285
Verification Documentation 285
Suggested Scoring Rubric 285
8.2.4.15 Packet Tracer—Troubleshooting Challenge—Using Documentation to Solve Issues 286
Topology 286
Addressing Table 286
Objectives 287
Scenario 287
Part 1: Gather Documentation 287
Part 2: Test Connectivity 287
Part 3: Gather Data and Implement Solutions 288
Part 4: Test Connectivity 288
Suggested Scoring Rubric 289
8.3.1.1 Class Activity—Documentation Development 290
Objective 290
Scenario 290
Resources 290
Topology 292
Addressing Table 292
VLAN Configurations and Port Mappings 293
Scenario 293
Requirements 293
9781587134296, TOC, 7/24/2017

Other Things You Might Like

Book $72.00

eBook (Watermarked) $57.60