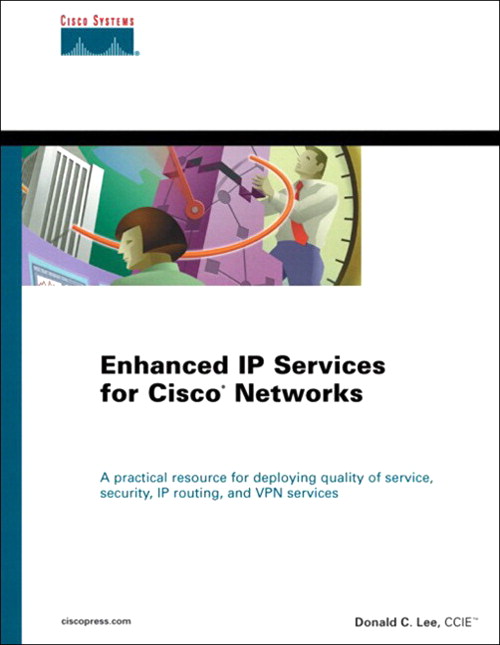 Share
|



Register your product to gain access to bonus material or receive a coupon.
Enhanced IP Services for Cisco Networks
eBook (Watermarked)
Your Price: $35.20
List Price: $44.00

This PDF will be accessible from your Account page after purchase and requires the free Adobe® Reader® software to read it.

The eBook requires no passwords or activation to read. We customize your eBook by discreetly watermarking it with your name, making it uniquely yours.
Copyright 2000
Dimensions: 7-3/8" x 9-1/8"
Edition: 1st
eBook (Watermarked)
ISBN-10: 1-58705-431-0
ISBN-13: 978-1-58705-431-0
Learn how to manage and deploy the latest IP services in Cisco-centric networks.
Understand VPN security concepts: confidentiality, integrity, origin authentication, non-repudiation, anti-replay, perfect forward secrecy
Deploy quality of service technologies to protect your mission-critical applications
Find out how IPsec technology works and how to configure it in IOS
Learn how to set up a router as a firewall and intrusion detection system
Gain efficient use of your IP address space with NAT, VLSM, IP unnumbered
Solve real-world routing problems with redistribution, route filtering, summarization, policy routing
Enable authentication, authorization, and accounting (AAA) security services wih RADIUS and TACACS+ servers
Enhanced IP Services for Cisco Networks is a guide to the new enabling and advanced IOS services that build more scalable, intelligent, and secure networks. You will learn the technical details necessary to deploy quality of service and VPN technologies, as well as improved security and advanced routing features. These services will allow you to securely extend the network to new frontiers, protect your network from attacks, and enhance network transport with application-level prioritization.
This book offers a practical guide to implementing IPsec, the IOS Firewall, and IOS Intrusion Detection System. Also included are advanced routing principles and quality of service features that focus on improving the capability of your network. A good briefing on cryptography fully explains the science that makes VPNs possible. Rather than being another routing book, this is a guide to improving your network's capabilities by understanding and using the sophisticated features available to you in Cisco's IOS software
Table of Contents
I. MANAGING ROUTING.
1. Managing Your IP Address Space.
Review of Traditional IP Addressing. Subnetting a Classful Address Space. Major Nets and Subnet Masks. Classful Subnetting: An Example. Calculating the Number of Host Addresses in a Subnet. Finding Subnet Information, Given a Host Address and the Mask. Disadvantages of Subnetting. The Rules on Top and Bottom Subnets. Using Subnet-Zero to Get Around the Rules. Subnetting with Variable Length Subnet Masks. Using VLSM for Address Space Efficiency: An Example. Final VLSM Results for Widget, Inc. Overview of Classless Addressing. Using VLSM Techniques with Classless Addressing. Routing Protocols and Classless Addressing. Planning for Address Summarization. Conserving Subnets with IP Unnumbered. Scaling the Address Space with Network Address Translation. Translating Private Addresses into Public Addresses. Configuring NAT. Creating a Pool of Discontiguous Addresses. Configuring Static NAT. Special Applications and NAT. More Important Points on NAT. Summary.
2. Deploying Interior Routing Protocols.
A Brief Review of Internetworking. Deploying RIP. Directly Connected Networks. Configuring RIP. Verifying RIP Configuration. Deploying IGRP. Configuring IGRP. Verifying IGRP Configuration. Deploying Enhanced IGRP. Configuring EIGRP. Verifying EIGRP Configuration. Deploying OSPF. Configuring OSPF. Verifying OSPF Configuration. Summary.
3. Managing Routing Protocols.
Configuring Passive Interfaces. Filtering Routing Updates. Managing Redistribution. Configuring Redistribution--RIP and OSPF. Redistributing into IGRP and EIGRP. Understanding Administrative Distance. Controlling Redistribution Loops with Route Filters. Resolving Issues with VLSM and Classful Routing Protocols. Leveraging Default Routing. Propagation of Default Routes. Originating a Default Route with RIP. Originating a Default Route with IGRP. Originating a Default Route with EIGRP. Originating a Default Route with OSPF. Default Routing and Classful Behavior. Configuring Route Summarization. Understanding EIGRP Auto-Summarization. Configuring EIGRP Summarization. Configuring OSPF Summarization Between Areas. Configuring OSPF Summarization During Redistribution. Deploying Policy Routing with Route Maps. Forwarding Traffic with Route Maps. Classifying Packets with Route Maps. Setting Next-Hop and Precedence in Tandem. Other Policy-Routing Commands. Summary.
II. MANAGING QUALITY OF SERVICE.
4. Deploying Basic Quality of Service Features.
The Case for QoS. Queuing in a Router. First-In, First-Out Queuing. FIFO: An Example. Priority Queuing. Queuing and Classifying Packets with Priority Queuing. Priority Queuing Strategy. Configuring Priority Queuing. Verifying the Priority Queuing Configuration. Adjusting the Queue Sizes in Priority Queuing. Custom Queuing. Configuring Custom Queuing. Verifying the Custom Queuing Configuration. Adjusting the Queue Sizes in Custom Queuing. Understanding IP Precedence. Setting IP Precedence. QoS Benefits of IP Precedence. Diffserv Redefines IP Precedence. Weighted Fair Queuing. Configuring Weighted Fair Queuing. Fair Queuing in Action. Fair Queuing Versus FIFO. Weighting and IP Precedence. Weighted Fair Queuing on a Network. Summary.
5. Deploying Advanced Quality of Service Features.
Resource Reservation Protocol. RSVP Admission Control. RSVP Signaling Versus Bulk Data. The RSVP Signaling Process. RSVP and Weighted Fair Queuing. Configuring RSVP. Verifying RSVP Configuration. Configuring IOS as a Proxy for Path and Resv Messages. RSVP Scaling Considerations. Random Early Detection. Dynamics of Network Congestion and Tail Drops. Global Synchronization. TCP Slow Start. Ill Effects of Global Synchronization and TCP Slow Start. How RED Works. RED and IP Precedence (Weighted RED). Configuring WRED. Verifying WRED Configuration. Committed Access Rate. Rate Policies. Configuring Cisco Express Forwarding. Configuring CAR. Validating CAR Configuration. Class-Based WFQ. Configuring CBWFQ. Verifying CBWFQ. Summary.
III. MANAGING SECURITY.
6. Deploying Basic Security Services.
Controlling Traffic with Access Control Lists. Filtering Traffic with Access Lists. Standard IP Access Lists. Important Points for Designing Access Lists. The Invisible Rule in Every Access List. Extended IP Access Lists. Access Lists for Combating Spoofing Attacks. Securing Access to the Router. Securing the Enable Mode of a Router. Securing Telnet Access. Securing Access to the Console Port. Deploying Authentication, Authorization, and Accounting. Authentication, Authorization, and Accounting. Configuring Authentication for Network Access over PPP. Using the Default Authentication List. Configuring Authentication for Router Logins. The Local Username Database. Configuring Authorization. Configuring Accounting. Pointing the Router to the RADIUS or TACACS+ AAA Server. Other IOS Commands for Basic Security. Disable TCP and UDP Small Servers. Disable IP Source Routing. Disable CDP on Public Links. Disable Directed Broadcasts on Interfaces. Summary.
7. Advanced Security Services, Part I: IPsec.
IPsec Enables Virtual Private Networks. Benefits of IPsec's Layer 3 Service. Basic IPsec Security Concepts and Cryptography. Confidentiality (Encryption). Integrity. Hashing Algorithms: Examples with Message Digest 5. Origin Authentication. Anti-Replay. IPsec Concepts. Peers. Transform Sets. Security Associations. Transport and Tunnel Modes. Authentication Header and Encapsulating Security Payload. Internet Key Exchange. Tying All of the Pieces Together: A Comprehensive Example with IPsec and IKE. Configuring IKE. Configuring IKE with Pre-Shared Keys. Configuring IKE with RSA Encryption. Configuring IKE with RSA Signatures and Digital Certificates. Additional Commands for IKE. Validating IKE Configuration. When Are IKE SAs Established? Configuring IPsec. Crypto Maps. Crypto Map Configuration Overview. Configuring Crypto Access Lists. Crypto Access Lists: An Example. Configuring IPsec Transform Sets. Configuring and Applying Crypto Maps. When Are SAs Established? Configuring IPsec SA Lifetimes. Configuring Perfect Forward Secrecy. Configuring Dynamic Crypto Maps. Tunnel Endpoint Discovery. Validating IPsec Configuration. Troubleshooting IPsec and IKE. Check Configurations and Show Commands. Enable Debugging and Clearing Existing SAs. Summary.
8. Advanced Security Services, Part II: IOS Firewall Feature Set.
IOS Firewall Fundamentals. Defending the Perimeter Against Attacks. How Context-Based Access Control Works. Configuring CBAC. CBAC Example: A Basic Two-Port Firewall. Validating CBAC Configuration. Configuring CBAC Inspection of Other Applications. Adjusting CBAC Timers and Thresholds. Adjusting CBAC Session Timers. Overriding Global Timers with Inspection Rules. Adjusting CBAC Denial of Service Thresholds. Enabling Auditing of Sessions. CBAC with a Demilitarized Zone. Basic Security Commands for the Firewall Router. Configuring the Inspection Rule. Configuring the Private Network Interface. Configuring the DMZ Network Interface. Configuring the Internet Interface. Notes on CBAC Performance. Configuring Java Applet Blocking for Security. The IOS Intrusion Detection System. Configuring IDS. Additional Commands for IDS. Summary.
IV. APPENDIXES.
Appendix A: Obtaining IETF RFCs.
Via the World Wide Web. Via FTP. Via E-Mail. Finding Current RFCs. Authoring RFCs.
Appendix B: Retrieving Internet Drafts.
Via the World Wide Web. Via FTP. Via E-Mail. Authoring Internet Drafts.
Appendix C: Common TCP and UDP Ports.
Appendix D: Password Recovery.
Recovering a Lost Password on Most Router Models. Recovering a Lost Password on Other Router Models.
Appendix E: A Crash Course in Cisco IOS.
Connecting to the Router. Connect via Direct Serial Cable to the Console Port. Connect via Telnet over the IP Network. Connect via the AUX Port or Other Asynchronous Serial Port. Modes. User EXEC Mode. Privileged EXEC Mode (Enable Mode). Global Configuration Mode. Interface Configuration Mode. Subinterface Configuration Mode. Line Configuration Mode. Other Configuration Modes. Context-Based Help, Navigation, and Line Editing. Context-Based Help. Navigation. Line Editing. Common IOS Commands. Extended Ping. Extended Traceroute. Common Configuration Tasks. The Setup Utility (Initial Configuration Dialog). Set the Enable Password. Set the Router's Hostname. Make a Banner. Set the System Clock and Date. Set the Domain Name. Set the Name Server(s). Populate the Router's Local Host Table. Set SNMP Community Strings. Set SNMP Trap Hosts. Enable the Router to Send SNMP Traps. Point the Router to a Syslog Server. Configure Timestamping of System and Debug Messages. Point the Router to a Network Time Protocol (NTP) Server. Set the Time Zone. Set Daylight Saving Time Information. Configure a Static Route. Configure a Default Route. Configure an IP Address on an Interface. Other Interface Configuration Tasks. Configure the Location of the Boot Image. Retract (undo) Configuration Commands. Common Show Commands. General Show Commands. Resource Show Commands. Interface Show Commands. Network Show Commands. Routing Show Commands. Using the Router as a Terminal Server (Communications Server). Enabling IOS Web-Based Management.
Bibliography.
Index.
Other Things You Might Like



eBook (Watermarked) $38.39