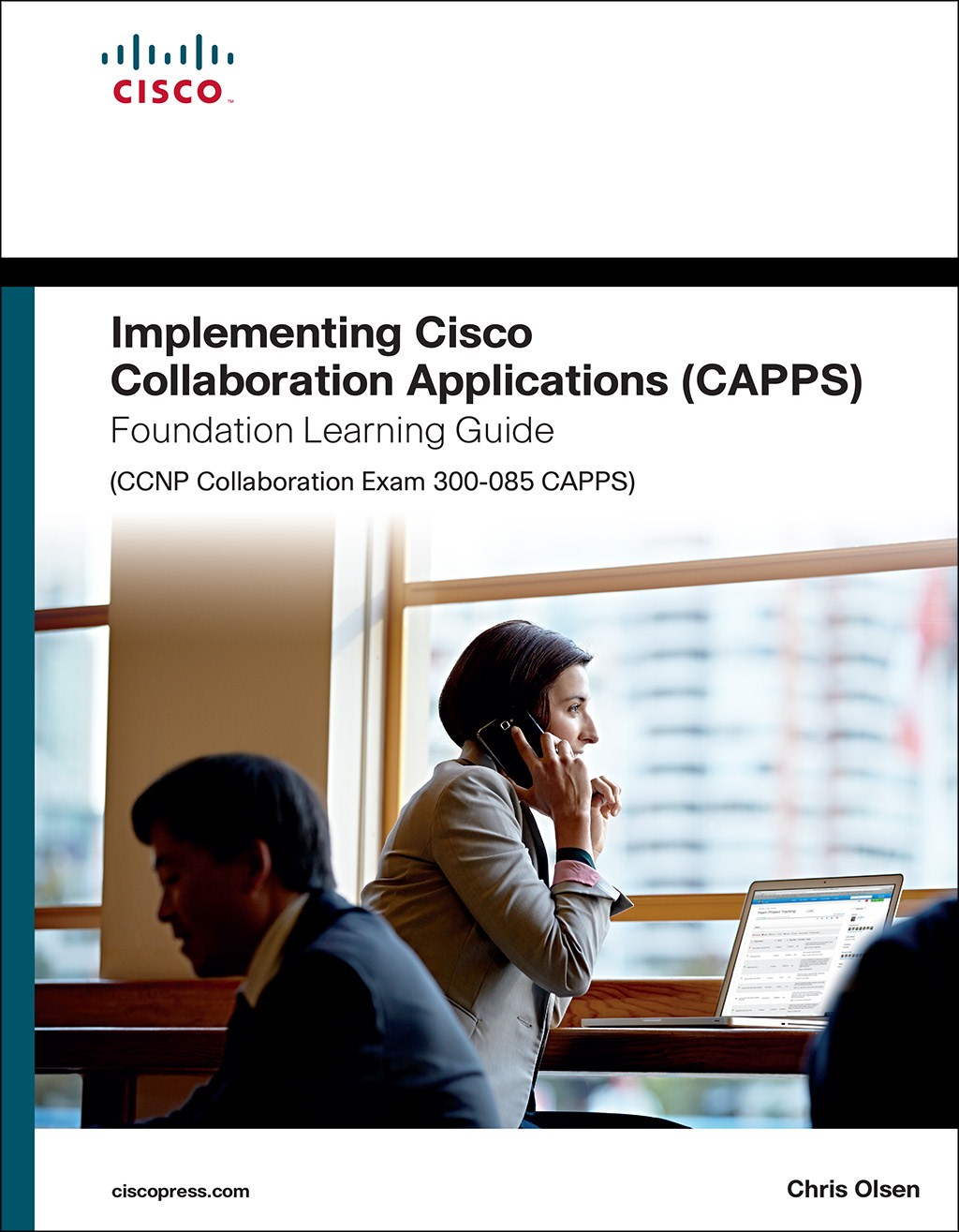 Register your product to gain access to bonus material or receive a coupon.
Implementing Cisco Collaboration Applications (CAPPS) Foundation Learning Guide (CCNP Collaboration Exam 300-085 CAPPS)
eBook (Watermarked)
Your Price: $44.79
List Price: $55.99
Includes EPUB and PDF

This eBook includes the following formats, accessible from your Account page after purchase:

EPUB The open industry format known for its reflowable content and usability on supported mobile devices.

PDF The popular standard, used most often with the free Adobe® Reader® software.

This eBook requires no passwords or activation to read. We customize your eBook by discreetly watermarking it with your name, making it uniquely yours.
Copyright 2016
Dimensions: 7-3/8" x 9-1/8"
Pages: 464
Edition: 1st
eBook (Watermarked)
ISBN-10: 0-13-427288-9
ISBN-13: 978-0-13-427288-7
Now fully updated for the new Cisco CAPPS 300-085 exam, Implementing Cisco Collaboration Applications (CAPPS) Foundation Learning Guide is your Cisco® authorized learning tool for CCNP® Collaboration preparation. Part of the Cisco Press Foundation Learning Series, it teaches advanced skills for designing, deploying, configuring, and troubleshooting Cisco Collaboration and Unified Communications applications, devices, and networks.
Author Chris Olsen shows how to effectively use Cisco Unity Connection, Cisco Unity Express, Cisco Instant Message and Presence, Cisco TelePresence Video Communication Server, and Cisco TelePresence Management Suite in production environments.
He begins by introducing the server platforms and overlays that are the basis for all Cisco Unity Connection design and integration. Next, he presents in-depth coverage of a wide range of essential tasks–from user configuration to voicemail redundancy, configuring Cisco Jabber Mobile, to provisioning Cisco Prime Collaboration.
Each chapter opens with a list of topics that clearly identifies its focus. Each chapter ends with a summary of key concepts for quick study, as well as review questions to assess and reinforce your understanding. Throughout, configuration examples and sample verification outputs illustrate critical issues in network operation and troubleshooting.
Whether you are preparing for the CCNP Collaboration certification exams or you are just interested in learning about how to deploy and operate Cisco collaboration applications, you will find this book to be an invaluable resource.
Shows how to integrate Cisco Unity Connection with Cisco Unified Communications Manager or other PBXs
Covers configuring Cisco Unity Connection users, templates, service classes, distribution lists, security, LDAP, dial plans, and call management
Walks through Unified Messaging single Inbox configuration
Shows how to design, integrate, and configure feature-rich branch office messaging solutions with Cisco Unity Express
Explains Cisco Unified IM and Presence components, design, integration, deployment, and feature configuration
Covers Cisco Jabber and Cisco Jabber Mobile configuration
Guides you through deploying Cisco Collaboration Systems Applications with Cisco Prime Collaboration
Introduces Cisco TelePresence Management Suite (Cisco TMS) capabilities and scheduling options
This book is in the Foundation Learning Guide Series. These guides are developed together with Cisco® as the only authorized, self-paced learning tools that help networking professionals build their understanding of networking concepts and prepare for Cisco certification exams.
Table of Contents
Introduction xxii
Chapter 1 Designing and Deploying Cisco Unity Connection 1
Physical Server Choices for Cisco Collaboration System Applications 2
VMware vSphere ESXi Virtualization 3
Physical and Virtual Architecture Comparison 3
Virtual Machine Encapsulation and Files 4
Typical Versus Custom Virtual Machine Creation 5
OVA Template for Cisco Unity Connection 7
Resizing Virtual Machine Resources 8
Shares and Reservations 9
Virtual Switch and NIC Teaming 11
NIC Teaming 12
Storage Overview 13
Sizing and Scaling Cisco Unity Connection Servers 14
Active-Active, High-Availability Deployment 16
Cisco Unity Connection Deployment Options 17
Single-Site Deployment 17
Centralized Multisite Deployment 18
Decentralized Multisite Deployment 19
Traffic-Pattern Evaluation Example 20
Centralized Cisco Unity Connection System Example 21
Cisco Unity Connection Networking 21
Cisco Unity Connection Links 23
Digital Networking with Active-Active Pairs 24
Voice Profile for Internet Mail 24
HTTPS Networking 25
Cisco MediaSense Overview 27
Cisco MediaSense Five-Server Deployment 28
Cisco MediaSense Virtualization and Platform Overlays 30
Video Compatibility Matrix and Network Topology 31
Video Network Topology 31
Design Guidelines for Video Greetings 32
Video Greetings Operation 32
Call Flows 33
Leaving or Retrieving a Message 33
Additional Call-Flow Options 34
Voice-Messaging Call Flows in SRST and AAR Mode 35
SRST and Cisco Unity Connection 35
AAR and Cisco Unity Connection 36
Summary 37
Review Questions 37
Chapter 2 Integrating Cisco Unity Connection with Cisco Unified Communications Manager 39
Cisco Unity Connection Administration 40
Cisco Unified RTMT 40
Cisco Prime Licensing for Voice Messaging 41
Add Cisco Unity Connection in Cisco PLM 42
Cisco Unity Connection Integration Options 43
Cisco Unity Connection SCCP Integration 44
Cisco Unity Connection SIP Integration 45
Cisco Unity Connection Integration Troubleshooting Tools 46
On-Net and Off-Net Calls 47
Call Forward Options 48
Cisco Unity Connection Call Routing 49
Port Monitor 50
Default Call-Routing Behavior 51
Direct Call Routing 52
Forwarded Call Routing 53
Integration Considerations 54
Summary 55
Review Questions 55
Chapter 3 Configuring Cisco Unity Connection Users, Templates, and Class of Service 57
Cisco Unity Connection Class of Service 58
User Access to Features 59
Cisco Unity Connection User Templates 59
User Template Example 60
User-Creation Options 61
Cisco Unity Connection User 62
Password Settings and Roles 63
User Transfer Rules 64
Greetings 65
TUI Experience 66
Alternate Extensions 66
Voice Mailbox 67
Mailbox Stores and Membership 68
Message Aging Policy and Mailbox Quotas 68
Private Distribution Lists 69
Notification Devices 70
Summary 71
Review Questions 71
Chapter 4 Configuring the Cisco Unity Connection System 73
Cisco Unity Connection System Settings Overview 74
General Settings Versus User Settings 75
General Configuration 76
Time Zone Usage 77
Cisco Unity Connection Distribution Lists 79
Cisco Unity Connection Authentication 80
Check for Trivial Passwords 82
Roles 82
Cisco Unity Connection Restriction Tables 83
Cisco Unity Connection LDAP Integration 84
Import of Users from LDAP Server 84
Imported User 86
Phone Number Conversion 87
Search Base 88
LDAP Filter 89
Import of Users from CUCM 91
Imported CUCM User 91
Summary 92
Review Questions 93
Chapter 5 Implementing Cisco Unity Connection Dial Plan and Call Management 95
Cisco Unity Connection Dial Plan Components 96
Comparing Dial Plans 96
Dial Plan Example 97
Cisco Unity Connection Call Handler Types 98
Cisco Unity Connection Call Handler Comparison 99
Call Handler Reachability 99
Auto-Attendant Example 100
Call Handler Templates 101
Call Handler Template Options 102
Caller Input 104
Default Call Handler Flow 105
Greeting Analysis 106
Caller Input Analysis 106
Operator Call Handler 108
Operator Not Available 108
Goodbye Call Handler 109
Directory Handler 109
Interview Handler 111
Summary 112
Review Questions 113
Chapter 6 Configuring Unified Messaging 115
Unified Messaging Terminology 116
Single Inbox High-Level Architecture 116
Single Inbox Functionality 117
Unified Messaging Benefits 117
Exchange E-mail Integration Options 118
Cisco Unity Connection Deployment Options 118
Security, Compliance, and Discoverability 119
Message Synchronization Architecture 119
Synchronization Behavior 120
Configure Integrated Messaging 121
Account Verification 122
Task List to Set Up Unified Messaging Single Inbox 122
Exchange Mailbox Moves 123
Back Up and Restore of Mailboxes 124
Summary 124
Review Questions 125
Chapter 7 Troubleshooting Cisco Unity Connection 127
Troubleshooting Cisco Unity Connection 128
Reorder Tone 129
Call Forward to Cisco Unity Connection 129
Route Pattern Affecting Call Forward 130
Login Not Working 131
PIN Not Accepted 131
MWI Issues 132
MWI Status 134
Wrong Greeting 134
Rules and Conditions 134
Time Schedule 135
Voice Messages 135
Call Handler Transfer Issues 136
Call Handler Issues 136
AAR and Cisco Unified SRST Issues 137
Cisco Unified RTMT 138
Cisco Unity Connection Performance Counters 139
Cisco Unity Connection Session Performance Counters 139
Alert Properties 140
Reporting in Cisco Unity Connection 141
MWI Troubleshooting 142
Macro Traces 143
Summary 143
Review Questions 143
Chapter 8 Deploying Voice-Mail Redundancy in Branch Offices 145
Introduction to Cisco Unity Connection SRSV 146
Specifications for Virtual Platform Overlay 147
Cisco Unity Connection SRSV Solution 147
Cisco Unity Connection SRSV Licensing 148
Limitations in Cisco Unity Connection SRSV Mode 149
SRSV Configuration Checklist for Branch Sites 149
Activate Cisco Unity Connection SRSV 150
DNS, Domains, and Self-Signed Certificates 150
Cisco Unity Connection SRSV Menu Overview 151
SRSV Configuration Checklist for Headquarters Site 151
Set Up Headquarters Cisco Unity Connection 151
Automatic Provisioning and Polling 153
Monitor the Provisioning and Polling Status 153
Replicate System Distribution List 154
Troubleshooting Issues in Provisioning 154
Summary 155
Review Questions 155
Chapter 9 Designing and Deploying Cisco Unity Express 157
Cisco Unity Express 158
Cisco Services-Ready Engine 159
User Access 160
CUE Auto-Attendant 160
Schedules 161
Integrated Messaging 162
Distribution Lists 162
Notifications 163
Notification for Scheduled Backup 164
CUE Integration 164
Deployment Models 165
Voice Messaging System Comparison 168
Summary 168
Review Questions 168
Chapter 10 Integrating Cisco Unity Express with Cisco Unified Communications Manager Express 171
Voice Mail Integration on CUCM Manager Express 172
Service Module 172
Dial Peer Configuration 174
Voice Mail Access for SCCP Phones 175
MWI for SIP-Controlled IP Phones 175
MWI Options 176
MWI Outcall 177
MWI Using SIP Notification Messages 178
MWI SIP for Ephone-dns 179
Transcoding 180
Connecting and Initiating Cisco Unity Express Module 182
Software Installation 183
Software Versions and Licenses 184
Configure SIP Triggers for Default Applications: Voice Mail 186
Configure MWI Outcall Directory Numbers 187
Configure MWI Using SIP Notify 188
Summary 190
Review Questions 190
Chapter 11 Configuring Cisco Unity Express User Accounts and Features 193
System Settings 194
Authentication Rules 194
Subscribers 195
User Import 196
Mailboxes 196
Mailbox Defaults 197
Adding Mailboxes 197
Distribution Lists 198
Schedules and Holidays 199
Web Inbox 200
Message Notification 202
Privilege Levels 203
Cisco Unity Express VoiceView Express 204
Integrated Messaging 206
Summary 207
Review Questions 207
Chapter 12 Configuring Call Routing with Cisco Unity Express Auto-Attendant 209
Cisco Unity Express Auto-Attendant Overview 210
Cisco Unity Express Auto-Attendant Operation Example 210
Cisco Unity Express Auto-Attendant Features 211
Cisco Unity Express Windows Editor for Auto-Attendant Interactive Voice Response Script Comparison 212
Cisco Unity Express Auto-Attendant Configuration Checklist 213
Prompts 213
Administration via Telephone 214
Default System Scripts 215
Call Flow 216
Application Ports 216
Editor Express 217
Cisco Unity Express Windows Editor for Auto-Attendant Interactive Voice Response Scripts 218
Scripts 219
Summary 219
Review Questions 220
Chapter 13 Troubleshooting Cisco Unity Express 221
Call Processing to Messaging System Call Flow 222
CUCM Express 222
Cisco Unity Express Troubleshooting 224
Logging 225
Cisco Unity Trace Tool 226
Using trace Commands via CLI 226
GUI Macro Feature 228
SIP Troubleshooting 230
SIP Call Flow 230
Troubleshooting SIP Issues 232
Troubleshooting MWI Issues 233
Troubleshooting Mailbox Issues 234
Interpreting TUI Sessions 235
Summary 236
Review Questions 236
Chapter 14 Designing and Deploying Cisco Unified IM and Presence 239
CUCM Presence Introduction 240
CUCM Presence 241
Indicators for Speed-Dial Presence 242
CUCM Call Presence 242
CUCM Subscribe CSS 243
CUCM Presence Groups 244
Cisco Unified Communications IM&P Introduction 245
Microsoft Integration 246
OVA Template for Cisco Unified Communications IM&P 247
Cisco Unified Communications IM&P Cluster 248
CUCM Deployment Options 249
Service Discovery 250
Quality of Service 250
Cisco Jabber Port Usage 251
Enterprise Instant Messaging 252
Multicluster Deployment 252
Federated Deployment 253
Microsoft Skype for Business Federation 254
Mapping of Presence Status 255
Federation Preparation 256
Summary 257
Review Questions 257
Chapter 15 Describing Cisco Unified Communications IM and Presence Components and Communication Flows 259
Cisco Unified Communications IM&P Architecture 260
Cisco Unified Communications IM&P Cluster 261
Cisco Jabber Login Flow 262
Remote Access for Cisco Jabber Without VPN 263
Cisco Jabber Information Flow in Deskphone Mode 264
Cisco Jabber Information Flow in Softphone Mode 265
Cisco Jabber in Phone-Only Mode 265
Cisco Jabber and Voice Mail 266
Cisco Jabber and Conferencing 266
Integration with LDAP for Cisco Jabber 267
Cisco Unified Communications IM&P, Active Directory, and Microsoft Exchange 268
Summary 269
Review Questions 269
Chapter 16 Integrating Cisco Unified Communications IM and Presence 271
Set Up CUCM for Presence 272
Checklist for CUCM Setup 273
Cisco Jabber UC Services 274
Implementing Cisco Unified Communications IM&P 275
Checklist for Cisco Unified Communications IM&P Setup 276
Cisco Unified Communications IM&P Services 277
Cisco Jabber Service Discovery 279
Service Discovery: Domain 280
Service Discovery: Operating Mode 280
Cisco UDS SRV Record 282
SRV Records 282
DNS SRV Record Priorities and Weights 283
Troubleshoot DNS SRV Entries 284
Methods of Installation 285
Create a Custom Installer with Microsoft Orca 286
Summary 287
Review Questions 287
Chapter 17 Configuring Cisco Unified Communications IM and Presence Features and Implementing Cisco Jabber 289
Configure Cisco Jabber in Softphone Mode 290
Legacy Client Settings 291
Cisco Jabber UC Services 291
Visual Voice-Mail Interface for Cisco Jabber 292
Cisco Jabber in Softphone Mode 293
Cisco Jabber Account Options 294
Connection Status 294
LDAP Profile Test 295
Upload Jabber-Config File to TFTP Server 297
Voice-Mail Profile Test 298
Configure Cisco Jabber in Deskphone Mode 299
Cisco Jabber in Deskphone Mode 299
Cisco Jabber in Phone-Only Mode 300
Summary 301
Review Questions 302
Chapter 18 Configuring Cisco Jabber Mobile and Integrating Directory Servers 303
Cisco Jabber Framework Alignment 304
Configuration URL 305
Legacy Client Settings 306
Video Features 306
Dial-via-Office Reverse Calling 307
Low-Bandwidth Mode 308
URL Handlers 309
Secure Cisco Jabber on Mobile 309
Add Cisco Jabber in CUCM 310
Cisco Jabber User Configuration XML File 310
Cisco Jabber Configuration Sources 311
Cisco Jabber Contact Sources 312
Contact Lookup 313
Cisco UDS Directory Access 314
Photo Support 315
Summary 316
Review Questions 316
Chapter 19 Verifying and Troubleshooting Tools for Cisco Unified IM and Presence Components 319
System Dashboard 320
Cisco Unified IM&P Reporting 320
Presence Viewer 322
System Troubleshooter 322
Cisco Jabber Connection Status 324
Troubleshoot Common Cisco Jabber Issues 325
Cisco Unified IP Phone Cannot Be Selected 325
In Softphone Mode, Telephony Is Not Possible 326
Users Are Not Shown as on the Phone During an Active Call 327
End User Cannot Log In to Cisco Jabber 327
Search for Contacts Returns No Results 328
End User Cannot Control the Cisco Unified IP Phone 9971 328
Trace Filter Settings 328
Troubleshoot SIP Integration 329
Summary 330
Review Questions 331
Chapter 20 Deploying Cisco Collaboration Systems Applications with Cisco Prime™ Collaboration 333
Cisco Prime™ Collaboration Overview 334
Provisioning 334
Assurance 335
Analytics 335
Complete Lifecycle Management 335
Cisco Prime™ Collaboration Standard and Advanced 336
Automated System Provisioning 338
Domains, Service Areas, and Subscriber Types 339
Domains 340
Service Area 340
Subscriber Types 341
Administration Levels 341
LDAP Import 342
Subscriber Roles 343
Deployment Aspects in Cisco Prime™ Collaboration 344
Day 1 Services Infrastructure 344
Day 2 Services 345
Single Provisioning Interface 346
Cisco Prime™ Collaboration Dashboard 347
Cisco Prime Telephone Self-Care 348
Summary 350
Review Questions 350
Chapter 21 Describing Video Infrastructure 353
Cisco Collaboration Infrastructure 354
Architectural Evolution 356
Combined Model and Methods 357
High-Level Function of Collaboration Infrastructure 358
Dual Approach 359
Cisco TelePresence VCS Characteristics 359
Cisco VCS Cluster Size 360
Call Control Terminology 361
Connecting CUCM and VCS Clusters 362
Dial Plans 363
Conferencing 363
Multiparty Conferencing 364
Cisco TelePresence Conductor 365
Cisco Jabber Video for TelePresence (Movi) 366
DNS SRV Records 367
Automated Provisioning with Cisco VCS and TMS 368
Portfolio Simplification 369
Summary 369
Review Questions 370
Chapter 22 Describing Cisco TMS 371
Cisco TMS Introduction 372
Business Needs for Cisco TMS 372
Cisco TMS Platform Overview 373
Cisco TMS Overview 374
Endpoint and Infrastructure Support 374
Cisco TMS Scale and Management 375
Cisco TMS Conference Call Routing 375
Cisco TMS Conference Port Reservation 376
Call Launch Options 378
Calendaring Options 379
Cisco TelePresence Conductor Support 379
Recommended Cisco TMS Scheduling Deployment Mode 380
Adding Cisco VCS Endpoints to Cisco Unified Communications Manager 381
Integration of Cisco TMSXE with Microsoft Exchange 382
Cisco TMS Provisioning Extension 382
Summary 383
Review Questions 383
Appendix 385
Glossary 389
TOC, 9781587144479, 11/30/2015
Other Things You Might Like