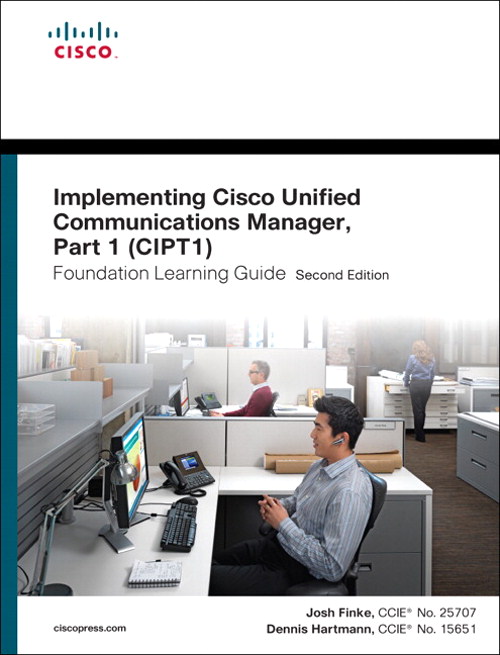 Share
|



Register your product to gain access to bonus material or receive a coupon.
Implementing Cisco Unified Communications Manager, Part 1 (CIPT1) Foundation Learning Guide: (CCNP Voice CIPT1 642-447), 2nd Edition
Recorded Online Training
Your Price: $64.79
List Price: $71.99

Almost like being there, our Recorded Online Training sessions are available for sale in recorded format.

Link(s) and password to recorded WebExTMsession(s) accessible from your Account page after purchase.
Recorded Online Training
ISBN-10: 0-13-210356-7
ISBN-13: 978-0-13-210356-5
This is the Safari online edition of the printed book.
This is Cisco's authorized, self-paced, foundation learning tool for the new CIPT1 8.0 exam (Implementing Cisco Unified Communications Manager, Part 1), required for the new CCNP Voice certification. It offers yuou a complete, engineering-level understanding of planning, deploying, and managing single-site IP Telephony environments based on Cisco Unified Communications Manager (CUCM) 8.x. As an Authorized Self-Study Guide, this book fully reflects the content of the newest versions of the Cisco CIPT1 course. Each chapter ends with 20 questions designed to help you assess your understanding as you prepare for the exam. Older material has been removed from this edition, and three new chapters have been added to cover: " Cisco Unified Communications Manager Phone Services " Implementing Cisco Unified Manager Assistant " Implementing Cisco Unified Mobility
Table of Contents
Introduction xix
Chapter 1 Cisco Unified Communications Manager Architecture 1
Chapter Objectives 1
CUCM Overview 2
Cisco UC Solution Components 2
Cisco UC Network 4
CUCM Functions 6
CUCM Signaling and Media Paths 7
Example: Basic IP Telephony Call 8
CUCM Hardware, Software, and Clustering 9
CUCM Cluster 10
Cisco 7800 Series Media Convergence Servers 11
CUCM Operating System 12
Cisco UC Database 13
Static Configuration Data 13
User-Facing Features 13
Database Access Control 15
CUCM Licensing 16
License File Request Process 18
Obtaining Additional Licenses 19
Licensing Components 20
Calculating License Units 22
License Unit Reporting 22
Chapter Summary 24
Review Questions 25
Chapter 2 Deployment Models 29
Chapter Objectives 29
CUCM: Single-Site Deployment 30
Multisite WAN with Centralized Call Processing 31
Multisite Deployment with Distributed Call Processing 34
Benefits 36
Best Practices 36
Clustering over the IP WAN 37
CUCM Call-Processing Redundancy 39
Chapter Summary 43
Review Questions 43
Chapter 3 Cisco Unified Communications Manager Services and Initial Configuration Settings 47
Chapter Objectives 47
CUCM Initial Configuration 48
Network Components 48
Network Time Protocol 48
Dynamic Host Configuration Protocol 49
Trivial File Transfer Protocol 49
Domain Name System 49
NTP and DHCP Considerations 50
DHCP 51
DNS 54
Network and Feature Services 57
Network Services 58
Feature Services 58
Service Activation 59
Control Center 60
Global Server Settings 60
Enterprise Parameters 60
Enterprise Phone Configuration 62
Service Parameters 64
Chapter Summary 66
Review Questions 67
Chapter 4 Managing User Accounts in Cisco Unified Communications Manager 71
Chapter Objectives 71
CUCM User Accounts 71
User Account Types 72
User Privileges 73
User Management 76
Managing User Accounts 76
Bulk Administration Tool Overview 82
Bulk Administration Tool Components 83
Bulk Provisioning Service 84
Managing User Accounts Using Cisco Unified Communications Manager BAT 84
Lightweight Directory Access Protocol (LDAP) Overview and Considerations 86
LDAPv3 Integration 86
LDAPv3 Synchronization 87
Synchronization Agreements 88
Synchronization Search Base 90
Synchronization Best Practices 91
LDAPv3 Synchronization Configuration 92
LDAPv3 Authentication 94
LDAPv3 Authentication Configuration 97
Chapter Summary 98
Review Questions 99
Chapter 5 Cisco Unified Communications Manager Endpoints 101
Chapter Objectives 101
CUCM Endpoints 102
Endpoint Features 103
Cisco IP Phone Models 105
Entry-Level Cisco IP Phones 105
Midrange Cisco IP Phones 106
High-End Cisco IP Phones 106
Cisco Unified IP Phone 8900 Series 106
Cisco Unified IP Phone 9900 Series 107
Other Cisco IP Phones 108
Cisco IP Phones: Boot Sequence 111
H.323 Endpoint Support 115
SIP Third-Party IP Phone Support in CUCM 116
SIP Third-Party Authentication 118
Chapter Summary 119
Review Questions 120
Chapter 6 Cisco Catalyst Switches 123
Chapter Objectives 123
Cisco LAN Switches 124
Providing Power to Cisco IP Phones 126
Cisco Original Power over Ethernet Device Detection 127
IEEE 802.3af Device Detection 127
Voice VLAN Support on Cisco IP Phones 129
Single-VLAN Access Port 130
Multi-VLAN Access Port 131
802.1q Trunk Port 132
Native Cisco IOS VLAN Configuration 134
CatOS VLAN Configuration 136
Chapter Summary 138
Review Questions 139
Chapter 7 Implementing and Hardening IP Phones 141
Chapter Objectives 141
Endpoint Configuration Tools and Elements Overview 142
Endpoint Basic Configuration Elements 143
Device Pool 144
Phone Network Time Protocol Reference 146
Date/Time Groups 148
Cisco Unified CM Group 149
Regions 151
Locations 153
Phone Security Profile 155
Device Settings 156
Device Defaults 157
Phone Button Template 157
Softkey Template 158
SIP Profile 161
Common Phone Profiles 162
Phone Configuration Element Relationship 162
Phone Auto-registration 163
Auto-registration Configuration 165
Bulk Administration Tool and Auto-Register Phone Tool 167
Auto-Register Phone Tool 168
TAPS: Phone Insert Process 169
Bulk Administration Tool 169
Bulk Provisioning Service 170
Phone Template 170
Line Template 171
CSV File 172
Phone Validation 174
Inserting IP Phones into the CUCM Database 175
Manual Configuration 176
Endpoint Registration Verification 178
Third-Party SIP Phone Configuration 179
Chapter Summary 182
References 182
Review Questions 183
Chapter 8 Implementing PSTN Gateways in Cisco Unified Communications Manager 185
Chapter Objectives 185
Analog and Digital Gateways 186
Core Gateway Requirements 187
Gateway Communication Overview 188
Gateway Protocol Functions for Cisco Unified Communications Manager Integration 189
MGCP Gateway Implementation 191
Endpoint Identifiers 191
MGCP Gateway Support 193
MGCP Configuration Server 193
Q.931 Backhaul 194
MGCP Gateway Configuration: CUCM 194
MGCP Gateway Configuration: Cisco IOS Configuration 198
MGCP Gateway: Registration Verification 201
Fractional T1/E1 Configuration on an MGCP Gateway 203
Fractional T1/E1 Configuration on Cisco Unified Communications Manager 204
MGCP Gateway Verification 205
MGCP Gateway Considerations 205
H.323 Gateway Implementation 206
Cisco Unified Communications Manager H.323 Gateway Configuration 207
Configure Basic Cisco IOS H.323 Functionality 209
Configure CUCM Redundancy on H.323 Gateways: Calls from the H.323 Gateway to the CUCM Cluster 210
Configure CUCM Redundancy on H.323 Gateways: Calls from CUCM to the H.323 Gateway 211
H.323 Gateway Call Survivability 212
SIP Gateway Implementation 212
CUCM SIP Gateway Configuration 213
Add a SIP Trunk 213
Configure SIP Trunk Parameters 214
Configure Basic Cisco IOS SIP Functionality 216
Configure Cisco IOS Call Routing on SIP Gateways 217
SIP Trunking 218
SIP Trunk: MTP Allocation Configuration 218
Chapter Summary 218
References 219
Review Questions 219
Chapter 9 Call-Routing Components 221
Chapter Objectives 221
Dial Plan Components 222
Endpoint Addressing 224
Uniform On-Net Dial Plan Example 227
E.164 Overview 229
Call-Routing Overview 230
Call-Routing Table Entries 232
Route Patterns 233
Route Pattern Examples 236
Digit Analysis 237
Digit Forwarding 244
SCCP Phones: User Input 245
Cisco SIP IP Phones: User Input 246
Type A SIP Phones: No Dial Rules 246
Cisco Type A SIP IP Phones: Dial Rules 246
Cisco Type B SIP Phones: No Dial Rules 247
Special Call-Routing Features 248
Route Filters 248
The ! Wildcard 251
Call Classification 252
Secondary Dial Tone 253
CUCM Path Selection 253
Path Selection Elements 254
Path Selection Configuration 254
Route Group 254
Local Route Group 256
Route List 258
Chapter Summary 261
References 262
Review Questions 262
Chapter 10 Calling Privileges 265
Calling Privileges 265
Partitions and Calling Search Spaces 267
Configuring Partitions and Calling Search Spaces 274
Step 1: Creating Partitions 274
Step 2: Assigning Numbers, Patterns, and Ports to Partitions 275
Steps 3—5: Configuring Calling Search Spaces 276
Time-of-Day Call Routing 277
Step 1: Create Time Periods 280
Step 2: Create a Time Schedule and Associate One or More Time Periods with It 281
Step 3: Assign the Time Schedule to a Partition That Should Be Active Only During the Time Specified in the Time Schedule 282
Client Matter Codes and Forced Authorization Codes 282
Class of Service Approaches 285
Emergency Call Routing and Vanity Numbers 290
Private Line Automatic Ringdown 292
Chapter Summary 294
Review Questions 295
Chapter 11 Digit Manipulation 297
CUCM Digit Manipulation 298
Mechanics of CUCM Digit Manipulation 298
External Phone Number Mask 302
Translation Patterns 303
Transformation Masks 307
CUCM Digit Prefix and Stripping 309
Significant Digits 312
Cisco Unified Communications Manager Global Transformations 312
Calling Party Transformation Pattern Configuration 316
Called Party Transformation Pattern Configuration 317
Transformation Calling Search Space 317
Incoming Number Settings 317
Incoming Calling Party Prefix Example: Globalization of Calling Number 318
Gateway Incoming Calling Party Settings Configuration 319
Device Pool Incoming Calling and Called Party Transformation Calling Search Space 320
Transformation Examples 320
Chapter Summary 323
Review Questions 324
Chapter 12 Call Coverage 327
Call Coverage 328
Call Forwarding 328
Shared Lines 329
Call Pickup 329
Call-Hunting Components and Processes 330
Call-Hunting Options and Distribution Algorithms 334
Call-Hunting Flow 335
Call-Hunting Configuration 337
Task 1: Create the Line Groups, Add Members, and Configure the Distribution Algorithm and Hunt Options 338
Task 2: Create the Hunt List and Add the Line Groups 339
Task 3: Create the Hunt Pilot, Associate the Hunt List with the Hunt Pilot, and Configure Hunt Forward Settings 340
Task 4: Configure Personal Preferences on Phone Lines in the Event That Hunting Ends with No Coverage 341
Call-Forwarding Features 343
Example: Call Forwarding Without Forward No Coverage Settings 343
Example: Forward No Coverage 344
Example: Call Coverage–Forward Hunt No Answer 345
Example: Call Coverage–Forward Hunt Busy 346
Example: Call Coverage–Forward No Coverage External Missing 347
Chapter Summary 348
Review Questions 349
Chapter 13 Media Resources
Media Resources 351
Media Resource Support 353
Audio Conferencing 354
MTP 356
Annunciator 356
MoH 357
Conferencing 358
Cisco Conference Bridge Hardware 359
Cisco Conference Bridge Hardware (Cisco Catalyst WS-X6608-T1 and WS-X6608-E1) 359
Cisco IOS Conference Bridge (Cisco NM-HDV and 1700 Series Routers) 360
Cisco Conference Bridge (Cisco WS-SVC-CMM-ACT) 360
Cisco IOS Enhanced Conference Bridge (Cisco NM-HDV2, NM-HD-1V/2V/2VE, 2800 and 2900 Series, and 3800 and 3900 Series Routers) 360
Conferencing Media Resource Configuration 362
MeetMe Conference Configuration 370
Music on Hold 371
MoH Configuration 374
Annunciator 378
Media Resource Access Control 379
Chapter Summary 384
Review Questions 384
Chapter 14 Phone Services 387
Cisco IP Phone Services 387
Cisco IP Phone Services Subscriptions Overview 388
Cisco IP Phone Services Provisioning 389
Cisco IP Phone Services Access 391
Default Cisco IP Phone Services 391
Cisco IP Phone Services Redundancy 393
Cisco IOS SLB 393
Use of DNS to Provide Cisco IP Phone Services Redundancy 394
Cisco IP Phone Services Configuration 394
Step 1: Verify or Change the Enterprise Parameters Relevant to Cisco IP Phone Services 395
Step 2: Add a New Cisco IP Phone Service 397
Step 3: Configure the Cisco IP Phone Services Parameters of the Added Service 397
Cisco IP Phone Services Subscriptions 402
Subscribe Cisco IP Phone Services: Administrator 402
Subscribe Cisco IP Phone Services: End User 403
Chapter Summary 404
Review Questions 405
Chapter 15 Presence-Enabled Speed Dials and Lists 407
How Presence Works with CUCM 407
Presence Support in CUCM 408
Presence Configuration 410
Step 1: Enable Presence-Enabled Speed Dials 411
Step 2: Configure the BLF Speed Dial 412
Step 3: Allow Presence Subscriptions Through SIP Trunks 412
Presence Access Control 413
Presence Policy Configuration 417
Chapter Summary 420
References 421
Review Questions 421
Chapter 16 Implementing Cisco Unified Mobility 425
Cisco Unified Mobility Overview 425
Mobile Connect and MVA Characteristics 426
Cisco Unified Mobility Features 427
Cisco Unified Mobility Call Flows 427
Mobile Connect Call Flow: Internal Calls Placed from Remote Phone 428
MVA Call Flow 429
Cisco Unified Mobility Implementation Requirements 430
Mobility Configuration Elements 431
Shared Line Between Phone and Remote Destination Profile 432
Relationship of Mobility Configuration Elements 433
Cisco Unified Mobility Considerations 435
MVA Call Flow with MGCP PSTN Gateway Access 435
CSS Handling in Mobile Connect 436
CSS Handling in MVA 436
Cisco Unified Mobility Access List Functions 437
Mobility Phone Number Matching 439
Cisco Unified Mobility Configuration 439
Step 1: Configure Softkey Template 440
Step 2: Configure End User 440
Step 3: Configure IP Phone 441
Step 4: Configure Remote Destination Profile 442
Step 5: Add Remote Destinations to Remote Destination Profile 443
Step 6: Configure Service Parameters 445
Step 7a: Configure Access List 445
Step 7b: Apply Access List to Remote Destination 447
Cisco Unified Mobility: MVA Configuration Procedure 448
Step 1: Activate Cisco Unified Mobile Voice Access Service 448
Step 2: Configure Service Parameters 449
Step 3: Enable MVA per End User 450
Step 4: Configure MVA Media Resource 450
Step 5: Configure MVA on Cisco IOS Gateway 451
Chapter Summary 453
References 454
Review Questions 454
Appendix A Answers to Review Questions 457
9781587204180 TOC 7/20/2011
Other Things You Might Like


CCNP Data Center Application Centric Infrastructure 300-620 DCACI Official Cert Guide Premium Edition and Practice Test

By Ammar Ahmadi
Premium Edition eBook $55.99