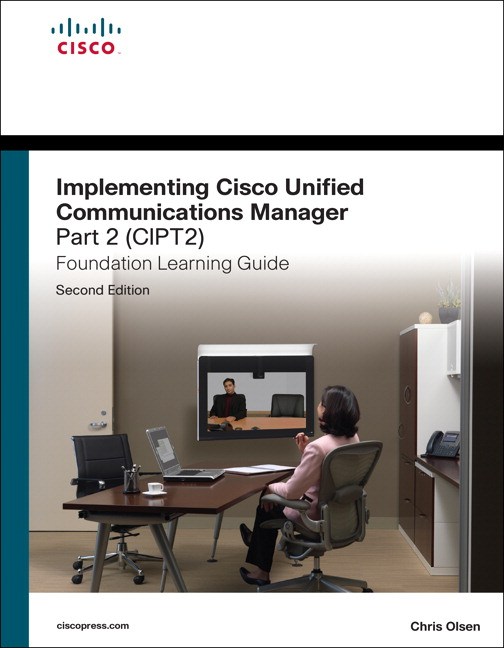 Share
|



Register your product to gain access to bonus material or receive a coupon.
Implementing Cisco Unified Communications Manager, Part 2 (CIPT2) Foundation Learning Guide: (CCNP Voice CIPT2 642-457), 2nd Edition
Book
Sorry, this book is no longer in print.
eBook (Watermarked)
Your Price: $47.19
List Price: $58.99
Includes EPUB, MOBI, and PDF

This eBook includes the following formats, accessible from your Account page after purchase:

EPUB The open industry format known for its reflowable content and usability on supported mobile devices.

MOBI The eBook format compatible with the Amazon Kindle and Amazon Kindle applications.

PDF The popular standard, used most often with the free Adobe® Reader® software.

This eBook requires no passwords or activation to read. We customize your eBook by discreetly watermarking it with your name, making it uniquely yours.
Copyright 2012
Edition: 2nd
Book
ISBN-10: 1-58714-253-8
ISBN-13: 978-1-58714-253-6
Implementing Cisco Unified Communications Manager, Part 2 (CIPT2), Second Edition is a Cisco®-authorized, self-paced learning tool for CCNP Voice® foundation learning. This book provides you with the knowledge needed to install and configure a Cisco Unified Communications Manager solution in a multisite environment. By reading this book, you will gain a thorough understanding of how to apply a dial plan for a multisite environment, configure survivability for remote sites during WAN failure, and implement solutions to reduce bandwidth requirements in the IP WAN.
This book focuses on Cisco Unified Communications Manager (CUCM) Release 8.x, the call routing and signaling component for the Cisco Unified Communications solution. The book has been fully updated and includes new coverage of topics such as Service Advertisement Framework (SAF), and Call Control Discovery (CCD).
Whether you are preparing for CCNP Voice certification or simply want to gain a better understanding of deploying Cisco Unified Communications Manager in a multisite environment, you will benefit from the foundation information presented in this book.
Implementing Cisco Unified Communications Manager, Part 2 (CIPT2), Second Edition, is part of a recommended learning path from Cisco that includes simulation and hands-on training from authorized Cisco Learning Partners and self-study products from Cisco Press. To find out more about instructor-led training, e-learning, and hands-on instruction offered by authorized Cisco Learning Partners worldwide, please visit www.cisco.com/go/authorizedtraining.
Chris Olsen, CCVP, and CCNP, along with numerous other Cisco voice specializations, Microsoft, VMware, and Novell certifications, has been an independent IT and telephony consultant, author, and technical editor for more than 15 years. He has been a technical trainer for more than 19 years and has taught more than 60 different courses in Cisco, Microsoft, VMware, and Novell. For the last seven years he has specialized in Cisco, and recently Microsoft Unified Communications along with VMware virtualization and Cisco data center technologies. He has done a wide array of IT and telephony consulting for many different companies.
· Identify multisite issues and deployment solutions
· Implement multisite connections
· Apply dial plans for multisite deployments
· Examine remote site redundancy options
· Implement Survivable Remote Site Telephony (SRST) and Media Gateway Control Protocol (MGCP) Fallback
· Implement CUCM Express in SRST mode
· Implement bandwidth management and call admission control (CAC)
· Configure device and extension mobility
· Apply Service Advertisement Framework (SAF) and Call Control Discovery (CCD)
This volume is in the Foundation Learning Guide Series offered by Cisco Press®. These guides are developed together with Cisco as the only authorized, self-paced learning tools that help networking professionals build their understanding of networking concepts and prepare for Cisco certification exams.
Online Sample Chapter
Implementing Cisco Unified Communications Manager, Part 2 (CCNP Voice): Examining Remote-Site Redundancy Options
Table of Contents
Introduction xxi
Chapter 1 Identifying Issues in a Multisite Deployment 1
Multisite Deployment Challenge Overview 1
Quality Challenges 2
Bandwidth Challenges 3
Availability Challenges 6
Dial Plan Challenges 7
Overlapping and Nonconsecutive Numbers 9
Fixed Versus Variable-Length Numbering Plans 10
Variable-Length Numbering, E.164 Addressing, and DID 10
Detection of End of Dialing in Variable-Length Numbering Plans 12
Optimized Call Routing and PSTN Backup 14
Various PSTN Requirements 15
Issues Caused by Different PSTN Dialing 16
Dial Plan Scalability Issues 17
NAT and Security Issues 17
Summary 19
References 19
Review Questions 19
Chapter 2 Identifying Multisite Deployment Solutions 23
Multisite Deployment Solution Overview 23
Quality of Service 24
QoS Advantages 25
Solutions to Bandwidth Limitations 26
Low-Bandwidth Codecs and RTP-Header Compression 27
Codec Configuration in CUCM 28
Disabled Annunciator 29
Local Versus Remote Conference Bridges 30
Transcoders 30
Mixed Conference Bridge 32
Multicast MOH from the Branch Router Flash 33
Preventing Too Many Calls by CAC 37
Availability 38
PSTN Backup 39
MGCP Fallback 39
Fallback for IP Phones 41
Using CFUR to Reach Remote Site Cisco IP Phones During WAN Failure 42
Using CFUR to Reach Users of Unregistered Software IP Phones on Their Cell Phones 43
AAR and CFNB 44
Mobility Solutions 44
Dial Plan Solutions 45
Dial Plan Components in Multisite Deployments 45
Globalized Call-Routing Overview 46
Globalized Call Routing: Three Phases 48
Globalized Call Routing Advantages 50
NAT and Security Solutions 51
CUBE in Flow-Through Mode 51
Summary 52
References 53
Review Questions 53
Chapter 3 Implementing Multisite Connections 57
Examining Multisite Connection Options 57
CUCM Connection Options Overview 58
Cisco IOS Gateway Protocol Functions Review 59
Cisco IOS Gateway Protocol Comparison Review 60
SIP Trunk Characteristics 60
H.323 Trunk Overview 61
MGCP Gateway Implementation Review 64
Cisco IOS Gateway MGCP Configuration Methods Review 65
Configuring Cisco IOS Gateway for MGCP: Example 66
H.323 Gateway Implementation 68
Cisco IOS H.323 Gateway Configuration 69
CUCM H.323 Gateway Configuration 71
Trunk Implementation Overview 71
Gatekeeper-Controlled ICT and H.225 Trunk Configuration 72
Trunk Types Used by Special Applications 73
Implementing SIP Trunks 74
Implementing Intercluster and H.225 Trunks 75
CUCM Gatekeeper-Controlled ICT and H.225 Trunk Configuration 77
Summary 79
References 79
Review Questions 80
Chapter 4 Implementing a Dial Plan for International Multisite Deployments 83
Multisite Dial Plan Overview 84
Dial Plan Requirements for Multisite Deployments with Distributed Call Processing 84
Dial Plan Scalability Solutions 85
Implementing Site Codes for On-Net Calls 86
Digit-Manipulation Requirements When Using Access and Site Codes 87
Access and Site Code Requirements for Centralized Call-Processing Deployments 88
Implementing PSTN Access in Cisco IOS Gateways 90
Transformation of Incoming Calls Using ISDN TON 90
Implementing Selective PSTN Breakout 93
Configuring IP Phones to Use Local PSTN Gateway 93
Implementing PSTN Backup for On-Net Intersite Calls 95
Digit-Manipulation Requirements for PSTN Backup of On-Net Intersite Calls 95
Implementing TEHO 97
TEHO Example Without Local Route Groups 98
TEHO Example with Local Route Groups 100
Implementing Globalized Call Routing 102
Globalized Call Routing: Number Formats 103
Normalization of Localized Call Ingress on Gateways 106
Normalization of Localized Call Ingress from Phones 107
Localized Call Egress at Gateways 108
Localized Call Egress at Phones 110
Globalized Call-Routing Example: Emergency Dialing 112
Considering Globalized Call-Routing Interdependencies 115
Globalized Call Routing—TEHO Advantages 116
Globalized Call Routing—TEHO Example 116
Summary 118
References 118
Review Questions 119
Chapter 5 Examining Remote-Site Redundancy Options 123
Remote-Site Redundancy Overview 123
Remote-Site Redundancy Technologies 124
MGCP Fallback Usage 126
Basic Cisco Unified SRST Usage 127
Cisco Unified SIP SRST Usage 127
CUCME in SRST Mode Usage 128
Cisco Unified SRST Operation 128
SRST Function of Switchover Signaling 129
SRST Function of the Call Flow After Switchover 130
SRST Function of Switchback 131
SRST Timing 132
MGCP Fallback Operation 133
MGCP Gateway Fallback During Switchover 133
MGCP Gateway Fallback During Switchback 134
MGCP Gateway Fallback Process 136
Cisco Unified SRST Versions and Feature Support 137
SRST 4.0 Platform Density 138
Plus (+) Prefix and E.164 Support in Cisco Unified SRST 138
Support for Multiple MOH Sources 139
Dial Plan Requirements for MGCP Fallback and SRST Scenarios 139
Ensuring Connectivity for Remote Sites 140
Ensuring Connectivity from the Main Site Using Call Forward Unregistered 141
CFUR Considerations 142
CFUR Interaction with Globalized Call Routing 143
CFUR Example Without Globalized Call Routing 143
CFUR Example with Globalized Call Routing 145
Keeping Calling Privileges Active in SRST Mode 145
SRST Dial Plan Example 146
Summary 147
References 147
Review Questions 147
Chapter 6 Implementing Cisco Unified SRST and MGCP Fallback 151
MGCP Fallback and SRST Configuration 151
Configuration Requirements for MGCP Fallback and Cisco Unified SRST 152
Cisco Unified SRST Configuration in CUCM 152
SRST Reference Definition 153
CUCM Device Pool 153
SRST Configuration on the Cisco IOS Gateway 154
SRST Activation Commands 154
SRST Phone Definition Commands 155
SRST Performance Commands 156
Cisco Unified SRST Configuration Example 157
MGCP-Gateway-Fallback Configuration on the Cisco IOS Gateway 158
MGCP Fallback Activation Commands 158
MGCP Fallback Configuration Example 159
Dial Plan Configuration for SRST Support in CUCM 160
SRST Dial Plan of CFUR and CSS 161
SRST Dial Plan: Max Forward UnRegistered Hops to DN 162
MGCP Fallback and SRST Dial Plan Configuration in the Cisco IOS Gateway 163
SRST Dial Plan Components for Normal Mode Analogy 163
Cisco Unified SRST Dial Plan Dial Peer Commands 164
SRST Dial Plan Commands: Open Numbering Plans 167
SRST Dial Plan Voice Translation-Profile Commands for Digit Manipulation 170
SRST Dial Plan Voice Translation-Rule Commands for Number Modification 171
SRST Dial Plan Profile Activation Commands for Number Modification 172
SRST Dial Plan Class of Restriction Commands 173
SRST Dial Plan Example 173
Summary 178
References 178
Review Questions 179
Chapter 7 Implementing Cisco Unified Communications Manager Express (CUCME) in SRST Mode 181
CUCME Overview 181
CUCME in SRST Mode 183
Standalone CUCME Versus CUCM and CUCME in SRST Mode 183
CUCME Features 185
CUCME Features 186
Other CUCME Features 186
General Configuration of CUCME 187
CUCME Basic Configuration 188
CUCME Configuration Providing Phone Loads 189
CUCME Configuration for Music On Hold 190
Additional MOH Sources 191
Configuring CUCME in SRST Mode 192
Phone-Provisioning Options 193
Advantages of CUCME SRST 194
Phone Registration Process 195
Configuring CUCME for SRST 195
CUCME for SRST Mode Configuration 197
Summary 198
Reference 198
Review Questions 198
Chapter 8 Implementing Bandwidth Management 201
Bandwidth Management Overview 201
CUCM Codec Configuration 202
Review of CUCM Codecs 203
Local Conference Bridge Implementation 205
Transcoder Implementation 208
Implementing a Transcoder at the Main Site 209
Configuration Procedure for Implementing Transcoders 211
Step 1: Add a Transcoder Resource in CUCM 211
Step 2: Configure the Transcoder Resource in Cisco IOS Software 212
Multicast MOH from Remote Site Router Flash Implementation 215
Multicast MOH from Remote Site Router Flash Region Considerations 216
Multicast MOH from Remote Site Router Flash Address and Port Considerations 216
Multicast MOH: Address and Port Increment Example 217
Implementing Multicast MOH from Remote Site Router Flash 219
Configuration Procedure for Implementing Multicast MOH from the Remote Site Router Flash 221
Step 1: Enable Multicast Routing on Cisco IOS Routers 222
Step 2a: Configure MOH Audio Sources for Multicast MOH 223
Step 2b: Configure Multicast MOH in CUCM 223
Step 2c: Enabling Multicast MOH at the Media Resource Groups 225
Step 3: Enable Multicast MOH from Branch Router Flash at the Branch Router 226
Step 4a: Configure the Maximum Hops to Be Used for MOH RTP Packets 227
Step 4b: Use an IP ACL at the IP WAN Router Interface 227
Step 4c: Disable Multicast Routing on the IP WAN Router Interface 228
Summary 229
Reference 229
Review Questions 230
Chapter 9 Implementing Call Admission Control 233
CAC Overview 234
CAC in CUCM 234
Standard Locations 235
Locations: Hub-and-Spoke Topology 236
Locations: Full-Mesh Topology 237
Configuration Procedure for Implementing Locations-Based CAC 238
Locations Configuration Example of a Hub-and-Spoke Topology 238
Step 1: Configure Locations 239
Step 2: Assign Locations to Devices 240
RSVP-Enabled Locations 241
Three Call Legs with RSVP-Enabled Locations 241
Characteristics of Phone-to-RSVP Agent Call Legs 242
Characteristics of RSVP Agent-to-RSVP Agent Call Legs 243
RSVP Basic Operation 243
RSVP-Enabled Location Configuration 245
Configuration Procedure for Implementing RSVP-Enabled Locations-Based CAC 246
Step 1: Configure RSVP Service Parameters 247
Step 2: Configure RSVP Agents in Cisco IOS Software 250
Step 3: Add RSVP Agents to CUCM 252
Step 4: Enable RSVP Between Location Pairs 253
Automated Alternate Routing 255
AAR Characteristics 256
AAR Example Without Local Route Groups and Globalized Numbers 257
AAR Example with Local Route Groups and Globalized Numbers 258
AAR Considerations 259
AAR Configuration Procedure 260
Step 1: Configure AAR Service Parameters 261
Step 2: Configure Partitions and CSSs 261
Step 3: Configure AAR Groups 261
Step 4: Configure Phones for AAR 262
SIP Preconditions 264
CAC Without SIP Preconditions 265
CAC with SIP Preconditions 265
SIP Preconditions Operation 266
SIP Preconditions Call Flow Summary 267
Fallback from End-to-End RSVP to Local RSVP 269
SIP Preconditions Configuration Procedure 270
Step 2a: Configure SIP Profile 271
Step 2b: Apply SIP Profile to Trunk 272
H.323 Gatekeeper CAC 273
H.323 Gatekeeper Used for Call Routing for Address Resolution Only 274
Using an H.323 Gatekeeper for CAC 277
H.323 Gatekeeper Also Used for CAC 279
Provide PSTN Backup for Calls Rejected by CAC 281
Configuration Procedure for Implementing H.323 Gatekeeper-Controlled Trunks with CAC 282
Summary 283
References 283
Review Questions 284
Chapter 10 Implementing Device Mobility 289
Issues with Devices Roaming Between Sites 289
Issues with Roaming Devices 290
Device Mobility Solves Issues of Roaming Devices 291
Device Mobility Overview 292
Dynamic Device Mobility Phone Configuration Parameters 292
Device Mobility Dynamic Configuration by Location-Dependent Device Pools 294
Device Mobility Configuration Elements 295
Relationship Between Device Mobility Configuration Elements 295
Device Mobility Operation 297
Device Mobility Operation Flowchart 298
Device Mobility Considerations 300
Review of Line and Device CSSs 301
Device Mobility and CSSs 302
Examples of Different Call-Routing Paths Based on Device Mobility Groups and Tail-End Hop-Off 302
Device Mobility Interaction with Globalized Call Routing 304
Advantages of Using Local Route Groups and Globalized Call Routing 305
Example of No Globalized Call Routing with a Different Device Mobility Group 306
Example of No Globalized Call Routing with the Same Device Mobility Group 307
Globalized Call Routing Example 308
Device Mobility Configuration 309
Steps 1 and 2: Configure Physical Locations and Device Mobility Groups 309
Step 3: Configure Device Pools 310
Step 4: Configure Device Mobility Infos 311
Step 5a: Set the Device Mobility Mode CCM Service Parameter 312
Step 5b: Set the Device Mobility Mode for Individual Phones 313
Summary 314
References 314
Review Questions 315
Chapter 11 Implementing Extension Mobility 317
Issues with Users Roaming Between Sites 317
Issues with Roaming Users 318
Extension Mobility Solves Issues of Roaming Users 319
CUCM Extension Mobility Overview 319
Extension Mobility: Dynamic Phone Configuration Parameters 320
Extension Mobility with Dynamic Phone Configuration by Device Profiles 320
CUCM Extension Mobility Configuration Elements 321
Relationship Between Extension Mobility Configuration Elements 323
CUCM Extension Mobility Operation 323
Issues in Environments with Different Phone Models 326
Default Device Profile and Feature Safe 326
How Cisco Extension Mobility Handles Phone Model Differences 327
Cisco Extension Mobility and CSSs 328
Alternatives for Mismatching Phone Models and CSS Implementations 329
CUCM Extension Mobility Configuration 329
Step 1: Activate the Cisco Extension Mobility Feature Service 330
Step 2: Set Cisco Extension Mobility Service Parameters 330
Step 3: Add the Cisco Extension Mobility Phone Service 331
Step 4: Create Default Device Profiles 332
Step 5a: Create Device Profiles 333
Step 5b: Subscribe the Device Profile to the Extension Mobility Phone Service 334
Step 6: Associate Users with Device Profiles 335
Step 7a: Configure Phones for Cisco Extension Mobility 337
Step 7b: Subscribe the Phone to the Extension Mobility Phone Service 337
Summary 338
References 339
Review Questions 339
Chapter 12 Implementing Service Advertisement Framework (SAF) and Call Control Discovery (CCD) 343
SAF and CCD Overview 344
Dial Plan Scalability Issues in Large Networks 344
Scalable Dial Plan Solution for Large Networks 345
CCD Overview 345
SAF Characteristics 346
SAF Client Types 348
SAF Message Components 349
SAF Routing Characteristics 349
SAF Neighbor Relationships 350
SAF Client and SAF Forwarder Functions 351
CCD Characteristics 351
CCD Services in CUCM 353
Processing Received Routes in CUCM 354
CCD Operation 355
CCD Propagation of HQ Routes 356
CCD Propagation of BR Routes 356
CCD Call from HQ to BR 357
CCD with a Link Failure at BR 359
CCD for Call from HQ to BR During Link Failure 360
SAF and CCD Implementation 361
External SAF Client Configuration Elements 362
Internal SAF Client Configuration Elements 364
SAF Forwarder Configuration Procedure 365
External SAF Client Configuration Procedure 367
Step 1: Configure SAF Security Profile 367
Step 2: Configure SAF Forwarder 368
Step 3: Configure SAF-Enabled SIP Trunk 369
Step 4: Configure Hosted DN Group 370
Step 5: Configure Hosted DN Pattern 370
Step 6: Configure CCD Advertising Service 371
Step 7: Configure CCD Requesting Service and Partition 372
Step 8: Configure CCD Blocked Learned Patterns 373
Step 9: Configure CCD Feature Parameters 374
Internal SAF Client Configuration Procedure 376
Step 1: Configure Trunk Profile 376
Step 2: Configure Directory-Number Blocks 377
Step 3: Configure Call-Control Profile 378
Step 4: Configure Advertising Service 378
Step 5: Configure Requesting Service 379
Step 6: Configure VoIP Dial Peer 380
CCD Considerations 381
Monitoring Learned Routes from CUCM in RTMT 382
Monitoring Learned Routes in CUCME 382
CCD PSTN Backup CSS 383
SRST Considerations 384
CCD and Static Routing Integration Considerations 385
Cisco IOS SAF Client Considerations When Using Globalized Call Routing 386
Solution for PSTN Backup Advertised in E.164 Format Without Leading + 387
TEHO Considerations 388
Trunk Considerations When Using Globalized Call Routing 388
CUCM Clusters and CCD Configuration Modes 389
Other SAF and CCD Considerations 390
Summary 390
References 391
Review Questions 391
Answers Appendix 395
TOC, 9781587142536, 7/12/2011
Other Things You Might Like