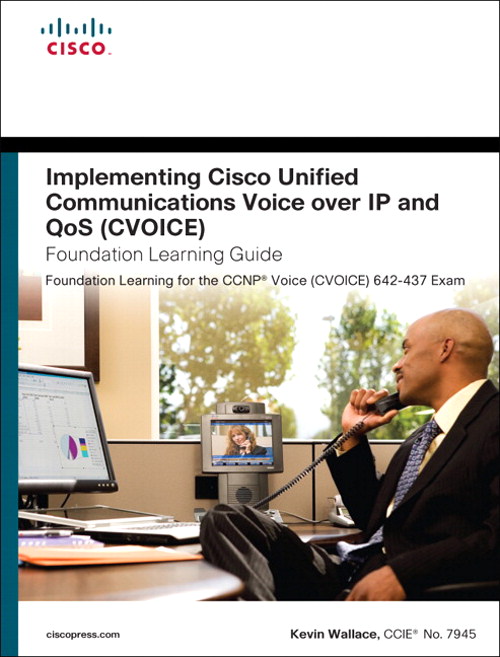 Share
|



Register your product to gain access to bonus material or receive a coupon.
Implementing Cisco Unified Communications Voice over IP and QoS (Cvoice) Foundation Learning Guide: (CCNP Voice CVoice 642-437), 4th Edition
Book
Sorry, this book is no longer in print.
eBook (Watermarked)
Your Price: $43.19
List Price: $53.99
Includes EPUB, MOBI, and PDF

This eBook includes the following formats, accessible from your Account page after purchase:

EPUB The open industry format known for its reflowable content and usability on supported mobile devices.

MOBI The eBook format compatible with the Amazon Kindle and Amazon Kindle applications.

PDF The popular standard, used most often with the free Adobe® Reader® software.

This eBook requires no passwords or activation to read. We customize your eBook by discreetly watermarking it with your name, making it uniquely yours.
Copyright 2011
Dimensions: 7-3/8" x 9-1/8"
Pages: 736
Edition: 4th
Book
ISBN-10: 1-58720-419-3
ISBN-13: 978-1-58720-419-7
Implementing Cisco Unified Communications Voice over IP and QoS (CVOICE)
Foundation Learning Guide
Foundation Learning for the CCNP® Voice (CVOICE) 642-437 Exam
Kevin Wallace, CCIE® No. 7945
Implementing Cisco Unified Communications Voice over IP and QoS (CVOICE) Foundation Learning Guide is a Cisco®-authorized, self-paced learning tool for CCNP Voice foundation learning. Developed in conjunction with the Cisco CCNP Voice certification team, it covers all aspects of planning, designing, and deploying Cisco VoIP networks and integrating gateways, gatekeepers, and QoS into them.
Updated throughout for the new CCNP Voice (CVOICE) Version 8.0 exam (642-437), this guide teaches you how to implement and operate gateways, gatekeepers, Cisco Unified Border Element, Cisco Unified Communications Manager Express, and QoS in a voice network architecture. Coverage includes voice gateways, characteristics of VoIP call legs, dial plans and their implementation, basic implementation of IP phones in Cisco Unified Communications Manager Express environment, and essential information about gatekeepers and Cisco Unified Border Element. The book also provides information on voice-related QoS mechanisms that are required in Cisco Unified Communications networks.
Fourteen video lab demonstrations on the accompanying CD-ROM walk you step by step through configuring DHCP servers, CUCME autoregistration, ISDN PRI circuits, PSTN dial plans, DID, H.323 and MGCP gateways, VoIP dial peering, gatekeepers, COR, AutoQoS VoIP, and much more.
Whether you are preparing for CCNP Voice certification or simply want to gain a better understanding of VoIP and QoS, you will benefit from the foundation information presented in this book.
- Voice gateways, including operational modes, functions, related call leg types, and routing techniques
- Gateway connections to traditional voice circuits via analog and digital interfaces
- Basic VoIP configuration, including A/D conversion, encoding, packetization, gateway protocols, dial peers, and transmission of DTMF, fax, and modem tones
- Supporting Cisco IP Phones with Cisco Unified Communications Manager Express
- Dial plans, including digit manipulation, path selection, calling privileges, and more
- Gatekeepers, Cisco Unified Border Elements, and call admission control (CAC) configuration
- QoS issues and mechanisms
- Unique DiffServ QoS characteristics and mechanisms
- Cisco AutoQoS configuration and operation
Companion CD-ROM
The CD-ROM that accompanies this book contains 14 video lab demonstrations running approximately 90 minutes.
This book is in the Foundation Learning Guide Series. These guides are developed together with Cisco® as the only authorized, self-paced learning tools that help networking professionals build their understanding of networking concepts and prepare for Cisco certification exams.
Online Sample Chapter
Implementing Cisco Unified Communications: Introducing Dial Plans
Sample Pages
Download the sample pages (includes Chapter 4 and Index)
Table of Contents
Introduction xxx
Chapter 1 Introducing Voice Gateways 1
The Role of Gateways 1
Traditional Telephony Networks 2
Cisco Unified Communications Overview 3
Cisco Unified Communications Architecture 4
Cisco Unified Communications Business Benefits 5
Cisco Unified Communications Gateways 6
Gateway Operation 7
Comparing VoIP Signaling Protocols 10
Gateway Deployment Example 12
IP Telephony Deployment Models 13
Single-Site Deployment 14
Multisite WAN with Centralized Call-Processing Deployment 16
Multisite WAN with Distributed Call-Processing Deployment 20
Clustering over the IP WAN Deployment 24
Modern Gateway Hardware Platforms 27
Cisco 2900 Series Integrated Services Routers 27
Cisco 3900 Series Integrated Services Routers 27
Well-Known Older Enterprise Models 27
Cisco 2800 Series Integrated Services Routers 28
Cisco 3800 Series Integrated Services Routers 29
Specialized Voice Gateways 30
Cisco ATA 186 30
Cisco VG248 Analog Phone Gateway 30
Cisco AS5350XM Series Universal Gateway 30
Cisco AS5400 Series Universal Gateway Platforms 31
Cisco 7200 Series Routers 32
Gateway Operational Modes 32
Voice Gateway Call Legs 33
Voice-Switching Gateway 34
VoIP Gateway 34
Cisco Unified Border Element 35
How Voice Gateways Route Calls 36
Gateway Call-Routing Components 36
Dial Peers 37
Call Legs 39
Configuring POTS Dial Peers 41
Matching a Dial Peer 43
Matching Outbound Dial Peers 48
Default Dial Peer 49
Direct Inward Dialing 50
Two-Stage Dialing 51
One-Stage Dialing 54
Configuration of Voice Ports 57
Analog Voice Ports 58
Signaling Interfaces 59
Analog Voice Port Interfaces 59
Analog Signaling 61
FXS and FXO Supervisory Signaling 61
Analog Address Signaling 64
Informational Signaling 65
E&M Signaling 66
E&M Physical Interface 68
E&M Address Signaling 68
Configuring Analog Voice Ports 69
FXS Voice Port Configuration 69
FXO Voice Port Configuration 72
E&M Voice Port Configuration 74
Trunks 76
Analog Trunks 77
Centralized Automated Message Accounting Trunk 80
Direct Inward Dialing Trunk 83
Timers and Timing 85
Verifying Voice Ports 86
Digital Voice Ports 90
Digital Trunks 90
T1 CAS 92
E1 R2 CAS 94
Nonfacility Associated Signaling 99
Configuring a T1 CAS Trunk 100
Configuring T1 CAS Trunks: Inbound E&M FGD and Outbound FGD EANA Example 108
Configuring an E1 R2 Trunk Example 110
Configuring an ISDN Trunk 112
Verifying Digital Voice Ports 117
Cross-Connecting a DS0 with an Analog Port 123
Echo Cancellation 124
Echo Origin 124
Talker Echo 125
Listener Echo 125
Echo Cancellation 125
Echo Canceller Operation 126
Echo Canceller Components 126
Configuring Echo Cancellation 127
Voice Packets Processing with Codecs and DSPs 128
Codecs 128
Impact of Voice Samples and Packet Size on Bandwidth 130
Evaluating Quality of Codecs 130
Mean Opinion Score 131
Perceptual Evaluation of Speech Quality 131
Perceptual Evaluation of Audio Quality 132
Test Method Comparison 132
Codec Quality 133
Evaluating Overhead 133
Bandwidth Calculation Example 135
Per-Call Bandwidth Using Common Codecs 135
Digital Signal Processors 136
Hardware Conferencing and Transcoding Resources 137
DSP Chip 138
Codec Complexity 140
Recommended Usage in Deployment Models 140
Packet Voice DSP Module Conferencing 141
DSP Calculator 141
Configuring DSPs 144
Configuring Conferencing and Transcoding on Voice Gateways 147
DSP Farms 148
DSP Profiles 149
SCCP Configuration 150
Unified Communications Manager Configuration 151
Cisco IOS Configuration Commands for Enhanced Media Resources 154
DSP Farm Configuration Commands for Enhanced Media Resources 155
SCCP Configuration Commands for Enhanced Media Resources 157
Verifying Media Resources 160
Summary 161
Chapter Review Questions 161
Chapter 2 Configuring Basic Voice over IP 165
Voice Coding and Transmission 165
VoIP Overview 166
Major Stages of Voice Processing in VoIP 166
VoIP Components 167
Sampling 169
Quantization 170
Coding 172
VoIP Packetization 173
Packetization Rate 173
Codec Operations 175
Packetization and Compression Example 175
VoIP Media Transmission 176
Real-Time Transport Protocol 177
Real-Time Transport Control Protocol 177
Compressed RTP 178
Secure RTP 179
VoIP Media Considerations 181
Voice Activity Detection 182
Bandwidth Savings 183
Voice Port Settings for VAD 184
Voice Signaling Protocols: H.323 184
H.323 Architecture 184
H.323 Advantages 185
H.323 Network Components 186
H.323 Call Flows 192
H.323 Slow Start Call Setup 193
H.323 Slow Start Call Teardown 194
H.225 RAS Call Setup 196
H.225 RAS Call Teardown 197
Codecs in H.323 199
Negotiation in Slow Start Call Setup 199
H.323 Fast Connect 200
H.323 Early Media 202
Configuring H.323 Gateways 203
H.323 Gateway Configuration Example 203
Customizing H.323 Gateways 204
H.323 Session Transport 204
Idle Connection and H.323 Source IP Address 205
H.225 Timers 205
H.323 Gateway Tuning Example 206
Verifying H.323 Gateways 206
Voice Signaling Protocols: SIP 207
SIP Architecture 207
Signaling and Deployment 208
SIP Architecture Components 208
SIP Servers 209
SIP Architecture Examples 210
SIP Call Flows 211
SIP Call Setup Using Proxy Server 212
SIP Call Setup Using Redirect Server 213
SIP Addressing 214
SIP Addressing Variants Example 214
Address Registration 215
Address Resolution 215
Codecs in SIP 216
Delayed Offer 218
Early Offer 219
Early Media 219
Configuring Basic SIP 221
User Agent Configuration 221
Dial-Peer Configuration 222
Basic SIP Configuration Example 222
Configuring SIP ISDN Support 223
Calling Name Display 223
Blocking and Substituting Caller ID 225
Blocking and Substituting Caller ID Commands 226
Configuring SIP SRTP Support 226
SIPS Global and Dial-Peer Commands 227
SRTP Global and Dial-Peer Commands 228
SIPS and SRTP Configuration Example 228
Customizing SIP Gateways 228
SIP Transport 229
SIP Source IP Address 229
SIP UA Timers 230
SIP Early Media 230
Gateway-to-Gateway Configuration Example 231
UA Example 232
Verifying SIP Gateways 233
SIP UA General Verification 233
SIP UA Registration Status 234
SIP UA Call Information 235
SIP Debugging Overview 236
Examining the INVITE Message 237
Examining the 200 OK Message 237
Examining the BYE Message 238
Voice Signaling Protocols: MGCP 239
MGCP Overview 239
MGCP Advantages 240
MGCP Architecture 240
MGCP Gateways 242
MGCP Call Agents 243
Basic MGCP Concepts 243
MGCP Calls and Connections 243
MGCP Control Commands 244
Package Types 245
MGCP Call Flows 246
Configuring MGCP Gateways 248
MGCP Residential Gateway Configuration Example 249
Configuring an MGCP Trunk Gateway Example 250
Configuring Fax Relay with MGCP Gateways 251
Verifying MGCP 254
Debug Commands 257
VoIP Quality Considerations 257
IP Networking and Audio Clarity 257
Jitter 258
Delay 259
Acceptable Delay 260
Packet Loss 261
VoIP and QoS 262
Objectives of QoS 263
Using QoS to Improve Voice Quality 264
Transporting Modulated Data over IP Networks 265
Differences from Fax Transmission in the PSTN 265
Fax Services over IP Networks 265
Understanding Fax/Modem Pass-Through, Relay, and Store and Forward 266
Fax Pass-Through 266
Modem Pass-Through 268
Fax Relay 269
Modem Relay 270
Store-and-Forward Fax 273
Gateway Signaling Protocols and Fax Pass-Through and Relay 274
Cisco Fax Relay 275
H.323 T.38 Fax Relay 277
SIP T.38 Fax Relay 278
MGCP T.38 Fax Relay 280
Gateway-Controlled MGCP T.38 Fax Relay 281
Call Agent—Controlled MGCP T.38 Fax Relay 281
DTMF Support 281
H.323 DTMF Support 282
MGCP DTMF Support 283
SIP DTMF Support 283
Customization of Dial Peers 284
Configuration Components of VoIP Dial Peer 284
VoIP Dial-Peer Characteristics 284
Configuring DTMF Relay 285
DTMF Relay Configuration Example 286
Configuring Fax/Modem Support 286
Cisco Fax Relay and Fax Pass-Through 287
T.38 Fax Relay Configuration 287
Fax Relay Speed Configuration 288
Fax Relay SG3 Support Configuration 288
Fax Support Configuration Example 289
Configuring Modem Support 289
Modem Pass-Through 289
Modem Relay 290
Modem Relay Compression 290
Modem Pass-Through and Modem Relay Interaction 291
Modem Support Configuration Example 291
Configuring Codecs 291
Codec-Related Dial-Peer Configuration 292
Codec Configuration Example 293
Limiting Concurrent Calls 294
Summary 294
Chapter Review Questions 294
Chapter 3 Supporting Cisco IP Phones with Cisco Unified Communications Manager Express 297
Introducing Cisco Unified Communications Manager Express 297
Fundamentals of Cisco Unified Communications Manager Express 298
Cisco Unified Communications Manager Express Positioning 298
Cisco Unified Communications Manager Express Deployment Models 299
Cisco Unified Communications Manager Express Key Features and Benefits 301
Phone Features 301
System Features 302
Trunk Features 303
Voice-Mail Features 303
Cisco Unified Communications Manager Express Supported Platforms 303
Cisco Integrated Services Routers Scalability 304
Cisco Integrated Services Routers Generation 2 Scalability 305
Memory Requirements 306
Cisco Integrated Services Routers Licensing and Software 306
Cisco Integrated Services Routers Generation 2 Licensing Model 307
Cisco Unified Communications Manager Express Operation 308
Operation of Cisco Unified Communications Manager Express 308
Overview of Cisco Unified Communications Manager Express Endpoints 309
Endpoint Signaling Protocols 309
Endpoint Capabilities 309
Basic Cisco IP Phone Models 310
Midrange Cisco IP Phones 311
Upper-End Cisco IP Phones 313
Video-Enabled Cisco IP Phones 314
Conference Stations 315
Identifying Cisco Unified Communications Manager Express Endpoint Requirements 318
Phone Startup Process 318
Power over Ethernet 322
Two PoE Technologies 322
Cisco Prestandard Device Detection 324
IEEE 802.3af Device Detection 324
Cisco Catalyst Switch: Configuring PoE 324
VLAN Infrastructure 325
Voice VLAN Support 326
Ethernet Frame Types Generated by Cisco IP Phones 329
Blocking PC VLAN Access at IP Phones 330
Limiting VLANs on Trunk Ports at the Switch 330
Configuring Voice VLAN in Access Ports Using Cisco IOS Software 331
Configuring Trunk Ports Using Cisco IOS Software 331
Verifying Voice VLAN Configuration 333
IP Addressing and DHCP 334
DHCP Parameters 335
Router Configuration with an IEEE 802.1Q Trunk 335
Router Configuration with Cisco EtherSwitch Network Module 336
DHCP Relay Configuration 337
Network Time Protocol 337
Endpoint Firmware and Configuration 338
Downloading Firmware 339
Firmware Images 340
Setting Up Cisco Unified Communications Manager Express in an SCCP Environment 340
Configuring Source IP Address and Firmware Association 341
Enabling SCCP Endpoints 342
Locale Parameters 343
Date and Time Parameters 343
Parameter Tuning 344
Generating Configuration Files for SCCP Endpoints 344
Cisco Unified Communications Manager Express SCCP
Environment Example 346
Setting Up Cisco Unified Communications Manager Express in a SIP Environment 346
Configuring Cisco Unified Communications Manager Express for SIP 347
Configuring Source IP Address and Associating Firmware 347
Enabling SIP Endpoints 348
Locale Parameters 348
Date and Time Parameters 348
NTP and DST Parameters 349
Generating Configuration Files for SIP Endpoints 349
Cisco Unified Communications Manager Express SIP Environment Example 350
Configuration of Cisco Unified Communications Manager Express 350
Directory Numbers and Phones in Cisco Unified Communications Manager Express 350
Directory Number Types 352
Single- and Dual-Line Directory Numbers 353
Octo-Line Directory Number 354
Nonexclusive Shared-Line Directory Number 355
Exclusive Shared-Line Directory Number 356
Multiple Directory Numbers with One Telephone Number 357
Multiple-Number Directory Number 358
Overlaid Directory Number 358
Creating Directory Numbers for SCCP Phones 359
Single-Line Ephone-dn Configuration 360
Dual-Line Ephone-dn Configuration 360
Octo-Line Ephone-dn Configuration 361
Dual-Number Ephone-dn Configuration 361
Configuring SCCP Phone-Type Templates 362
Configuring SCCP Phone-Type Templates 362
Ephone Template for Conference Station 7937G Configuration Example 364
Creating SCCP Phones 365
Configuring the SCCP Ephone Type 365
Configuring SCCP Ephone Buttons 366
Configuring Ephone Preferred Codec 366
Basic Ephone Configuration Example 367
Multiple Ephone Configuration Example 367
Multiple Directory Numbers Configuration Example 368
Shared Directory Number Configuration Example 369
Controlling Automatic Registration 369
Partially Automated Endpoint Deployment 370
Partially Automated Deployment Example 371
Creating Directory Numbers for SIP Phones 371
Voice Register Directory Number Configuration Example 372
Creating SIP Phones 372
Configuring SIP Phones 373
Tuning SIP Phones 373
Shared Directory Number Configuration Example 374
Configuring Cisco IP Communicator Support 374
Configuring Cisco IP Communicator 375
Managing Cisco Unified Communications Manager Express Endpoints 375
Rebooting Commands 376
Verifying Cisco Unified Communications Manager Express Endpoints 377
Verifying Phone VLAN ID 378
Verifying Phone IP Parameters 378
Verifying Phone TFTP Server 379
Verifying Firmware Files 379
Verifying TFTP Operation 380
Verifying Phone Firmware 381
Verifying SCCP Endpoint Registration 381
Verifying SIP Endpoint Registration 382
Verifying the SIP Registration Process 383
Verifying the SCCP Registration Process 383
Verifying Endpoint-Related Dial Peers 384
Summary 385
Chapter Review Questions 385
Chapter 4 Introducing Dial Plans 389
Numbering Plan Fundamentals 389
Introducing Numbering Plans 389
North American Numbering Plan 390
European Telephony Numbering Space 393
Fixed and Variable-Length Numbering Plan Comparison 394
E.164 Addressing 395
Scalable Numbering Plans 396
Non-Overlapping Numbering Plan 396
Scalable Non-Overlapping Numbering Plan Considerations 398
Overlapping Numbering Plans 398
Overlapping Numbering Plan Example 399
Scalable Overlapping Numbering Plan Considerations 400
Private and Public Numbering Plan Integration 400
Private and Public Numbering Plan Integration Functions 401
Private and Public Numbering Plan Integration Considerations 402
Number Plan Implementation Overview 402
Private Number Plan Implementation Example 403
Public Number Plan Implementation 404
Call Routing Overview 404
Call Routing Example 405
Dial Plan Components 406
Defining Dial Plans 406
Dial Plan Implementation 407
Dial Plan Requirements 407
Endpoint Addressing Considerations 408
Call Routing and Path Selection 409
PSTN Dial Plan Requirements 410
Inbound PSTN Calls 410
Outbound PSTN Calls 412
ISDN Dial Plan Requirements 413
Digit Manipulation 414
Calling Privileges 415
Call Coverage 416
Call Coverage Features 416
Summary 417
Chapter Review Questions 417
Chapter 5 Implementing Dial Plans 421
Configuring Digit Manipulation 421
Digit Collection and Consumption 421
Cisco Unified Communications Manager Express Addressing Method 422
User Input on SCCP Phones 423
SCCP Digit Collection 424
SIP Digit Collection (Simple Phones) 424
SIP Digit Collection (Enhanced Phones) 425
Dial-Peer Management 426
Digit Manipulation 427
Digit Stripping 429
Digit Forwarding 429
Digit Prefixing 431
Number Expansion 431
Simple Digit Manipulation for POTS Dial Peers Example 432
Number Expansion Example 433
Caller ID Number Manipulation 434
CLID Commands 434
Station ID Commands 434
Displaying Caller ID Information 435
Voice Translation Rules and Profiles 437
Understanding Regular Expressions in Translation Rules 439
Search and Replace with Voice Translation Rules Example 441
Voice Translation Profiles 442
Translation Profile Processing 443
Voice Translation Profile Search-and-Replace Example 444
Voice Translation Profile Call Blocking Example 445
Voice Translation Profiles Versus the dialplan-pattern Command 447
Cisco Unified Communications Manager Express with dialplan-pattern Example 447
Cisco Unified Communications Manager Express with Voice Translation Profiles Example 448
Verifying Voice Translation Rules 449
Configuring Digit Manipulation 450
Configuring Path Selection 454
Call Routing and Path Selection 454
Dial-Peer Matching 455
Matching to Inbound and Outbound Dial Peers 458
Inbound Dial-Peer Matching 458
Outbound Dial-Peer Matching 459
Dial-Peer Call Routing and Path Selection Commands 459
Matching Dial Peers in a Hunt Group 462
H.323 Dial-Peer Configuration Best Practices 462
Path Selection Strategies 464
Site-Code Dialing and Toll-Bypass 464
Toll-Bypass Example 464
Site-Code Dialing and Toll-Bypass Example 466
Tail-End Hop-Off 467
TEHO Example 467
Configuring Site-Code Dialing and Toll-Bypass 468
Step 1: Create Translation Rules and Profiles 469
Step 2: Define VoIP Dial Peers 470
Step 3: Add Support for PSTN Fallback 471
Step 4: Create a Dial Peer for PSTN Fallback 472
Outbound Site-Code Dialing Example 472
Inbound Site-Code Dialing Example 474
Configuring TEHO 475
Step 1: Define VoIP Outbound Digit Manipulation for TEHO 476
Step 2: Define Outbound VoIP TEHO Dial Peer 476
Step 3: Define Outbound POTS TEHO Dial Peer 476
Complete TEHO Configuration 477
Implementing Calling Privileges on Cisco IOS Gateways 477
Calling Privileges 477
Understanding COR on Cisco IOS Gateways 479
COR Behavior Example 479
COR Example 482
Understanding COR for SRST and CME 483
Configuring COR for Cisco Unified Communications Manager Express 485
Step 1: Define COR Labels 485
Step 2: Configure Outbound Corlists 486
Step 3: Configure Inbound Corlists 487
Step 4: Assign Corlists to PSTN Dial Peers 488
Step 5: Assign Corlists to Incoming Dial Peers and Ephone-dns 489
Configuring COR for SRST 490
Verifying COR 491
Summary 492
Chapter Review Questions 493
Chapter 6 Using Gatekeepers and Cisco Unified Border Elements 497
Gatekeeper Fundamentals 497
Gatekeeper Responsibilities 498
Gatekeeper Signaling 500
RAS Messages 501
Gatekeeper Discovery 504
Registration Request 506
Lightweight Registration 506
Admission Request 507
Admission Request Message Failures 507
Information Request 509
Location Request 510
Gatekeeper Signaling: LRQ Sequential 511
Gatekeeper Signaling: LRQ Blast 512
H.225 RAS Intrazone Call Setup 514
H.225 RAS Interzone Call Setup 515
Zones 516
Zone Prefixes 517
Technology Prefixes 518
Configuring H.323 Gatekeepers 520
Gatekeeper Configuration Steps 520
Gateway Selection Process 521
Configuration Considerations 521
Basic Gatekeeper Configuration Commands 522
Configuring Gatekeeper Zones 524
Configuring Zone Prefixes 526
Configuring Technology Prefixes 527
Configuring Gateways to Use H.323 Gatekeepers 529
Dial-Peer Configuration 532
Verifying Gatekeeper Functionality 533
Providing Call Admission Control with an H.323 Gatekeeper 535
Gatekeeper Zone Bandwidth Operation 535
Zone Bandwidth Calculation 536
bandwidth Command 538
Zone Bandwidth Configuration Example 539
Verifying Zone Bandwidth Operation 540
Introducing the Cisco Unified Border Element Gateway 541
Cisco Unified Border Element Overview 541
Cisco UBE Gateways in Enterprise Environments 543
Protocol Interworking on Cisco UBE Gateways 547
Signaling Method Refresher 547
Cisco Unified Border Element Protocol Interworking 548
Media Flows on Cisco UBE Gateways 549
Codec Filtering on Cisco UBEs 550
RSVP-Based CAC on Cisco UBEs 552
RSVP-Based CAC 552
RSVP-Based CAC Call Flow 553
Cisco Unified Border Element Call Flows 554
SIP Carrier Interworking 554
SIP Carrier Interworking Call Flow 554
SIP Carrier Interworking with Gatekeeper-Based CAC Call Setup 555
Configuring Cisco Unified Border Elements 557
Protocol Interworking Command 557
Configuring H.323-to-SIP DTMF Relay Interworking 558
Configuring Media Flow and Transparent Codec 558
media Command 559
codec transparent Command 559
Media Flow-Around and Transparent Codec Example 559
Configuring H.323-to-H.323 Fast-Start-to-Slow-Start Interworking 560
H.323-to-H.323 Interworking Example 560
Verifying Cisco Unified Border Element 560
Debugging Cisco Unified Border Element Operations 562
Viewing Cisco Unified Border Element Calls 562
Summary 563
Chapter Review Questions 563
Chapter 7 Introducing Quality of Service 567
Fundamentals of QoS 567
QoS Issues 567
After Convergence 568
Quality Issues in Converged Networks 570
Bandwidth Capacity 570
End-to-End Delay and Jitter 572
Packet Loss 575
QoS and Voice Traffic 576
QoS Policy 577
QoS for Unified Communications Networks 577
Example: Three Steps to Implementing QoS on a Network 577
QoS Requirements 580
Videoconferencing 580
Data 580
Methods for Implementing QoS Policy 581
Implementing QoS Traditionally Using CLI 581
Implementing QoS with MQC 582
Implementing QoS with Cisco AutoQoS 583
Comparing QoS Implementation Methods 583
QoS Models 584
Best-Effort Model 584
IntServ Model 584
DiffServ Model 585
QoS Model Evaluation 586
Characteristics of QoS Models 587
DiffServ Model 587
DSCP Encoding 589
DiffServ PHBs 590
Expedited Forwarding PHB 590
Assured Forwarding PHB 591
DiffServ Class Selector 593
DiffServ QoS Mechanisms 593
Classification 593
Marking 594
Congestion Management 595
Congestion Avoidance 596
Policing 596
Shaping 597
Compression 598
Link Fragmentation and Interleaving 598
Applying QoS to Input and Output Interfaces 599
Cisco QoS Baseline Model 601
Cisco Baseline Marking 601
Cisco Baseline Mechanisms 602
Expansion and Reduction of the Class Model 603
Summary 603
Chapter Review Questions 604
Chapter 8 Configuring QoS Mechanisms 607
Classification, Marking, and Link-Efficiency QoS Mechanisms 607
Modular QoS CLI 608
Example: Advantages of Using MQC 609
MQC Components 609
Configuring Classification 610
MQC Classification Options 611
Class Map Matching Options 612
Configuring Classification with MQC 613
Configuring Classification Using Input Interface and RTP Ports 614
Configuring Classification Using Marking 615
Class-Based Marking Overview 615
Configuring Class-Based Marking 616
Class-Based Marking Configuration Example 616
Trust Boundaries 617
Trust Boundary Marking 618
Configuring Trust Boundary 619
Trust Boundary Configuration Example 619
Mapping CoS to Network Layer QoS 620
Default LAN Switch Configuration 621
Mapping CoS and IP Precedence to DSCP 621
CoS-to-DSCP Mapping Example 622
DSCP-to-CoS Mapping Example 622
Configuring Mapping 624
Mapping Example 624
Link-Efficiency Mechanisms Overview 625
Link Speeds and QoS Implications 626
Serialization Issues 626
Serialization Delay 627
Link Fragmentation and Interleaving 627
Fragment Size Recommendation 628
Configuring MLP with Interleaving 629
MLP with Interleaving Example 630
Configuring FRF.12 Frame Relay Fragmentation 631
Configuring FRF.12 Fragmentation 632
FRF.12 Configuration Example 632
Class-Based RTP Header Compression 633
RTP Header Compression Example 634
Configuring Class-Based Header Compression 635
Class-Based RTP Header Compression Configuration Example 635
Queuing and Traffic Conditioning 636
Congestion and Its Solutions 637
Congestion and Queuing: Aggregation 637
Queuing Components 638
Software Interfaces 639
Policing and Shaping 640
Policing and Shaping Comparison 641
Measuring Traffic Rates 642
Example: Token Bucket as a Coin Bank 643
Single Token Bucket 644
Class-Based Policing 645
Single-Rate, Dual Token Bucket Class-Based Policing 646
Dual-Rate, Dual Bucket Class-Based Policing 647
Configuring Class-Based Policing 649
Configuring Class-Based Policing 649
Class-Based Policing Example: Single Rate, Single Token Bucket 650
Class-Based Policing Example: Single Rate, Dual Token Bucket 651
Class-Based Shaping 652
Configuring Class-Based Shaping 653
Class-Based Shaping Example 653
Hierarchical Class-Based Shaping with CB-WFQ Example 653
Low Latency Queuing 655
LLQ Architecture 656
LLQ Benefits 656
Configuring LLQ 657
Monitoring LLQ 658
Calculating Bandwidth for LLQ 659
Introduction to Cisco AutoQoS 661
Cisco AutoQoS VoIP 661
Cisco AutoQoS VoIP Functions 662
Cisco AutoQoS VoIP Router Platforms 663
Cisco AutoQoS VoIP Switch Platforms 663
Configuring Cisco AutoQoS VoIP 664
Configuring Cisco AutoQoS VoIP: Routers 665
Configuring Cisco AutoQoS VoIP: Switches 665
Monitoring Cisco AutoQoS VoIP 666
Monitoring Cisco AutoQoS VoIP: Routers 666
Monitoring Cisco AutoQoS VoIP: Switches 667
Automation with Cisco AutoQoS VoIP 668
Cisco AutoQoS for the Enterprise 668
Configuring Cisco AutoQoS for the Enterprise 670
Monitoring Cisco AutoQoS for the Enterprise: Phase 1 672
Monitoring Cisco AutoQoS for the Enterprise: Phase 2 672
Summary 673
Chapter Review Questions 673
Appendix A Answers to Chapter Review Questions 677
9781587204197 TOC 4/21/2011
Other Things You Might Like


Book $55.99