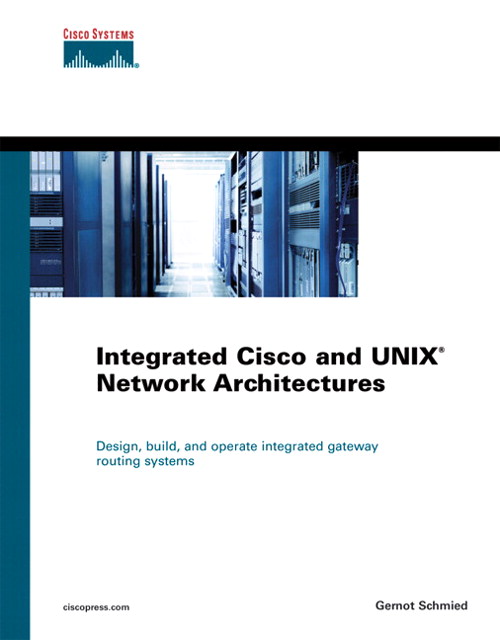 Share
|



Register your product to gain access to bonus material or receive a coupon.
Integrated Cisco and UNIX Network Architectures
Book
Sorry, this book is no longer in print.
Copyright 2005
Dimensions: 7-3/8" x 9-1/8"
Pages: 600
Edition: 1st
Book
ISBN-10: 1-58705-121-4
ISBN-13: 978-1-58705-121-0
Design, build, and operate integrated gateway routing systems
Learn how to design, build, and administer integrated gateway routing systems
Identify the advantages and disadvantages of Cisco/UNIX integrated designs
Review lab exercises throughout the book that bring concepts to life
Encounter the fascinating world of dynamic UNIX routing and TCP/IP stacks
Understand the way forwarding and signaling are implemented in the UNIX world
Gain proficiency with tunnels and VPNs
Utilize advanced features such as high availability, NAT, bandwidth management, policy routing, and multicast architectures
Explore Linux and BSD networking concepts
UNIX gateways introduce massive performance possibilities at a fraction of the price of dedicated proprietary appliances by performing network tasks entirely in software. With Cisco Systems routers dominating the Internet and enterprise networking and UNIX routing and gateway solutions spreading from within server farms and data centers, new opportunities and possibilities arise for system and network administrators who understand the benefit of integrated designs. For example, the use of UNIX gateways can enable intrusion detection, firewalling, cable and DSL access, terminal servers and access concentrators, VPNs, roaming user support, and other LAN and WAN services. Far from being mutually exclusive, Cisco devices, UNIX operating systems, and open source applications can enjoy a peaceful, perhaps even inevitable, coexistence for years to come. Integrated Cisco and UNIX Network Architectures shows how Cisco routers, switches, and firewalls seamlessly work together with UNIX operating systems in an integrated networking and security environment.
Integrated Cisco and UNIX Network Architectures reveals not just the feasibility but also the desirability of Cisco/UNIX integrated routing with regard to systems integration, interoperability, and feature requirements. Detailed, progressively complex lab scenarios emphasize enterprise and ISP requirements, casting light on the similarities and differences of these two worlds. Platform issues, such as behavior of firewall filters, kernel features, and proper standards compliance, are discussed, analyzed with sniffers, and tested with handcrafted traffic from packet generators and test applications.
If you want to master and maximize the operation of your UNIX and Cisco network architectures, this book shows you how.
This book is part of the Networking Technology Series from Cisco Pressß which offers networking professionals valuable information for constructing efficient networks, understanding new technologies, and building successful careers.
Table of Contents
Introduction
Chapter 1 Operating System Issues and Features—The Big Picture
Why UNIX Is Viable
Routing, Forwarding, and Switching Approaches
The Evolution of AT&T System V (SVR4) UNIX and 4.4-Lite BSD Derivatives
Operating Systems Design Considerations
Kernel-Space Modules Versus User-Space Applications
Cisco IOS Software
OpenBSD
FreeBSD
NetBSD
Linux
GNU Hurd/Mach
Other Commercial Unices
Summary
Recommended Reading
Endnotes
Chapter 2 User-Space Routing Software
The GNU Zebra Routing Software
Other Things You Might Like



eBook (Watermarked) $38.39