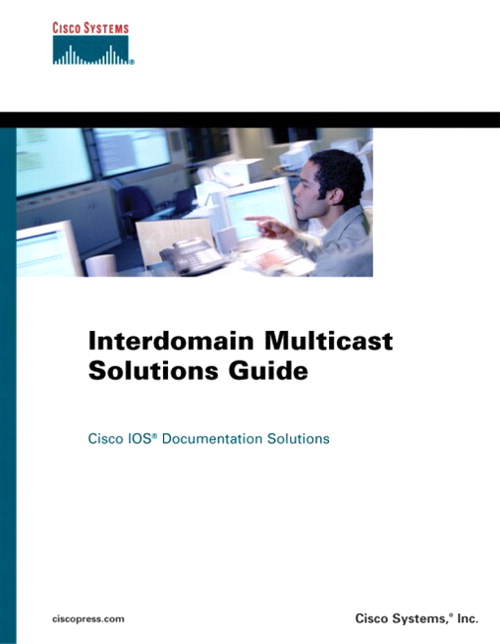 Share
|



Register your product to gain access to bonus material or receive a coupon.
Interdomain Multicast Solutions Guide
Book
Sorry, this book is no longer in print.
Copyright 2003
Dimensions: Special (all other)
Pages: 336
Edition: 1st
Book
ISBN-10: 1-58705-083-8
ISBN-13: 978-1-58705-083-1
Demand is growing for Internet Protocol (IP) multicast services to extend applications across Internet service provider (ISP) network boundaries to a wider audience. To meet this need, sophisticated protocols such as Protocol Independent Multicast sparse mode (PIM-SM), Multiprotocol Border Gateway Protocol (MBGP), and Multicast Source Discovery Protocol (MSDP) are available in Cisco Internet Operating System (Cisco IOS(r)) software that provide solutions for successfully implementing native interdomain multicast service.
Interdomain Multicast Solutions Guide is a complete, concise, solutions-based book that shows how to deploy IP multicast services. The book begins with a technology description that defines IP multicast and summarizes various methods of deploying multicast services. From there, readers are presented two distinct interdomain multicast solutions using MSDP and Source Specific Multicast (SSM), respectively. These two solutions feature complete design and implementation scenarios that reflect real-world applications. The appendix includes a command summary that describes all the IOS commands discussed in the book.
Cisco IOS software is a feature-rich network operating system that runs on almost every platform and device that Cisco(r) offers. Cisco customers who use IOS documentation have requested more robust and more complete configuration examples to help in their day-to-day implementation of IOS. The Cisco Systems(r) IOS Documentation department has met that customer demand by creating a new documentation type called an integrated solutions document (ISD). ISDs provide concise design and application information, explaining how to integrate specific feature functionality within an existing network environment. By combining solutions-based ISDs with Cisco IOS configuration and command reference material, Interdomain Multicast Solutions Guide provides you with a complete interdomain multicast deployment guide.
Learn from Cisco-tested and industry-proven solutions with configuration examples
Explore concise design and application information that details how to integrate specific IOS feature functionality within an existing network environment
Incorporate the solutions in a variety of service provider and enterprise networking environments
Refer to command reference and configuration material essential to implementing interdomain multicast
Assess the three stages of implementing multicast: establishing intradomain multicast, establishing interdomain multicast, and connecting customers to an ISP infrastructure
Understand how SSM is in use in networks today and look ahead to how Internet Group Management Protocol version 3 (IGMPv3) will be utilized in the future
Cisco Systems,(r) Inc., is the worldwide leader in networking for the Internet. Cisco solutions, which include industry-leading publications from Cisco Press, educate and provide competitive advantage to customers through more efficient and timely exchange of information, leading to cost savings, process efficiencies, and closer business relationships. These solutions form the networking foundation for many organizations worldwide.
Other Things You Might Like

eBook (Watermarked) $63.99