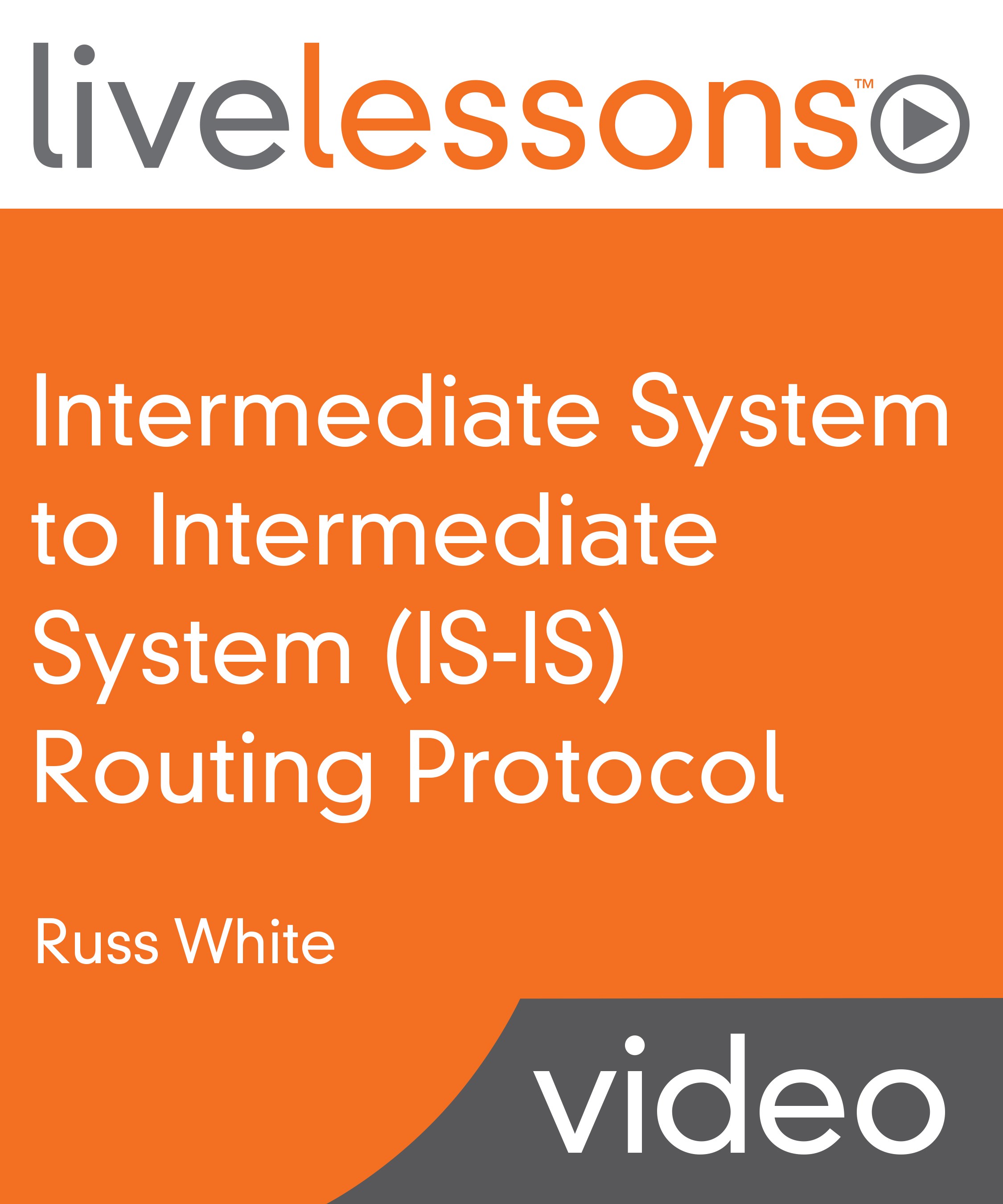 Register your product to gain access to bonus material or receive a coupon.
Intermediate System to Intermediate System (IS-IS) Routing Protocol LiveLessons
Online Video
Your Price: $199.99
List Price: $249.99

Video accessible from your Account page after purchase.
Copyright 2016
Edition: 1st
Online Video
ISBN-10: 0-13-446532-6
ISBN-13: 978-0-13-446532-6
7+ Hours of Video Instruction
Intermediate System to Intermediate System (IS-IS) Routing Protocol LiveLesson provides networking engineers with a full and complete knowledge of the operation and deployment of IS-IS in a variety of network environments.
In this video training, networking expert Russ White provides you with a detailed introduction to the IS-IS routing protocol. IS-IS is a widely deployed protocol used to provide routing information for IPv4 and IPv6 networks as well as MPLS label switching and many advanced functions. This video provides you with everything you need to know to get up and running with IS-IS, from the underlying history to configuration and troubleshooting a wide variety of features.
Customer Review
This is the best ISIS course I've ever heard. Russ is a real network guru, who knows a lot about routing in common and about ISIS in particularly. The only drawback is that materials are based on Cisco IOS, not IOS-XR as it more common for SP, while IOS widespread in enterprise.
Skill Level
What You Will Learn
How IS-IS finds the shortest path

OSI address structure and packet formats

Database synchronization

Configuring IS-IS routing

Optimizing IS-IS operation

Connecting flooding domains

Deploying IS-IS metrics

Security vulnerabilities and solutions

Multitopology IS-IS

Fast convergence

Redistribution
Who Should Take This Course
Any networking engineer who configures, troubleshoots, or otherwise has to manage the IS-IS protocol will be interested in this video. This includes engineers in both the enterprise and service provider markets. In addition, because IS-IS is included in expert-level certifications like CCIE and CCDE, candidates pursuing those certifications will also be interested in this title.
Course Requirements
Basic understanding knowledge of TCP/IP

General background in IP routing
New Player Enables Streaming and Download Access
Now you can stream and download videos for unlimited 24/7 online/offline access and ownership.
StreamingWatch instantly as the video streams online in real time; after purchase, simply click Watch Now to get started.
DownloadDownload video files for offline viewing anytime, anywhere; after purchase, simply click the Download icon within the player and follow the prompts.
Plus, enjoy new player features that track your progress and help you navigate between modules.
Table of Contents
Module 1: Introducing IS-IS
Lesson 1: History and Context
Module 2: Finding the Shortest Path
Lesson 2: Finding the Shortest Path
Lesson 3: Equal Cost Multipath
Lesson 4: SPF in Pseudocode
Module 3: Addressing & Discovery
Lesson 5: The Structure of an OSI Address
Lesson 6: OSI Addresses in Real Life
Lesson 7: Packet Formats
Module 4: Database Synchronization
Lesson 8: Neighbor Discovery
Lesson 9: Flooding
Lesson 10: Multiaccess Links
Lesson 11: Full Mesh
Module 5: Routing IP
Lesson 12: Routing IP
Lesson 13: Reviewing the Shortest Path
Lesson 14: Building the Routing Table
Lesson 15: Basic IS-IS in the Lab
Module 6: Optimization & Flooding Domains
Lesson 16: Optimizing IS-IS Operation
Lesson 17: Introducing Flooding Domains
Lesson 18: Flooding Domain Operation
Module 7: Connecting Flooding Domains
Lesson 19: Connecting Level 1 to Level 2
Lesson 20: Connecting Level 2 to Level 1
Lesson 21: Flooding Domains Lab
Lesson 22: Attached Bit and Route Leaking Lab
Lesson 23: Flooding Domain Deployment Considerations
Module 8: Metrics
Lesson 24: Metrics and Preferences
Lesson 25: Deploying IS-IS Metrics
Lesson 26: Metrics Deployment Considerations
Module 9: Review
Lesson 27: Review of IS-IS Basic Operation
Module 10: Security
Lesson 28: Security Vulnerabilities
Lesson 29: Security Posture and Solutions
Module 11: Multitopology
Lesson 30: Multitopology IS-IS
Lesson 31: Multitopology in the Lab
Module 12: Fast Convergence
Lesson 32: Optimizing IS-IS Convergence
Lesson 33: Loop-Free Alternates
Lesson 34: Ordered FIB
Lesson 35: Remote Loop-Free Alternate
Lesson 36: IS-IS Interaction with BGP
Lesson 37: Fast Convergence Considerations
Module 13: Redistribution
Lesson 38: Controlling Distribution
Module 14: Useful show Commands
Lesson 39: Useful show Commands
About LiveLessons Video Training
LiveLessons Video Training series publishes hundreds of hands-on, expert-led video tutorials covering a wide selection of technology topics designed to teach you the skills you need to succeed. This professional and personal technology video series features world-leading author instructors published by your trusted technology brands: Addison-Wesley, Cisco Press, IBM Press, Pearson IT Certification, Prentice Hall, Sams, and Que. Topics include: IT Certification, Programming, Web Development, Mobile Development, Home and Office Technologies, Business and Management, and more. View Cisco Press videos at: Cisco Press: http://www.ciscopress.com/livelessons
Table of Contents
Module 1: Introducing IS-IS
Lesson 1: History and Context
Module 2: Finding the Shortest Path
Lesson 2: Finding the Shortest Path
Lesson 3: Equal Cost Multipath
Lesson 4: SPF in Pseudocode
Module 3: Addressing & Discovery
Lesson 5: The Structure of an OSI Address
Lesson 6: OSI Addresses in Real Life
Lesson 7: Packet Formats
Module 4: Database Synchronization
Lesson 8: Neighbor Discovery
Lesson 9: Flooding
Lesson 10: Multiaccess Links
Lesson 11: Full Mesh
Module 5: Routing IP
Lesson 12: Routing IP
Lesson 13: Reviewing the Shortest Path
Lesson 14: Building the Routing Table
Lesson 15: Basic IS-IS in the Lab
Module 6: Optimization & Flooding Domains
Lesson 16: Optimizing IS-IS Operation
Lesson 17: Introducing Flooding Domains
Lesson 18: Flooding Domain Operation
Module 7: Connecting Flooding Domains
Lesson 19: Connecting Level 1 to Level 2
Lesson 20: Connecting Level 2 to Level 1
Lesson 21: Flooding Domains Lab
Lesson 22: Attached Bit and Route Leaking Lab
Lesson 23: Flooding Domain Deployment Considerations
Module 8: Metrics
Lesson 24: Metrics and Preferences
Lesson 25: Deploying IS-IS Metrics
Lesson 26: Metrics Deployment Considerations
Module 9: Review
Lesson 27: Review of IS-IS Basic Operation
Module 10: Security
Lesson 28: Security Vulnerabilities
Lesson 29: Security Posture and Solutions
Module 11: Multitopology
Lesson 30: Multitopology IS-IS
Lesson 31: Multitopology in the Lab
Module 12: Fast Convergence
Lesson 32: Optimizing IS-IS Convergence
Lesson 33: Loop-Free Alternates
Lesson 34: Ordered FIB
Lesson 35: Remote Loop-Free Alternate
Lesson 36: IS-IS Interaction with BGP
Lesson 37: Fast Convergence Considerations
Module 13: Redistribution
Lesson 38: Controlling Distribution
Module 14: Useful show Commands
Lesson 39: Useful show Commands
Other Things You Might Like



eBook (Watermarked) $38.39