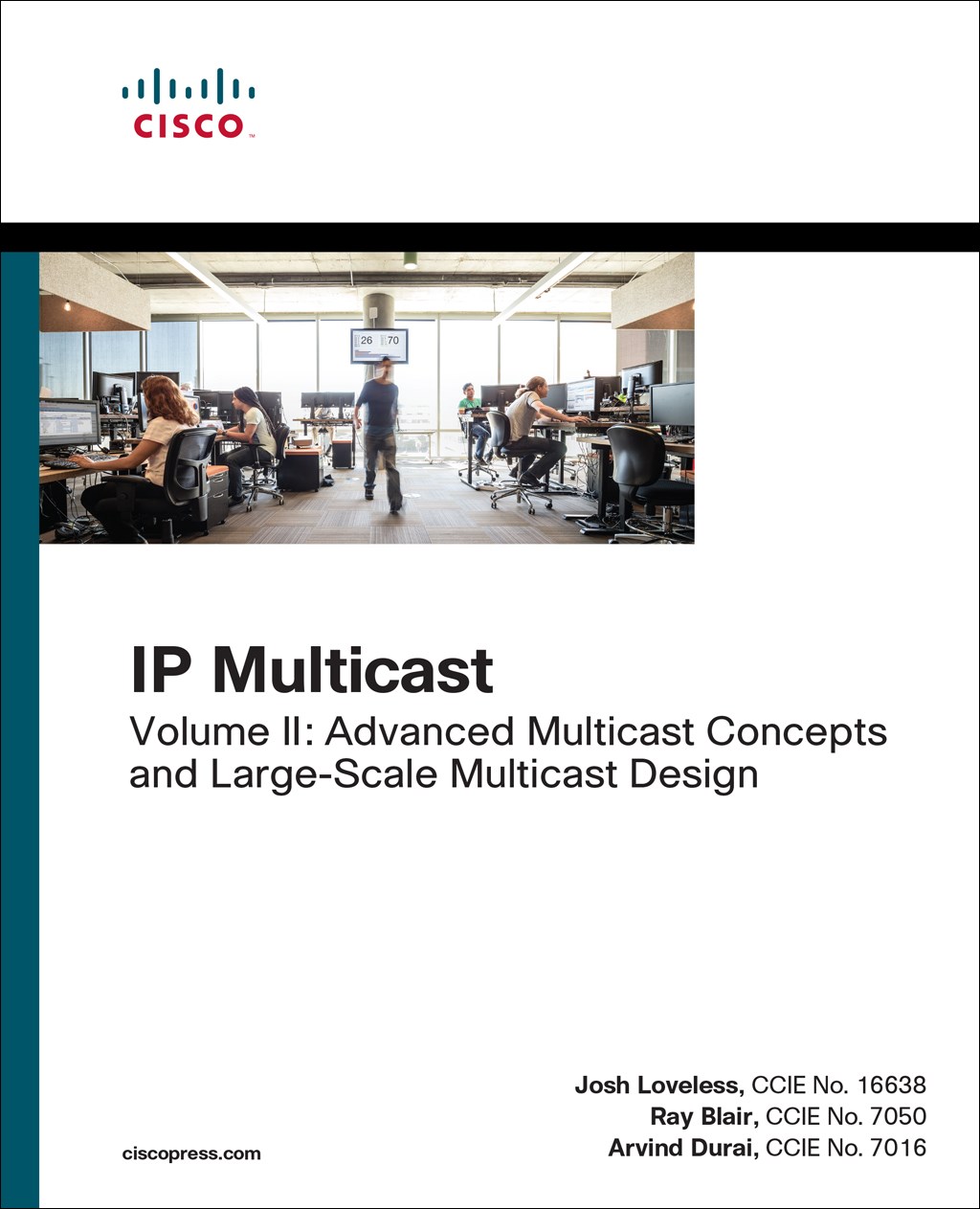 Register your product to gain access to bonus material or receive a coupon.
IP Multicast, Volume II: Advanced Multicast Concepts and Large-Scale Multicast Design
eBook (Watermarked)
Your Price: $44.79
List Price: $55.99
Includes EPUB and PDF

This eBook includes the following formats, accessible from your Account page after purchase:

EPUB The open industry format known for its reflowable content and usability on supported mobile devices.

PDF The popular standard, used most often with the free Adobe® Reader® software.

This eBook requires no passwords or activation to read. We customize your eBook by discreetly watermarking it with your name, making it uniquely yours.
Copyright 2018
Dimensions: 7-3/8" x 9-1/8"
Pages: 368
Edition: 1st
eBook (Watermarked)
ISBN-10: 0-13-378494-0
ISBN-13: 978-0-13-378494-7
Design, operate, and troubleshoot advanced Cisco IP multicast in enterprise, data center, and service provider networks
IP Multicast, Volume II thoroughly covers advanced IP multicast designs and protocols specific to Cisco routers and switches. It offers a pragmatic discussion of common features, deployment models, and field practices for advanced Cisco IP multicast networks, culminating with commands and methodologies for implementation and advanced troubleshooting.
After fully discussing inter-domain routing and Internet multicast, the authors thoroughly explain multicast scalability, transport diversification, and multicast MPLS VPNs. They share in-depth insights into multicast for the data center, a full chapter of best-practice design solutions, and a start-to-finish troubleshooting methodology designed for complex environments.
Reflecting the authors' extensive experience with service provider and enterprise networks, IP Multicast, Volume II will be indispensable to IP multicast engineers, architects, operations technicians, consultants, security professionals, and collaboration specialists. Network managers and administrators will find its case studies and feature explanations especially valuable.
Understand the fundamental requirements for inter-domain multicast
Design control planes for identifying source and receiver, as well as the downstream control plane
Support multicast transport where cloud service providers don't support native multicast
Use multicast VPNs to logically separate traffic on the same physical infrastructure
Explore the unique nuances of multicast in the data center
Implement Virtual Port Channel (vPC), Virtual Extensible LAN (VXLAN), and Cisco's Application Centric Infrastructure (ACI)
Design multicast solutions for specific industries or applications
Walk through examples of best-practice multicast deployments
Master an advanced methodology for troubleshooting large IP multicast networks

Table of Contents
Introduction xiv
Chapter 1 Interdomain Routing and Internet Multicast 1
Introduction to Interdomain Multicast 1
What Is a Multicast Domain? A Refresher 6
PIM Domain Design Types 14
Forwarding Between Domains 19
Autonomous System Borders and Multicast BGP 22
Domain Borders and Configured Multicast Boundaries 32
Multicast Source Discovery Protocol 38
Understanding Source Actives (SA) and MSDP Mechanics 47
Configuring and Verifying MSDP 50
Basic MSDP Deployment Use Case 56
Intradomain versus Interdomain Design Models 62
Intra-AS Multidomain Design 62
Inter-AS and Internet Design 72
Protecting Domain Borders and Interdomain Resources 82
Interdomain Multicast Without Active Source Learning 88
Summary 97
References 97
Chapter 2 Multicast Scalability and Transport Diversification 99
Why Is Multicast Not Enabled Natively in a Public Cloud Environment? 99
Enterprise Adoption of Cloud Services 99
Cloud Connectivity to an Enterprise 101
Virtual Services in a Cloud 103
Service Reflection Feature 105
Multicast Traffic Engineering 117
Enabling Multicast to the CSP Use Case 1 132
Enabling Multicast to the CSP Use Case 2 134
Summary 135
Chapter 3 Multicast MPLS VPNs 137
Multicast in an MPLS VPN Network 138
Multicast Distribution Tree (MDT) 139
Default MDT 139
Data MDT 142
Default MDT in Action 148
Multicast LDP (MLDP) 160
FEC Elements 161
In-Band Signaling Operation 162
Out-of-Band (Overlay) Signaling Operation 163
Default MDT MLDP 164
Default MDT MLDP Root High Availability 164
MLDP in Action 165
Profiles 181
Migrating Between Profiles 185
Provider (P) Multicast Transport 186
PE—CE Multicast Routing 186
CE—CE Multicast Routing 187
PE—PE Ingress Replication 187
Multicast Extranet VPNs 192
IPv6 MVPN 202
Bit Index Explicit Replication (BIER) 202
Summary 205
References 206
Chapter 4 Multicast in Data Center Environments 207
Multicast in a VPC Environment 207
Multicast Flow over a VPC 208
VXLAN 211
VTEP 211
VXLAN Flood and Learn 213
VXLAN with EVPN 216
Host-to-Host Multicast Communication in VXLAN 224
Multicast in ACI Data Center Networks 227
ACI Fabrics and Overlay Elements 229
Layer 2 IGMP Snooping in ACI 231
Layer 3 Multicast in ACI 232
Summary 235
Chapter 5 Multicast Design Solutions 237
Multicast-Enabled Clinical Networks 238
Accommodating Medical Device Communications Through Multicast 240
Multicast Considerations for Wireless Networks 246
Multicast in Multitenant Data Centers 254
ACI Multitenant Multicast 258
Multicast and Software-Defined Networking 260
LISP Map Resolver (MR)/Map Server (MS) 263
LISP PETRs/PITRs 264
LISP and Multicast 265
Multicast in Utility Networks 267
PMU 268
Radio over IP Design 269
Multicast-Enabled Markets 269
Multicast Design in a Market Data Environment 271
FSP Multicast Design 273
Brokerage Multicast Design 273
Service Provider Multicast 274
Service Provider PIM-Type Selection and RP Placement 275
IPTV Delivery over Multicast 279
Summary 282
References 282
Chapter 6 Advanced Multicast Troubleshooting 283
Troubleshooting Interdomain Multicast Networks 285
Troubleshooting PIM with Traffic Engineering 301
Troubleshooting MVPN 314
Verifying Multicast in VXLAN 322
Summary 326
9781587144936, TOC, 2/26/2018

Other Things You Might Like



eBook (Watermarked) $38.39