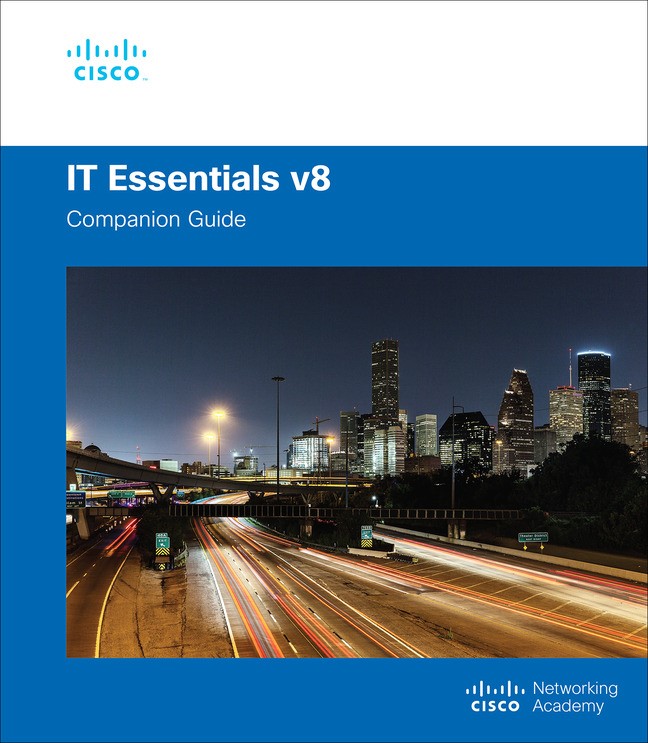 Register your product to gain access to bonus material or receive a coupon.
IT Essentials Companion Guide v8
eBook (Watermarked)
Your Price: $64.80
List Price: $72.00
Includes EPUB and PDF

This eBook includes the following formats, accessible from your Account page after purchase:

EPUB The open industry format known for its reflowable content and usability on supported mobile devices.

PDF The popular standard, used most often with the free Adobe® Reader® software.

This eBook requires no passwords or activation to read. We customize your eBook by discreetly watermarking it with your name, making it uniquely yours.
Copyright 2024
Edition: 1st
eBook (Watermarked)
ISBN-10: 0-13-816617-X
ISBN-13: 978-0-13-816617-5
IT Essentials v8 Companion Guide supports the Cisco Networking Academy IT Essentials Version 8 course. The course is designed for Cisco Networking Academy students who want to pursue careers in IT and learn how computers work, how to assemble computers, and how to safely and securely troubleshoot hardware and software issues.
The features of the Companion Guide are designed to help you study and succeed in this course:
Chapter objectivesReview core concepts by answering the focus questions listed at the beginning of each chapter.
Key termsRefer to the updated lists of networking vocabulary introduced and turn to the highlighted terms in context.
Course section numberingFollow along with the course heading numbers to easily jump online to complete labs, activities, and quizzes referred to within the text.
Check Your Understanding Questions and Answer KeyEvaluate your readiness with the updated end-of-chapter questions that match the style of questions you see on the online course quizzes.
Table of Contents
Introduction xxxiii
Chapter 1 Introduction to Personal Computer Hardware 1
Objectives 1
Key Terms 1
Introduction to Personal Computers (1.0) 5
Personal Computer Safety (1.1) 5
What Is in a Computer? (1.1.1) 5
Electrical and ESD Safety (1.1.2) 6
PC Components (1.2) 7
Case and Power Supplies (1.2.1) 7
Motherboards (1.2.2) 13
CPUs and Cooling Systems (1.2.3) 18
Memory (1.2.4) 20
Adapter Cards and Expansion Slots (1.2.5) 27
Hard Disk Drives and SSDs (1.2.6) 31
Optical Storage Devices (1.2.7) 35
Ports, Cables, and Adapters (1.2.8) 37
Input Devices (1.2.9) 46
Output Devices (1.2.10) 54
Computer Disassembly (1.3) 58
The Technician's Toolkit (1.3.1) 58
Computer Disassembly (1.3.2) 58
Summary (1.4) 60
Practice 60
Check Your Understanding Questions 61
Chapter 2 PC Assembly 65
Objectives 65
Key Terms 65
Introduction to PC Assembly (2.0) 67
Assemble the Computer (2.1) 67
General and Fire Safety (2.1.1) 67
Open the Case and Connect the Power Supply (2.1.2) 68
Install the Motherboard Components (2.1.3) 71
Install Internal Drives (2.1.4) 75
Install the Adapter Cards (2.1.5) 80
Select Additional Storage (2.1.6) 87
Install the Cables (2.1.7) 90
Summary (2.2) 95
Practice 96
Check Your Understanding Questions 96
Chapter 3 Advanced Computer Hardware 101
Objectives 101
Key Terms 101
Introduction to Advanced Computer Hardware (3.0) 104
Boot the Computer (3.1) 104
POST, BIOS, CMOS, and UEFI (3.1.1) 105
BIOS/UEFI Configuration (3.1.2) 110
Electrical Power (3.2) 113
Wattage and Voltage (3.2.1) 113
Power Fluctuation and Protection (3.2.2) 115
Advanced Computer Functionality (3.3) 117
CPU Architectures and Operation (3.3.1) 117
RAID (3.3.2) 122
Ports, Connectors, and Cables (3.3.3) 125
Monitors (3.3.4) 142
Computer Configuration (3.4) 146
Upgrade Computer Hardware (3.4.1) 147
Protecting the Environment (3.5) 152
Safe Disposal of Equipment and Supplies (3.5.1) 153
Summary (3.6) 155
Practice 156
Check Your Understanding Questions 156
Chapter 4 Preventive Maintenance and Troubleshooting 161
Objectives 161
Key Terms 161
Introduction (4.0) 162
Preventive Maintenance (4.1) 162
PC Preventive Maintenance Overview (4.1.1) 162
Troubleshooting Process (4.2) 165
Troubleshooting Process Steps (4.2.1) 165
Common Problems and Solutions for PCs (4.2.2) 174
Apply Troubleshooting Process to Computer Components and Peripherals (4.2.3) 182
Summary (4.3) 186
Practice 186
Check Your Understanding Questions 186
Chapter 5 Networking Concepts 191
Objectives 191
Key Terms 191
Introduction (5.0) 194
Network Components and Types (5.1) 194
Types of Networks (5.1.1) 194
Internet Connection Types (5.1.2) 202
Networking Protocols, Standards, and Services (5.2) 208
Transport Layer Protocols (5.2.1) 208
Application Port Numbers (5.2.2) 213
Wireless Protocols (5.2.3) 217
Network Services (5.2.4) 222
Network Devices (5.3) 233
Basic Network Devices (5.3.1) 233
Security Devices (5.3.2) 239
Other Network Devices (5.3.3) 244
Network Cables (5.4) 248
Network Tools (5.4.1) 248
Copper Cables and Connectors (5.4.2) 253
Fiber Cables and Connectors (5.4.3) 259
Summary (5.5) 265
Practice 266
Check Your Understanding Questions 266
Chapter 6 Applied Networking 271
Objectives 271
Key Terms 271
Introduction (6.0) 273
Device to Network Connection (6.1) 273
Network Addressing (6.1.1) 273
Configure a NIC (6.1.2) 290
Configure a Wired and Wireless Network (6.1.3) 296
Firewall Settings (6.1.4) 309
IoT Device Configuration (6.1.5) 317
The Basic Networking Troubleshooting Process (6.2) 319
Applying the Troubleshooting Process to Networking (6.2.1) 319
Network Problems and Solutions (6.2.2) 323
Summary (6.3) 328
Practice 328
Packet Tracer Activities 329
Check Your Understanding Questions 329
Chapter 7 Laptops and Other Mobile Devices 333
Objectives 333
Key Terms 333
Introduction (7.0) 336
Characteristics of Laptops and Other Mobile Devices (7.1) 336
Mobile Device Overview (7.1.1) 337
Laptop Components (7.1.2) 344
Laptop Display Components (7.1.3) 349
Laptop Configuration (7.2) 353
Power Settings Configuration (7.2.1) 353
Wireless Configuration (7.2.2) 355
Laptop Hardware and Component Installation and Configuration (7.3) 359
Expansion Slots (7.3.1) 359
Replacing Laptop Components (7.3.2) 365
Other Mobile Device Hardware Overview (7.4) 369
Other Mobile Device Hardware (7.4.1) 369
Specialty Mobile Devices (7.4.2) 373
Network Connectivity and Email (7.5) 377
Wireless and Cellular Data Networks (7.5.1) 377
Bluetooth (7.5.2) 383
Configuring Email (7.5.3) 387
Mobile Device Synchronization (7.5.4) 392
Preventive Maintenance for Laptops and Other Mobile Devices (7.6) 397
Scheduled Maintenance for Laptops and Other Mobile Devices (7.6.1) 397
Basic Troubleshooting Process for Laptops and Other Mobile Devices (7.7) 400
Applying the Troubleshooting Process to Laptops and Other Mobile Devices (7.7.1) 400
Common Problems and Solutions for Laptops and Other Mobile Devices (7.7.2) 404
Summary (7.8) 410
Practice 411
Check Your Understanding Questions 411
Chapter 8 Printers 415
Objectives 415
Key Terms 415
Introduction (8.0) 417
Common Printer Features (8.1) 417
Characteristics and Capabilities (8.1.1) 417
Printer Connections (8.1.2) 421
Printer Type Comparison (8.2) 425
Inkjet Printers (8.2.1) 425
Laser Printers (8.2.2) 431
Laser Printing Process (8.2.3) 435
Thermal Printers and Impact Printers (8.2.4) 442
Virtual Printers (8.2.5) 444
3D Printers (8.2.6) 446
Installing and Configuring Printers (8.3) 450
Installing and Updating a Printer (8.3.1) 450
Configuring Options and Default Settings (8.3.2) 452
Optimizing Printer Performance (8.3.3) 454
Sharing Printers (8.4) 456
Operating System Settings for Sharing Printers (8.4.1) 456
Print Servers (8.4.2) 459
Maintaining and Troubleshooting Printers (8.5) 462
Printer Preventive Maintenance (8.5.1) 462
Inkjet Printer Preventive Maintenance (8.5.2) 464
Laser Printer Preventive Maintenance (8.5.3) 464
Thermal Printer Preventive Maintenance (8.5.4) 465
Impact Printer Preventive Maintenance (8.5.5) 467
3D Printer Preventive Maintenance (8.5.6) 468
Applying the Troubleshooting Process to Printers (8.5.7) 469
Problems and Solutions (8.5.8) 472
Summary (8.6) 476
Practice 477
Check Your Understanding Questions 477
Chapter 9 Virtualization and Cloud Computing 481
Objectives 481
Key Terms 481
Introduction (9.0) 482
Virtualization (9.1) 482
Virtualization (9.1.1) 482
Client-Side Virtualization (9.1.2) 486
Cloud Computing (9.2) 491
Cloud Computing Applications (9.2.1) 491
Cloud Services (9.2.2) 492
Summary (9.3) 497
Practice 497
Check Your Understanding Questions 498
Chapter 10 Windows Installation 503
Objectives 503
Key Terms 503
Introduction (10.0) 505
Modern Operating Systems (10.1) 505
Operating System Features (10.1.1) 505
Customer Requirements for an Operating System (10.1.2) 510
Operating System Upgrades (10.1.3) 514
Disk Management (10.2) 518
Disk Management (10.2.1) 518
Install Windows (10.3) 524
Basic Windows Installation (10.3.1) 524
Custom Installation Options (10.3.2) 526
Windows Boot Sequence (10.3.3) 533
Summary (10.4) 537
Practice 537
Check Your Understanding Questions 538
Chapter 11 Windows Configuration 541
Objectives 541
Key Terms 542
Introduction (11.0) 547
Windows Desktop and File Explorer (11.1) 547
Comparing Windows Versions (11.1.1) 548
The Windows Desktop (11.1.2) 550
Windows Task Manager (11.1.3) 555
Windows File Explorer (11.1.4) 558
Configure Windows with Control Panels (11.2) 567
Control Panel Utilities (11.2.1) 568
User and Account Control Panel Items (11.2.2) 576
Network and Internet Control Panels (11.2.3) 580
Display Settings and Control Panel (11.2.4) 590
Power and System Control Panels (11.2.5) 593
Hardware and Sound Control Panels (11.2.6) 600
Clock, Region, and Language (11.2.7) 604
Programs and Features Control Panels (11.2.8) 609
Other Control Panels (11.2.9) 611
System Administration (11.3) 615
Administrative Tools (11.3.1) 615
System Utilities (11.3.2) 624
Disk Management (11.3.3) 632
Application Installation and Configuration (11.3.4) 640
Command-Line Tools (11.4) 649
Using Windows CLI (11.4.1) 649
File System CLI Commands (11.4.2) 655
Disk CLI Commands (11.4.3) 670
Task and System CLI Commands (11.4.4) 674
Other Useful CLI Commands (11.4.5) 679
Windows Networking (11.5) 683
Network Sharing and Mapping Drives (11.5.1) 683
Sharing Local Resources with Others (11.5.2) 688
Configure a Wired Network Connection (11.5.3) 691
Configure a Wireless Network Interface in Windows (11.5.4) 698
Remote Access Protocols (11.5.5) 699
Remote Desktop and Assistance (11.5.6) 701
Common Preventive Maintenance Techniques for Operating Systems (11.6) 702
OS Preventive Maintenance Plan (11.6.1) 702
Backup and Restore (11.6.2) 706
Basic Troubleshooting Process for Windows Operating Systems (11.7) 709
Applying Troubleshooting Process to Windows Operating Systems (11.7.1) 709
Common Problems and Solutions for Windows Operating Systems (11.7.2) 713
Advanced Troubleshooting for Windows Operating Systems (11.7.3) 718
Summary (11.8) 723
Practice 724
Check Your Understanding Questions 726
Chapter 12 Mobile, Linux, and macOS Operating Systems 731
Objectives 731
Key Terms 731
Introduction (12.0) 733
Mobile Operating Systems (12.1) 733
Android vs. iOS (12.1.1) 733
Mobile Touch Interface (12.1.2) 739
Common Mobile Device Features (12.1.3) 746
Methods for Securing Mobile Devices (12.2) 762
Passcode Locks (12.2.1) 763
Cloud-Enabled Services for Mobile Devices (12.2.2) 766
Software Security (12.2.3) 771
Linux and macOS Operating Systems (12.3) 775
Linux and macOS Tools and Features (12.3.1) 775
Linux and macOS Best Practices (12.3.2) 790
Basic CLI Commands (12.3.3) 795
Basic Troubleshooting Process for Mobile, Linux, and macOS Operating Systems (12.4) 806
Applying the Troubleshooting Process to Mobile, Linux, and macOS Operating Systems (12.4.1) 806
Common Problems and Solutions for Other Operating Systems (12.4.2) 810
Summary (12.5) 818
Practice 818
Check Your Understanding Questions 819
Chapter 13 Security 823
Objectives 823
Key Terms 823
Introduction (13.0) 826
13.1 Security Threats (13.1) 826
Malware (13.1.1) 827
Preventing Malware (13.1.2) 832
Network Attacks (13.1.3) 837
Social Engineering Attacks (13.1.4) 842
Security Procedures (13.2) 846
Security Policy (13.2.1) 846
Protecting Physical Equipment (13.2.2) 847
Protecting Data (13.2.3) 854
Data Destruction (13.2.4) 860
Securing Windows Workstations (13.3) 862
Securing a Workstation (13.3.1) 862
Windows Local Security Policy (13.3.2) 868
Managing Users and Groups (13.3.3) 873
Windows Firewall (13.3.4) 881
Web Security (13.3.5) 889
Security Maintenance (13.3.6) 898
Wireless Security (13.4) 901
Configure Wireless Security (13.4.1) 901
Basic Troubleshooting Process for Security (13.5) 916
Applying the Troubleshooting Process to Security (13.5.1) 916
Common Problems and Solutions for Security (13.5.2) 920
Summary (13.6) 923
Practice 924
Packet Tracer Activity 925
Check Your Understanding Questions 925
Chapter 14 The IT Professional 929
Objectives 929
Key Terms 929
Introduction (14.0) 932
Communication Skills and the IT Professional (14.1) 932
Communication Skills, Troubleshooting, and Professional Behavior (14.1.1) 932
Working with a Customer (14.1.2) 934
Professional Behavior (14.1.3) 936
The Customer Call (14.1.4) 939
Operational Procedures (14.2) 941
Documentation (14.2.1) 942
Change Management (14.2.2) 948
Disaster Prevention and Recovery (14.2.3) 951
Ethical and Legal Considerations (14.3) 955
Ethical and Legal Considerations in the IT Profession (14.3.1) 955
Legal Procedures Overview (14.3.2) 960
Call Center Technicians (14.4) 964
Call Centers, Level One and Level Two Technicians (14.4.1) 964
Basic Scripting and the IT Professional (14.4.2) 969
Summary (14.5) 978
Practice 979
Check Your Understanding Questions 979
Appendix A Answers to Check Your Understanding Questions 985
Glossary 1007


9780138166106 TOC 6/14/2023

Other Things You Might Like


Cisco Certified Support Technician CCST Networking 100-150 Official Cert Guide Premium Edition and Practice Test

By Russ White
Premium Edition eBook $47.99