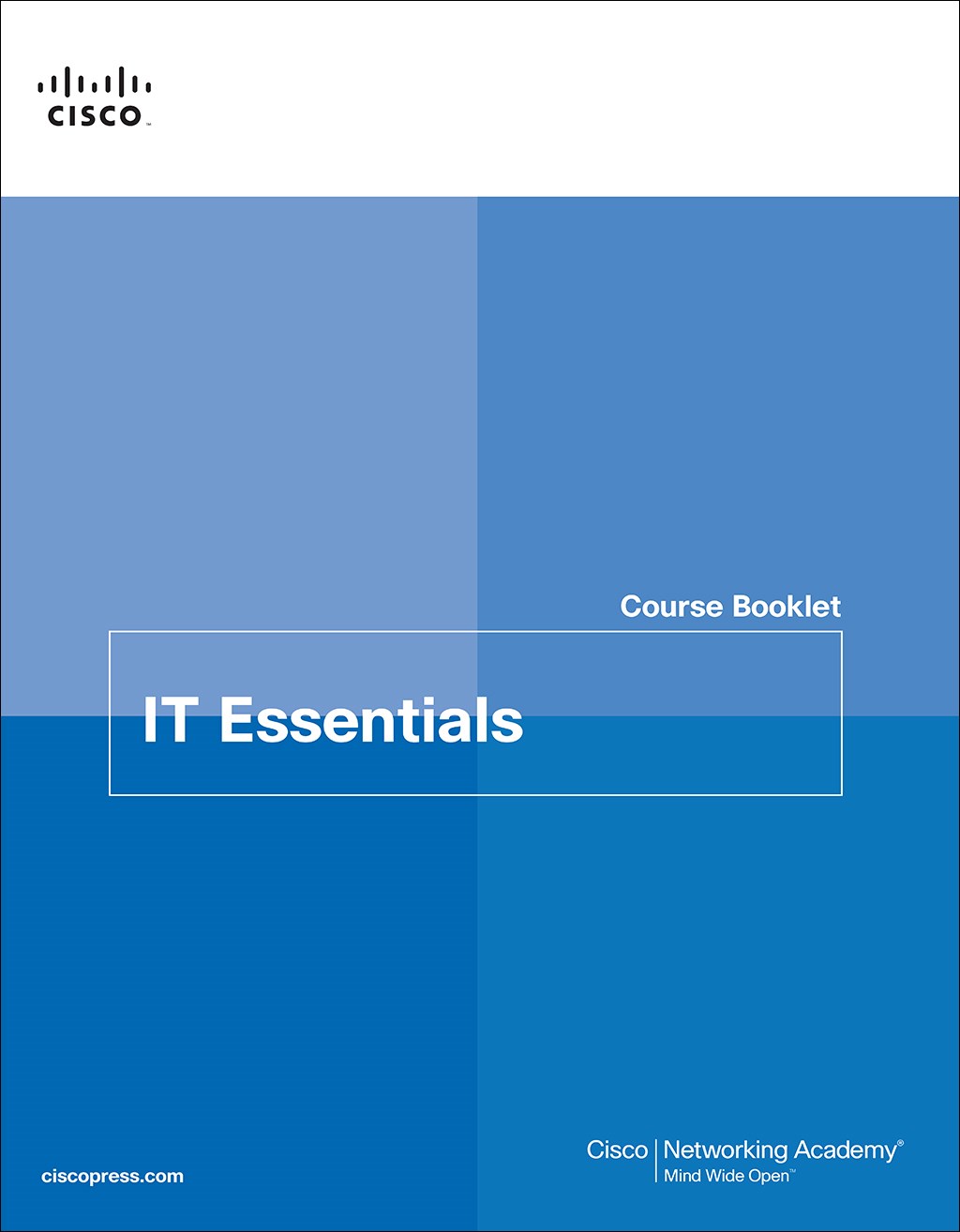 Register your product to gain access to bonus material or receive a coupon.
IT Essentials Course Booklet, 7th Edition
Book
Your Price: $27.00
List Price: $30.00
Usually ships in 24 hours.
Features
Thoroughly covers A+ objectives related to the fundamentals of PC technology, operating systems, networking, security, and troubleshooting
Handy printed format lets students easily highlight, take notes, and study when Internet access isn't available
Links directly to Cisco Networking Academy's online curriculum
Copyright 2020
Dimensions: 8-1/2" x 10-7/8"
Pages: 352
Edition: 7th
Book
ISBN-10: 0-13-561216-0
ISBN-13: 978-0-13-561216-3
Your Cisco Networking Academy Course Booklet is designed as a study resource you can easily read, highlight, and review on the go, wherever the Internet is not available or practical:
The text is extracted directly, word-for-word, from the online course so you can highlight important points and take notes in the "Your Chapter Notes" section.
Headings with the exact page correlations provide a quick reference to the online course for your classroom discussions and exam preparation.
An icon system directs you to the online curriculum to take full advantage of the images embedded within the Networking Academy online course interface and reminds you to do the labs, interactive activities, packet tracer activities, watch videos, and take the chapter quizzes.
The Course Booklet is a basic, economical paper-based resource to help you succeed with the Cisco Networking Academy online course.
Online Sample Chapter
Introduction to Personal Computer Hardware
Table of Contents
Chapter 1 Introduction to Personal Computer Hardware 1
1.0 Introduction to Personal Computers 1
1.1 Personal Computers 1
1.1.1 What is in a Computer? 1
1.1.2 Electrical and ESD Safety 1
1.2 PC Components 2
1.2.1 Case and power supplies 2
1.2.2 Motherboards 4
1.2.3 CPUs and Cooling Systems 6
1.2.4 Memory 6
1.2.5 Adapter Cards and Expansion Slots 8
1.2.6 Hard disk drives and SSDs 9
1.2.7 Optical Storage Devices 11
1.2.8 Ports, Cables, and Adaptors 11
1.2.9 Input Devices 12
1.2.10 Output Devices 12
1.3 Computer Disassembly 13
1.3.1 The Technician's Toolkit 13
1.3.2 Computer Disassembly 13
1.4 Summary 14
Chapter 1 Quiz 15
Chapter 1 Exam 15
Your Chapter Notes 15
Chapter 2 PC Assembly 17
2.0 Introduction to PC Assembly 17
2.1 Assemble the Computer 17
2.1.1 General and Fire Safety 17
2.1.2 Open the Case and Connect the Power Supply 17
2.1.3 Install the Motherboard Components 19
2.1.4 Install Internal Drives 21
2.1.5 Install the Adapter Cards 23
2.1.6 Select Additional Storage 25
2.1.7 Install the Cables 26
2.2 Summary 28
Chapter 2 Quiz 30
Chapter 2 Exam 30
Your Chapter Notes 30
Chapter 3 Advanced Computer Hardware 31
3.0 Introduction to Advanced Computer Hardware 31
3.1 Boot the Computer 31
3.1.1 POST, BIOS, CMOS and UEFI 31
3.1.2 BIOS/UEFI Configuration 33
3.2 Electrical Power 35
3.2.1 Wattage and Voltage 35
3.2.2 Power Fluctuation and Protection 36
3.3 Advanced Computer Functionality 37
3.3.1 CPU Architectures and Operation 37
3.3.2 RAID 39
3.3.3 Ports, Connectors, and Cables 40
3.3.4 Monitors 41
3.4 Computer Configuration 42
3.4.1 Upgrade Computer Hardware 42
3.4.2 Configurations for Specialized Computers 45
3.5 Protecting the Environment 47
3.5.1 Safe Disposal of Equipment and Supplies 47
3.6 Summary 48
Chapter 3 Quiz 50
Chapter 3 Exam 50
Your Chapter Notes 50
Chapter 4 Preventive Maintenance and Troubleshooting 51
4.0 Introduction 51
4.1 Preventive Maintenance 51
4.1.1 PC Preventive Maintenance Overview 51
4.2 Troubleshooting Process 53
4.2.1 Troubleshooting Process Steps 53
4.2.2 Common Problems and Solutions for PCs 58
4.2.3 Apply Troubleshooting Process to Computer Components and Peripherals 58
4.3 Summary 60
Chapter 4 Quiz 61
Chapter 4 Exam 61
Your Chapter Notes 61
Chapter 5 Networking Concepts 63
5.0 Introduction 63
5.1 Network Components and Types 63
5.1.1 Types of Networks 63
5.1.2 Internet Connection Types 64
5.2 Networking Protocols, Standards, and Services 67
5.2.1 Transport Layer Protocols 67
5.2.2 Application Port Numbers 68
5.2.3 Wireless Protocols 69
5.2.4 Network Services 70
5.3 Network Devices 73
5.3.1 Basic Network Devices 73
5.3.2 Security Devices 76
5.3.3 Other Network Devices 77
5.4 Network Cables 79
5.4.1 Network Tools 79
5.4.2 Copper Cables and Connectors 79
5.4.3 Fiber Cables and Connectors 80
5.5 Summary 81
Chapter 5 Quiz 83
Chapter 5 Exam 83
Your Chapter Notes 83
Chapter 6 Applied Networking 85
6.0 Introduction 85
6.1 Device to Network Connection 85
6.1.1 Network Addressing 85
6.1.2 Configure a NIC 89
6.1.3 Configure a Wired and Wireless Network 92
6.1.4 Firewall Settings 94
6.1.5 IoT Device Configuration 97
6.2 Basic Troubleshooting Process for Networks 98
6.2.1 Applying the Troubleshooting Process to 98
6.2.2 Network Problems and Solutions 99
6.3 Summary 99
Chapter 6 Quiz 101
Chapter 6 Exam 101
Your Chapter Notes 101
Chapter 7 Laptops and Other Mobile Devices 103
7.0 Introduction 103
7.1 Characteristics of laptops and other mobile devices 103
7.1.1 Mobile Device Overview 103
7.1.2 Laptop Components 106
7.1.3 Laptop Display Components 108
7.2 Laptop Configuration 109
7.2.1 Power Settings Configuration 109
7.2.2 Wireless Configuration 110
7.3 Laptop Hardware and Component Installation and Configuration 112
7.3.1 Expansion Slots 112
7.3.2 Replacing Laptop Components 114
7.4 Other Mobile Device Hardware Overview 117
7.4.1 Other Mobile Device Hardware 117
7.4.2 Specialty Mobile Devices 118
7.5 Network Connectivity and Email 119
7.5.1 Wireless and Cellular Data Networks 119
7.5.2 Bluetooth 121
7.5.3 Configuring Email 122
7.5.4 Mobile Device Synchronization 124
7.6 Preventive Maintenance for Laptops and other Mobile Devices 126
7.6.1 Scheduled Maintenance for Laptops and other Mobile Devices 126
7.7 Basic Troubleshooting Process for Laptops and other Mobile Devices 127
7.7.1 Applying the Troubleshooting Process to Laptops and other Mobile Devices 127
7.7.2 Common Problems and Solutions for Laptops and Other Mobile Devices 128
7.8 Summary 129
Chapter 7 Quiz 131
Chapter 7 Exam 131
Your Chapter Notes 131
Chapter 8 Printers 133
8.0 Introduction 133
8.1 Common Printer Features 133
8.1.1 Characteristics and Capabilities 133
8.1.2 Printer Connections 135
8.2 Printer Type Comparison 135
8.2.1 Inkjet Printers 135
8.2.2 Laser Printers 135
8.2.3 Laser Printing Process 136
8.2.4 Thermal Printers and Impact Printers 136
8.2.5 Virtual Printers 137
8.2.6 3D Printers 137
8.3 Installing and Configuring Printers 138
8.3.1 Installing and Updating a Printer 138
8.3.2 Configuring Options and Default Settings 139
8.3.3 Optimizing Printer Performance 139
8.4 Sharing Printers 140
8.4.1 Operating System Settings for Sharing Printers 140
8.4.2 Print Servers 141
8.5 Maintaining and Troubleshooting Printers 143
8.5.1 Printer Preventive Maintenance 143
8.5.2 Inkjet Printer Preventive Maintenance 143
8.5.3 Laser Printer Preventive Maintenance 144
8.5.4 Thermal Printer Preventive Maintenance 145
8.5.5 Impact Printer Preventive Maintenance 145
8.5.6 3D Printer Preventive Maintenance 145
8.5.7 Applying the Troubleshooting Process to Printers 146
8.5.8 Problems and Solutions 147
8.6 Summary 147
Chapter 8 Quiz 149
Chapter 8 Exam 149
Your Chapter Notes 149
Chapter 9 Virtualization and Cloud Computing 151
9.0 Introduction 151
9.1 Virtualization 151
9.1.1 Virtualization 151
9.1.2 Client-Side Virtualization 153
9.2 Cloud Computing 155
9.2.1 Cloud Computing Applications 155
9.2.2 Cloud Services 155
9.3 Summary 156
Chapter 9 Quiz 158
Chapter 9 Exam 158
Your Chapter Notes 158
Chapter 10 Windows Installation 159
10.0 Introduction 159
10.1 Modern Operating Systems 159
10.1.1 Operating System Features 159
10.1.2 Customer Requirements for an Operating System 160
10.1.3 Operating System Upgrades 162
10.2 Disk Management 163
10.2.1 Disk Management 163
10.3 Installation and Boot Sequence 166
10.3.1 Basic Windows Installation 166
10.3.2 Custom Installation Options 167
10.3.3 Windows Boot Sequence 170
10.4 Summary 171
Chapter 10 Quiz 172
Chapter 10 Exam 172
Your Chapter Notes 172
Chapter 11 Windows Configuration 173
11.0 Introduction 173
11.1 Windows Desktop and File Explorer 173
11.1.1 Comparing Windows Versions 173
11.1.2 The Windows Desktop 175
11.1.3 Windows Task Manager 178
11.1.4 Windows File Explorer 180
11.2 Configure Windows with Control Panels 183
11.2.1 Control Panel Utilities 183
11.2.2 User and Account Control Panel Items 184
11.2.3 Network and Internet Control Panels 185
11.2.4 Display Settings and Control Panel 187
11.2.5 Power and System Control Panels 188
11.2.6 Hardware and Sound Control Panels 190
11.2.7 Clock, Region, and Language 191
11.2.8 Programs and Features Control Panels 192
11.2.9 Other Control Panels 193
11.3 System Administration 194
11.3.1 Administrative Tools 194
11.3.2 System Utilities 197
11.3.3 Disk Management 199
11.3.4 Application Installation and Configuration 202
11.4 Command-Line Tools 204
11.4.1 Using Windows CLI 204
11.4.2 File System CLI Commands 205
11.4.3 Disk CLI Commands 206
11.4.4 Task and System CLI Commands 207
11.4.5 Other Useful CLI Commands 207
11.5 Windows Networking 208
11.5.1 Network Sharing and Mapping Drives 208
11.5.2 Sharing Local Resources with Others 210
11.5.3 Configure a Wired Network Connection 211
11.5.4 Configure a Wireless Network Interfaces in Windows 213
11.5.5 Remote Access Protocols 213
11.5.6 Remote Desktop and Assistance 214
11.6 Common Preventive Maintenance Techniques for Operating Systems 215
11.6.1 OS Preventive Maintenance Plan 215
11.6.2 Backup and Restore 217
11.7 Basic Troubleshooting Process for Windows Operating Systems 218
11.7.1 Applying Troubleshooting Process to Windows Operating Systems 218
11.7.2 Common Problems and Solutions for Windows Operating Systems 219
11.7.3 Advanced Troubleshooting for Windows Operating Systems 219
11.8 Summary 219
Chapter 11 Quiz 221
Chapter 11 Exam 221
Your Chapter Notes 221
Chapter 12 Mobile, Linux, and macOS Operating Systems 223
12.0 Introduction 223
12.1 Mobile Operating Systems 223
12.1.1 Android vs. iOS 223
12.1.2 Android Touch Interface 224
12.1.3 iOS Touch Interface 224
12.1.4 Common Mobile Device Features 225
12.2 Methods for Securing Mobile Devices 227
12.2.1 Screen Locks and Biometric Authentication 227
12.2.2 Cloud-Enabled Services for Mobile Devices 227
12.2.3 Software Security 228
12.3 Linux and macOS Operating Systems 230
12.3.1 Linux and macOS tools and features 230
12.3.2 Linux and macOS Best Practices 233
12.3.3 Basic CLI Commands 234
12.4 Basic Troubleshooting Process for Mobile, Linux, and macOS Operating Systems 236
12.4.1 Applying the Troubleshooting Process to Mobile, Linux, and macOS Operating Systems 236
12.4.2 Common Problems and Solutions for Other Operating Systems 237
12.5 Summary 237
Chapter 12 Quiz 239
Chapter 12 Exam 239
Your Chapter Notes 239
Chapter 13 Security 241
13.0 Introduction 241
13.1 Security Threats 241
13.1.1 Malware 241
13.1.2 Preventing Malware 243
13.1.3 Network Attacks 246
13.1.4 Social Engineering Attacks 247
13.2 Security Procedures 248
13.2.1 Security Policy 248
13.2.2 Protecting Physical Equipment 249
13.2.3 Protecting Data 250
13.2.4 Data Destruction 253
13.3 Securing Windows Workstations 254
13.3.1 Securing a Workstation 254
13.3.2 Windows Local Security Policy 256
13.3.3 Managing Users and Groups 258
13.3.4 Windows Firewall 260
13.3.5 Web Security 262
13.3.6 Security Maintenance 264
13.4 Wireless Security 265
13.4.1 Configure Wireless Security 265
13.5 Basic Troubleshooting Process for Security 268
13.5.1 Applying the Troubleshooting Process to Security 268
13.5.2 Common Problems and Solutions for Security 269
13.6 Summary 269
Chapter 13 Quiz 271
Chapter 13 Exam 271
Your Chapter Notes 271
Chapter 14 The IT Professional 273
14.0 Introduction 273
14.1 Communication Skills and the IT Professional 273
14.1.1 Communication Skills, Troubleshooting, and Professional Behavior 273
14.1.2 Working with a Customer 275
14.1.3 Professional Behavior 276
14.1.4 The Customer Call 277
14.2 Operational Procedures 280
14.2.1 Documentation 280
14.2.2 Change Management 281
14.2.3 Disaster Prevention and Recovery 281
14.3 Ethical and Legal Considerations 284
14.3.1 Ethical and Legal Considerations in the IT Profession 284
14.3.2 Legal Procedures Overview 287
14.4 Call Center Technicians 289
14.4.1 Call Centers, Level One and Level Two Technicians 289
14.4.2 Basic Scripting and the IT Professional 291
14.5 Summary 292
Chapter 14 Quiz 294
Chapter 14 Exam 294
Your Chapter Notes 294
9780135612163 TOC 10/1/2019
Other Things You Might Like


Cisco Certified Support Technician CCST Networking 100-150 Official Cert Guide Premium Edition and Practice Test

By Russ White
Premium Edition eBook $47.99