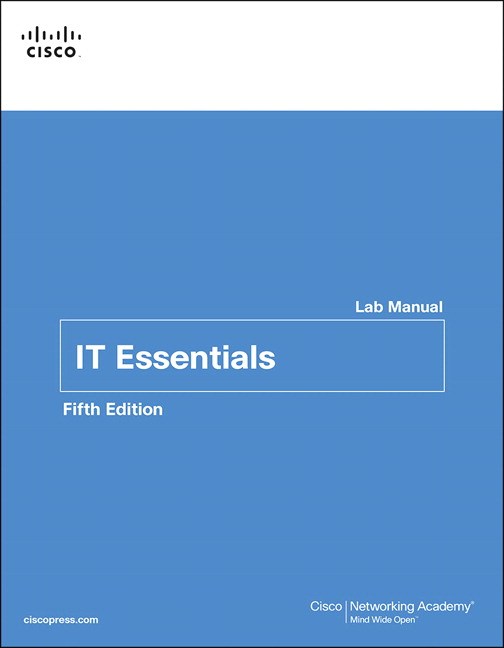 Share
|




Register your product to gain access to bonus material or receive a coupon.
IT Essentials Lab Manual, 5th Edition
Book
Sorry, this book is no longer in print.
Features
The brand-new version of Cisco Networking Academy's A+ hands-on labs, in a convenient printed format for easy offline use and studying
The only authorized Lab Manual for the newest Cisco Networking Academy IT Essentials course: updated for 2012 CompTIA A+ objectives and new A+ exams 220-801 and 220-802
Presents all labs associated with A+ objectives related to basic PC technology, operating systems, networking, security and troubleshooting
Enables students to easily highlight, take notes, and study offline
Links directly to Cisco Networking Academy's online curriculum
Copyright 2013
Edition: 5th
Book
ISBN-10: 1-58713-310-5
ISBN-13: 978-1-58713-310-7
The only authorized Lab Manual for the Cisco Networking Academy IT Essentials v5 course
IT Essentials: PC Hardware and Software Lab Manual is a supplemental book that helps the students in the Cisco® Networking Academy course prepare to take the CompTIA® A+ 220-801 and 220-802 exams. All the hands-on labs and worksheets from the course are printed within this book–including Windows 7, Windows Vista, and Windows XP variations covered in the CompTIA exam objectives. Practicing and performing these tasks will reinforce the concepts and help you become a successful PC technician.
Table of Contents
Chapter 0: IT Essentials Introduction 1
0.2.2.2 Worksheet - Job Opportunities 1
Chapter 1: Introduction to the Personal Computer 2
1.1.1.4 Worksheet - Ohm's Law . 2
1.2.1.11 Worksheet - Research Computer Components 3
1.3.1.6 Worksheet - Build a Specialized Computer System . 6
Chapter 2: Lab Procedures and Tool Use 10
2.2.2.3 Worksheet - Diagnostic Software .... 10
2.2.4.4 Lab - Using a Multimeter and a Power Supply Tester 11
2.2.4.5 Lab - Testing UTP Cables Using a Loopback Plug and a Cable Meter . 15
2.2.4.7 Lab - Computer Disassembly 20
Chapter 3: Computer Assembly .... 24
3.1.1.3 Lab - Install the Power Supply . 24
3.1.2.4 Lab - Install the Motherboard .. 25
3.1.3.4 Lab - Install the Drives . 27
3.1.4.5 Lab - Install Adapter Cards ... 28
3.1.5.3 Lab - Install Internal Cables .. 29
3.1.5.5 Lab - Install Front Panel Cables 31
3.1.5.8 Lab - Complete the Computer Assembly 32
3.2.2.5 Lab - Boot the Computer . 33
3.3.1.6 Lab - BIOS File Search . 36
3.3.3.2 Worksheet - Upgrade Hardware 39
Chapter 4: Overview of Preventive Maintenance 41
Chapter 5: Operating Systems 42
5.1.2.3 Worksheet - Search NOC Certifications and Jobs 42
5.1.4.4 Lab - Data Migration in Windows 7 43
5.1.4.5 Lab - Data Migration in Windows Vista . 57
5.1.4.6 Lab - Data Migration in Windows XP 69
5.2.1.3 Worksheet - Answer NTFS and FAT32 Questions 81
5.2.1.5 Lab - Install Windows 7 82
5.2.1.6 Lab - Install Windows Vista .. 96
5.2.1.7 Lab - Install Windows XP ... 111
5.2.1.9 Lab - Check for Updates in Windows 7 123
5.2.1.10 Lab - Check for Updates in Windows Vista 129
5.2.1.11 Lab - Check for Updates in Windows XP . 135
5.2.2.3 Lab - Advanced Installation of Windows 7 . 140
5.2.2.4 Lab - Advanced Installation of Windows Vista . 168
5.2.2.5 Lab - Advanced Installation of Windows XP 196
5.2.3.4 Lab - Registry Backup and Recovery in Windows XP 218
5.2.4.3 Lab - Create a Partition in Windows 7 .. 232
5.2.4.4 Lab - Create a Partition in Windows Vista .. 245
5.2.4.5 Lab - Create a Partition in Windows XP ..... 259
5.3.1.5 Lab - Task Manager (Managing Processes) in Windows 7 . 274
5.3.1.6 Lab - Task Manager (Managing Processes) in Windows Vista 286
5.3.1.7 Lab - Task Manager (Managing Processes) in Windows XP ... 298
5.3.1.11 Lab - Install Third-Party Software in Windows 7 .... 310
5.3.1.12 Lab - Install Third-Party Software in Windows Vista 319
5.3.1.13 Lab - Install Third-Party Software in Windows XP . 328
5.3.2.3 Lab - Create User Accounts in Windows 7 . 336
5.3.2.4 Lab - Create User Accounts in Windows Vista .. 343
5.3.2.5 Lab - Create User Accounts in Windows XP 350
5.3.2.7 Lab - Configure Browser Settings in Windows 7 . 360
5.3.2.8 Lab - Configure Browser Settings in Windows Vista 371
5.3.2.9 Lab - Configure Browser Settings in Windows XP ... 382
5.3.2.16 Lab - Managing Virtual Memory in Windows 7 . 392
5.3.2.17 Lab - Managing Virtual Memory in Windows Vista 403
5.3.2.18 Lab - Managing Virtual Memory in Windows XP ... 414
5.3.2.20 Lab - Managing Device Drivers with Device Manager in Windows 7 ..... 425
5.3.2.21 Lab - Managing Device Drivers with Device Manager in Windows Vista 432
5.3.2.22 Lab - Managing Device Drivers with Device Manager in Windows XP .. 439
5.3.2.24 Lab - Regional and Language Options in Windows 7 ..... 446
5.3.2.25 Lab - Regional and Language Options in Windows Vista . 455
5.3.2.26 Lab - Regional and Language Options in Windows XP .. 462
5.3.3.5 Lab - Monitor and Manage System Resources in Windows 7 .. 470
5.3.3.6 Lab - Monitor and Manage System Resources in Windows Vista 502
5.3.3.7 Lab - Monitor and Manage System Resources in Windows XP ... 535
5.3.4.2 Lab - Hard Drive Maintenance in Windows 7 ... 573
5.3.4.3 Lab - Hard Drive Maintenance in Windows Vista 583
5.3.4.4 Lab - Hard Drive Maintenance in Windows XP 593
5.3.4.6 Lab - Managing System Files with Built-in Utilities in Windows 7 ..... 604
5.3.4.7 Lab - Managing System Files with Built-in Utilities in Windows Vista .... 613
5.3.4.8 Lab - Managing System Files with Built-in Utilities in Windows XP .. 622
5.3.5.2 Lab - Remote Desktop and Remote Assistance in Windows 7 . 631
5.3.5.3 Lab - Remote Desktop and Remote Assistance in Windows Vista ...... 649
5.3.5.4 Lab - Remote Desktop and Remote Assistance in Windows XP . 668
5.3.7.2 Lab - Working with CLI Commands in Windows 688
5.3.7.4 Lab - Run Line Utilities in Windows 7 . 707
5.3.7.5 Lab - Run Line Utilities in Windows Vista . 718
5.3.7.6 Lab - Run Line Utilities in Windows XP .... 729
5.4.1.4 Lab - Install Virtual PC 740
5.5.1.2 Lab - Managing the Startup Folder in Windows 7 .... 760
5.5.1.3 Lab - Managing the Startup Folder in Windows Vista 768
5.5.1.4 Lab - Managing the Startup Folder in Windows XP . 776
5.5.1.7 Lab - Schedule a Task Using the GUI and the at Command in Windows 7 . 784
5.5.1.8 Lab - Schedule a Task Using the GUI and the at Command in Windows Vista 794
5.5.1.9 Lab - Schedule a Task Using the GUI and the at Command in Windows XP ... 804
5.5.1.11 Lab - Use the System Restore Tool in Windows 7 ... 813
5.5.1.12 Lab - Use the System Restore Tool in Windows Vista .... 823
5.5.1.13 Lab - Use the System Restore Tool in Windows XP . 832
Chapter 6: Networks 841
6.3.2.7 Lab - Configure a NIC to Use DHCP in Windows 7 841
6.3.2.8 Lab - Configure a NIC to Use DHCP in Windows Vista .. 848
6.3.2.9 Lab - Configure a NIC to Use DHCP in Windows XP 855
6.3.3.4 Worksheet - Protocol Definitions and Default Ports .. 862
6.4.2.4 Lab - Building Straight-Through and Crossover UTP Cables . 863
6.8.2.2 Worksheet - Internet Search for NIC Drivers .... 868
6.8.2.4 Lab - Install a Wireless NIC in Windows 7 869
6.8.2.5 Lab - Install a Wireless NIC in Windows Vista . 876
6.8.2.6 Lab - Install a Wireless NIC in Windows XP .... 883
6.8.3.5 Lab - Connect to a Router for the First Time .... 890
6.8.3.8 Lab - Configure Wireless Router in Windows 7 900
6.8.3.9 Lab - Configure Wireless Router in Windows Vista .. 914
6.8.3.10 Lab - Configure Wireless Router in Windows XP ... 932
6.8.3.14 Lab - Test the Wireless NIC in Windows 7 . 953
6.8.3.15 Lab - Test the Wireless NIC in Windows Vista 959
6.8.3.16 Lab - Test the Wireless NIC in Windows XP ... 965
6.8.4.7 Lab - Share a Folder, Create a Homegroup, and Map a Network Drive in Windows 7 971
6.8.4.8 Lab - Share a Folder and Map a Network Drive in Windows Vista ..... 989
6.8.4.9 Lab - Share a Folder and Map a Network Drive in Windows XP ...... 1000
6.9.1.6 Worksheet - Answer Broadband Questions 1010
6.9.1.8 Worksheet - ISP Connection Types . 1011
Chapter 7: Laptops 1012
7.1.1.6 Worksheet - Research Docking Stations ... 1012
7.3.1.3 Worksheet - Match ACPI Standards ... 1013
7.5.1.4 Worksheet - Laptop RAM . 1014
7.5.2.3 Worksheet - Laptop Batteries 1015
7.5.2.5 Worksheet - Laptop Screens 1016
7.5.2.7 Worksheet - Laptop Hard Drives . 1017
7.5.2.13 Worksheet - Build a Specialized Laptop . 1018
7.7.2.2 Worksheet - Research Laptop Problems ... 1019
7.7.2.3 Worksheet – Gather Information from the Customer 1020
7.7.2.4 Worksheet - Investigating Support Websites and Repair Companies . 1021
Chapter 8: Mobile Devices . 1022
8.2.2.3 Lab - Working with Android 1022
8.2.3.3 Lab - Working with iOS .... 1036
8.2.4.3 Lab - Mobile Device Features - Android and iOS ... 1043
8.2.4.4 Worksheet – Mobile Device Information .. 1060
8.3.1.2 Lab - Mobile Wi-Fi - Android and iOS ..... 1062
8.4.1.2 Lab - Passcode Locks - Android and iOS . 1063
8.5.2.2 Lab – Troubleshooting Mobile Devices .... 1078
Chapter 9: Printers 1080
9.3.1.2 Lab - Install a Printer in Windows 7 ... 1080
9.3.1.3 Lab - Install a Printer in Windows Vista ... 1086
9.3.1.4 Lab - Install a Printer in Windows XP 1093
9.4.2.3 Lab - Share a Printer in Windows 7 1098
9.4.2.4 Lab - Share a Printer in Windows Vista .... 1104
9.4.2.5 Lab - Share a Printer in Windows XP . 1110
9.5.1.5 Worksheet - Search for Certified Printer Technician Jobs . 1114
Chapter 10: Security .... 1115
10.1.1.7 Worksheet - Security Attacks 1115
10.2.1.2 Worksheet - Answer Security Policy Questions .... 1116
10.2.1.7 Lab - Securing Accounts, Data, and the Computer in Windows 7 .. 1117
10.2.1.8 Lab - Securing Accounts, Data, and the Computer in Windows Vista .. 1131
10.2.1.9 Lab - Securing Accounts, Data, and the Computer in Windows XP ..... 1145
10.2.3.2 Worksheet - Third-Party Antivirus Software . 1159
10.2.4.8 Worksheet - Research Firewalls . 1160
10.2.4.10 Lab - Configure Wireless Security .. 1162
10.3.1.2 Worksheet - Operating System Updates in Windows .... 1175
10.3.1.4 Lab - Data Backup and Recovery in Windows 7 ... 1176
10.3.1.5 Lab - Data Backup and Recovery in Windows Vista ..... 1190
10.3.1.6 Lab - Data Backup and Recovery in Windows XP 1202
10.3.1.8 Lab - Configure a Windows 7 Firewall .. 1218
10.3.1.9 Lab - Configure a Windows Vista Firewall .. 1229
10.3.1.10 Lab - Configure a Windows XP Firewall .... 1240
10.4.2.2 Worksheet - Gather Information from the Customer ..... 1245
Chapter 11: The IT Professional .. 1247
11.1.1.3 Worksheet - Technician Resources 1247
Chapter 12: Advanced Troubleshooting . 1248
12.1.1.4 Lab - Repair Boot Problem 1248
12.1.1.5 Lab - Remote Technician - Repair Boot Problem .. 1249
12.1.1.6 Lab - Troubleshooting Hardware Problems in Windows 7 ... 1251
12.1.1.7 Lab - Troubleshooting Hardware Problems in Windows Vista. 1255
12.1.1.8 Lab - Troubleshooting Hardware Problems in Windows XP 1258
12.2.1.4 Lab - Fix an Operating System Problem . 1261
12.2.1.5 Lab - Remote Technician - Fix an Operating System Problem 1262
12.2.1.6 Lab - Troubleshooting Operating System Problems in Windows 7 .. 1264
12.2.1.7 Lab - Troubleshooting Operating System Problems in Windows Vista.. 1267
12.2.1.8 Lab - Troubleshooting Operating System Problems in Windows XP ..... 1270
12.3.1.4 Lab - Fix a Network Problem .... 1274
12.3.1.5 Lab - Remote Technician - Fix a Network Problem 1275
12.3.1.6 Lab - Troubleshooting Network Problems in Windows 7 .... 1277
12.3.1.7 Lab - Troubleshooting Network Problems in Windows Vista .. 1282
12.3.1.8 Lab - Troubleshooting Network Problems in Windows XP . 1287
12.4.1.4 Lab - Fix a Laptop Problem . 1292
12.4.1.5 Lab - Remote Technician - Fix a Laptop Problem . 1293
12.4.1.6 Lab - Troubleshooting Laptop Problems in Windows 7 . 1295
12.4.1.7 Lab - Troubleshooting Laptop Problems in Windows Vista 1297
12.4.1.8 Lab - Troubleshooting Laptop Problems in Windows XP .... 1299
12.5.1.4 Lab - Fix a Printer Problem 1301
12.5.1.5 Lab - Remote Technician - Fix a Printer Problem . 1302
12.5.1.6 Lab - Troubleshooting Printer Problems in Windows 7 . 1304
12.5.1.7 Lab - Troubleshooting Printer Problems in Windows Vista . 1307
12.5.1.8 Lab - Troubleshooting Printer Problems in Windows XP 1310
12.6.1.4 Lab - Fix a Security Problem 1313
12.6.1.5 Lab - Remote Technician - Fix a Security Problem . 1314
12.6.1.6 Lab - Troubleshooting Access Security in Windows 7 .. 1316
12.6.1.7 Lab - Troubleshooting Access Security in Windows Vista ... 1319
12.6.1.8 Lab - Troubleshooting Access Security in Windows XP . 1323
Unlimited one-month access with your purchase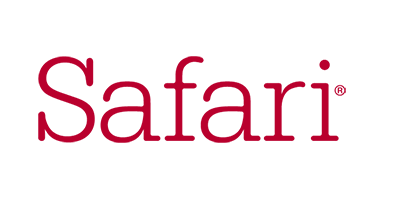 Other Things You Might Like
eBook (Watermarked) $57.60

eBook (Watermarked) $57.60