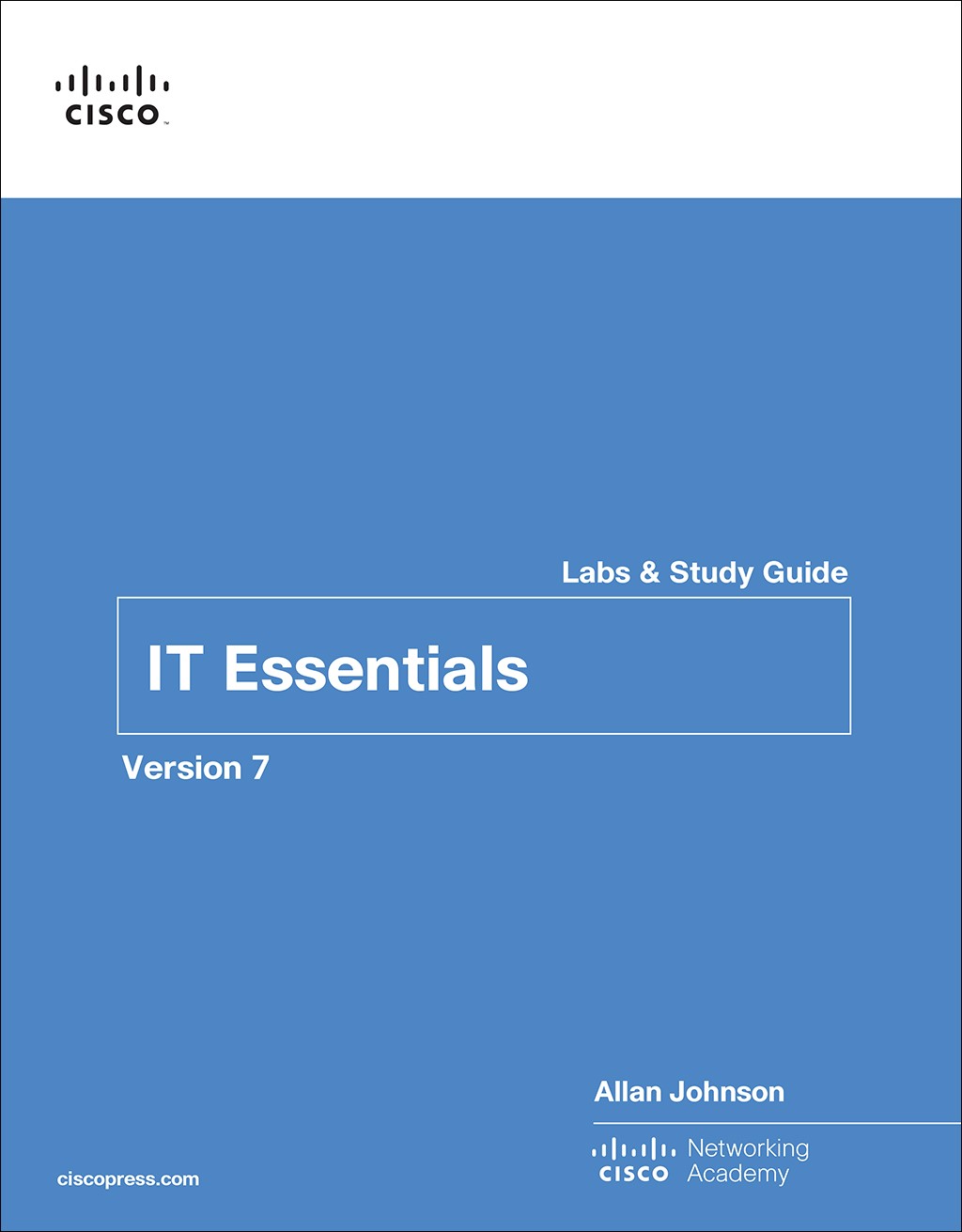 Register your product to gain access to bonus material or receive a coupon.
IT Essentials Labs and Study Guide Version 7
Book
Your Price: $45.00
List Price: $50.00
Usually ships in 24 hours.
Features
Presents all labs associated with A+ objectives related to basic PC technology, operating systems, networking, security and troubleshooting
Enables students to easily highlight, take notes, and study offline
Links directly to Cisco Networking Academy's online curriculum
Supplementary answer key allows instructors to evaluate student performance
Copyright 2020
Dimensions: 8-1/2" x 10-7/8"
Pages: 544
Edition: 1st
Book
ISBN-10: 0-13-561203-9
ISBN-13: 978-0-13-561203-3
The only authorized Labs & Study Guide for the Cisco Networking Academy IT Essentials, Version 7 course
IT Essentials Lab Manual is a supplemental book prepared for students in the Cisco® Networking Academy IT Essentials v7 course. All the hands-on labs and worksheets from the course are printed within this book to provide practical, hands-on experience with the course content. IT Essentials covers fundamental computer and career skills for entry-level IT jobs.
Practicing and performing all these tasks will reinforce the concepts, skills, and procedures and help prepare the student to take the CompTIA® A+ 220-1001 and 220-1002 exams.
Each chapter of this book is divided into a Study Guide section followed by a Lab section.
The Study Guide section offers exercises that help you learn the concepts, configurations, and troubleshooting skills crucial to your success as a CompTIA® A+ 220-1001 and 220-1002 exam candidate. Each chapter is slightly different and includes some or all the following types of exercises:
Vocabulary Matching Exercises
Concept Questions Exercises
Skill-Building Activities and Scenarios
Packet Tracer Exercises
The Labs & Activities include all the online course Labs and Packet Tracer activity instructions. If applicable, this section begins with a Command Reference that you will complete to highlight all the commands introduced in the chapter.
Related titles:
IT Essentials Companion Guide, Version 7
ISBN-10: 0-13-564537-9
ISBN-13: 978-0-13-564537-6
IT Essentials Course Booklet, Version 7
ISBN-10: 0-13-561216-0
ISBN-13: 978-0-13-561216-3


Online Sample Chapter
Introduction to Personal Computer Hardware
Table of Contents
Introduction xxxiii
Chapter 1 Introduction to Personal Computer Hardware 1
Personal Computers 2
PC Components 3
Computer Disassembly 21 The
Labs and Activities 22
1.3.2.2 Lab—Disassemble a Computer 23
Chapter 2 PC Assembly 27
Assemble the Computer 28
Labs and Activities 38 Command Reference 38
2.1.2.5 Lab—Install the Power Supply 39
2.1.3.10 Lab—Install the Motherboard in a Computer 40
2.1.4.7 Lab—Install the Drives 42
2.1.5.6 Lab—Install Adapter Cards 43
2.1.7.4 Lab—Install Internal Cables 45
2.1.7.8 Lab—Install Front Panel Cables 47
2.1.7.11 Lab—Complete the Computer Assembly 48
Chapter 3 Advanced Computer Hardware 49
Boot the Computer 50
Electrical Power 52
Advanced Computer Functionality 53 CPU
Computer Configuration 65
Protecting the Environment 68
Labs and Activities 69 Command Reference 69
3.1.1.6 Lab—Investigate BIOS or UEFI Settings 70
3.1.2.5Lab—Search for BIOS or UEFI Firmware Updates 73
3.1.2.6Lab—Install Windows 75
3.1.2.7Lab—Install Third-Party Software in Windows 78
3.2.1.3 Lab—Ohms Law 80
3.4.1.7 Lab—Research a Hardware Upgrade 81
Chapter 4 Preventive Maintenance and Troubleshooting 83
Preventive Maintenance 84
Troubleshooting Process 85
Labs and Activities 90 Command Reference 90
4.2.3.5Lab—Use a Multimeter and a Power Supply Tester 91
4.2.3.6Lab—Troubleshoot Hardware Problems 95
Chapter 5 Networking Concepts 99
Study Guide 100
Network Components and Types 100
Networking Protocols, Standards, and Services 103
Network Devices 108
Network Cables 110
Labs and Activities 117 Command Reference 117
5.4.2.8 Lab—Build and Test a Network Cable 118
Chapter 6 Applied Networking 125
Device-to-Network Connections 126
Network Troubleshooting 130
Labs and Activities 134 Command Reference 134
6.1.2.1 Packet Tracer—Add Computers to an Existing Network 135
6.1.2.7 Lab—Configure a NIC to Use DHCP in Windows 137
6.1.3.9Packet Tracer—Connect to a Wireless Network 142
6.1.3.10Lab—Configure a Wireless Network 147
6.1.4.7Packet Tracer—Configure Firewall Settings 152
6.1.4.8Lab—Configure Firewall Settings 155
6.1.5.3 Packet Tracer—Configure IoT Devices 159
6.2.2.5 Lab—Troubleshoot Network Problems 161
Chapter 7 Laptops and Other Mobile Devices 163
Characteristics of Laptops and Other Mobile Devices 164
Laptop Configuration 166
Laptop Hardware and Component Installation and Configuration 167
Other Mobile Device Hardware Overview 168 Other
Network Connectivity and Email 170
Preventive Maintenance and Troubleshooting Laptops and Other Mobile Devices 172
Basic Troubleshooting Process for Laptops and Other Mobile Devices 173
Labs and Activities 176 Command Reference 176
7.1.1.10 Lab—Mobile Device Information 177
7.1.2.8 Lab—Research Docking Stations and Port Replicators 178
7.3.1.6 Lab—Research Laptop RAM 181
7.3.2.4 Lab—Research Laptop Screens 182
7.3.2.7 Lab—Research Laptop Batteries 183
7.3.2.10 Lab—Research Laptop Drives 184
7.5.1.2 Lab—Mobile Wi-Fi 185
7.7.2.4Lab—Research Laptop Problems 187
7.7.2.5Lab—Gather Information from the Customer 188
7.7.2.6Investigate Support Websites and Repair Companies 189
Chapter 8 Printers 191
Common Printer Features 192
Printer Type Comparison 193
Installing and Configuring Printers 199
Sharing Printers 201
Maintaining and Troubleshooting Printers 202
Labs and Activities 205 Command Reference 205
8.3.1.2 Lab—Install a Printer in Windows 206
8.4.1.3 Lab—Share a Printer in Windows 208
8.5.2.3 Lab—Perform Preventive Maintenance on an Inkjet Printer 210
8.5.3.2 Lab—Perform Preventive Maintenance on a Laser Printer 212
Chapter 9 Virtualization and Cloud Computing 215
Virtualization 216
Cloud Computing 218
Labs and Activities 222 Command Reference 222
9.1.2.5 Lab—Install Linux in a Virtual Machine and Explore the GUI 223
Chapter 10 Windows Installation 227
Modern Operating Systems 228
Install Windows 231
Installation and Boot Sequence 234
Labs and Activities 237 Command Reference 237
10.2.1.8 Lab—Create a Partition in Windows 238
10.3.1.1 Lab—Windows Installation 242
10.3.1.4 Lab—Finalize Windows Installation 245
Chapter 11 Windows Configuration 247
Windows Desktop and File Explorer 248
Configure Windows with Control Panels 255
System Administration 266
Command-Line Tools 273
Windows Networking 276
Common Preventive Maintenance Techniques for Operating Systems 282
Basic Troubleshooting Process for Windows Operating Systems 283
Labs and Activities 287 Command Reference 287
11.1.2.10 Lab—Configure the Windows Desktop 289
11.1.3.4 Lab—Work with Task Manager 292
11.1.4.11 Lab—Working with File Explorer 296
11.2.1.5 Lab—Explore Control Panel Categories 300
11.2.2.3 Lab—User Accounts 303
11.2.3.5 Lab—Configure Browser Settings 306
11.2.6.2 Lab—Use Device Manager 310
11.2.7.4 Lab—Region and Language Options 312
11.3.1.11 Lab—Monitor and Manage System Resources 316
11.3.2.7Lab—System Utilities 321
11.3.2.8Lab—Manage System Files 325
11.3.3.8 Lab—Hard Drive Maintenance 328
11.3.4.6 Lab—Install Third-Party Software 330
11.4.1.5 Lab—Work in the Windows Command Shell 332
11.4.2.7 Lab—File System Commands 335
11.4.3.2 Lab—Disk CLI Commands 342
11.4.4.2 Lab—Task and System CLI Commands 350
11.4.5.3 Lab—Other Useful Commands 354
11.5.1.6 Lab—Network Drive Mapping 359
Introduction 359
11.5.2.4 Lab—Share Resources 361
11.5.4.2 Lab—Connect and Test the Wireless Connection 364
11.5.5.3 Packet Tracer—Using Telnet and SSH 368
11.5.6.2 Lab—Windows Remote Desktop and Assistance 370
11.6.1.2 Lab—Manage the Startup Folder 375
11.6.1.5 Lab—Schedule a Task Using the GUI and the Command Line 378
11.6.2.4 Lab—System Restore and Hard Drive Backup 381
11.7.3.2 Lab—Troubleshoot Operating System Problems 388
Chapter 12 Mobile, Linux, and macOS Operating Systems 391
Mobile Operating Systems 392
Methods for Securing Mobile Devices 394
Linux and macOS Operating Systems 395
Labs and Activities 401 Command Reference 401
12.1.2.2 Lab—Working with Android 402
12.1.3.2 Lab—Working with iOS 414
12.1.4.4 Lab—Mobile Device Features 421
12.2.1.2 Lab—Passcode Locks 425
12.4.2.4 Lab—Troubleshoot Mobile Devices 434
Chapter 13 Security 437
Security Threats 438
Security Procedures 444
Securing Windows Workstations 446
Wireless Security 450
Basic Troubleshooting Process for Security 452
Labs and Activities 454 Command Reference 454
13.2.3.7 Lab—BitLocker and BitLocker To Go 455 Introduction 455
13.3.2.5 Lab—Configure Windows Local Security Policy 458
13.3.3.6 Lab—Configure Users and Groups in Windows 462
13.3.4.6 Lab—Configure Windows Firewall 469
13.4.1.10 Packet Tracer—Configure Wireless Security 473
13.5.2.2 Lab—Document Customer Information in a Work Order 475
Chapter 14 The IT Professional 477
Communication Skills and the IT Professional 478
Operational Procedures 482
Ethical and Legal Considerations 483
Call Center Technicians 486
Labs and Activities 490 Command Reference 490
14.1.1.2 Lab—Technician Resources 491
14.3.1.5 Lab—Investigate Breaches of PII, PHI, PCI 492
14.4.1.4Lab—Remote Technician—Repair Boot Problem 494
Student Technician Sheet 494
14.4.1.5Lab—Remote Technician—Fix an Operating System Problem 496
Student Technician Sheet 496
14.4.1.6Lab—Remote Technician—Fix a Network Problem 498
Student Technician Sheet 498
14.4.1.7Lab—Remote Technician—Fix a Security Problem 500
Student Technician Sheet 500
14.4.2.7 Lab—Write Basic Scripts in Windows and Linux 502
Other Things You Might Like


Cisco Certified Support Technician CCST Networking 100-150 Official Cert Guide Premium Edition and Practice Test

By Russ White
Premium Edition eBook $47.99